The Benefits Of Everlife Luxury Vinyl Flooring
May 19, 2022

The Benefits of Everlife Luxury Vinyl Flooring
Vinyl has long been considered to be a cost-effective flooring option, but only recently has luxury vinyl flooring added a new level of prestige to the vinyl market. This flooring material not only offers the look of hardwood and natural stone, but it delivers a range of practical benefits that make it incredibly desirable for busy, modern households.
Luxury vinyl flooring resists stains, scratches, and dents and is easy to clean and maintain. It's also 100% waterproof, which is a major advantage over both hardwood and laminate alternatives.
Eco-friendly and easy to install, it's hard to imagine what could make this beautiful, water-resistant flooring any better — but there's more. MSI's Everlife Luxury Vinyl flooring is also backed by an industry-leading warranty that ensures longevity and use-value.
Suppose that you're looking for a modern flooring option to deliver style, comfort, and cost-effective performance for busy homes and commercial spaces. In that case, you'll find endless benefits from trendy and innovative luxury vinyl tile (LVT).
Durable, Stain Resistant, and 100% Waterproof
What sets the vinyl of today apart from past iterations? The main difference is the durable construction, including a resilient wear layer that offers incredible benefits. Everlife® CrystaLux™ technology delivers a surface that resists scratches and dents.
This flooring is paired with a rigid, stone-based core and pre-attached underlayment, making it strong and durable, as well as comfortable and quiet underfoot. Thanks to a patented locking system, also offers easy LVT installation, and the entire product is 100% waterproof flooring.
Low-Cost Flooring Option
There's no shortage of flooring options to consider when you update the look of your home, but when you're working with a budget, you need to think about both upfront and ongoing costs. LVT is attractive on both fronts, and it can deliver the natural wood and stone look you love at less cost.
Consider that LVT typically runs about $2-$5 per square foot. While that price is comparable to carpeting (at roughly $3-$5.50 per square foot), LVT is much more durable, and it will add more value and appeal to your home.
While desirable from a luxury and aesthetic standpoint, hardwood flooring will set you back anywhere from $8-$25 per square foot. Considering you can enjoy the same aesthetic appeal with LVT — along with added practical benefits — it's a pretty clear choice.
In addition, LVT offers easy installation and maintenance. While carpet requires frequent vacuuming and regular steam cleaning and hardwood needs periodic waxing and perhaps even refinishing, regular sweeping and mopping will keep luxury vinyl flooring looking beautiful for years to come.
Wood-Look Planks and Natural Stone Looks
MSI's luxury vinyl plank flooring is more than just a practical and cost-effective addition to your home interior — it's also a stylish way to update your overall design with the luxury aesthetic of hardwood and natural stone.
Luxury vinyl wood-look planks are the next generation of vinyl, featuring a strong, rigid core, an easy-install locking system, 100% waterproof construction, and the appearance of authentic wood colors and grain patterns.
Luxury vinyl stone tile is another amazing option that pairs with the timeless beauty of natural stone varieties like Calacatta marble. However, unlike natural materials, these manufactured products come with a lifetime residential warranty that guarantees against defects, wear, fading, and staining under normal use.
LVT is also suitable for light commercial spaces and includes a minimum five-year light commercial warranty. What can you expect from MSI's Everlife® Luxury Vinyl flooring collections? Each series has its own particular advantages.
Cyrus and XL Cyrus
You only have to get one look at MSI's LVT flooring to see that it's a far cry from old sheet vinyl. The Cyrus and XL Cyrus lines offer over a dozen genuine wood looks that capture the authentic color and graining of nude, stained, and weathered planks — ranging from pale blonde to rich, warm mahogany.
The planks in this series feature a 4.0 mm core with 5.0 mm overall thickness for strong integrity with softness underfoot. A 12 mil wear layer protects against damage and wear.
The Cyrus series offers plank dimensions of 7"x48", while the XL Cyrus series has larger planks featuring 9"x60" dimensions, along with a painted, beveled edge. Both come with a six-year light commercial warranty.
Prescott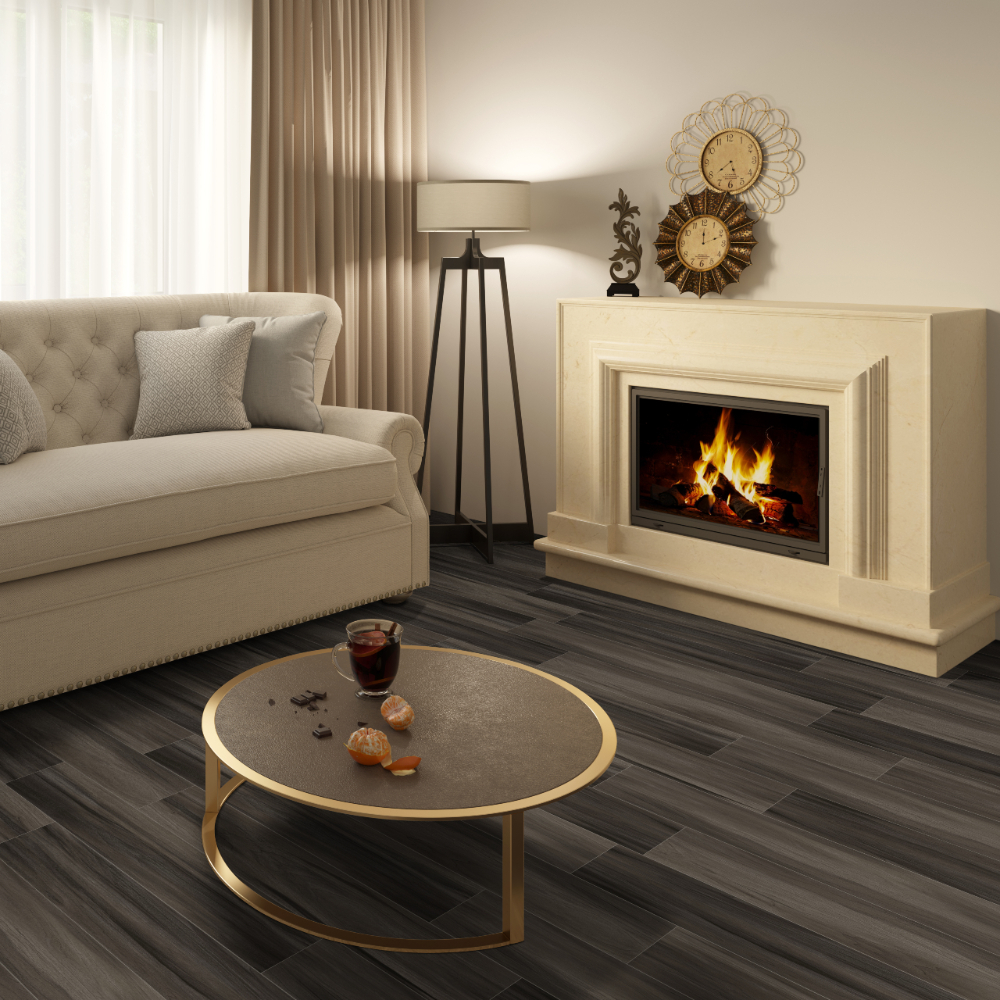 MSI's Prescott series is an ideal choice for busy households and light commercial spaces alike, thanks to added thickness and wear protection. Perfect for high traffic areas, this line pairs a 5.5 mm core with a 20 mil wear layer for an overall thickness of 6.5 mm. Planks measure 7"x48", or you can opt for XL Prescott planks at 9"x60". Even better, the light commercial warranty extends to 20 years.
Anyone seeking protection against undue wear will love the Prescott series, especially natural wood-look options like Jenta. This mid-tone brown flooring features a slightly gray cast that holds modern appeal, along with variable grain patterns that will help hide dirt and scuffing between cleaning.
Ashton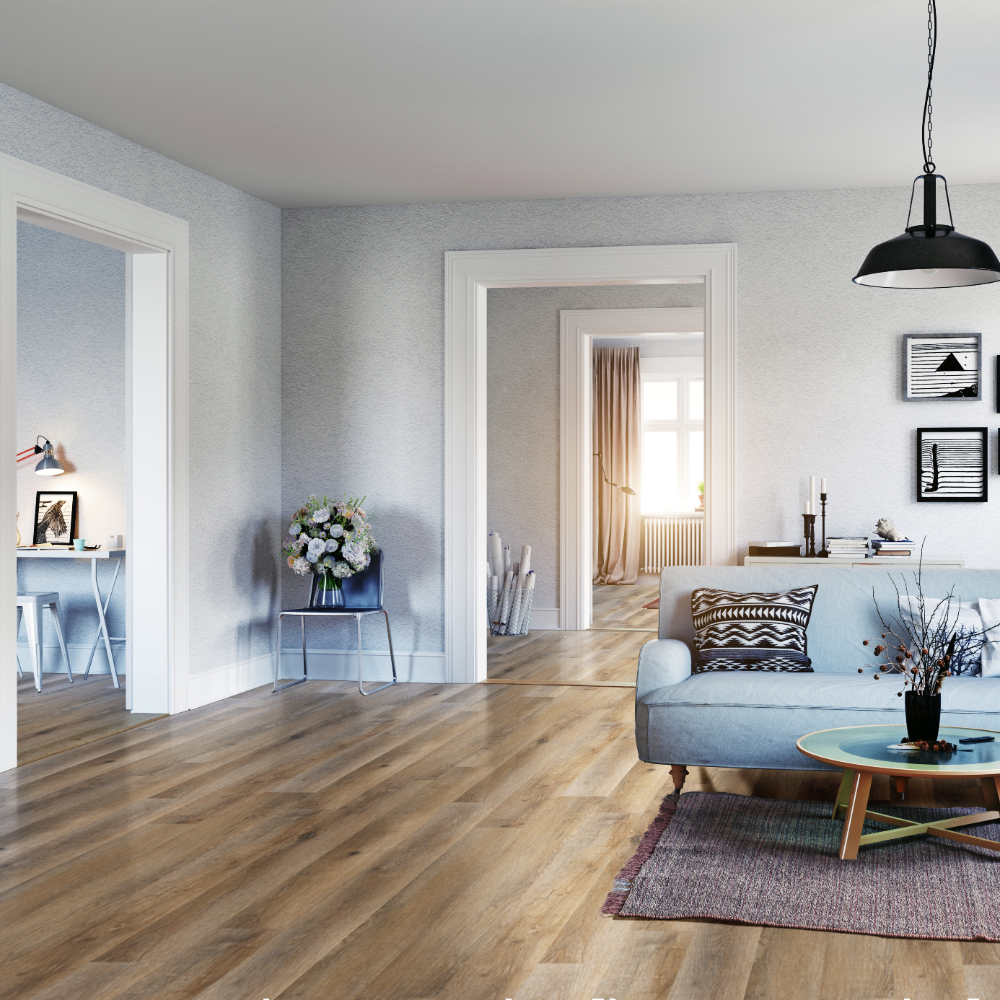 Available in regular, 7"x48" sizing, or XL (9"x60"), this vinyl series features just a handful of classic wood flooring looks, with light grain patterns and color variability that looks incredibly realistic, even up close.
The product features a 6 mil wear layer and 4.4 mm thickness, making it a lightweight, resilient option for home flooring, backed by a 25-year limited residential warranty.
The Maracay Brown variety is a great example of the timeless beauty of the Ashton series, featuring classic, medium brown tones with high shade variation and light graining throughout. It pairs beautifully with both warm and cool interior design palettes.
Trecento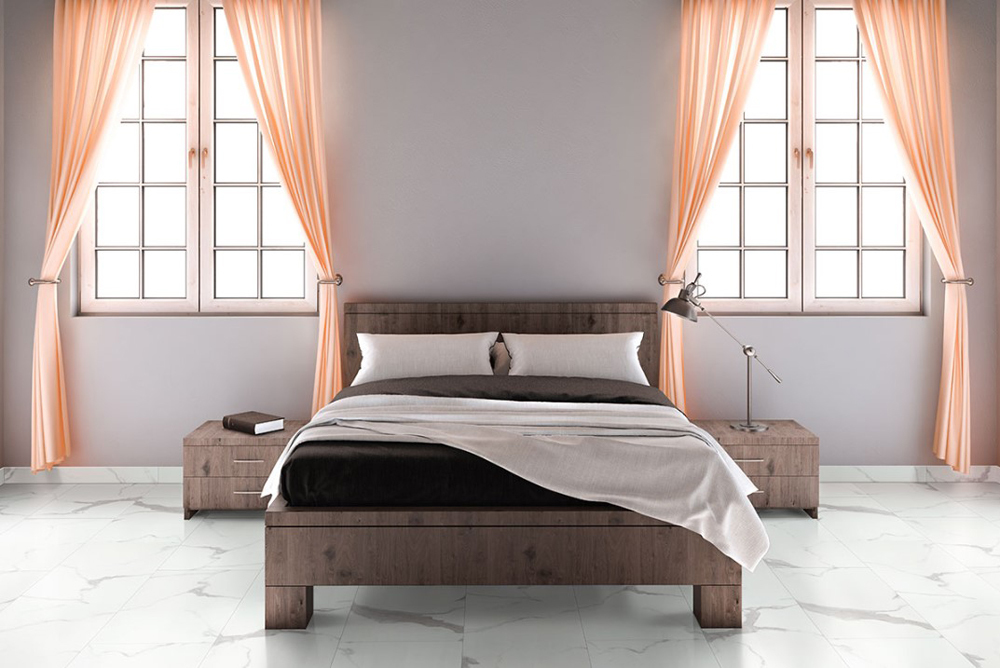 Certain types of flooring add luxury to the home, and the Trecento series delivers the eye-catching appeal of natural stone paired with the practical benefits of LVT. Available in 12"x24" and 18"x36" (XL Trecento) tiles, this series delivers the same rigid core as other LVT collections, with a 12 mil wear layer and 5 mm overall thickness.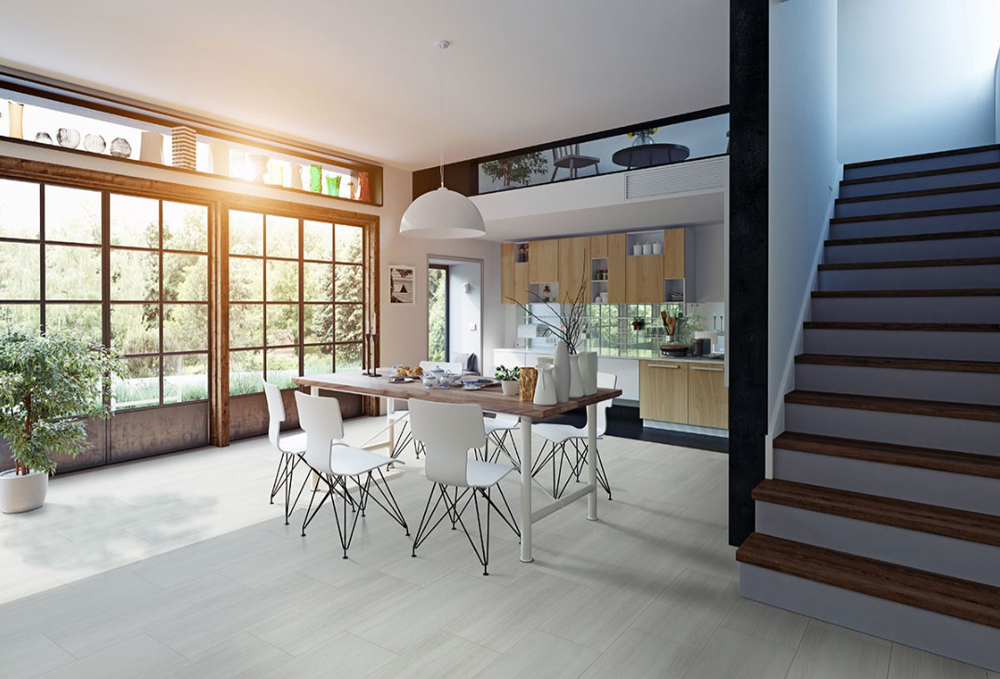 As for the look of this gorgeous tile, you're sure to love varieties like dreamy Calacatta Marbello, with a white background and pale gray veining that convey the beauty of marble. White Ocean is another great option that reads like calming quartzite, with soft grays and greiges marked by gentle, linear striations.
An Easy Install as a DIY Project
With pre-attached backing for cushion, in place of added underlayment, and an easy-install locking system, Everlife® Luxury Vinyl flooring goes in quickly with little to no prep work. Not only can this cut down on professional labor for installation, but it's a great option for DIY enthusiasts who want to tackle flooring installation on their own. Check out this video on vinyl floorinh installation to get you started.
When you're ready to start your luxury vinyl flooring project, MSI has everything you need to ensure a successful outcome. Start by perusing our Luxury Vinyl Flooring collection for inspiration, then find a conveniently located MSI LVP and LVT Dealer in your area to get your project underway.

Read More About Luxury Vinyl Flooring
Brighten Up Your Home with Natural Wood Tone Luxury Vinyl Planks
The Best Way to Clean Your New Luxury Vinyl Flooring
Go Big with Large Format Luxury Vinyl Tile
LVT vs. LVP Flooring: What Is the Difference?
Made In the USA With MSI's Domestic Luxury Vinyl Tile Manufacturing Facility