Do Light-Colored Granite Countertops Stain Easily?
January 13, 2018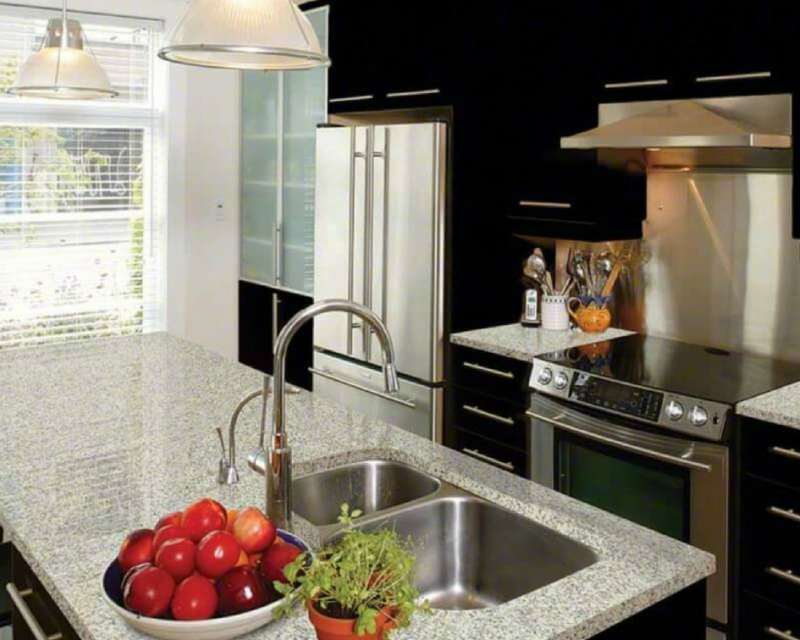 Bright white kitchens are right on trend, but some homeowners are hesitant to install light colors in a cooking space. After all, will one splatter of spaghetti from Sunday dinner or an accidental wine spill ruin your countertop?
The answer is that while no material is completely 100-percent stain-proof, granite countertops are surprisingly stain-resistant— and that includes light colors, too! The natural stone's hardness gives granite its resistance to staining. And since granite's minimal pores make it more difficult for stains to settle, light-colored granite is actually one of the best choices for a busy kitchen.
Giallo Ornamental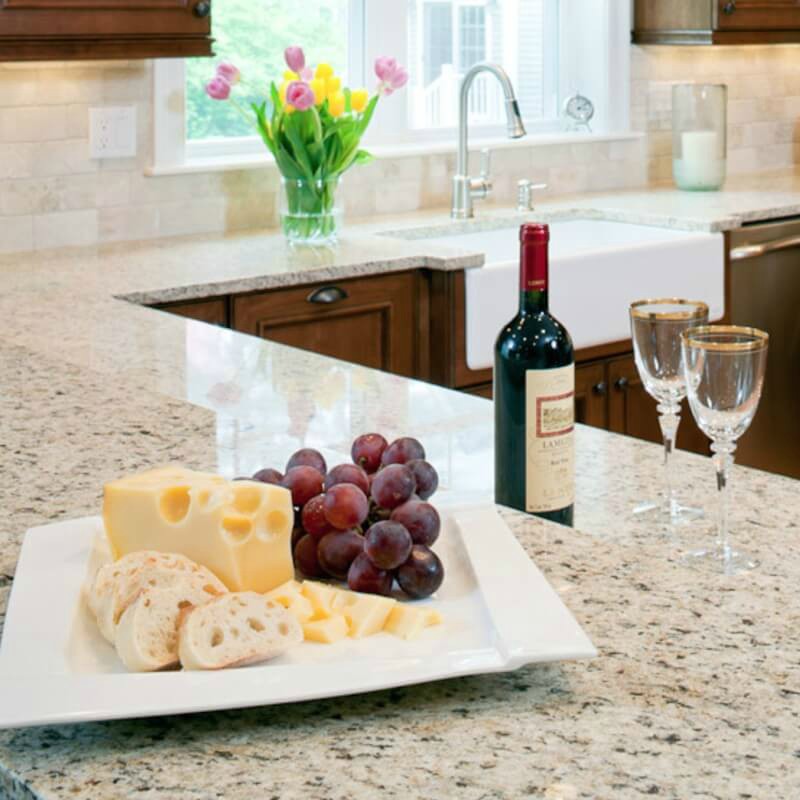 Featured: Giallo Ornamental Granite
If you prefer a light countertop in a warm tone, consider Giallo Ornamental Granite. This granite imported from Brazil features white specks and dark gray and brown veins on a beautiful beige backdrop. This look blends in beautifully with the natural stone backsplash and complements the warm wood cabinetry.
The beauty of natural granite is an important consideration, but so is its stain-resistant functionality. And you won't have to worry about drink spills staining your granite as long as you wipe up messes as they happen.
Bianco Antico Granite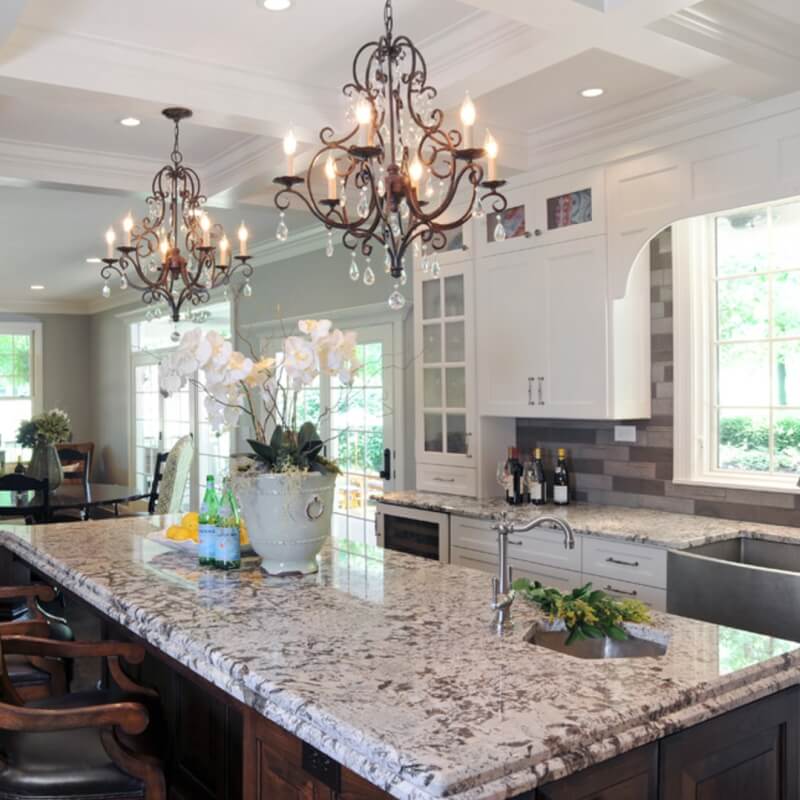 Recreate this look with MSI's Bianco Antico Granite (Photo Credit: Houzz)
Bianco Antico Granite is another stunning granite from Brazil. The warm taupe and pink flecks on the soft gray background create a powerful pattern that adds elegance to this transitional kitchen.
When you have a large island like this one with a small prep sink, it's important to remember that water can soak into granite if left unwiped. However, while it may leave a dark spot for a moment, it will disappear a few minutes later.
Snowfall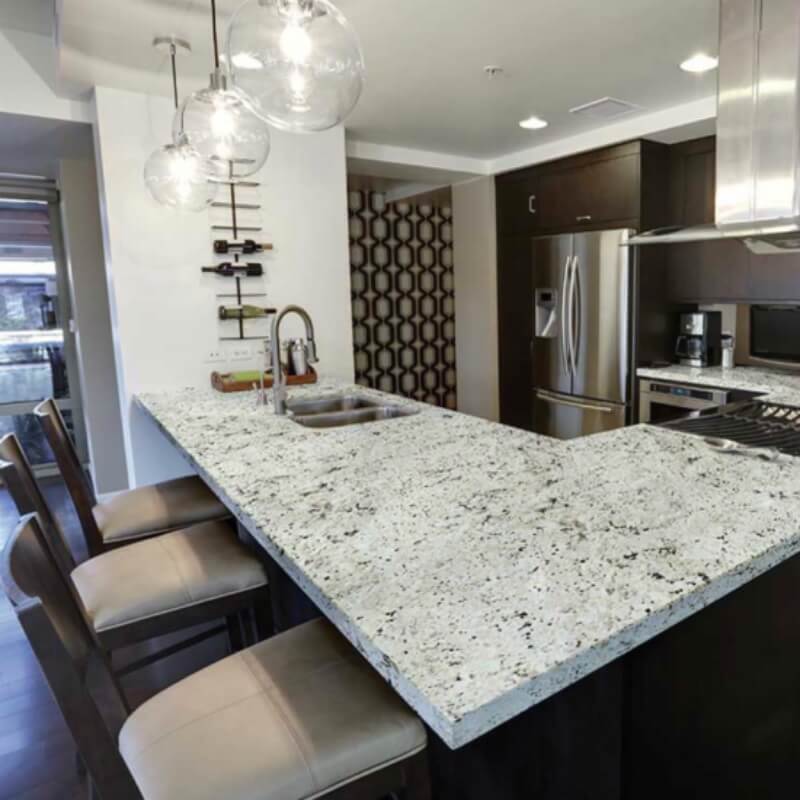 Featured: Snowfall Granite
This snowy white granite gets its pattern from a combination of accent colors, including inky blacks, burnished browns, and warm beiges. Snowfall Granite works well in contemporary kitchens like this one, but also perfectly complements traditional spaces.
Note: Unlike other liquids that evaporate entirely, oil will stain your granite countertop if it is allowed to soak into the natural stone. It is therefore important to tend to those spills or splashes immediately.
New River White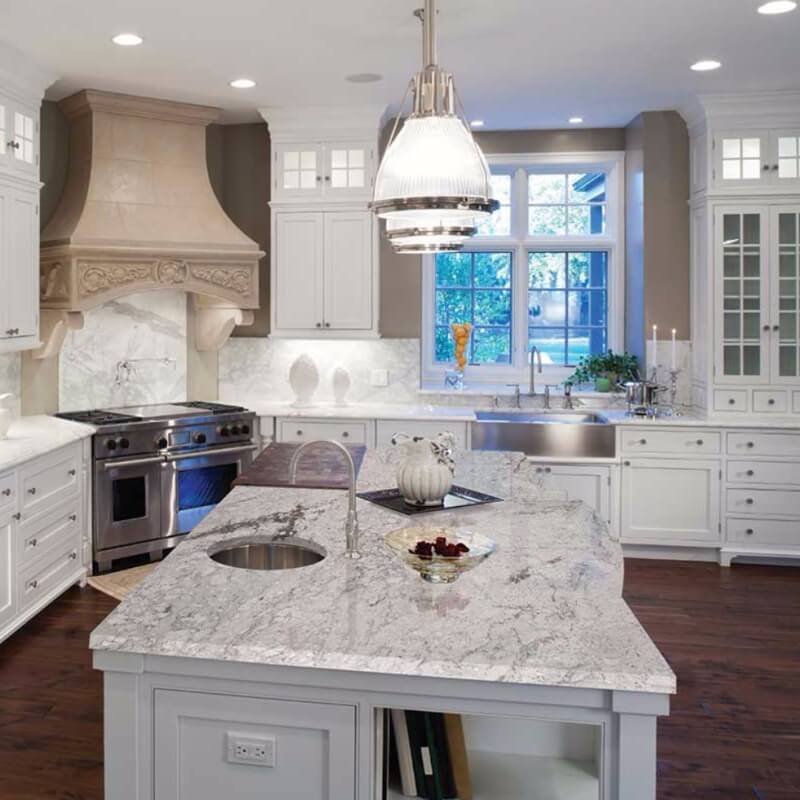 Featured: New River White Granite
Still uneasy about granite staining? Consider the New River White Granite countertop. With its soft shades of white, silvery accents, and wine-colored speckles, this natural material is resistant to stains without sacrificing beauty.
Bianco Romano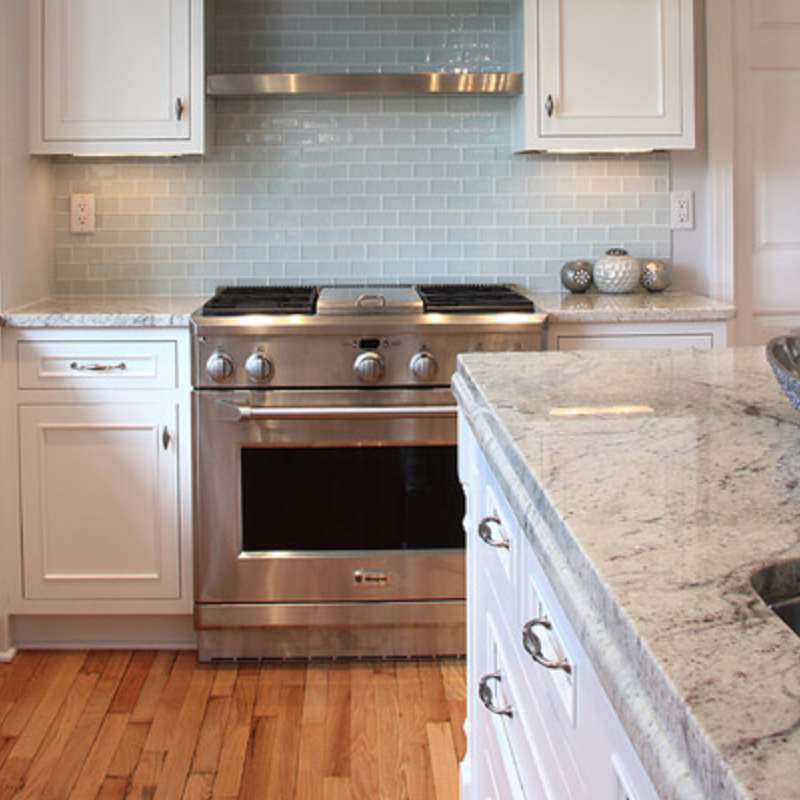 Create a similar look with MSI's Bianco Romano Granite (Photo Credit: Houzz)
Still, there's just something about granite that captures the heart of many homeowners, and here's another natural beauty to keep in mind. With a look similar to a marble stone, Bianco Romano Granite includes a mostly white and gray background with speckles of gold and small flecks of browns and blacks. Instead of an all-white kitchen, this space features the beautifully patterned granite, warm wood floors, and a glossy glass backsplash.
Still on the fence about the cost of granite or it staining? Well, if you do happen to get a stain on your granite countertop, you can have peace of mind knowing that most stains can be removed using a poultice or paste to draw out the liquid.
Whether you choose white kitchen countertops or light-colored granite, you can create a spectacular kitchen by pairing it with either contrasting cabinetry or complementary soft tones. And with more than 250 granite colors to choose from, you're sure to find something that suits your design aesthetic.
Ready to start your search? Find your perfect granite pattern with MSI's kitchen visualizer.
Learn More about White Granite and White Cabinetry
Cold No More: 5 Warm and Inviting White Granite Countertop Ideas
5 Timeless White-on-White Kitchen Looks
5 Granite Colors That Go Perfectly With White Cabinetry
Winning White Bathroom Designs With Granite Countertops
4 Stunning White Granite Countertops for a Kitchen that Pops
White Marble & Granite: When the Absence of Color is the Color of Choice!
READ MORE ABOUT GRANITE COUNTERTOPS
Do Granite Countertops Increase the Resale Value Of Your Home?
Dramatic And Flowing Granite Slabs
Durable, Beautiful & Natural Granite Countertops