Athena Gold Natural Stone Collection: Modern Shapes And Timeless Patterns
June 02, 2023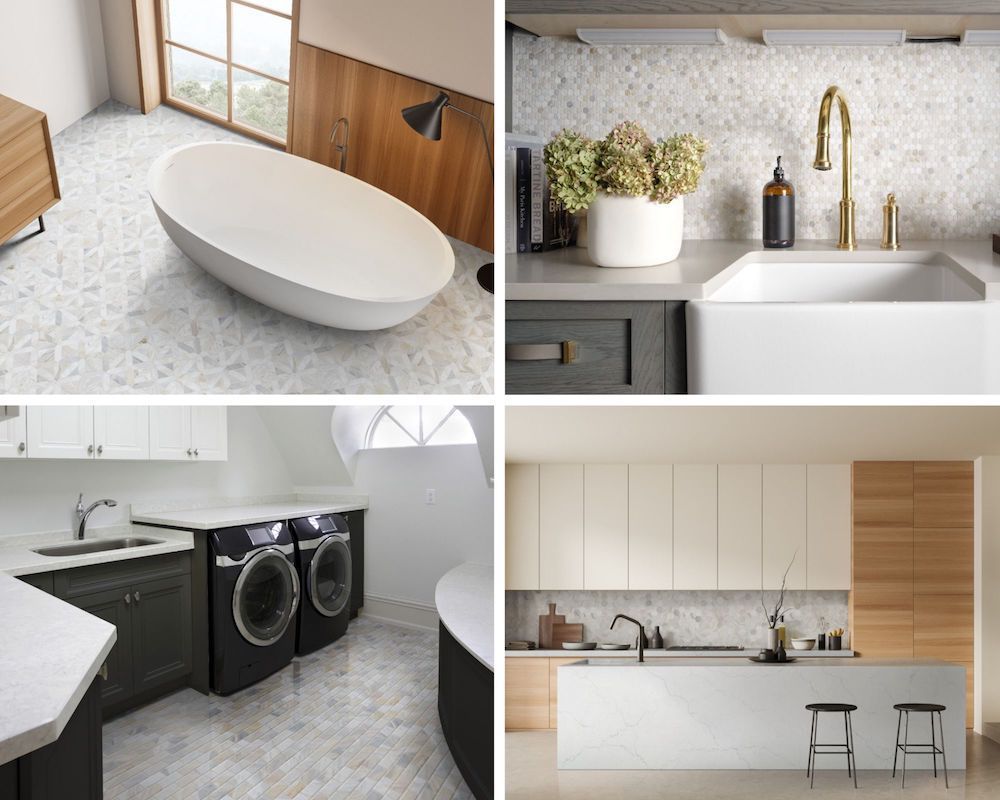 The enduring beauty, luxury, and value that natural stone brings to your home cannot be overstated. Luminous white marble, in particular, is a timeless addition to any living space. Whether used for flooring, countertops, backsplashes, fireplace surrounds, or shower and bath enclosures, white marble exudes a sense of elegance and sophistication that enhances a space's overall aesthetic.
At MSI, we've taken classic marble tile to the next level with the Athena Gold Collection. This collection boasts modern tile shapes and features that breathe new life into this soothing stone. Both cool and warm neutrals grace this versatile surface material, making it ideal for complementing a range of interior styles and designs.
With a contemporary honed finish, the tiles in this breathtaking collection offer a softer, more casual vibe modern homeowners love, along with the safety of MSI's Zero-Slip™ technology. Easy installation is a bonus for residential and commercial clients alike.
Which Athena Gold tile is right for your next remodeling project? There are several options, from classic subway tile to the hive-like symmetry of a hexagon tile. Let's check them out!
Creating Classic Serenity with Fresh Neutrals
When it comes to wall tile, few have stood the test of time as remarkably as the classic rectangular subway tile. It's one of the easiest ways to create a sophisticated backsplash or shower enclosure impervious to changing trends.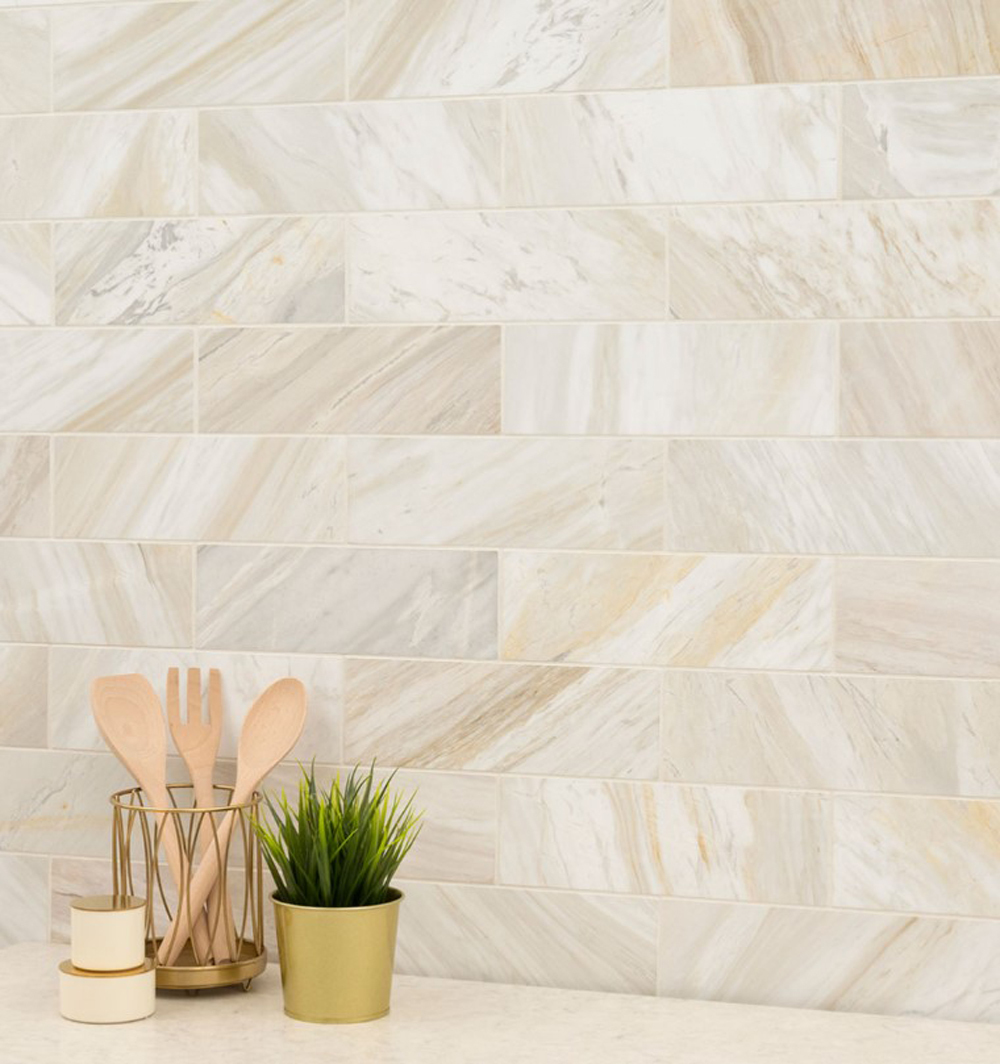 Athena Gold Honed 4x12 Tile
Prepare to elevate any room to new heights with the exquisite Athena Gold Honed 4x12 Tile, adding subtle depth and movement to your interior with the refreshing ambiance of breezy neutrals. These subway tiles, brushed with pale gray, beige, and golden veins can bring a tonal kitchen or bathroom to life and deliver the feeling of serenity you crave.
Enhancing Elegance with Depth and Texture
You'll be pleasantly surprised to discover that there are endless possibilities to enhance the already stunning simplicity of subway tile. The timeless allure of beveled subway tile creates a design element that effortlessly combines classic sophistication with subtle architectural intrigue. With its unique angled edges, this tile adds an extra layer of depth and texture to walls, backsplashes, and even floors.
The subtle strokes of cream, gray, and honey tones brushed across Athena Gold Beveled 2x4 Tile adds gentle movement and dimension. Its beveled edges bring greater depth and texture to the equation, enhancing visual interest.
Finding Tranquility with Ageless Hexagons
There's something particularly soothing about running your eyes over a surface comprised of perfectly fitted hexagons. Maybe it has to do with the natural beauty and order found in a honeycomb or that hexagons offer an ageless appeal that works with classic and contemporary styles.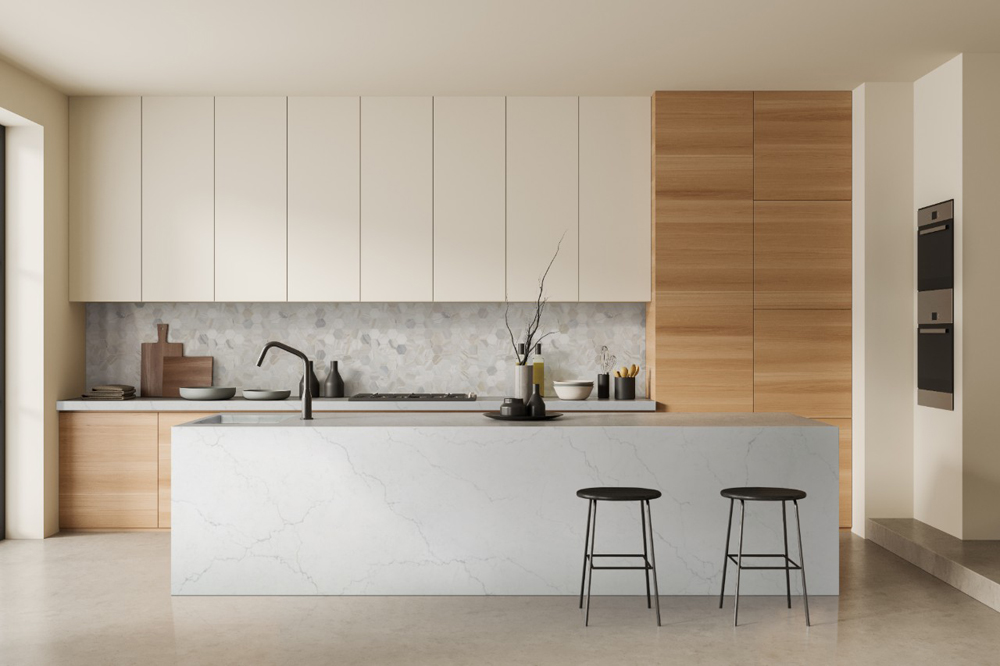 Athena Gold 2" Hexagon Honed Mosaic
Regardless, choosing a hexagon mosaic for your kitchen or bathroom refresh will surely provide the tranquil vibes you crave, especially when selecting Athena Gold 2" Hexagon Honed Mosaic. These beauties feature a merriment of various creamy golden and gray hues that are warm, welcoming, and conducive to relaxation.
Incorporating Sophisticated Structure with Chevron
Chevron patterned wall tile effortlessly combines timeless elegance with contemporary flair, creating a visually captivating focal point in any room. The geometric arrangement of the chevron design adds a sense of movement and depth, transforming an ordinary backsplash tile arrangement into a stunning display of modern sophistication.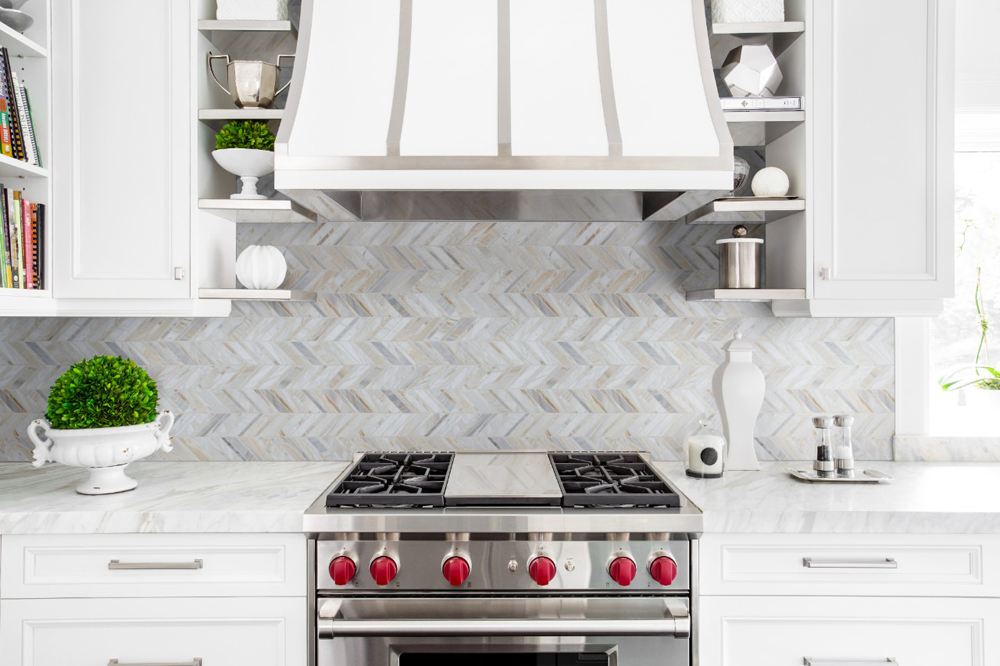 Athena Gold Chevron Pattern Honed
Athena Gold Chevron Pattern Honed Tile takes the effect up a notch with a blend of whites, creams, grays, and hints of rosiness that increase variation and movement. Not only is this pattern ideal for a backsplash, but it also looks stunning when applied to a statement fireplace surround or on an adorning entryway wall.
Marrying Classic Design with a Modern Approach
In the captivating world of geometric wall and floor tile, modern artistry and classic design converge to redefine interior spaces. These tiles, with their precise patterns and honed finish, offer a perfect balance between contemporary design and timeless sophistication. Whether adorning walls or floors, these tiles infuse a sense of dynamic energy, adding depth and character to any room. With their clean lines and precise angles, geometric tiles create a visually striking canvas that allows for endless creative possibilities, enabling you to transform your space into a modern masterpiece.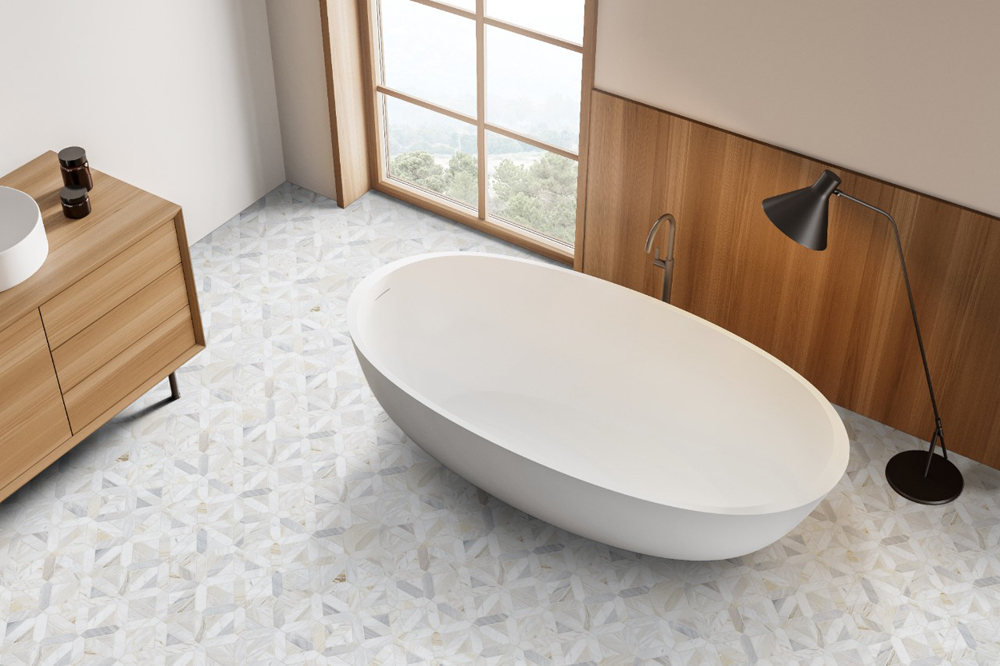 Athena Gold Geometrica Honed
The lattice-like effect of Athena Gold Geometrica Honed Tile is an excellent choice for decorative design styles ranging from cottage to colonial and even Victorian. It's also versatile enough to enhance more streamlined styles, like ranch or mid-century modern.
This is due mainly to a marriage of classic white marble with a modern, geometric, mosaic tile layout. To give this natural stone tile a modern edge, consider a darker grout in charcoal to make the pattern pop.
Elevating the Heart of Your Home
Transform your kitchen with the captivating allure of penny round wall and floor tiles. These charming circular tiles, reminiscent of natural pebbles, offer a unique and stylish solution for backsplashes, accents walls, and even floors. With their exquisite design, they can effortlessly transform a kitchen into a culinary sanctuary, while adding a touch of sophistication to the space.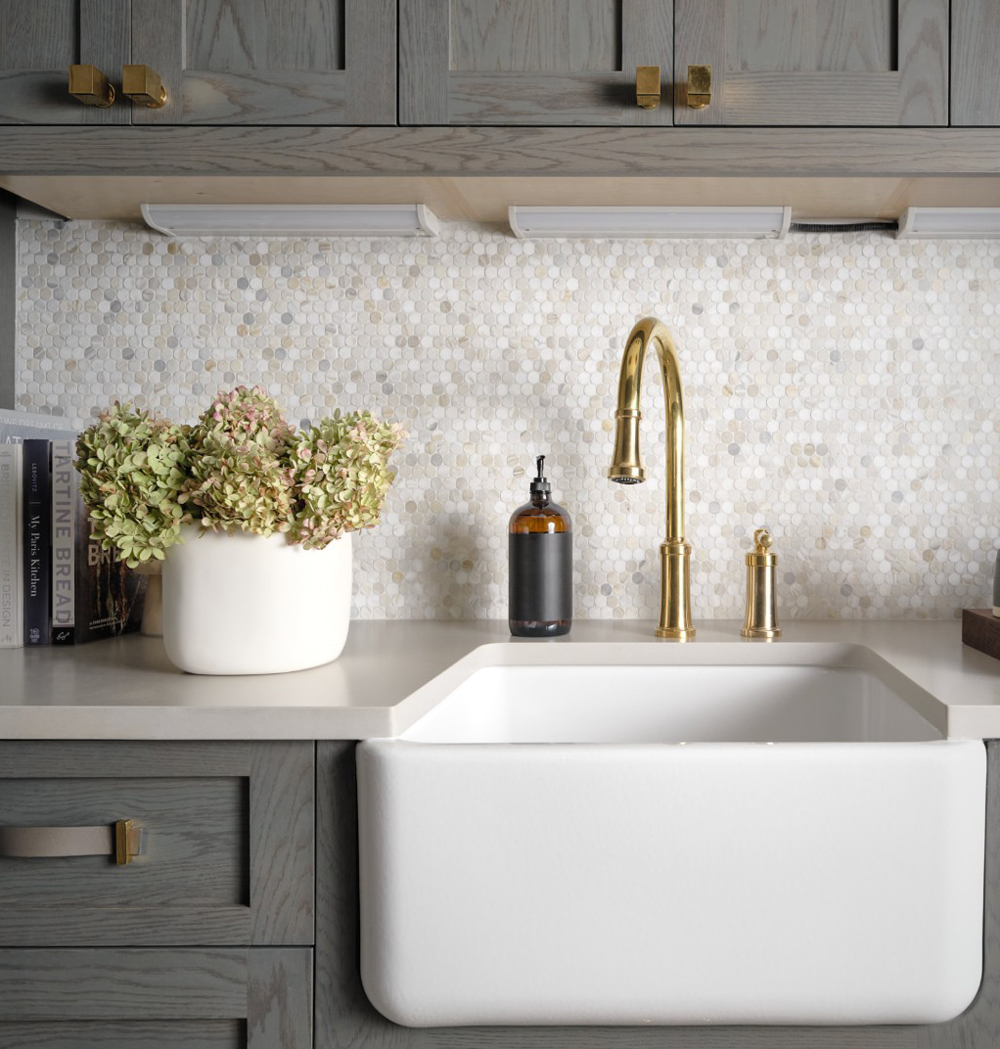 Athena Gold Penny Round Tile
With its petite size, Athena Gold Penny Round Tile creates a mosaic-like effect that enhances the visual interest of your backsplash. The subtle texture and color variations further contribute to the depth and richness of the design. Whether you choose a monochromatic palette for a sleek and modern look or opt for a blend of complementary tones for a more eclectic style, these tiles provide endless possibilities to customize and personalize any area in the home.
Athena Gold Makes Design Easy
Selecting the right natural stone backsplash for your home upgrade can feel like a daunting task with so many gorgeous options to choose from.
The process is easy with the versatility of the Athena Gold Stone Collection, featuring a marriage of timeless materials and modern designs that complement any trend or personal style.
Are you ready to find the perfect pattern for your upcoming kitchen or bath remodel? Chat with our experienced team at MSI online, or find an authorized MSI dealer near you to visit a showroom in person.