8 New Quartz Countertop Colors That Wow!
October 19, 2020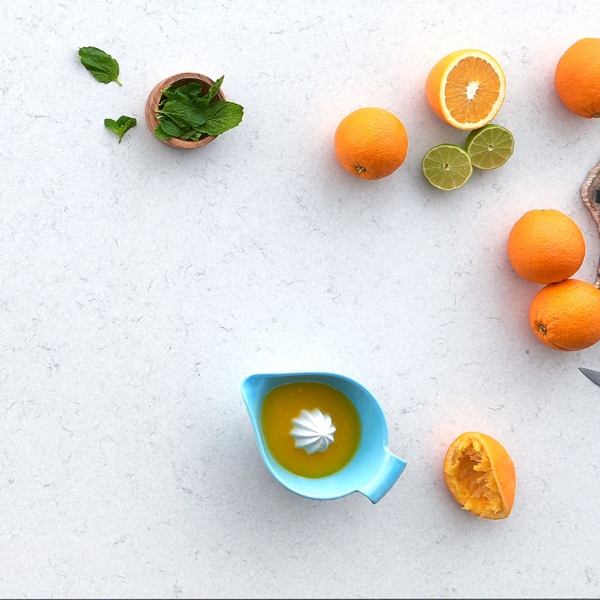 Here we grow again! MSI just expanded its celebrated quartz countertop collection with eight new quartz countertop colors. Trend-seeking remodelers will appreciate the new marble-look options as well as a new concrete-look addition to their quartz countertop offerings.
Thanks to engineering advancements, manufacturers can create more dynamic color variations, giving them the ability to create different veining styles, ranging from wispy to high-contrast. More incredibly, new engineered quartz has the appearance of depth- something typically only found in natural slabs.
Here, we're going to talk about the new quartz colors that MSI has to offer. Read on to learn about each new style and why the colors in this collection are a great countertop choice for any kitchen or bath.
1. Mirano Gray Quartz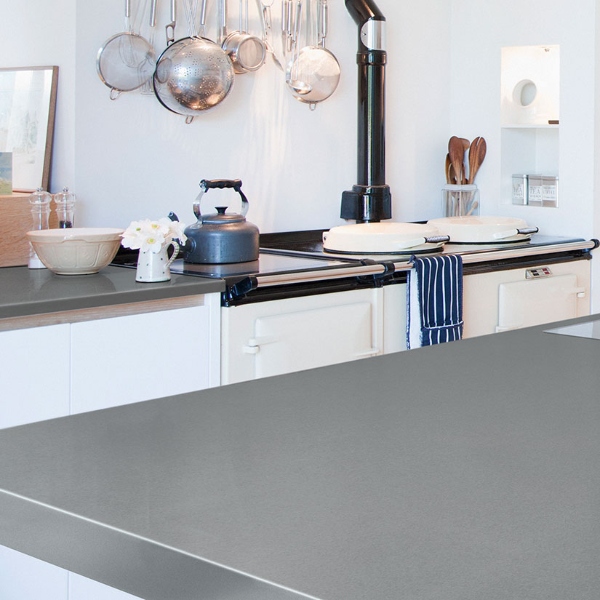 Mirano Gray Quartz is a countertop choice with nearly solid coloring. It's cool, contemporary, and pairs nicely with any marble-look Carrara options that we'll be discussing shortly. However, it still manages to appear completely natural and deep in its hue.
However, mimicking nature isn't the only trick this "pony" has. The deep grey tone of Mirano Grey has gentle and random speckling throughout to give it a more unique appearance. Because completely random speckling has been difficult to mimic in past decades, this new advancement is a surefire way to make your kitchen as modern and expressive as possible.
2. Calacatta Alto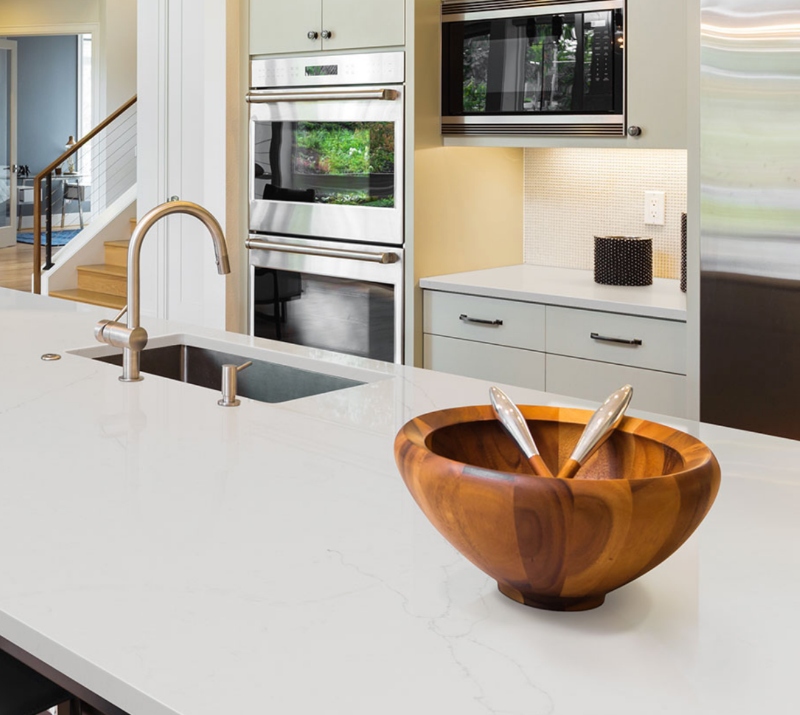 If you're looking to replicate the appearance of marble in a prefabricated quartz countertop, we have a great choice for you! Calacatta Alto Quartz has a cool eggshell background with small gray veins throughout its entire surface. In short, it looks almost exactly like classic marble!
But why use MSI's quartz slabs over real marble?
There are a few reasons for this. First, quartz is more affordable than marble as well as being easier and cheaper to maintain. It also is far more durable than marble is and doesn't dent, chip, crack, or stain as easily.
As a result, it has a longer lifespan and is a better investment. This is especially true since our quartz countertop options are almost indistinguishable from real marble!
3. Calacatta Arno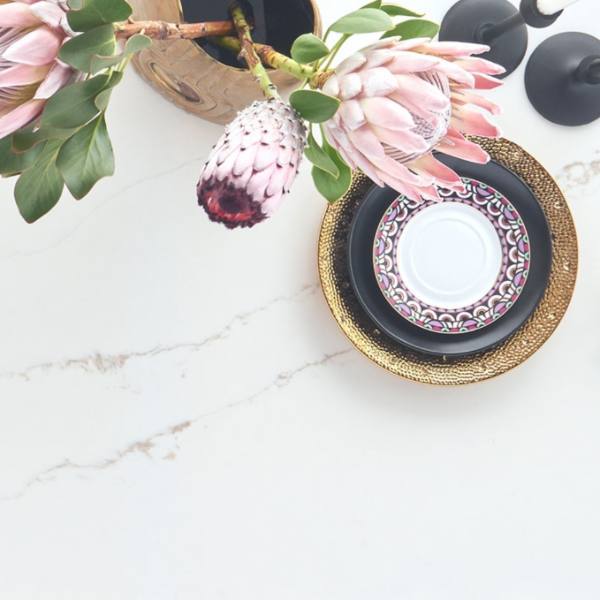 Similarly to Calacatta Alto, Calacatta Arno Quartz features a solid white background with thin gray veins on top. However, the base white hue is more cream than eggshell, which makes it a better choice for rooms with warmer aesthetics.
This is even more true since the veins are highlighted with classy gold accents. This pop of warmth makes Calacatta Arno the perfect choice for countertops and backsplashes in rooms that incorporate warm wall paint, furniture, and lighting.
4. Calacatta Ida
Looking for something with slightly thicker and more pronounced veining? Calacatta Ida Quartz might be the right choice for you!
Rather than having thin, subtle veins, the gray lines on Ida are soft and cloud-like. The hue floats from the center of the vein outward and creates a sort of smokelike trail across the slab. This also means that there are more organic shapes incorporated into the surface since the grey lines shape themselves into small circles and organic clouds.
Like all Calacatta Alto, the white backdrop of this style is in a cool color. This goes well in spaces that use stainless steel appliances or have bright, fluorescent lighting.
5. Calacatta Monaco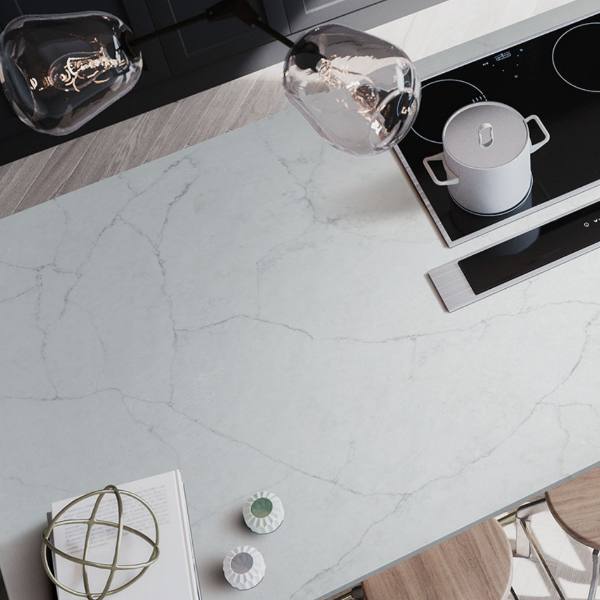 If you're looking for a countertop or kitchen backsplash with a somewhat darker primary hue, Calacatta Monaco Quartz might be right for you.
The warm white background on this slab is accented by large veining. Though it is thin and of a similar gray color to our other styles, it is significantly larger and makes the entire slab look darker and more mysterious.
Calacatta Monaco also features a polished finish that makes it look newer and sleeker. This makes it the perfect slab to accentuate any space. Whether you want a traditional, antique interior that uses heavy marble hues or a more modern space with shining fluorescent lights, Monaco has you covered.
6. Calacatta Valentin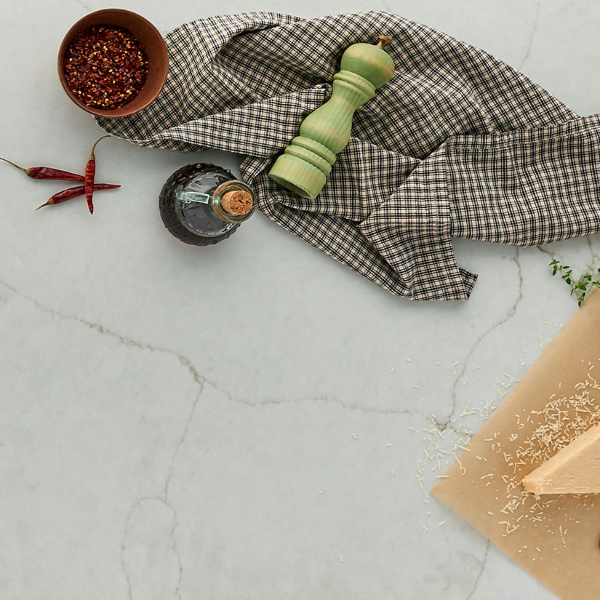 Another darker option for your countertops, Calacatta Valentin Quartz features large and dramatic veining. The gray and brown hues that these veins boast work their way out from the main thin line and moves across the entire slab. Like an intricate spiderweb, this veining is served to capture the eye and enrapture the viewer.
If you're looking for a marble-look quartz that goes well in rooms that use a lot of wood furniture, this is the perfect choice for you. If you have a textured paint job on your walls or accents, Valentin will provide ensure that your room has a cohesive consistency in its appearance.
7. Carrara Iris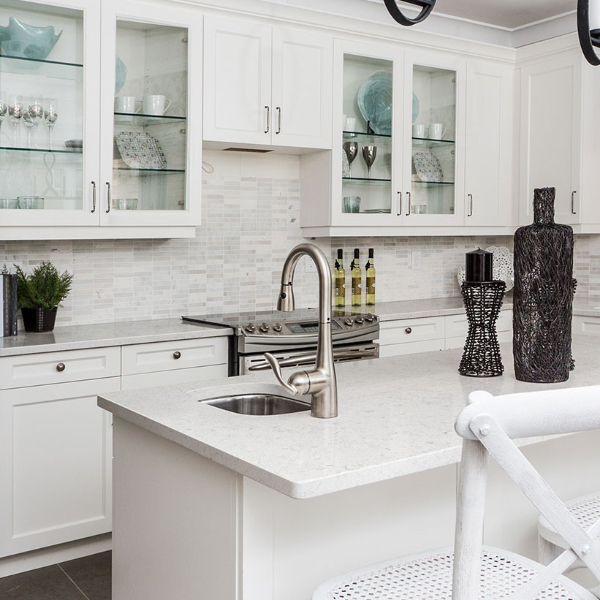 Quartz vs granite can be a difficult choice to make when performing home renovations. After all, while quartz is the superior material functionally, granite has a fairly unique and interesting texture.
Luckily, Carrara Iris Quartz brings the best of both these worlds together. Its soft styling and neutral white hues look just like light-colored granite while providing you with the durability and easy maintenance of quartz.
This quartz countertop and backsplash option has incredibly warm and soft undertones for classic and modern decor schemes alike. Its incredibly neutral appearance makes it incredibly versatile and gives it the ability to draw any room together.
8. Carrara Lumos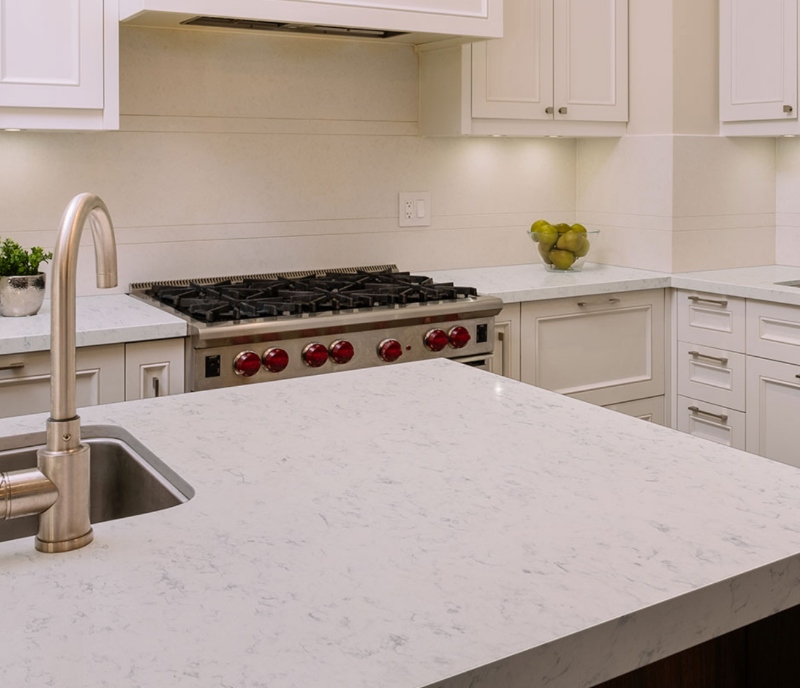 Carrara Lumos Quartz is similar to its Iris counterpart, but it has a much darker white background. It also has wispier gray veins that make the entire slab look even softer than its alternative.
It's a good idea to pair both of our Carrara options together. Consider getting a Carrara Iris countertop in your kitchen a putting a Carrara Lumos backsplash behind the sink. Because both of these slabs are so neutral and warm, they go perfectly together and create a more visually appealing space than one option alone can.
Get Started With Unique Quartz Countertop Colors
Now that you know all about our new quartz countertop colors, it's time to begin your home renovations!
More on quartz countertops
Are Quartz Countertops Better Than Marble?
Why Quartz Countertops Are the Most Popular Choice for Today's Kitchen
Perfect Quartz Countertop Pairings
What is Quartz and How is It Made?
Introducing The Lumaluxe Q Quartz Countertop Collection From Msi