MSI'S Acqualuxe™ Collection Of Kitchen Faucets
July 27, 2023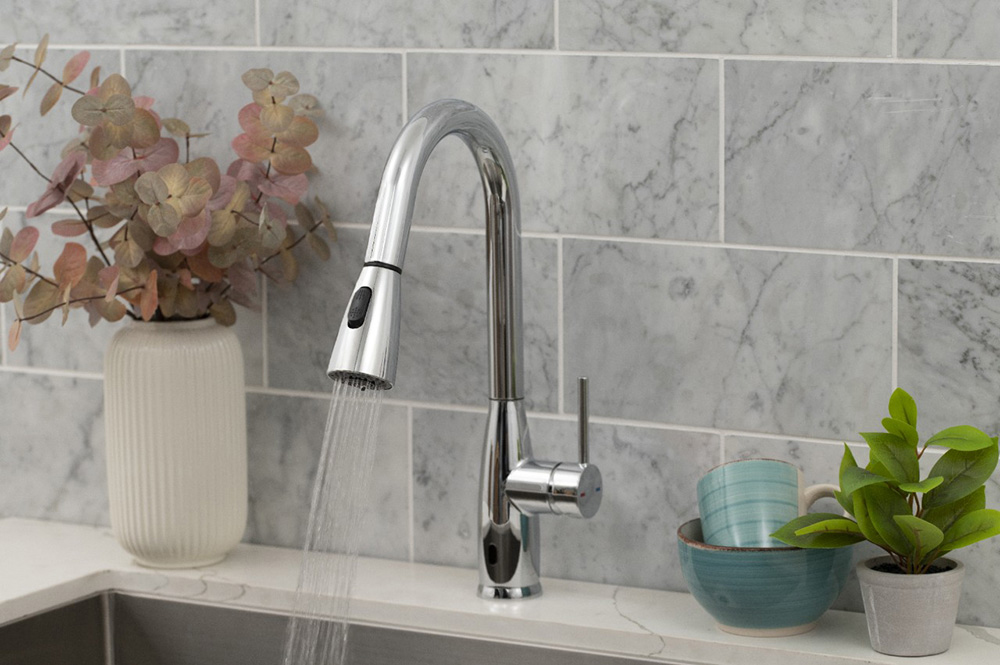 Welcome to the world of kitchen faucets, where style, functionality, and innovation come together to revolutionize the heart of your home. From classic elegance to modern ingenuity, kitchen faucets play a vital role in enhancing the overall aesthetics and efficiency of your culinary space. Whether you're remodeling your entire kitchen or simply looking to upgrade your kitchen countertops with a new faucet, our AcquaLuxe™ collection has the styles and options you are searching for.
The AcquaLuxe™ collection of faucets is a true testament to our commitment to providing high-quality and visually appealing products for modern kitchen spaces. This exquisite assortment offers a diverse range of kitchen faucets, catering to various design preferences—from timeless classic styles to sleek and contemporary options.
One of the standout features of this collection is the availability of faucets in nickel-brushed and chrome finishes. These finish options not only add an elegant touch to any kitchen but also provide versatility in complementing a wide array of design styles. Whether your kitchen has a traditional, rustic charm or a modern, minimalist aesthetic, our AcquaLuxe™ faucets seamlessly complement your countertops, backsplash tile, and more!
In an era where hygiene and convenience are paramount, we have integrated touch-less sensor design options into some of the faucets in this collection. The touch-less sensor functionality allows for easy hands-free operation, promoting a sanitary environment and preventing the spread of germs. With a simple wave of the hand or an object near the sensor, the water flow is activated, making tasks in the kitchen more efficient and hygienic.
Moreover, our AcquaLuxe™ kitchen faucets offer flexibility when it comes to handle options. Customers can choose between one-handle and two-handle designs based on their personal preferences and practical needs. The one-handle option provides ease of use, allowing for quick adjustment of water temperature and flow with a single lever. On the other hand, the two-handle option appeals to those who prefer a more traditional look and precise control over hot and cold water.
Beyond their aesthetic appeal, these faucets are built with durability and functionality in mind. They are crafted using high-quality materials and innovative manufacturing processes, ensuring long-lasting performance and reliability. Our commitment to quality means that these faucets are designed to withstand the rigors of daily use while retaining their stunning appearance for years to come.
Let's take a closer look at the exquisite selection of AcquaLuxe™ kitchen faucets, designed to brighten up your space and elevate its performance to new heights.
One Handle Sprayer Kitchen Faucets
Introducing the ultimate solution to your dishwashing woes—our 1-handle pull-out sprayer kitchen faucets! Say goodbye to the struggle of doing dishes with a standard faucet, and embrace the convenience and efficiency of our innovative designs.
With these faucets, you can effortlessly tackle a full sink of dishes, pots, and pans, or quickly fill up large pots with water for boiling. All our pull-out sprayers come with various cleaning modes, giving you the freedom to choose the perfect setting.
Not just functional, our kitchen faucets boast elegant nickel-brushed and chrome finishes that add a touch of sophistication to any kitchen aesthetic. An impressive 1.8 GPM flow on all our designs ensures efficient water usage while delivering optimal performance to every faucet.
To top it all off, we provide matching deck plates for each faucet, creating a cohesive and stylish finish for your kitchen sink area. Get ready to transform your dishwashing experience with our top-of-the-line kitchen faucets—making chores a breeze and elevating your kitchen's overall appeal.









Two Handle Kitchen Faucets
The traditional design of a two-handle kitchen faucet has benefits that have made this feature the go-to for centuries. Not only is the look timeless, but having the double faucet provides precise temperature and flow control. Our 2-handle kitchen faucet, finished in chrome, gives your kitchen an added sparkle. The matching spray nozzle enhances the range and flexibility.

Touch-Less Kitchen Faucets
Take a step toward a germ-free home and easier living with our touch-less infrared sensor kitchen faucet. With the wave of a hand, water starts flowing at 1.8 GPM, thanks to infrared detection capabilities. The elongated, raised spout stays out of the way so you can fit more in your sink, and you can change temperatures with the side lever control. When you need that close spray, simply detach the nozzle from the spout. All these features are available with a chrome finish for a sink that slides flawlessly into any kitchen design.
Experience the AcquaLuxe™ Difference!
A faucet from the AcquaLuxe™ Collection is a remarkable addition to any kitchen space. Whether you seek a classic or contemporary style, desire touch-less convenience, or prefer one-handle or two-handle options, this assortment has something to suit your needs. With its thoughtful design, reliable functionality, and elegant finishes, our AcquaLuxe™ faucets elevate the overall kitchen experience, making it more enjoyable and efficient for users while enhancing the overall aesthetics ofliving spaces.
But our dedication to enhancing your kitchen experience doesn't end with faucets alone. We also offer a stunning selection of kitchen sinks that harmonize seamlessly with the AcquaLuxe™ faucets. From the finest materials to thoughtful design, our kitchen sinks are created to complement your overall space and provide unmatched durability and performance.
Let us help you choose the perfect kitchen faucet and sink combo for your next project! Chat with us online today, visit one of our many MSI showrooms, or contact an authorized MSI retailer near you.