Tips From The Trade: Your Options In Finishes For Marble Flooring
July 25, 2017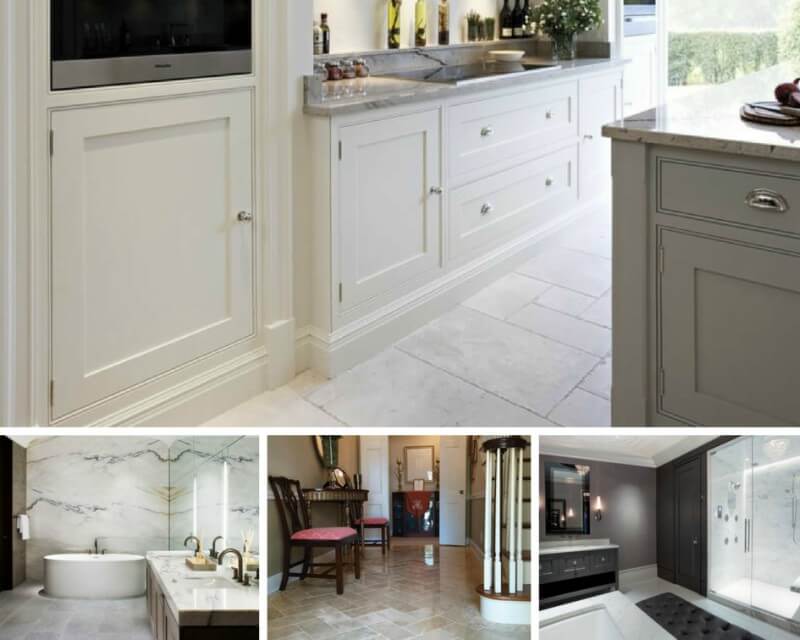 When you think of luxurious, natural stone for your floors, you're probably dreaming about marble flooring. However, there's more than one way this classic beauty can look and feel, depending on which finish you choose.
With four available options, homeowners like you can customize your visual and tactile marble style statement. But before you decide to make your marble flooring dreams a reality, read on to learn more about which finish is right for your home and design aesthetic.
Polished Finish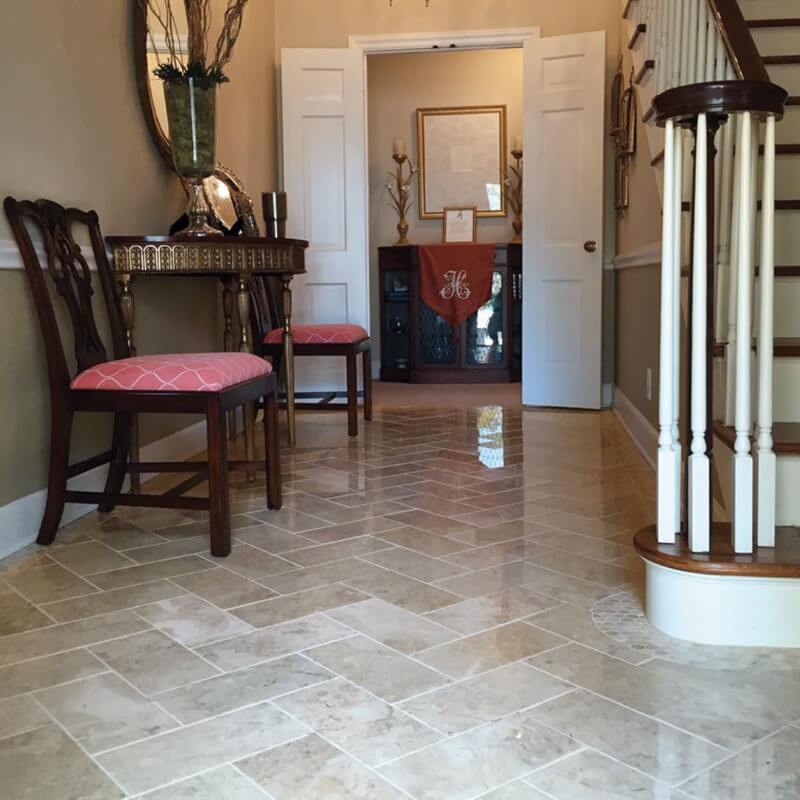 Featured: Crema Cappuccino Marble
With its luxuriously smooth and glossy look, it's no surprise that a polished finish is the most common marble finish. Because it's coated with a protective polish, this high-end, formal finish is easier to maintain than others. Plus, your marble will stay cooler when polished.
You may want to install polished marble in smaller, lower traffic areas like a powder room or small entryway. Since it has such a shiny finish, it does tend to show scratches more easily. Also be cautious when using it in wet areas, because polished marble can get slippery when wet, and can etch if spills are not cleaned up promptly.
Honed Finish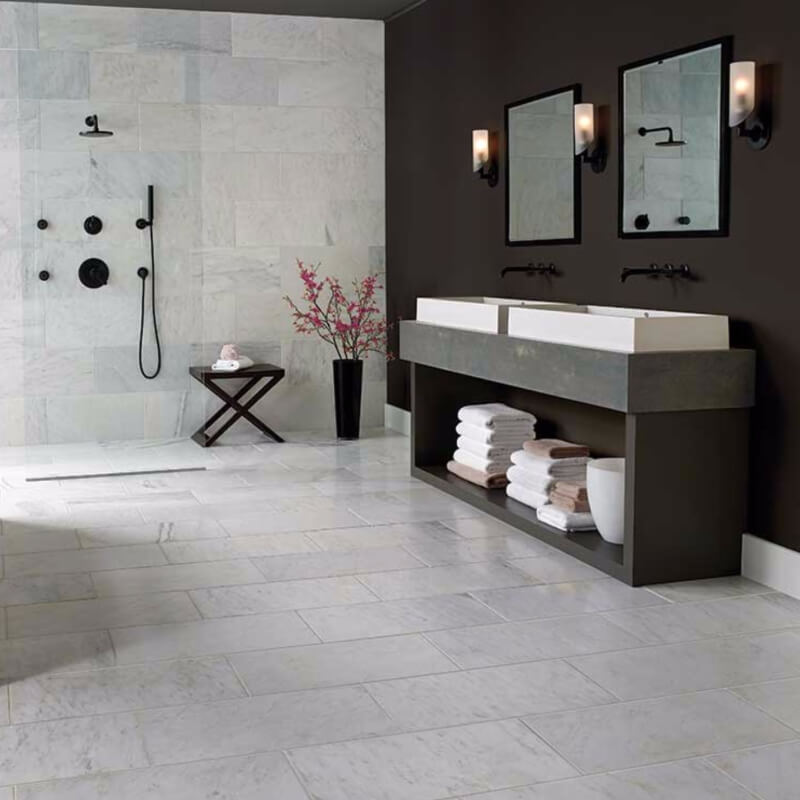 Featured: Arabescato Carrara Marble
For an old-world look, consider a honed finish for your marble tile. It works well in high traffic areas and creates a more casual, comfortable look with its more muted coloring.
You won't have to worry as much about scratches or slippage since abrasives take out some of the bits of stone and give it a velvety feel. However, because the stone is more porous than a polished finish, honed finish marble can stain more easily and requires regular sealing.
Tumbled Finish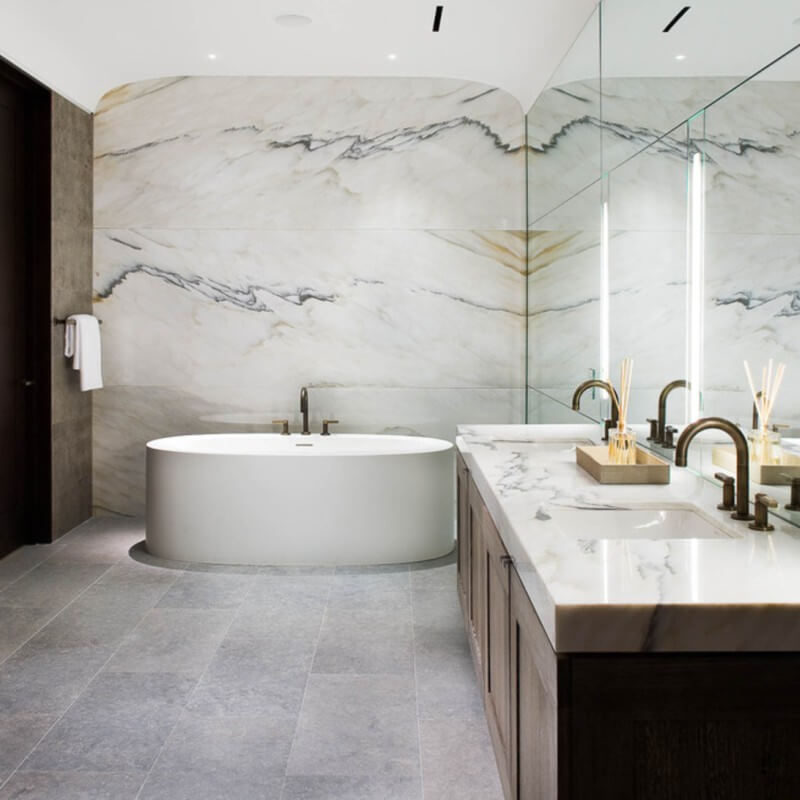 Get the look with MSI's Ocean Blue Marble (Photo Credit: Houzz)
For an even more worn look than honed marble, consider a tumbled finish for a room with a rustic, distressed style. With this type of finish, you'll see everything from cracks, chips, and uneven edges, because the tile is tumbled in a rubber drum with abrasives like water, sand and even rocks.
This process wears down the marble and results in a softer surface with texture and depth. It also adds warmth to any design with its smooth, worn look. Because it provides better grip than other finishes, you can feature it in a marble bathroom design or install it in other high traffic areas where you wouldn't want your surface to become slippery.
Brushed Finish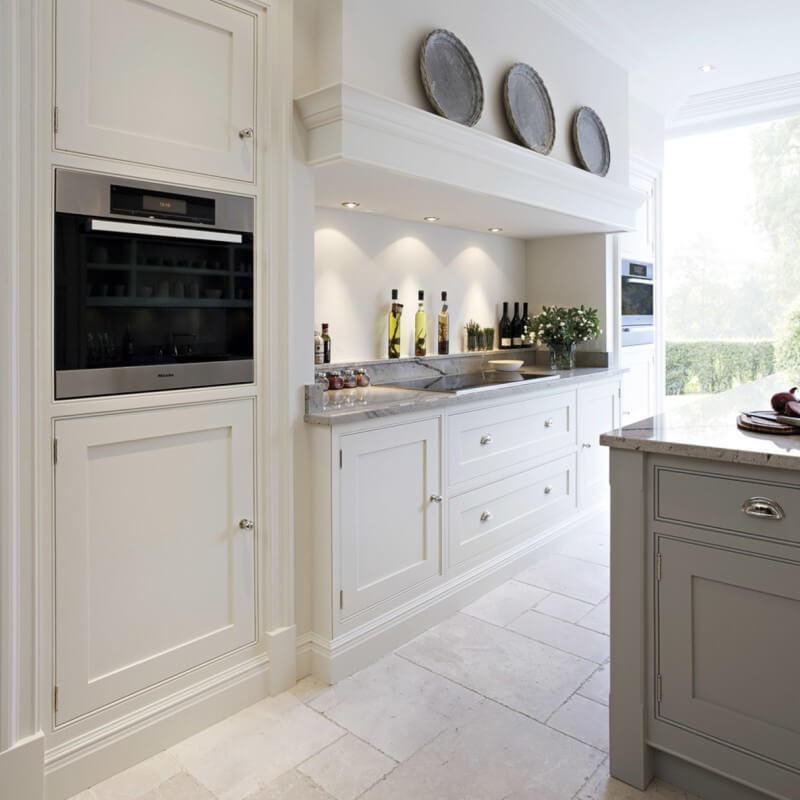 Get the look with MSI's Crema Marfil Marble (Photo Credit: Houzz)
Finally, if you want your marble tile flooring to look like it's been there for years, then opt for a brushed finish. This warm, aged look is a result of the manufacture brushing the tile until the surface develops the right texture. However, keep in mind that this porous material needs to be sealed often to resist stains, and should be vacuumed or regularly swept to rid your floors of dust that collects in the crevices.
Before you can finally walk around on your brand-new marble floors, you'll have to select the right finish that works for your aesthetic and maintenance needs. It's a decision that's just as important as falling for your favorite stone, so be sure to give it careful thought before finalizing your order. For even more inspiration, check out our marble tile flooring selections in a variety of finishes.