5 Unique Ways To Use Stacked Stone
February 21, 2022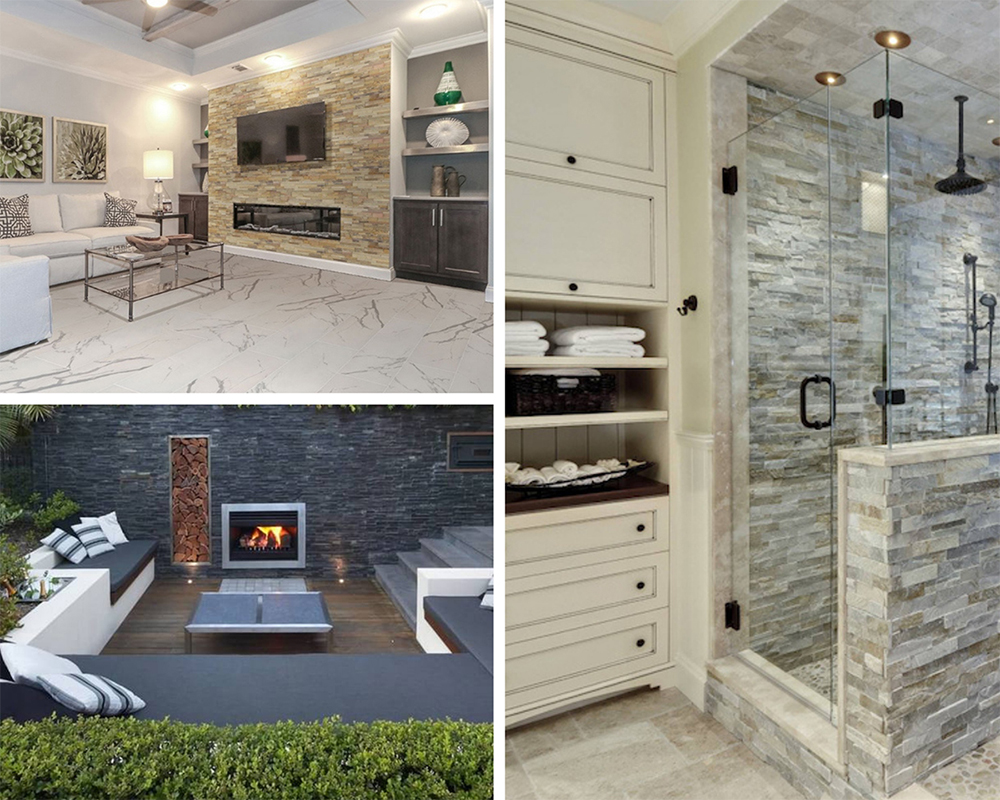 Bringing the great outdoors inside with the timeless look of stacked stone isn't going out of trend anytime soon, if ever. No matter where you stack it, these products add visual significance, create an eternal luxurious look, and amplify center-of-attention areas.

Stacked stone can upgrade many indoor and outdoor spaces for visual or practical purposes—or both. This article offers five exceptional ways to use stacked stone in numerous areas. Keep reading to learn more and perhaps even come up with a few brilliant design ideas of your own.
USE IN SHOWERS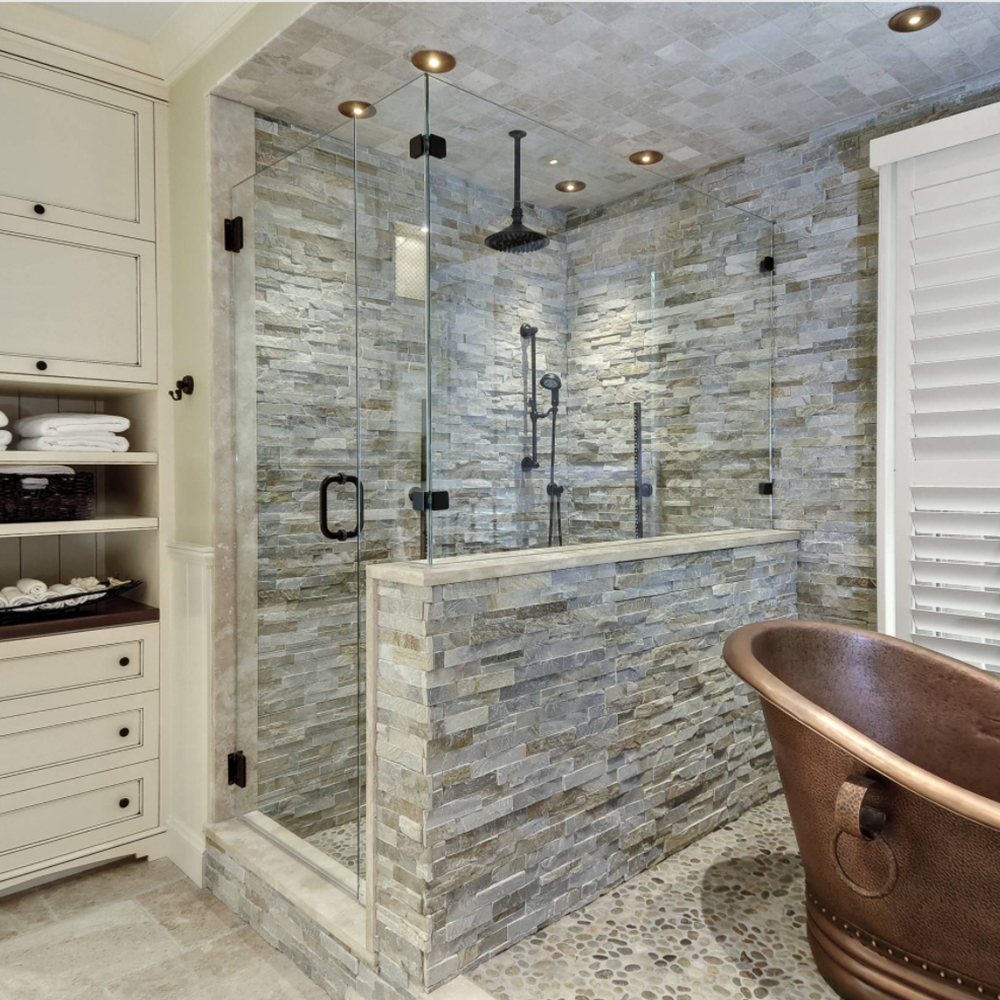 Photo Credit: @robertpaigecabinetryllc on Houzz
Using stacked stone in your shower is a captivating way to add interest to the space. Of course, it's fascinating to look at, but the feeling of showering inside a breathtaking cave with a mountainside waterfall is next to priceless. Achieve this look with the classy and organic looking Sunset Silver by MSI pictured here. In this setting, we recommend using natural stone. They're more durable, look great, and work well in the shower.

Waterproofing, utilizing installation best practices, and the right materials are all necessary. Likewise, using an exhaust fan or other method to move the moisture-rich, hot air from the room during and after showering (in addition to other maintenance measures) is required to keep your stones in good health.

With the addition of stacked stone, suddenly, your bathroom has the appearance of the presidential suite at a five-star hotel or a private shower room at a luxury spa. There is something instinctual inside us that longs to swim in natural bodies of water, to be among canyons, wide-open spaces, and the protective depth of wooded forests. With a bit of imagination, all of this is yours when you incorporate stacked stone into your shower design.
USE ON FIREPLACES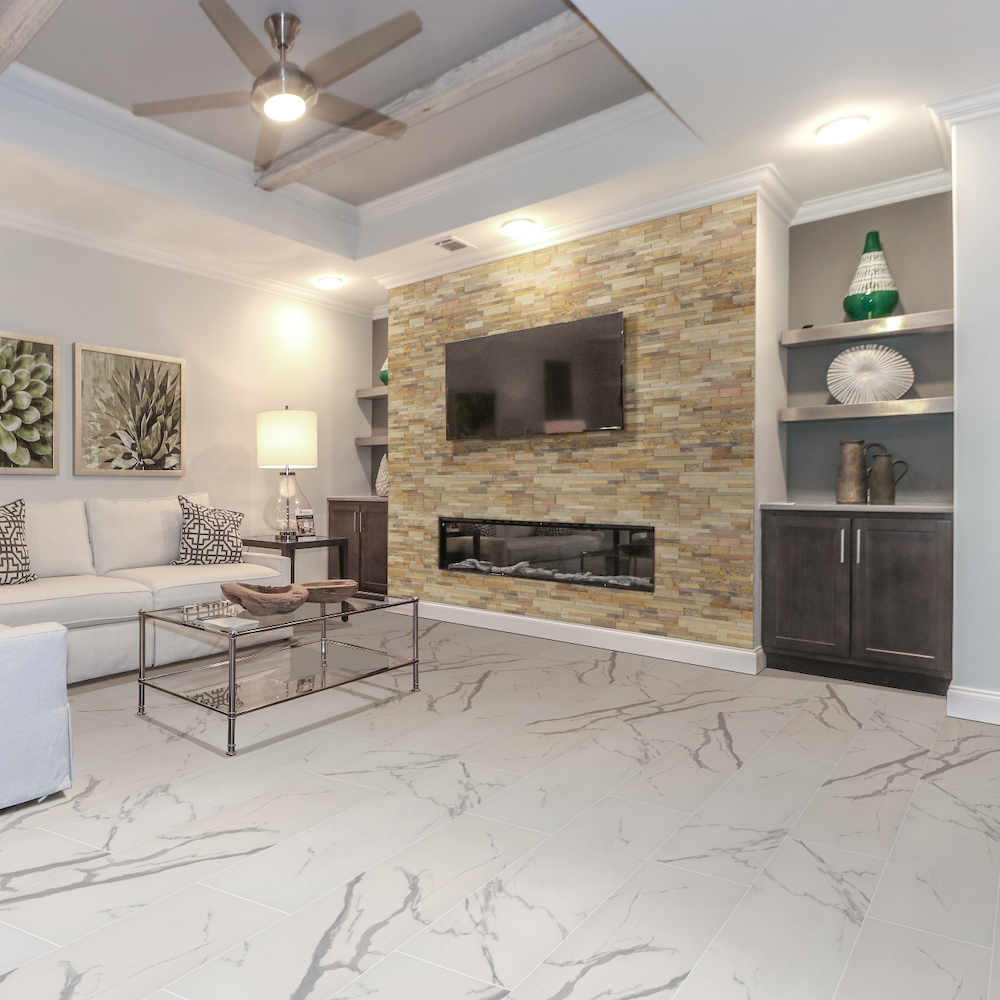 Stacked stone around a fireplace takes a room's major focal point and intensifies its ability to draw in and hold your attention. It also creates the surreal experience of having a campsite-like fire indoors. Creating magic like this is a significant benefit of stacked stone.

Note the use of MSI's Sedona Fossil ledger panels around the fireplace pictured here. Made from authentic sandstone, the mix of brown, cream, and rust tones paired with the elongated stones randomly set adds depth, interest, and timeless warmth to the room. In this room, the warm, cozy vibe of the stacked ledger panels works with and contrasts (in the best of ways) the rest of the room. While the fireplace is undoubtedly the focal point, it helps other elements of the room pop, such as the flooring, pillows, and cabinet.

Placing all of these different sized and randomly set stones into one seamless piece is part of the allure of bringing the outdoors indoors. Nature often appears random, and this touches something deep inside us. Add fire to the mix, and we have a time machine of the imagination to our distant ancestors.
USE IN ROOMS FOR ACOUSTIC PURPOSES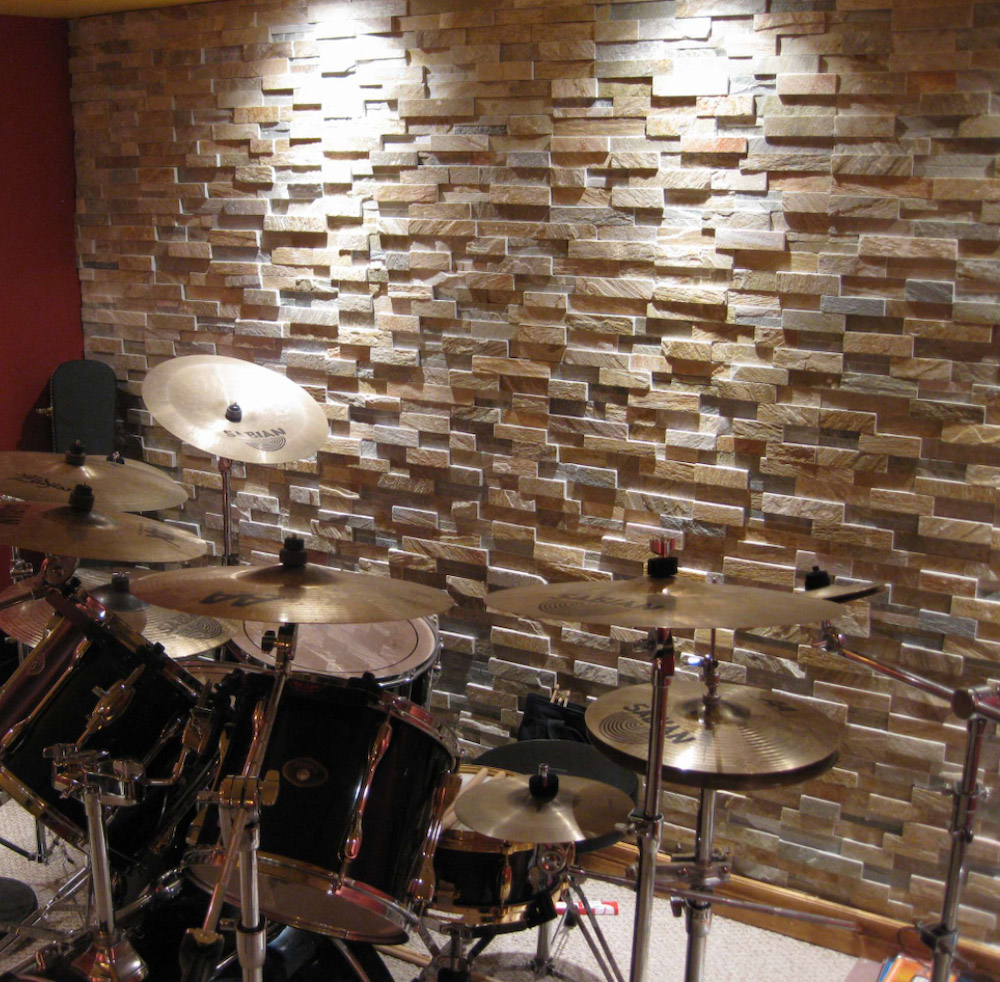 Photo Credit: @realstonesystems on Houzz
Perhaps you have a guitar-shredding kid who uses a room in your house for his band to practice. Or maybe you have a full-on home recording studio where clients pay good money to capture the best sound in town. Adding stacked stone to the space increases its beauty and provides myriad acoustical benefits, including absorbing sounds, so they don't override the quality of your recordings or make the rest of your family wear earplugs whenever the music room is live.
Take a look at the way MSI's Casa Blend 3D Multi Finish Stacked Stone pictured here adds warmth and depth to an otherwise basic music room. The overhead lighting plays with the stone, bringing out colors here and adding mysterious shadowing there. Using stacked stone like Casa Blend for acoustic purposes truly is a two benefits for the price of one type deal.
USE TO ACCENT STAIRCASE WALLS AND LANDINGS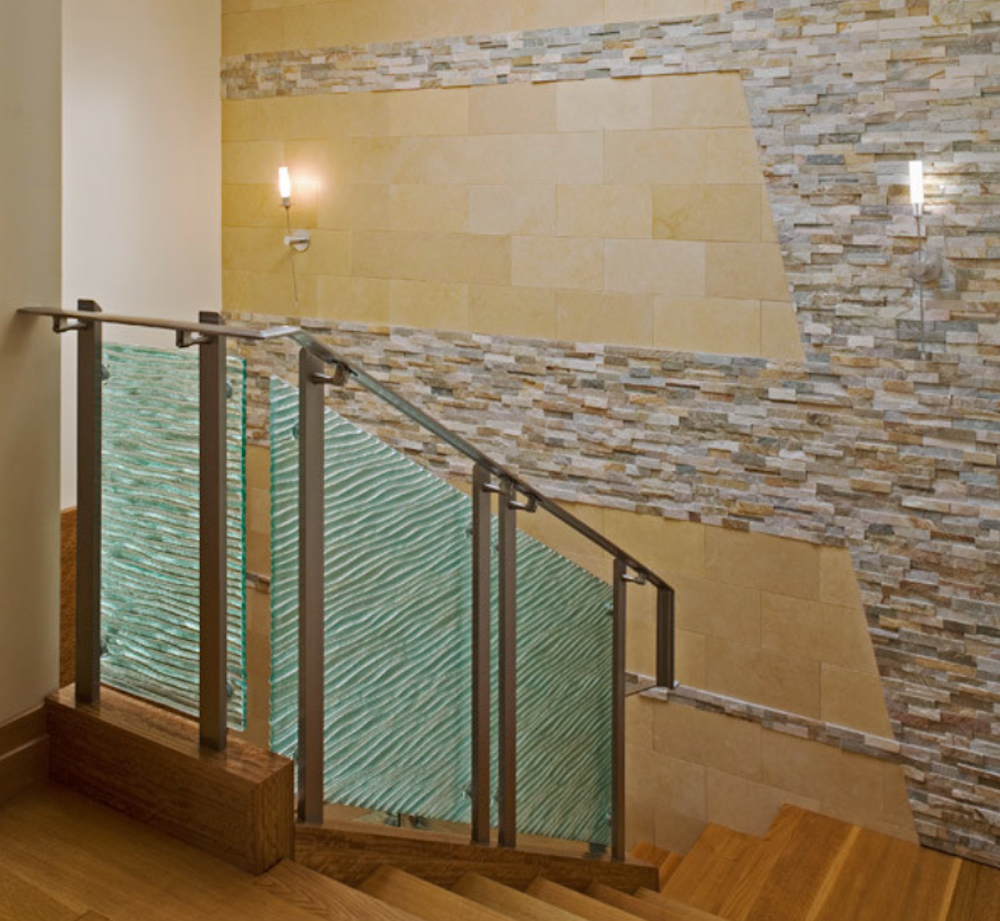 Photo Credit: @cardiffbytheseacalifornia on Houzz
Use MSI's Sparkling Autumn stacked stone on staircase walls and landings to bring a feeling of abundant liveliness to lifeless spaces. Sparkling Autumn's easy gold tones and understated rusts and creams and textures will upgrade the space's ambiance while adding an unlikely focal point that cannot be denied. Just look at the way it elevates the elegance of this staircase wall.

Imagine descending a flight of stairs. Your eyes are most likely drawn to your feet to make sure you navigate the steps without issue. But once you hit the middle landing, you have a chance to look up, and low and behold, an irresistible wall covered in contemporary stone veneer. Sometimes the most unlikely focal points are the easiest to take our breath away.

Using stacked stone to create accent walls takes the idea of accent walls to another level. The options are truly endless, and the textures are unlike anything you'll achieve with other wall treatment options. Use stacked stone to create an outdoorsy accent wall above a non-stacked stone fireplace.
Another idea is using it on the wall above your standalone bathtub to achieve the feeling of bathing in a natural swimming hole surrounded by gorgeous mountain walls. You can even keep the outdoors outside with enticing stacked stone accent walls. Read on to discover more ideas for using stacked stone outdoors.
USE IN OUTDOOR LIVING SPACES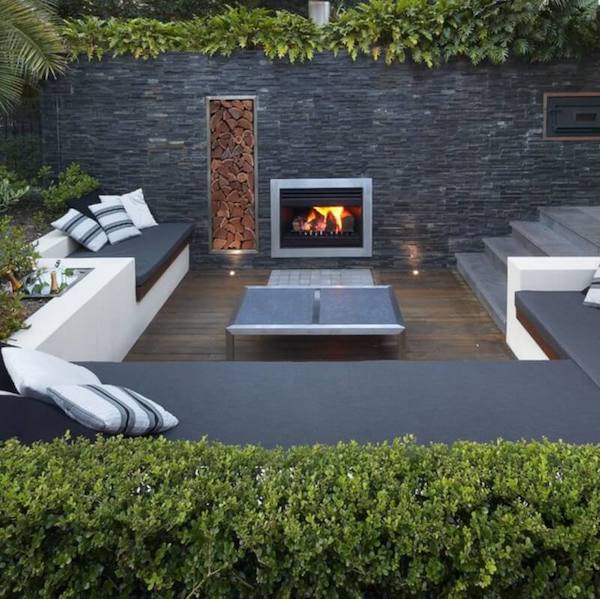 Using stacked stone in outdoor living spaces delivers much of the benefits of using it indoors. Sure, we're in an outdoor area now, but how many of these spaces have elements that look like the actual great outdoors?

Create a stunning stacked stone accent wall in an outdoor patio that will add an air of mystery and delight to the space. Or use it on columns to create a transition space. Another great idea is covering the outside of your outdoor bar in stacked stone or the inside of an outdoor space wall. Of course, you can't go wrong with MSI's Premium Black Stacked Stone pictured here in this enchanting outdoor patio fireplace scene.
While the unique ways to use stacked stone covered in this article only scratch the surface, they all deliver the benefits of bringing the outdoors indoors. They add depth, warmth, and colors that touch something deeply human inside us. Sure, none of us are looking to start sleeping under the stars 365 days a year, but we do long to touch nature. In our busy lives, this isn't always possible. Incorporating stacked stone into your indoor and outdoor living spaces grants us the chance to reconnect with nature from the comfort of modern living.
Learn More About Stacked Stone
5 Unique Ways To Use Stacked Stone
Build The Perfect Backyard Wall With Stacked Stone
Design A Stunning Accent Wall With Rockmount 3D Stacked Stone
10 Standout Projects Featuring Rockmount Stacked Stone
Wall Tile And Fireplace Facing Using Stacked Stone And Stacked Porcelain Panels