One Room, Three Looks With Plank Porcelain Tile
January 27, 2018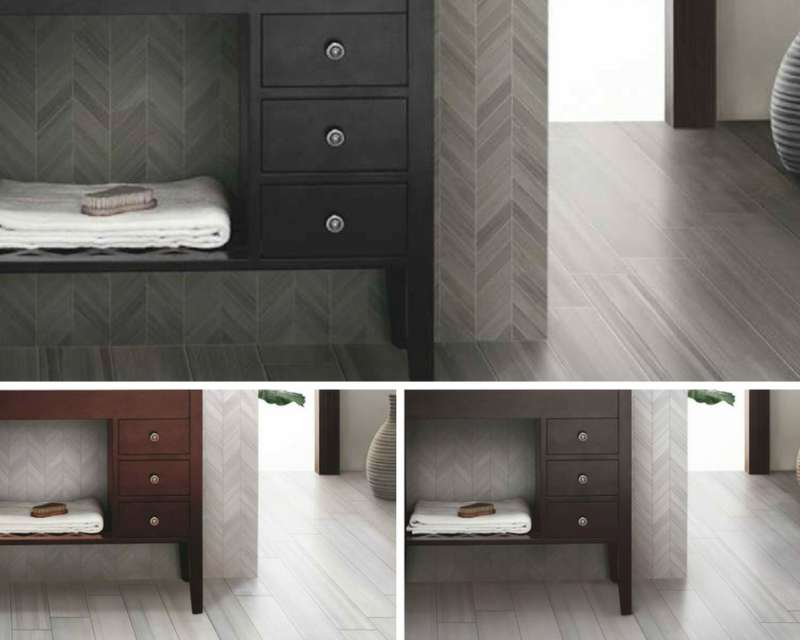 Stone tile flooring and hardwood flooring will always be popular options for home design, but they do have their drawbacks. For example, natural stone tends to be both expensive and heavy, and also requires special care and maintenance; these characteristics limit where stone can be installed. And hardwood, while a timeless design element, shouldn't be installed in potentially wet areas like bathrooms.
In contrast to both hardwood and natural stone, plank porcelain tile is one of the most versatile materials in home design. In fact, it can be installed pretty much anywhere. In addition to its many applications, porcelain can give you the look of natural elements, but without the extra hassle.
This easy care is a major factor in homeowners choosing man-made tile, and often this means choosing between porcelain and ceramic tile. For heavy wear and tear, it pays to remember that porcelain is harder and denser than ceramic. But at the end of the day, the tile you choose has to suit your personal style, and MSI offers many options for homeowners who love the natural look.
Take for example MSI's Watercolor Porcelain Tile Collection, which combines the look and feel of natural stone and the linear grain pattern and plank shape of wood flooring. The result? A natural-looking porcelain tile that complements virtually any design aesthetic with ease. And with three neutral colors to choose from—each featuring natural-looking depth and movement—you're sure to find the perfect porcelain floor to turn your bathroom into a work of art.
Graphite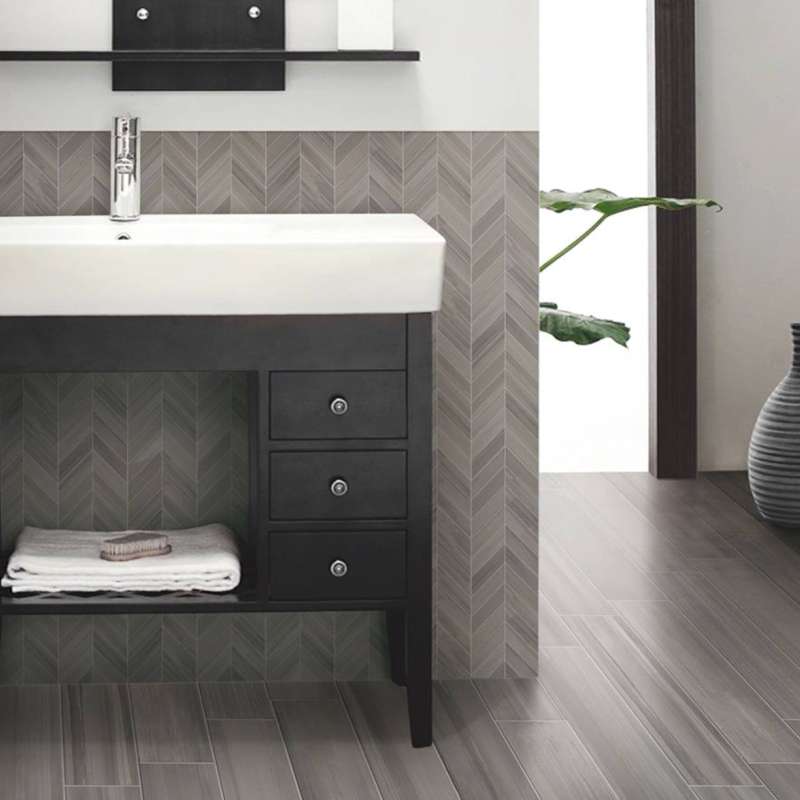 Featured: Graphite Watercolor Porcelain
The warm gray hues of Graphite Watercolor Porcelain creates a linear pattern that emphasizes this bathroom's existing architectural features. The soothing neutral shade transforms a functional room into a spa retreat, so much more than just a place to wash up. Plus, there's no need to worry about splashes and toddler bathtub tsunamis. Porcelain floors are extremely water resistant, and need no regular maintenance or sealing to maintain that waterproof property. So splash away!
Grigio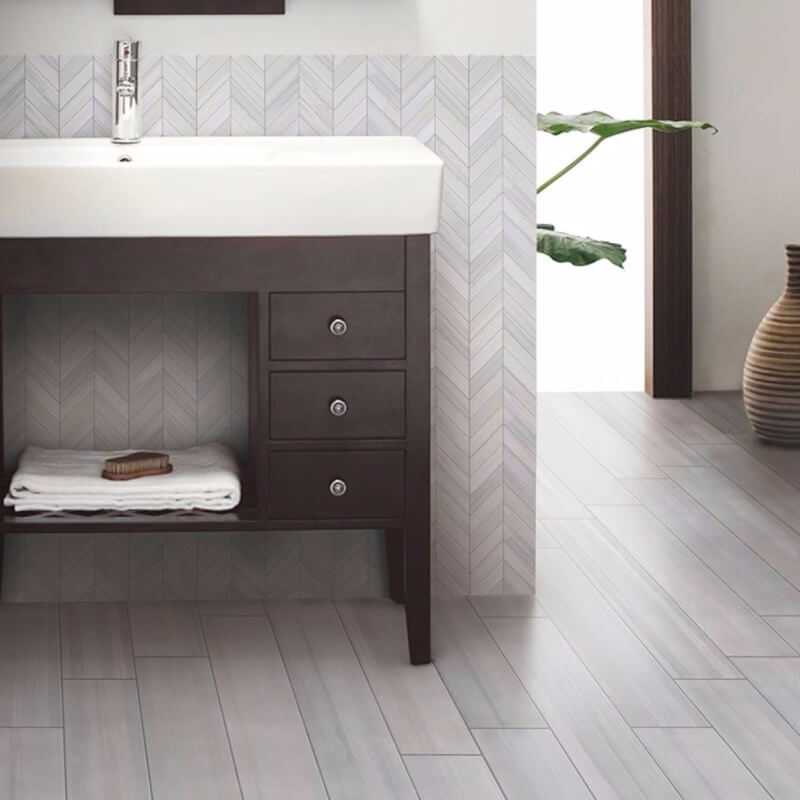 Featured: Grigio Watercolor Porcelain
Grigio Watercolor Porcelain tile features pale shades of gray and taupe, a neutral combination that complements many décors and is easy to love. One of the many properties that makes MSI's Watercolor Porcelain Tile Collection so well-suited to bathroom flooring is its slip resistant surface. The glazed and matte-finish tiles also feel luxurious on bare toes. You can make your design even more sumptuous by installing radiant in-floor heating, which will have you looking forward to a hot shower on cold winter mornings.
Bianco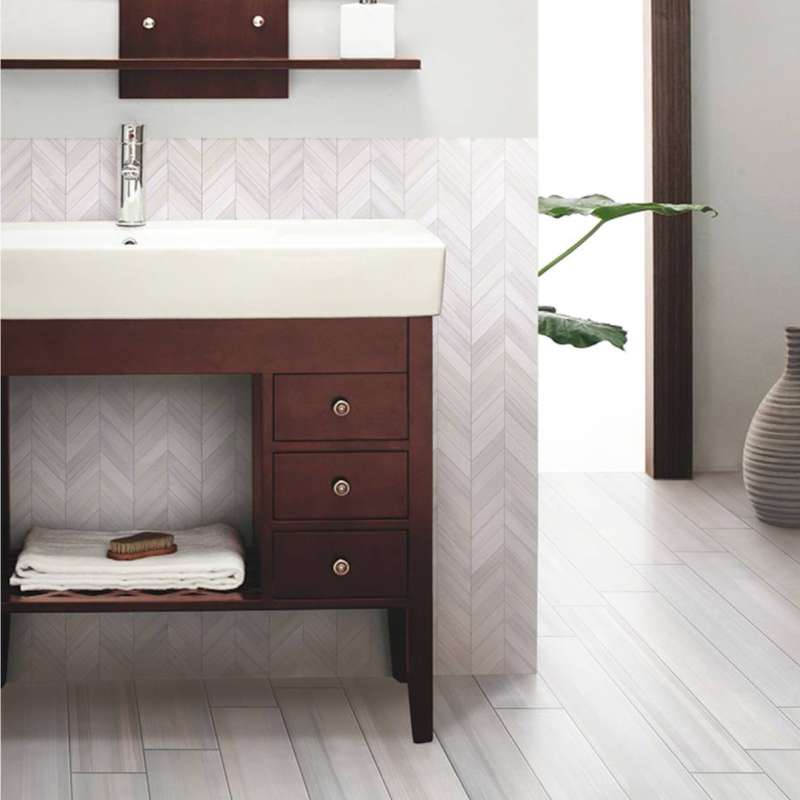 Featured: Bianco Watercolor Porcelain
With delicate shades of white and cream, Bianco Watercolor Porcelain tile is a trendy, natural fit for today's contemporary, minimalistic styles. If you're concerned about installing light-colored flooring, worry no more! Porcelain tile is all but self-cleaning. It resists stains and mildew, making it the perfect choice for busy family bathrooms. Plus, porcelain tile resists damage and wear, so it will continue to look gorgeous for many years.
These three porcelain tiles, their linear patterns reminiscent of natural stone and wood, have many advantages over other flooring. This is particularly true in the bathroom, but they look equally stunning in other rooms as well. If you'd like to try out different colors of tile flooring in a single space, visit MSI's Room Visualizers and try out as many combinations as you like. It's a fun way to experiment with different styles, colors, and patterns, so why not give it a try right now?
READ MORE ABOUT THE DIFFERENT TYPES OF PORCELAIN TILE
New Tektile Fabric Print Porcelain Tile
Pietra Porcelain - Fully Suited with You In Mind