Why Choose Quartz Countertops Over Natural Stone
December 11, 2020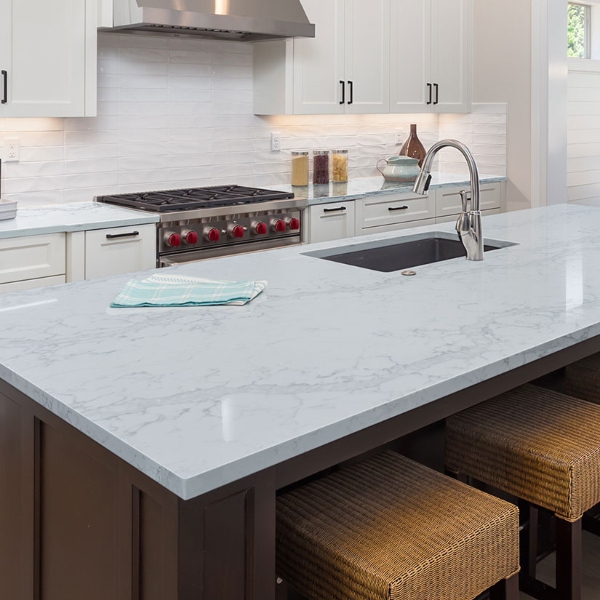 When they first appeared on the market, quartz countertops rocked the industry, immediately becoming a popular choice for homeowners. However, not everyone was impressed with first-generation engineered stone countertops. This new product delivered on its promise of durability and ease of maintenance, but in its early days, quartz was available in limited design choices — especially when t came to natural stone looks.
Today, however, things have changed! Modern quartz slabs are now available that authentically mimic natural stone, and have become the hottest thing on the market. Homeowners are choosing faux marble, granite, soapstone, slate, and other lookalikes over real stone. Here are a few reasons why you should consider making this choice as well.
Consistent Patterns and Colors
While it's true that part of natural stone's popularity, especially when it comes to marble and granite with dramatic veining and contrast, is that every slab is unique. That's why many homeowners that choose natural stone must travel to the slab yard and pick out the exact stone slab that will be fabricated to their specifications and installed in their kitchen or bath. However, with this uniqueness comes risk. Along with one-of-a-kind veining and coloration come potential problems such as defects, fissures, uneven coloration, and unbalanced patterning. It can be difficult to match up two slabs side by side so that the result is pleasing.
With a quartz countertop, you know exactly what you will be getting without seeing the exact slab in advance. It will be consistent in pattern and color, with no defects or irregularities, and matching slabs together to create long countertops, corners, or backsplashes is a breeze. Yet most homeowners agree that there is enough variation within a slab so that the look is entirely realistic.
Natural Look that May Not Be Found in Nature
Because it is an engineered surface, quartz slabs can be manufactured to replicate just about any type of natural stone, in all shades and patterns from subtle to dramatic and bold. But why stop there? Quartz countertop colors include exotic shades that are hard to find in nature, such as blue or green. You could also choose a granite look with extra sparkle and depth beyond what a natural stone slab can deliver. Or, install a quartz countertop that is pure white or black with the look and feel of stone.
Not Reactive to Acids
One of the reasons homeowners shy away from natural stone is their susceptibility to etching from acidic liquids — especially marble. If you spill lemon juice, vinegar, or other acidic foods and beverages, they can react with the stone itself and ruin the polish, causing damage that can only be removed by professional stone restoration. Quartz counters, on the other hand, are premium surfaces that do not react to acids, so you can have the look of fine marble in your kitchen with far less worry.

Stain Resistance
Not only is natural stone susceptible to etching, but it is also vulnerable to stains, especially from foods such as tomato sauce and red wine. Applying sealer regularly can help prevent this, but still, you'll need to be careful about protecting your countertops. With a quartz countertop, you can put your worries behind you and actually enjoy cooking in your kitchen, and eating or serving party guests on your beautiful natural stone-look center island. Stain resistance is also an exceptional reason for choosing quartz vs. granite or other natural stone countertops for the bathroom.
Resistance to Chipping, Scratching, and Gauges
Most families need a kitchen countertop that can stand up to decades of use by messy cooks, kids' projects, and the other activities that often take place in one of the home's most important rooms. Natural stone countertops are beautiful, but they can be finicky and prone to damage from scratching, chipping, or even gauges from dropping a heavy object onto the surface. Quartz countertops can stand up to this type of treatment better than natural stone. It's not indestructible, but it's one of the most durable, tough surfaces you can install in the home.
Nonporous
One of the reasons that quartz is so durable and resistant to damage from acidic liquids or stains is that it is completely nonporous. Further, it will never need an application of sealer to maintain this quality. Natural stone absorbs liquids easily, whether it's ordinary water or your favorite tomato-based pasta sauce. It will need sealer applied regularly to have a liquid-resistant surface — at least once a year, possibly more often depending on its color and the type of stone.

Ease of Care
Nobody wants to spend a lot of time maintaining their countertops — you have better things to do. Natural stone counters require careful protection, specialized cleansers, and regular sealing. With a quartz countertop, all you need to do is wipe it down with a mild soap, such as dishwashing liquid, then you're done!
Warranty
Most natural stone countertops have a limited warranty that protects the homeowner against manufacturer's defects within the first year or so. Quartz countertops, on the other hand, are often sold with a long-term or even lifetime warranty against manufacturer's defects that can cause the product to fail. Under normal conditions, with a reasonable amount of care, a quartz counter should last for decades without any need for repair.
Today's homeowners need and deserve a countertop in their kitchens and bathrooms that is not only beautiful but can also stand up to anything that real life dishes out. Quartz countertops consistently deliver on this promise, and for that reason, it's one of the hottest products on the market for home interiors. Consider these features, and decide if a quartz counter is right for your home, too.
More on Quartz Countertops
How To Choose The Best Modern Quartz Countertop For Your Home
Quartz Countertop Concrete Look-Alikes That Mimic the Real Thing!
Reasons to Love Quartz Countertops
5 Things You'll Never Worry About with Quartz Countertops