Create A "Hexy" Kitchen Backsplash With Hexagon Tile
December 16, 2022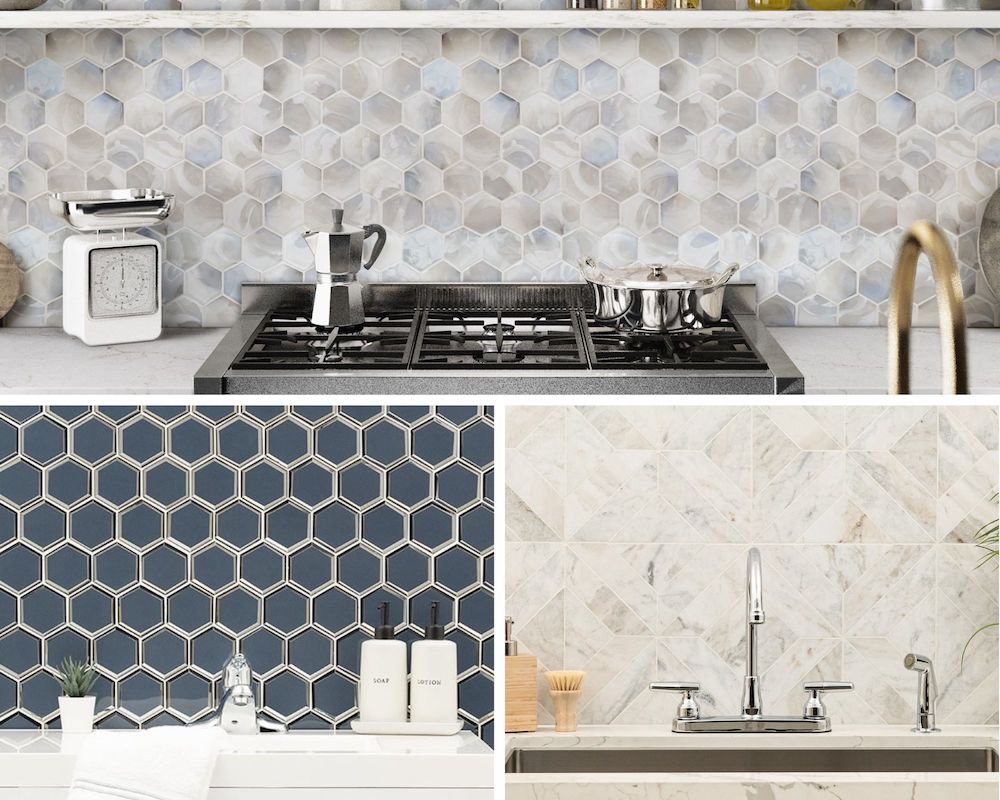 Are you looking for something new and unusual in your kitchen backsplash tile? Why not skip the typical squares and rectangles and try the classic — yet creative and whimsical — hexagon as your geometric pattern?
Hexagons are seen in places you might not think about - indoors and out! Mother Nature allows us to enjoy this shape in beehives, snowflakes, and even turtle shells. And interior designers often add hexagons when they want to make a focal point in a room.
These six-sided shapes are easy to pin together, making them ideal for mosaic tiles, multi-colored motifs, and other backsplash designs. Here, we've put together our favorite suggestions to help you create a "hexy" kitchen backsplash.
How to Use the Hexagon Trend in Your Kitchen Backsplash
Deciding on the style you'll use for your backsplash involves various factors. You already know you want to bring in hexagons, but what size? Do you want small and intricate or large shapes?
Next, you'll need to choose your preferred colors and textures, then put them together in a pattern.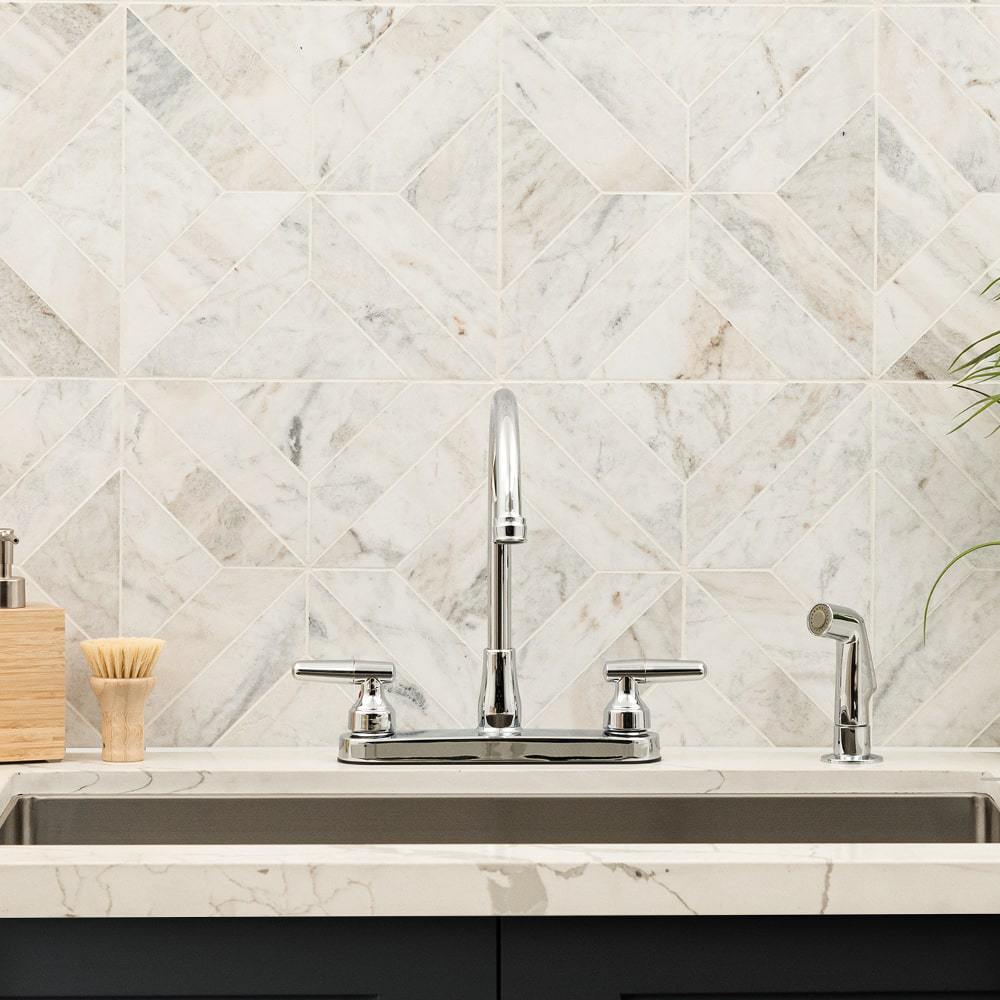 If you want to keep it simple, stick with an easy installation but add a little extra class with MSI's Arabescato Venato White Argyle Honed Tile.
The low-maintenance marble is ideal for everything from simple hexagon patterns to complex designs using mosaic tiles. Because of its classy, elegant neutral palette, this tile fits well in any room and turns your backsplash into a work of art. Play around with how the Abaescato Venato will look against stainless steel and other surfaces in your kitchen with MSI's backsplash visualizer.
Tips From the Pros
As with any trend, there are some dos and don'ts to consider as you bring hexagons into your kitchen. Most people prefer to leave the complex skill of matching angles and patterns to the professionals, especially when creating beautiful mosaics. Still, installing hexagon tiles yourself is possible if you know what you're doing.
Because of the complexity of matching precise angles, shades, and material types, the overall look depends on how patient you are as you place each tile. You also want to use tiles that stay trending for years.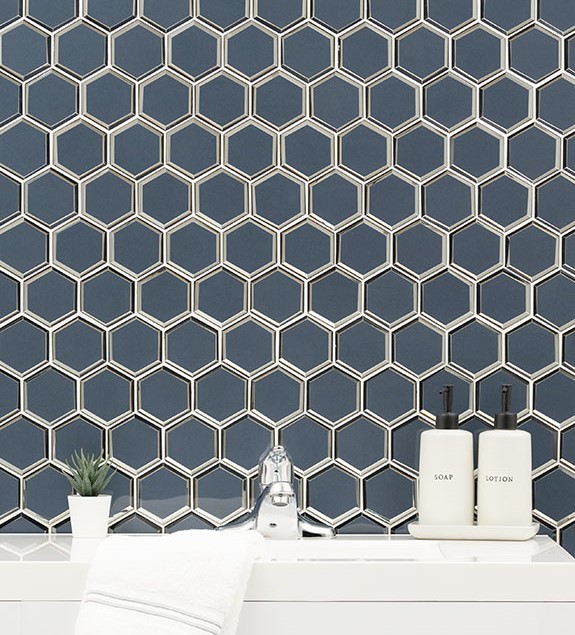 One solution is to use MSI's Vague Blue 3" Hexagon Mosaic Tile. The deep blues and greys bring drama and depth to any kitchen or bath without a lot of complicated patterns to match together. You get the beauty of a glass mosaic backsplash and the impact of hues that blend well with any color scheme.
Vague Blue will complement your surfaces, whether natural stone or another material and continue highlighting most other shades if you remodel the rest of the room.
How your new backsplash will look is a vital part of the design process, yet it's not the most critical question. Mosaic pieces made of gorgeous glass tiles are lovely, but how will they hold up to use? Backsplashes are notoriously prone to damage. So you'll need tiles that can withstand heat, water, dirt and debris, cleaning products, and chipping.
The Vague Blue Beveled tiles are durable and low maintenance, ideal for any bathroom, shower, or other high-use areas. The tiles come on mesh-backed sheets for easy installation to give you a professional look, even as a DIY homeowner.
Choosing Your Hexagon Palette
When you pick a hexagon tile and pattern with those pro tips, your backsplash can outlast your time in your home. The key is to choose a well-made tile and have it installed correctly.
But what good is a long-lasting tile if you don't like how it looks with the rest of your kitchen? If you think you might want to renovate soon and don't want to change your backsplash along with the rest of the room, consider your palette carefully.
Neutrals never go out of style and complement various bold and subtle colors. They might also help your resale value more than an unusual tile shade or pattern that most people don't like.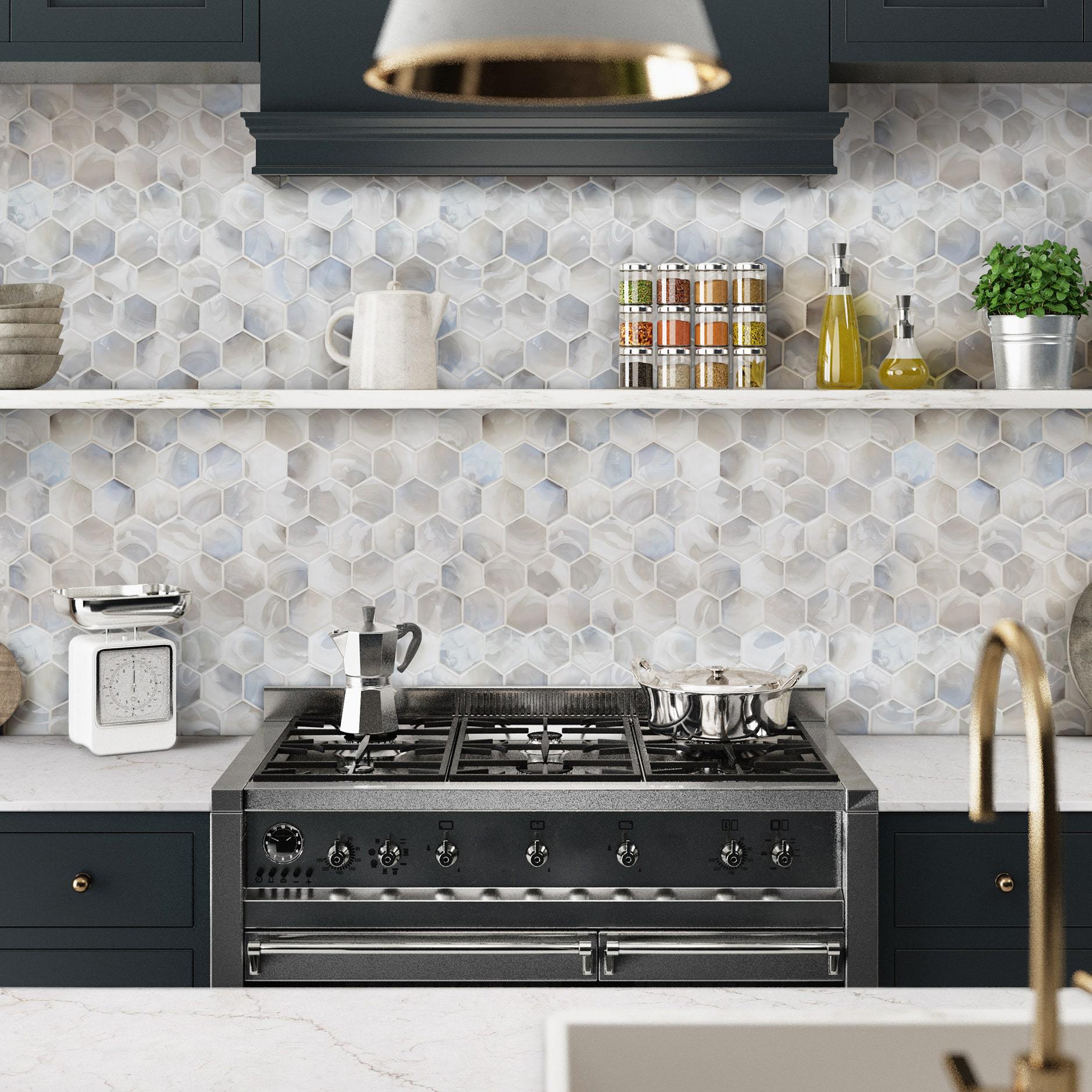 MSI's Akoya Pearl hexagon mosaic tiles provide the exact touch of elegance, warmth, and freshness to any room. The soft greys and creamy whites, misted with a hint of light blues, never go out of style. Confidently use Akoya Pearl in homes and commercial buildings to complement design themes, including modern, rustic, minimalistic, and more.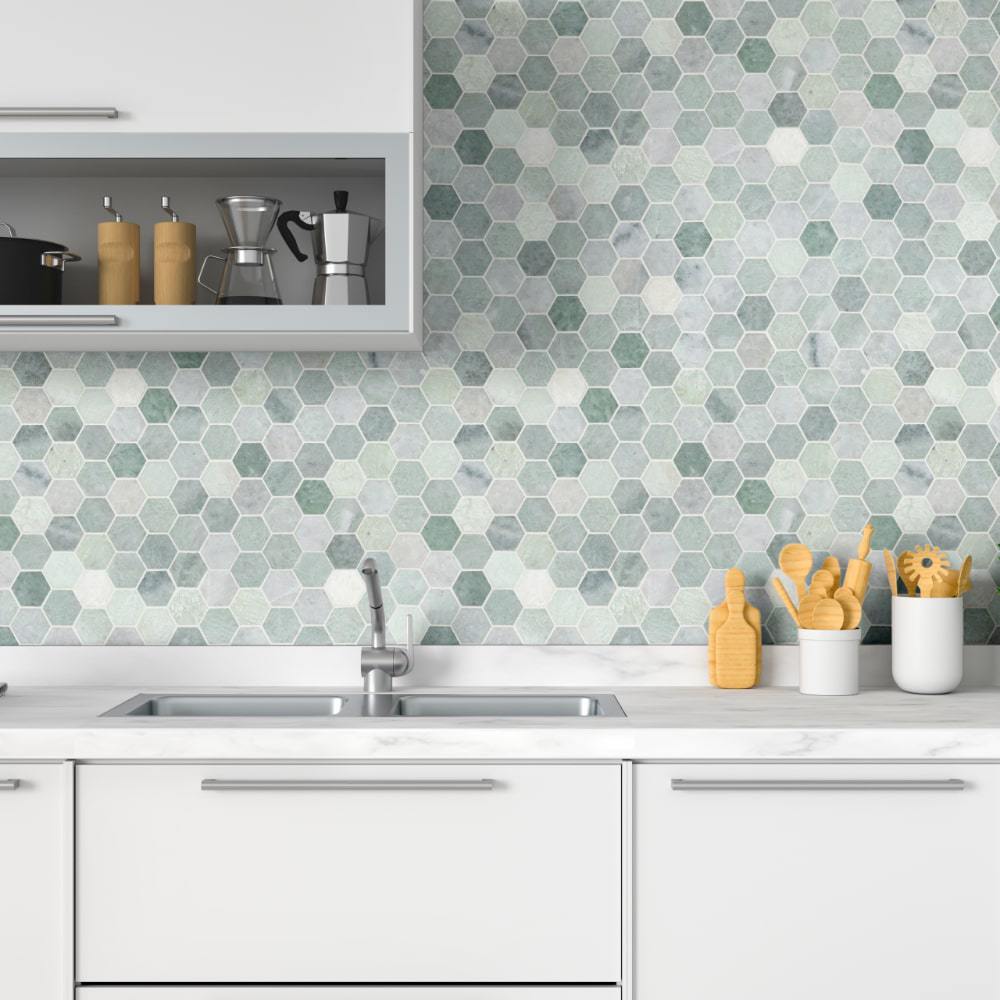 That's not to say you can't think outside the box with your backsplash tiles. On the contrary, hexagons lend themselves toward progressive thinking, and you can get creative with MSI's Iceland Green tiles.
The soothing green colors are impactful enough to attract attention and turn a backsplash into a focal point by themselves. Combining the glass tiles into intricate patterns creates a bold, polished finish look that is ideal for commercial and residential spaces, accent walls, kitchens, and — in some homes — flooring.
It's possible to use your kitchen backsplash as a timeless work of art when you choose hexy patterns in MSI's various colorful designs, then combine them into creative mosaics.
Take Your Kitchen Backsplash to the Hexa-Level With MSI
Sure, rectangles and squares work just fine as a kitchen backsplash pattern. But why stick with ordinary when you can use MSI's hexagon tiles to stand out?
Before jumping into this fun and creative interior design project, contact us at MSI to see your options, or take a peek at the MSI Lookbook for more inspiration! We can help you find the right material to make your new backsplash and other renovations perfect for your tastes and needs. Reach out to us through the chat feature at the bottom right of your screen or visit one of our showrooms.