Popular
Tile Flooring: First Impressions Start With The Foyer
February 09, 2015
Have you neglected your foyer while the rest of your home has undergone a makeover? Your entryway sets the tone both in design and personality and welcomes guests into your home. Small entries and grand entrances alike both need some attention to detail. The addition of interesting tile patterns, aesthetic lighting or the use of vivid colors can make a great first impression!
Neutral in color, natural stone tile, like our Angelica Gold travertine, defines an entryway and greets your guests warmly. Wooden doors, stairs, and wrought iron railings partner beautifully with lighter floors while a medallion in the center of the room welcome visitors properly. These complimentary color and design choices work well for a foyer in a traditional home.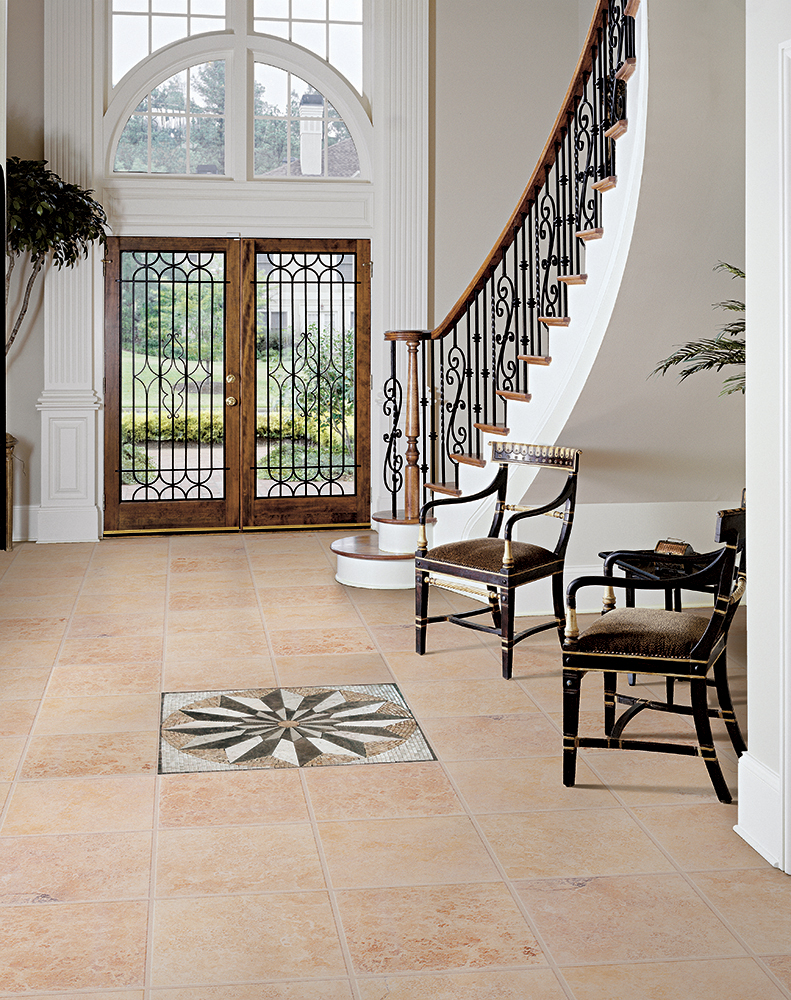 For an elegant and sophisticated entrance, highly polished Florence Beige porcelain tile, with its rich cream tones, lend itself to a variety of decors where clean, smooth and subtle is the goal. Contrast with medium to dark tone wood trim, and the result is simply stunning. Subtle veins in the tiles produce depth and movement, and help to create a near seamless look.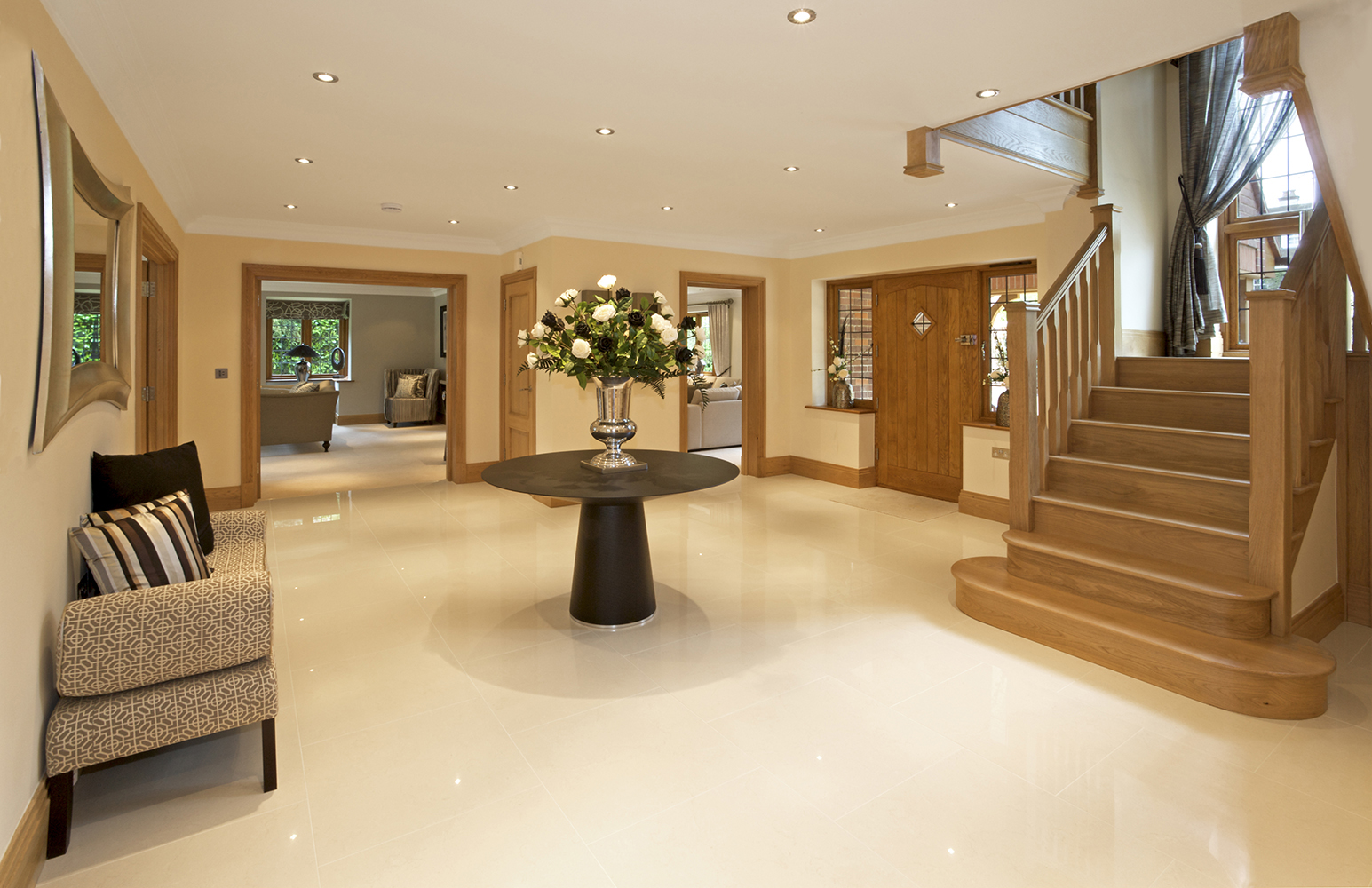 A warm and welcoming atmosphere is also attainable with the addition of a marble floor, with a pop of color on the walls that is echoed in accessories. This setting gives visitors a spot to slip off their shoes, or wait in comfort. Timeless Carrara White Marble used in a foyer brings an air of sophistication, without stuffiness to the space. The sweeping gray veins create visual interest, and will partner with a variety of design styles, and color changes, through the ages.
Looking for something a bit more interesting? Laying tile in an intricate design can add depth and dimension to any foyer and impress your guests at first sight! Our 6x12 Crema Cappuccino polished marble tiles are perfect for herringbone patterns. The warmth of the creams with lighter veins are accented with just small touches of light brown. The result is entryway that cannot be mistaken for anything but gorgeous!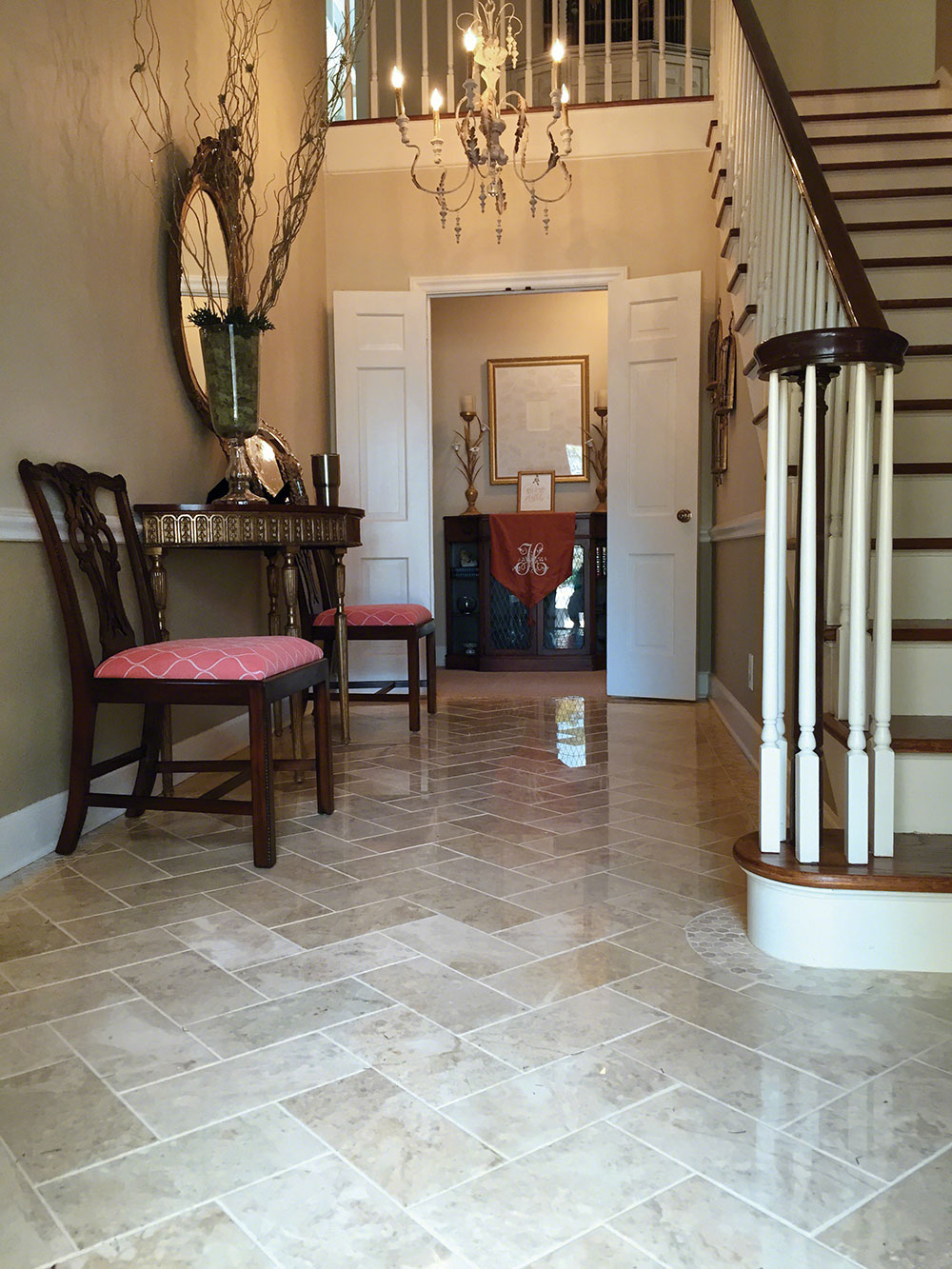 To bring a bit a nature inside, our Tuscany Walnut Onyx can create the perfect cozy ambiance with a rustic feel. These travertine tiles are honed and unfilled, with chiseled edges; perfect for an interesting and inviting entryway. With the use of varying sizes, the swirls of cream, white, beige, and darker tans together can create a gorgeous Versailles pattern, producing a unique and dramatic floor.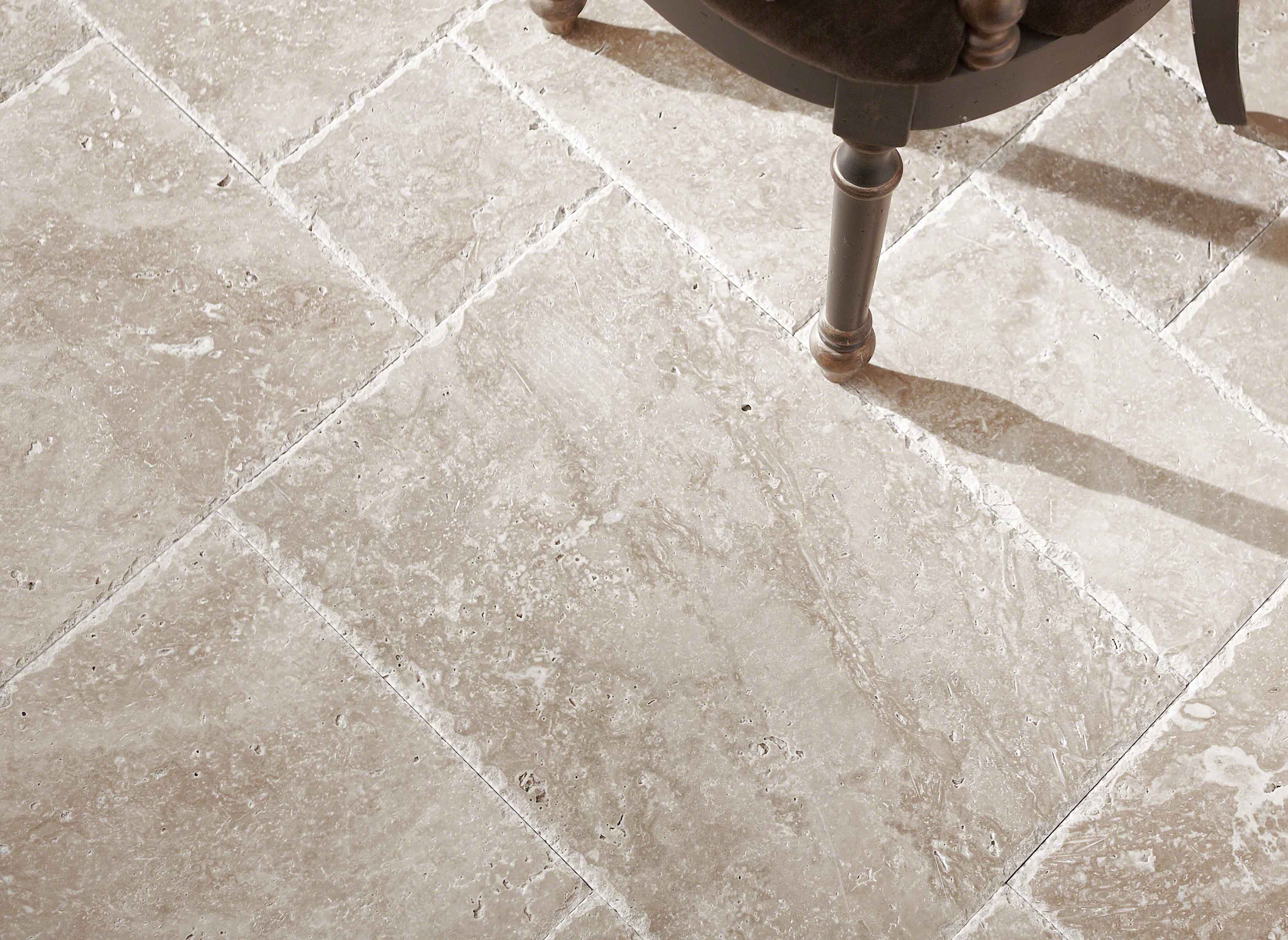 Both natural stone and porcelain tiles are available in a wide array of colors, sizes, materials, and patterns that will adapt to any design or décor you choose for your foyer in order to make that important first impression. Whatever you prefer, your entryway should be inviting and intriguing and create an environment that best reflects your personality and style.