5 Best Porcelain Tile Options For Mudrooms
July 24, 2018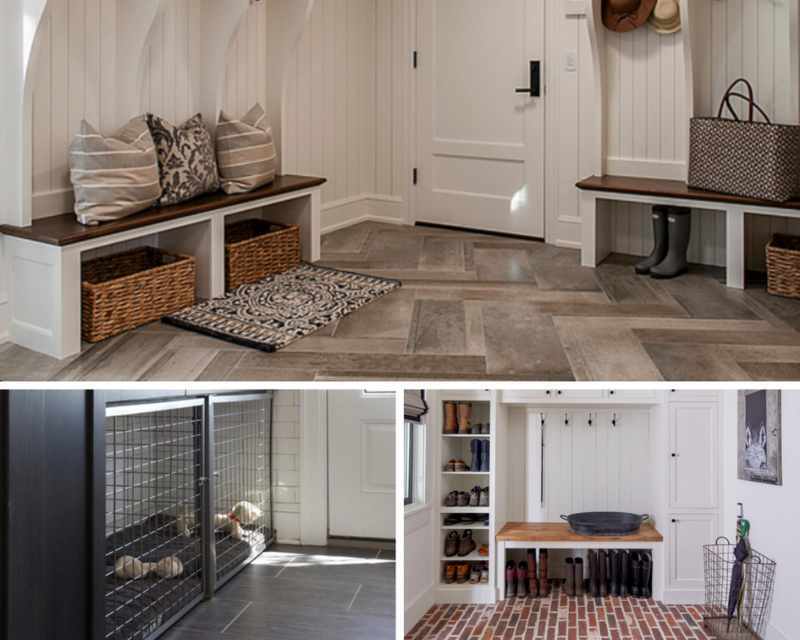 Every busy family home needs a mudroom, and this necessary space is so much more than just a place to kick off your dirty boots! Mudrooms are hard-working and multipurpose. They serve as laundry rooms, cozy spaces for pets, pantries, storage closets, or even some extra office space.
No matter how you choose to use your mudroom, there's no doubt that it will be a functional space that gets a lot of traffic. The challenge when designing a mudroom is to find a type of flooring material that can take a beating on a daily basis while living up to the stylish design of the rest of your home. After all, just because it's a room with a practical purpose, there's no reason it needs to be plain and boring.
At the top of our list for busy mudrooms, we suggest porcelain tile flooring. And if you're having trouble deciding between porcelain vs. ceramic tile, remember that ceramic is best suited for walls, particularly in heavy-traffic spaces. On the other hand, porcelain is tough enough underfoot to handle your family's daily comings and goings with ease.
The question remains: Are there porcelain tile options that are both durable and beautiful? Well, you don't need to take our word for it! Here are a few examples of how porcelain tile can add charm and elegance to the utilitarian mudroom — and an explanation of why it's uniquely suited for the task.
Graphite Focus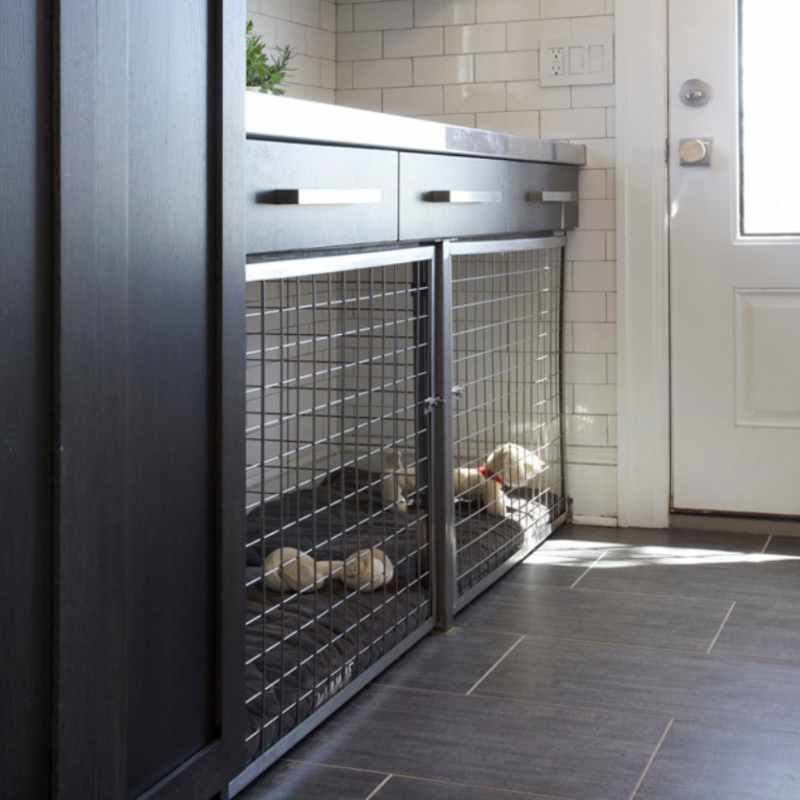 Recreate this look with MSI's Graphite Focus Porcelain (Photo Credit: Houzz)
Pets add so much to a family, but no matter how much you love your fur-baby, there are times when he really needs a room of his own. A mudroom can function as a handy kennel, keeping your pup safe and secure while you're away from home. It's also an ideal place to install a dog wash station, to mop off sopping wet fur before he shakes mud all over your living room, or to give him a good brushing.
That kind of use requires a floor that won't warp when exposed to moisture, and that is a cinch to sweep. A porcelain tile like Graphite Focus is an ideal choice for many reasons, not the least of which is its easy cleanup. The lucky pooch in this family has his own doggy bed built-in, while the homeowners gain countertop space and storage drawers just above. The nearly black large format tiles complement the dark wood cabinetry, while the subway tile's dark grout provides a tie-in to the brickwork pattern of the floor.
Better yet, this porcelain flooring is water-resistant, which means it also resists mildew and stains.
Taupe Brickstone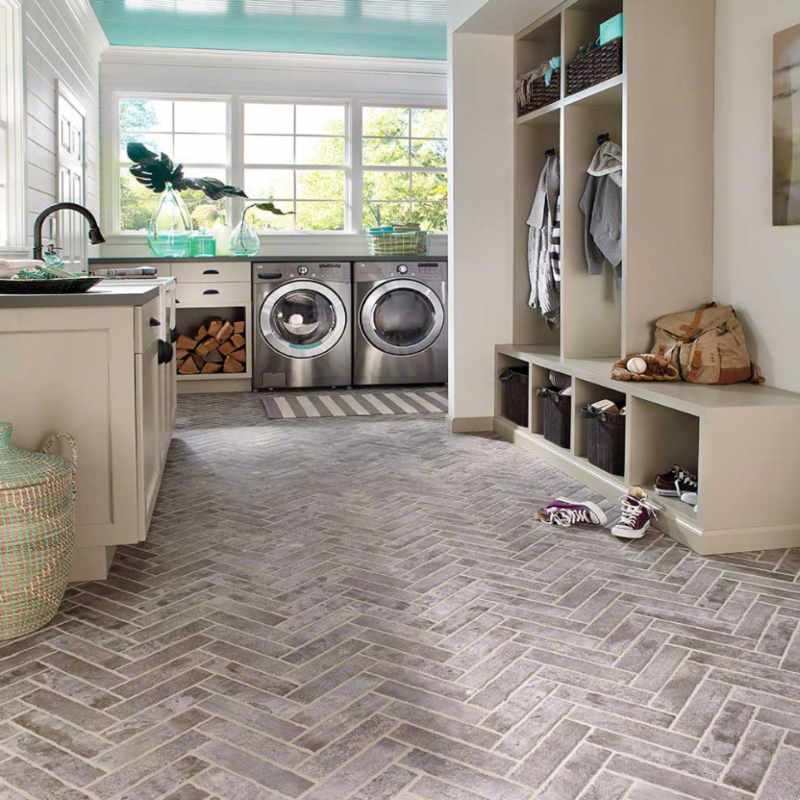 Featured: Taupe Brickstone Porcelain
Create a similar look with MSI's A large mudroom has many purposes, not the least of which is laundry. These days, homeowners are moving the washer and dryer out of the basement and placing them in more convenient locations. A large mudroom can also serve as storage for shoes, jackets, and even firewood.
With Taupe Brickstone porcelain tile installed in an attractive herringbone pattern, this light and bright mudroom might just be the favorite room in this house. The beige and taupe tiles resemble natural brick, adding a charismatic, rustic touch. And you won't be constantly sweeping, because the tile's pattern is very forgiving of dust, drips, and dirt.
Gray Veneto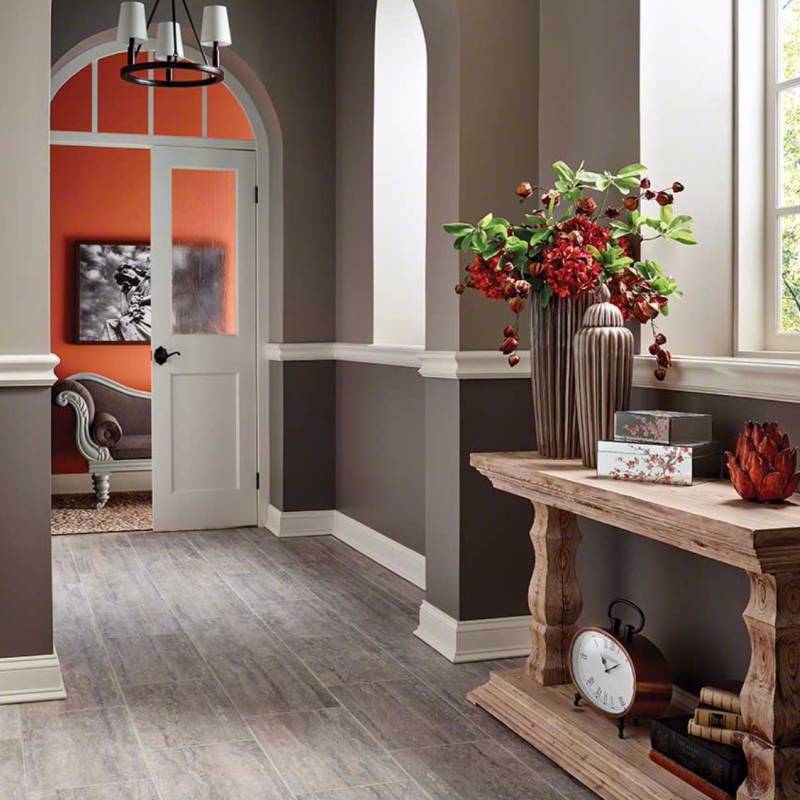 Featured: Gray Veneto Porcelain
One of the most important functions of a mudroom is to serve as a transitional area — a secondary entrance which often gets even more traffic than the front door. That means its floor receives all manner of tracked-in dirt, water, or snow. However, with Gray Veneto, you won't have to worry when your kids kick off their muddy sneakers! Despite the fact it looks like gorgeous natural travertine, complete with realistic veins and swirls, porcelain tile does not need sealing to maintain its water-repellent properties.
In this elegant landing area, the large porcelain tiles are laid length-wise, drawing the eye from the warm and muted browns and taupes to the vibrant orange room beyond.
Red Brickstone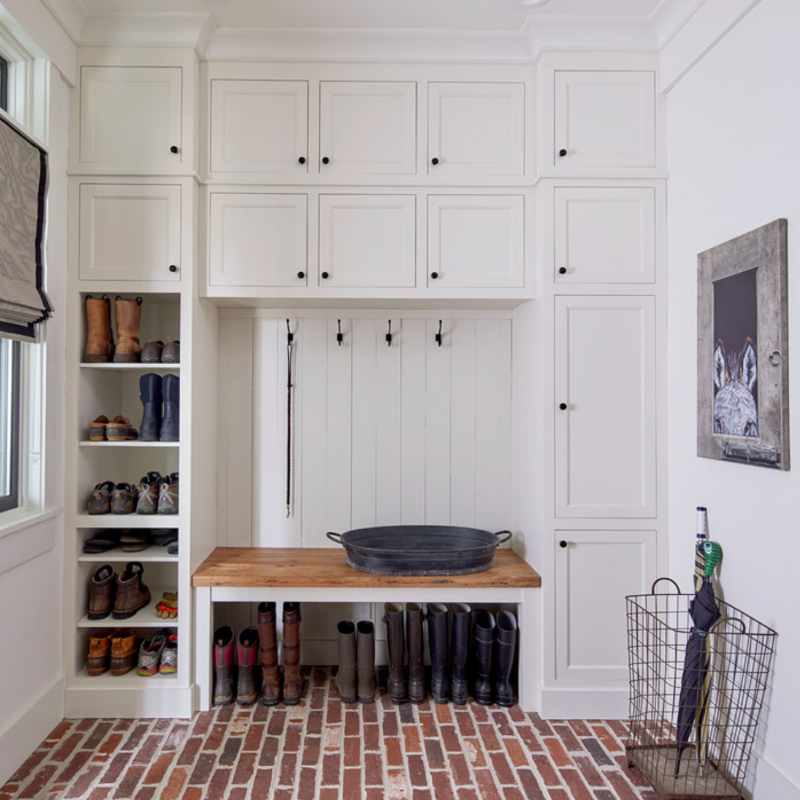 Create a similar looks MSI's Red Brickstone Porcelain (Photo Credit: Houzz)
The only way to have an organized house — along with the effortless efficiency that goes with it — is to have a place for everything. Mudrooms can solve the dilemma of where to put all your family's shoes and boots, coats and hats, mittens and umbrellas…and the list just goes on and on!
A well-designed floor-to-ceiling wall of cabinetry, shelving, and hooks not only creates charming cottage décor, but it's also extremely practical. Red Brickstone Porcelain tile flooring perfectly complements the "farmhouse" look — and unlike real brick, all this porcelain surface needs for cleanup is a quick mopping.
Sage Sierra
Create a similar look with MSI's Sage Sierra Porcelain (Photo Credit: Houzz)
Since your mudroom is often the most-used entrance to your home, it's an important place to make a great first impression. Hooks, benches, and cabinetry in light hues give the space an airy, spacious feel. Benches provide family and guests with a handy place to perch while pulling on boots and mittens.
This farmhouse-style mudroom gets much of its charm from Sage Sierra Porcelain wood-look tile. It's tough to have a real hardwood floor in such a heavy-traffic, moisture-prone area, but thanks to today's porcelain inkjet printing technology, you can achieve the look you want without all the hard work and worry.
Perhaps the most important thing to remember about mudrooms is that they are unpredictable; you never know what new, unique messes they will need to contain. Good thing that spills, drips, and actual mud are no match for tough, easy-care porcelain tile!
Visit MSI's Porcelain Tile Gallery to see the tiles shown here, along with many others that will prove you no longer need to choose between beauty and utility.
READ MORE ABOUT THE BENEFITS OF PORCELAIN TILE
Porcelain Perfection: 3 Of Our Favorite Porcelain Tiles
Porcelain Perfection: 6 Porcelain Tiles That Mimic Wood
5 Places to Use Plank Porcelain Wood Tile