Current Obsessions: Perfect Pairs - Quartz Countertops And Natural Stone
January 30, 2017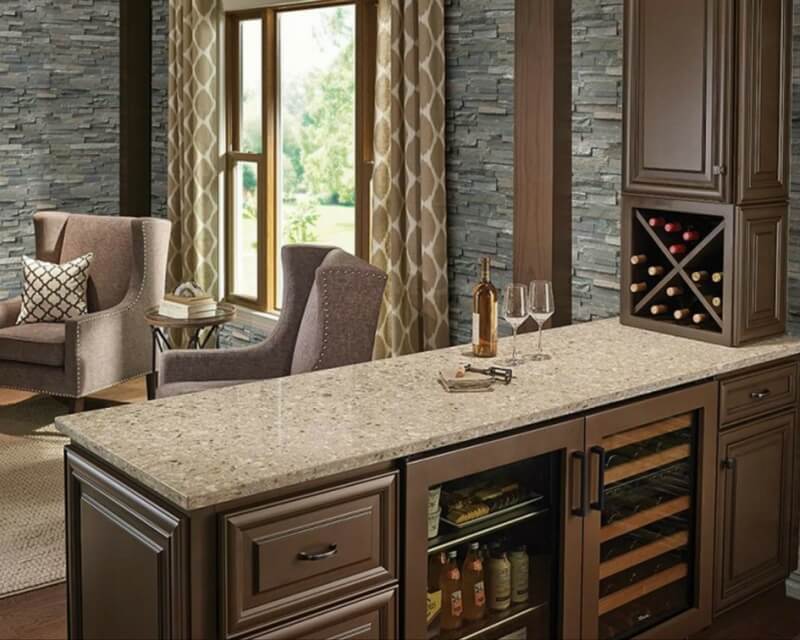 Many homeowners associate engineered quartz with a modern aesthetic, and think quartz may appear too modern to pair well with natural stone. But believe it or not, quartz slabs look more natural than ever, thanks to advancements in quartz manufacturing.
Whether mimicking a naturally quarried granite or marble slab or looking like a magically enhanced stone, quartz countertops do combine beautifully with various natural stones. To get you inspired for your own stunning combinations, here are five kitchens and bathrooms that marry quartz with different types of natural stone.
Hues of Gray
Gray has been a hot color for quite some time now, and it's on perfect display in this farmhouse-chic kitchen. These sleek and elegant Babylon Gray Quartz countertops feature a deep gray hue with lighter gray veins.
Here, they get a bit of a shimmery enhancement with the addition of the Tundra Gray Marble Mosaic subway tiles, which strikingly blend clouded grays, gunmetal, pewter, and frosty cream.
Subdued Neutrals
Pairing modern quartz or cream quartz countertops and natural stone backsplashes in similarly hued soft neutrals can instantly turn your kitchen contemporary or beachy.
The speckled taupes and dappled creams in the Boletus Quartz play well with the wispy gold veins and soft white background of the natural Taj Mahal Quartzite.
Pattern Play
While many desire the deluxe materials of marble, not everyone wants the maintenance it requires, especially for heavily used surfaces. This bathroom convincingly pairs marble look quartz with the real deal. Featuring the realistic design of natural marble, Calacatta Vincenza Quartz is an elegant countertop with subtle gray veins.
The gray is then picked up even more in the Greecian White Marble 3" Hexagon Mosaic tiles that highlight the iconic whites and grays found in natural marble and add a graphic nature to the overall design.
Italian Inspiration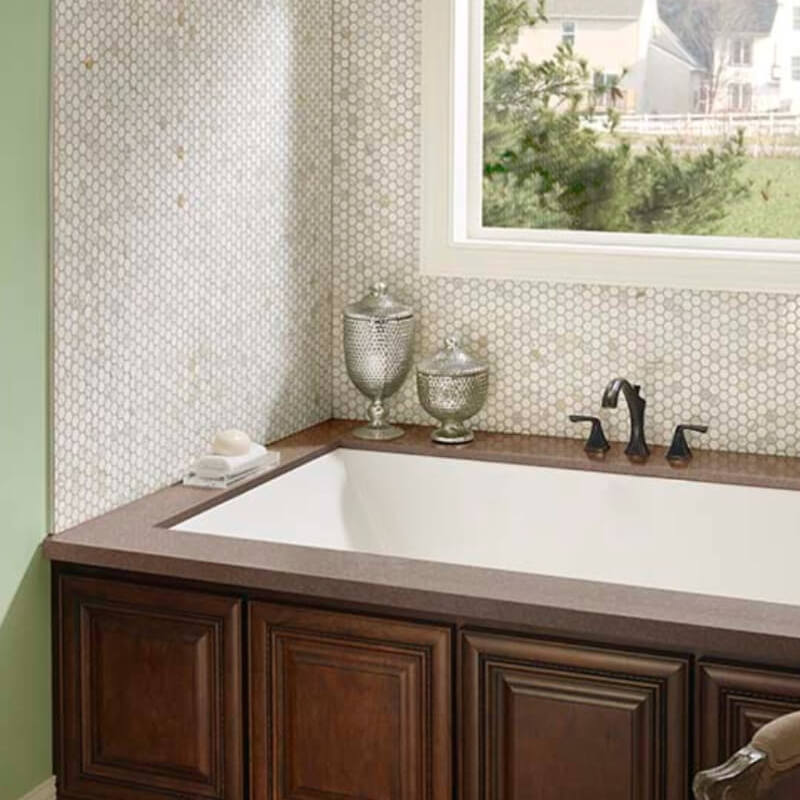 Featured: Lagos Azul Quartz and Calacatta Gold 1" Hexagon
Don't think that the perfect pairing has to match perfectly. This picturesque bathroom blends a darker quartz with a lighter natural stone. Lagos Azul Quartz is a solid brown quartz with a sleek nature that modernizes the ornate wood surrounding the tub.
This maintenance-free material is ideal in spaces that get a lot of use. For added detail, the wall tile is clad in Calacatta Gold 1" Hexagon, an Italian marble mosaic with beautiful golds, grays, and whites.
Repetition Done Right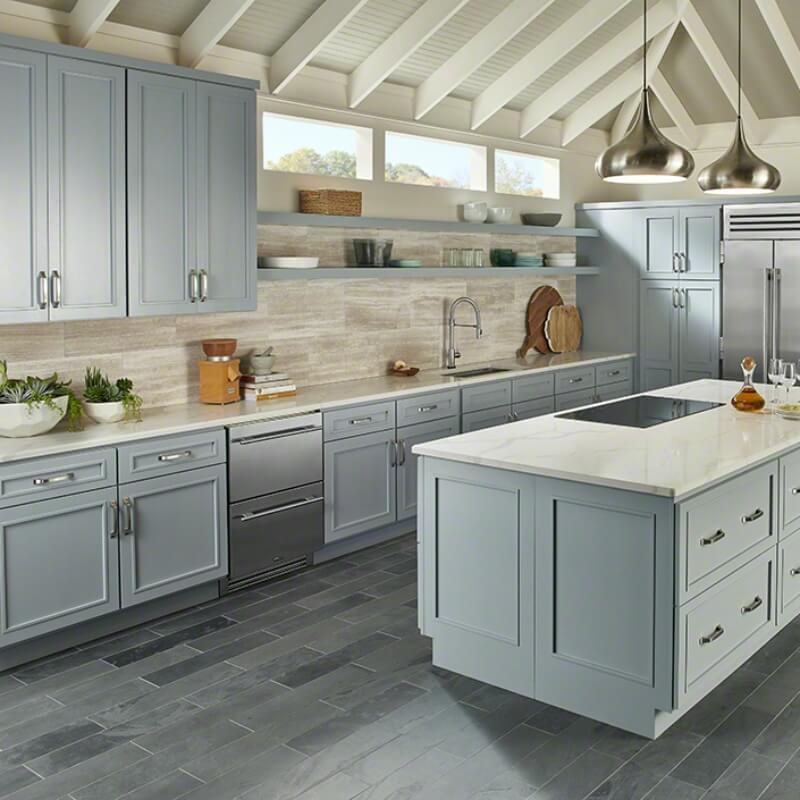 Featured: Calacatta Classique Quartz and Montauk Black Slate
When you choose several key colors, you'll want to repeat them throughout your design. This kitchen mixes modern with rustic and farmhouse styles for an eclectic look that perfectly suits the homeowners. The durable Calacatta Classique Quartz is a unique countertop. Its clean whites and striking through-body veining give a luxurious marble look, and the whites are again repeated in the ceiling and accessories.
But it doesn't stop there. The grays of the Calacatta Classique Quartz tie in with the grays and blacks in the Montauk Black Slate tile. Gray and black are also carried throughout the design with the modern stainless steel appliances, fixtures, and cabinet pulls on the bluish-gray cabinetry.
For an unexpected backsplash choice, this kitchen includes White Oak Marble, a natural linear pattern that looks like fine hardwood oak. The stone adds warmth to the room and connects with the other woven and wooden accessories.
Remember that when it comes to pairing materials, you are only limited by your imagination. As in a great friendship, different elements don't have to match perfectly; they only have to complement one another.