CHOOSE THE BEST COUNTERTOP FOR YOUR SPACE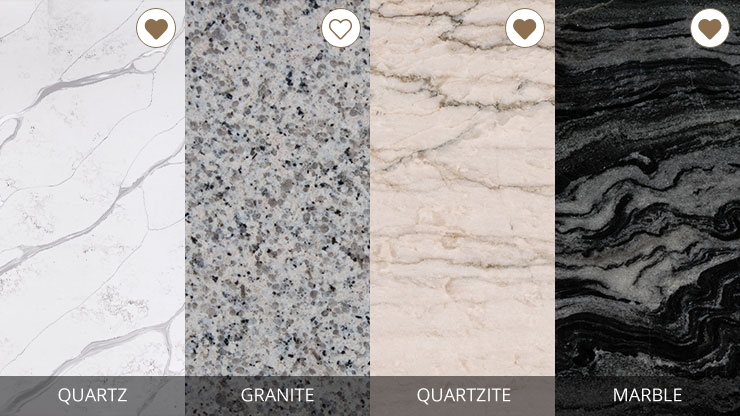 Our countertops are the perfect way to turn your kitchen into a luxurious space. We've got a wide selection of countertop surfaces, including quartz, granite, quartzite, and marble. Each is available in a variety of colors so you can find the perfect match for your kitchen or bathroom.
Start creating your list by finding new favorites. Click the heart icon on any product, and it will be saved to your list for safekeeping — no account required. Need to save your list for later? It's easy to email and share.
View All Countertops & Slabs
View Favorites List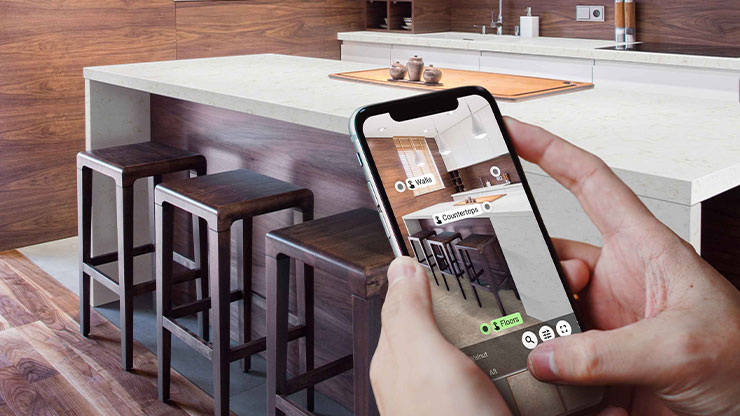 With our multi-surface visualizer tool, you can see what your preferred countertops will look like in any space. You can also see how different materials will look next to each other. It's quick, easy, and convenient—but most importantly, it helps you make informed decisions about how best to customize your space so that it feels like home for years to come!
Narrow product favorites with the Multi-Surface Visualizer Tool.
Visualize Products in Your Space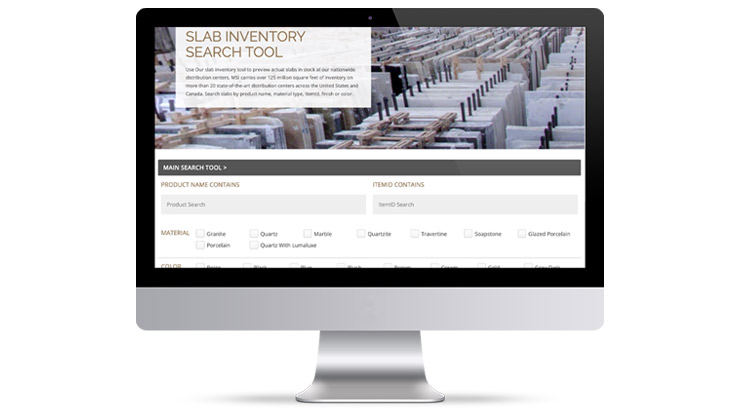 There are many different countertop options out there, from stone and marble to quartz and granite, but not all of them will work in your space or match your style. That's why we recommend using our slab selection tool in order to preview actual slabs in stock at our nationwide distribution centers.
Explore the Slab Selection Tool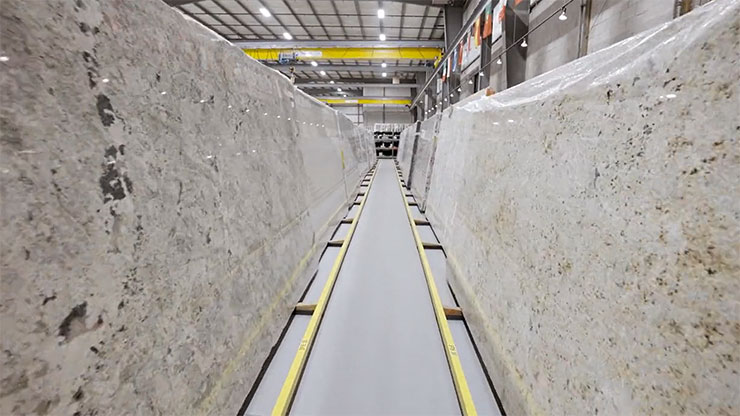 We know that choosing a slab can be a tricky process, and we want to make sure you have all the information you need to pick the best one for your space. That's why we've created this simple video that will walk you through the steps you need to take before seeing the slab in person.
Since MSI does not sell material or quote prices to the public, we recommend contacting an authorized installer prior to choosing your slabs. They'll be able to help guide you through the process and make sure that you get what you want without having any surprises along the way!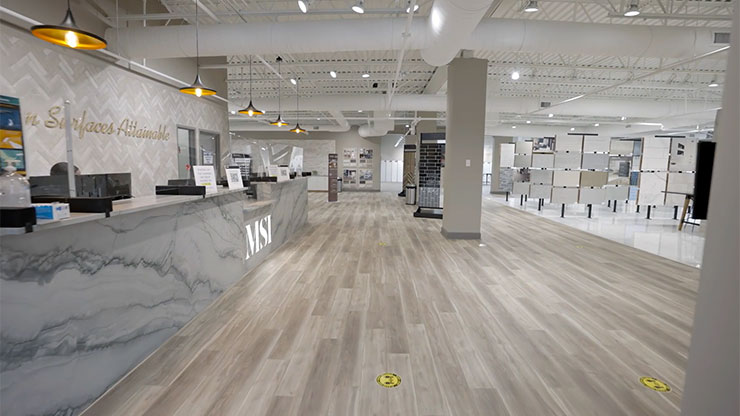 Once you've selected the slab(s) for you, a showroom is a great place to see a wide selection of flooring, countertop, hardscaping, and backsplash and wall tile options. When you visit an MSI showroom, you can find out about all the products we offer. We'll help you choose the right materials for your home or business. You'll be able to view our product samples in person, so you can see how they will look in your space and give them a feel for how they'll feel underfoot.
Locate the Nearest Dealer or Showroom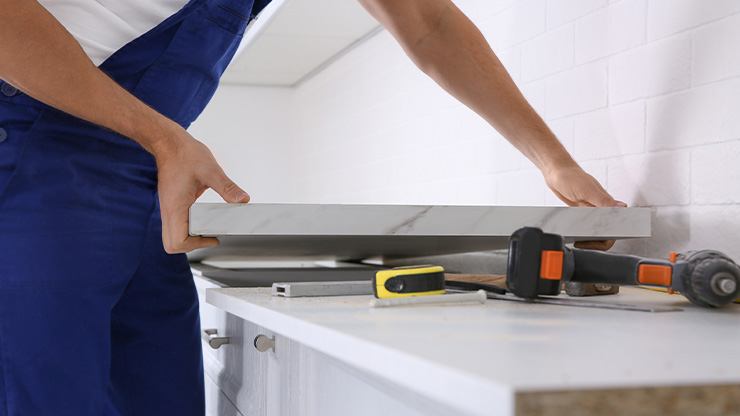 MSI recommends all homeowners do their due diligence and speak with a minimum of three contractors about the project. This gives you the opportunity to discuss ideas, get feedback, and discuss timelines and the budget. The conversation should be easy, and you and the contractor should feel comfortable moving forward.
MSI works with thousands of authorized MSI installers across the country. While we do not specifically recommend or endorse any particular installer and/or guarantee their quality or workmanship, we will share your contact information with them. They will then get in touch with you directly to schedule a consultation.
Request an MSI Authorized Installer
There are many ways to enhance and spice up your space! If you're looking for a quick and easy way to personalize your countertop, we recommend changing the design of your countertop edges. If you want to go the extra mile, find a backsplash that will compliment your new countertop.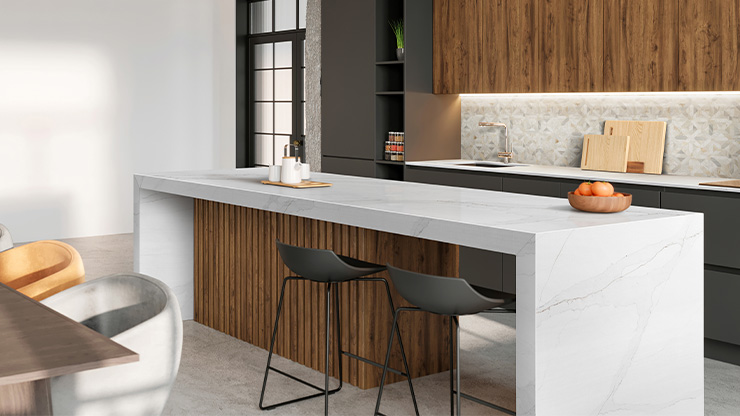 Ever wondered what your countertop could look like with a bullnose edge, beveled edge, or square edge? We've got you covered. Our countertop edge visualizer tool allows you to preview 13 of our most popular countertop edges, like the bullnose edge, beveled edge, square edge and many others. While you could choose a simple, eased countertop edge, there are many other options that add more personality, and may better suit for your overall design.
Try the Countertop Edge Visualizer Tool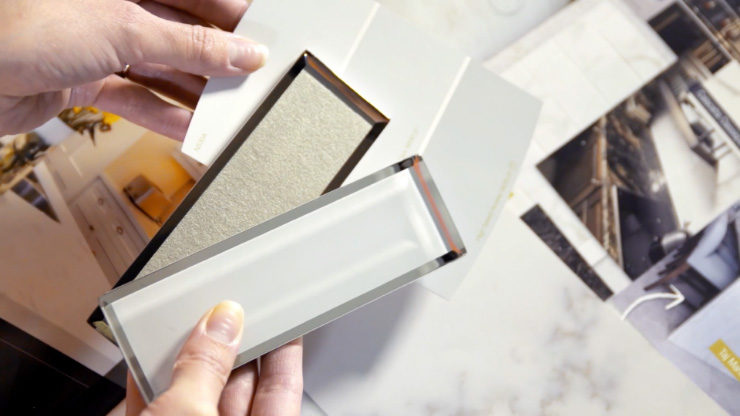 If you're looking for a backsplash that will match your countertop perfectly, there are many options available. You can choose from natural materials like stone or tile or opt for something more modern like glass or subway tiles.
If you need help finding the perfect backsplash, explore our Backsplash Tile Guide! This guide makes it easy to choose the perfect backsplash designs tile for your space.
View the Backsplash Collection
Explore the Backsplash Tile Guide
Learn professional tips and issues to avoid for a successful installation and ensure a smooth process.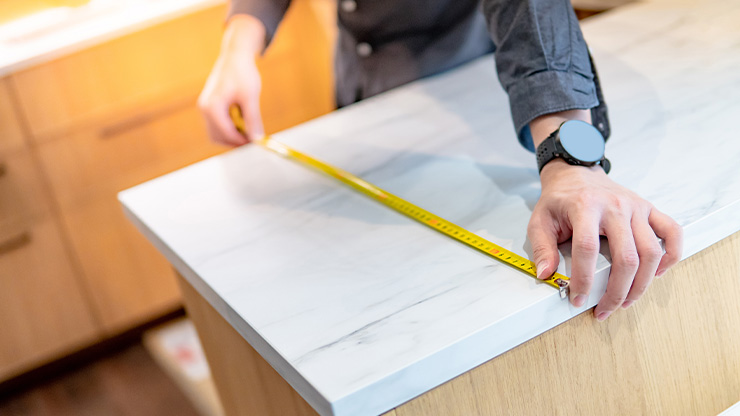 Countertop installation is a part of the construction process. Expect some noise, dust, and general interruption of the room in which they are being installed. If you will be living in the home during this process, plan accordingly to minimize the disruption on daily activities. Most countertop installation projects (not including the backsplash) will take several hours.
For the safety of everyone involved, please keep children and pets away from the installation space.
If plumbing or electrical changes are planned as a result of new cabinetry or countertops, schedule the appropriate professional to disconnect/connect as needed on installation day.
To minimize dust, cover open doorways and vents with plastic sheeting, or ask your installation team to do that for you. If the countertops are being cut onsite, cover furniture and carpet to minimize dust.
View More Countertop Tips