Outdoor Tile Guide - Porcelain, Slate, Travertine And Quartzite
June 02, 2017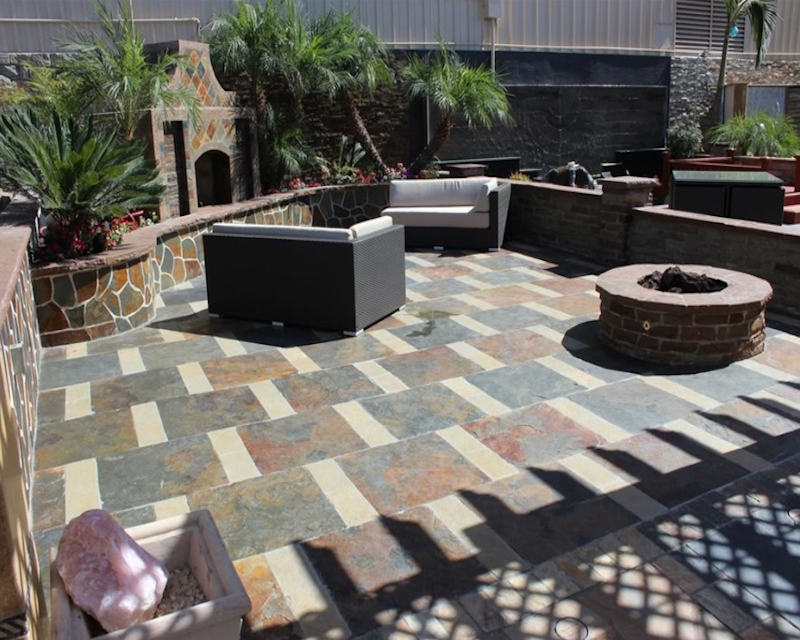 This summer, will you be transforming your backyard into a private oasis, a place to entertain or just relax? You're not alone — hardscaping outdoor living areas ranks at the top of many homeowners' to-do lists, and it's a growing trend.
Whether your taste is casual, contemporary, glam, traditional or exotic, MSI has the perfect outdoor tile to cover your patios and walkways in style.
It's not always easy to navigate through the most popular choices in patio tile flooring, though. Will natural stone like quartzite, travertine, or slate suit your needs, or should you pick porcelain tiles?
• Natural stone pavers have similar qualities in terms of care and durability – they will benefit from sealing, they are thicker than tile, and can be installed with sand.
• Porcelain tile has the additional benefit of a lower price point, and needs no sealing. It is installed over a concrete base.
Here are a few selections from MSI's collection of natural stone and porcelain tile. Many more are available, and may be viewed in the gallery section of our website.
Quarzo Grey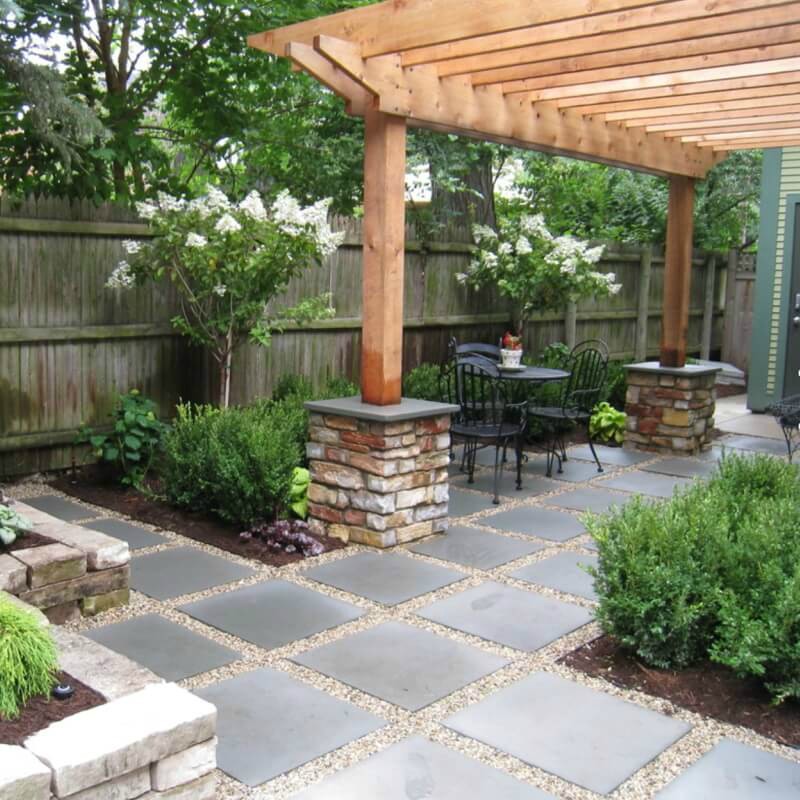 Featured: Quarzo Grey Porcelain Pavers
Porcelain tile has many advantages. It can be manufactured to appear nearly identical to natural stone, such as Quarzo Grey Porcelain Pavers, which has the aesthetically-pleasing variations of natural gray quartz. It is resistant to fading, needs no sealing to withstand moisture and resist staining, and costs significantly less than its natural counterparts.
Since this tile is a manufactured product, each tile is identical, with straight edges and uniform thickness; this can make it much easier to install than stone. This trait makes it ideal for precision layouts such as the one shown here, which require consistent spacing.
Copper Mini Pattern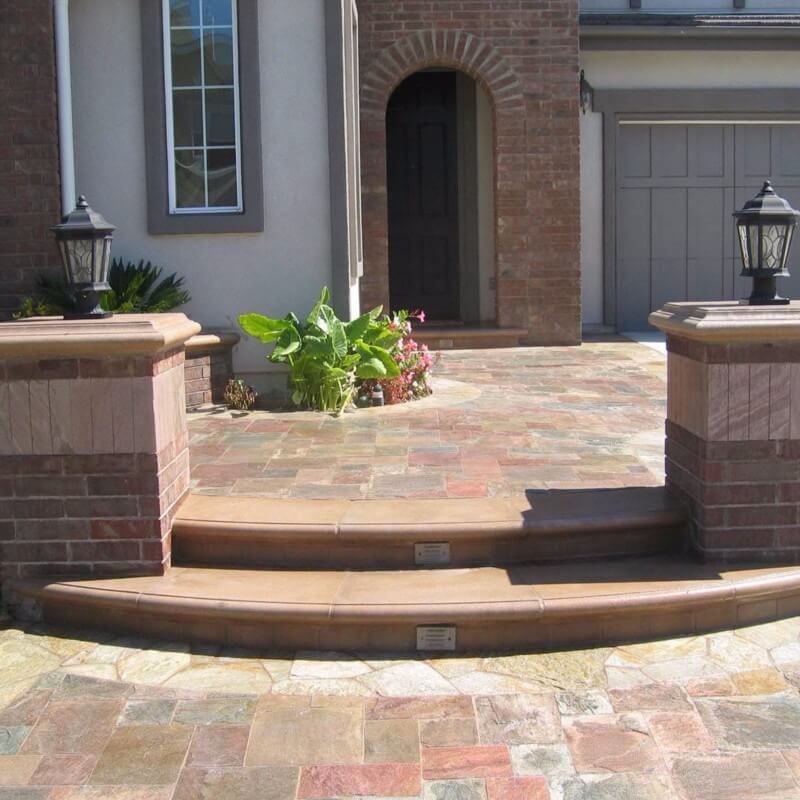 Featured: Copper Mini Pattern Quartzite
Quartzite is a natural, metamorphic stone. It is an extremely hard, durable material, with a lovely, slightly sparkly texture. Copper Mini Pattern Quartzite is just one variation of the many quartzite colors available. This stone is tough enough to install in areas that freeze in the winter — not all pavers can make that claim. Its variegated shades of red and gray are complementary to bricks, and many other materials as well.
Autumn Slate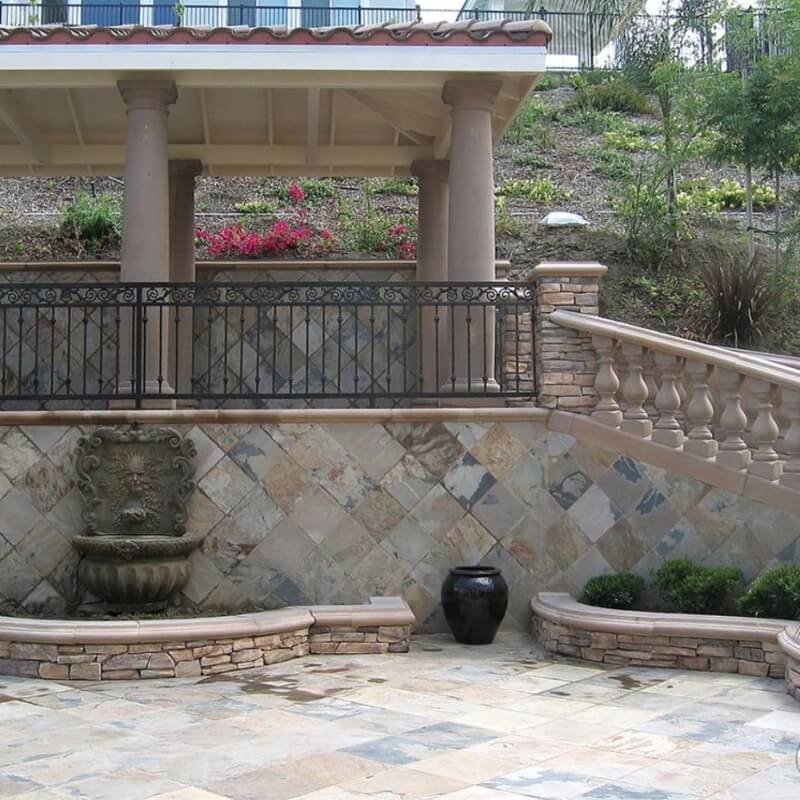 Featured: Autumn Slate
You may be amazed at the many different types of slate tile available. They come with refined, polished surfaces, or honed and gauged surfaces for a more rustic matte appearance. Autumn Slate is a variety with high variation, with shades of gray, beige, cream, peach, and rust, and creates a look that is dramatic and exotic. Like most other natural stones, this material needs yearly sealing to look its best.
Silver Travertine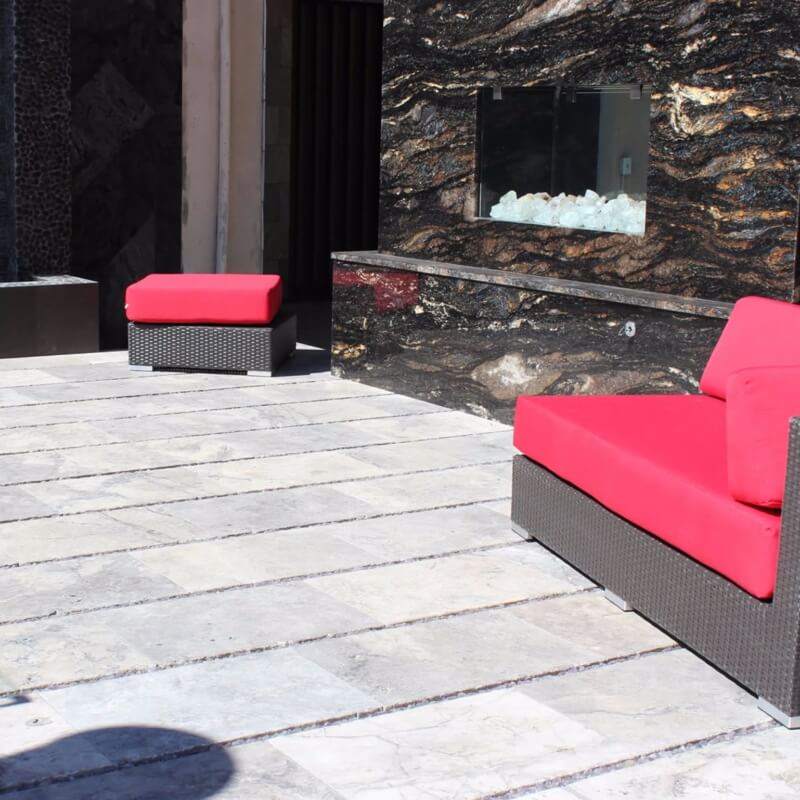 Featured: Silver Travertine Pavers
If you're considering a traditional, classic design for your backyard haven, consider travertine tile. This natural rock has been used as a building material since before recorded history. Silver Travertine Pavers, featuring shades of gray and a non-slip matte finish, is weather resistant and durable – and a great backdrop for other, more eye-catching design elements such as this granite outdoor fire feature.
While it's true your choice of material for your patio or walkway depends upon your décor style, keep in mind this is just a small sample of the pavers available. You also need to consider which material physically fits best into your design, your climate, and the time you want to spend maintaining the hardscape. No matter what you choose, remember that these choices are popular for a reason – they work well, and deliver lasting beauty.
READ MORE ABOUT OUTDOOR SPACES with PAVERS AND PORCELAIN TILE:
Porcelain Pavers Add Instant Curb Appeal
Porcelain Pavers Come in with A Bang
Porcelain Pavers That Look Like Real Stone
You Won't Believe These Inkjet Porcelain Tiles Aren't Real Stone