Durable And Affordable Dryback Glue Down LVP Flooring
December 02, 2022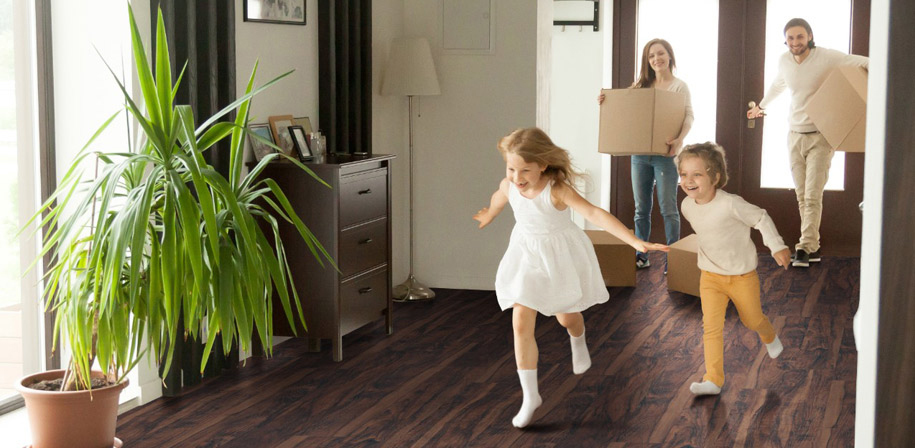 Everyone loves the look of hardwood flooring, but it's not appropriate for installation everywhere, and it requires special care to keep it looking nice. So, we've taken a good thing and made it even better! LVP flooring authentically replicates the look and feel of hardwood flooring – but with none of the drawbacks.
When choosing the perfect flooring for your home, though, there are so many options it can make your head spin. Luxury vinyl planks are waterproof, making them ideal for busy families with young children, pets, or just better things to do than maintain the flooring. There are two basic types of LVP, however. Both are exceptionally durable, versatile products. In this article, we'll discuss dryback, glue-down LVP flooring, so you'll be better equipped to make that choice – and also, we hope, inspired.
But first, some information, including the pros and cons of LVT, to help with your informed decision.
Dryback luxury vinyl planks are hard vinyl tiles shaped in plank sizes, just like the natural hardwood flooring they replicate. Unlike real wood flooring, however, our planks are completely waterproof flooring. That makes them an excellent choice for any room in your home, including areas that tend to get wet or messy – bathrooms, kitchens, laundry rooms, mudrooms, and home entryways. So if they're splashed with water, splattered by messy cooks, or decorated with your dog's muddy paw prints, it's a breeze to clean them up.
While "floating" LVP flooring is installed by clicking and locking a tab into a groove in the adjacent tile, dryback flooring is glued down to the subfloor with an adhesive. This may require extra work – the subfloor must be thoroughly prepared before installation, so it is perfectly flat and level, free of debris or any residue from previously installed floor coverings. Preparation may require sanding to smooth out any bumps, and low areas might need to be filled with cement. Concrete flooring may need to be prepared using MSI's Floor Primer. If the subfloor is wood, you or your contractor will need to nail or screw down any loose or squeaking areas; any damaged subfloor will need to be replaced.
But dryback flooring has several advantages over click-and-lock flooring. For one thing, replacing one tile is easier if it is damaged. Replacing a click-and-lock type plank may require the removal of several neighboring planks. It's also a tougher product, making it a better choice for installation in commercial spaces such as restaurants, retail stores, and offices.
Another significant advantage of dryback, glue-down LVP is that, since the planks do not need to fit together, they can be installed in any direction or pattern you desire. This allows you to create different flooring patterns, such as diagonal installations, herringbone or chevron patterns, or even a weave pattern using different colors.
With MSI's luxury vinyl planks, you can breathe easier, knowing that it's safe for your family and pets. This product is Greenguard and Floorscore certified, which means that it emits very low levels of volatile organic compounds (VOCs) that affect indoor air quality and may cause irritation to chemically sensitive people. This is one of the benefits of luxury vinyl flooring from MSI -- all of our LVP products contain no phthalates and are made from new, virgin vinyl.
KATAVIA COLLECTION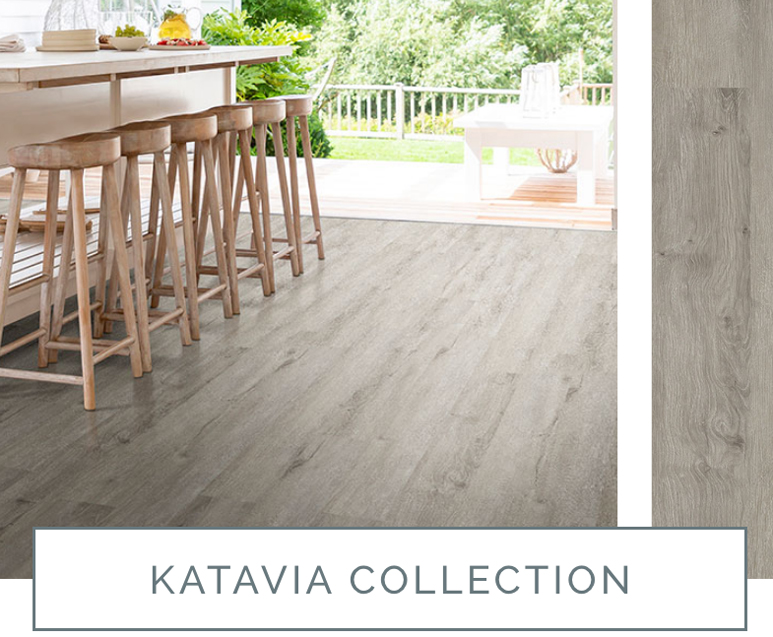 MSI's Katavia Collection features seven gorgeous wood-look colors, from the pale-beige Bleached Elm to the rich, dark brown Burnished Acacia. If you prefer a shade of gray, you can choose Elmwood Ash or Woodrift Gray. For a more rustic look, consider Reclaimed Oak. All planks are a convenient, easy-to-install 6" x 48".
This collection includes a durable 6-mil wear layer that resists scratches, scuffs, and dents – and it's also slip-resistant even when wet. It is recommended for residential use and comes with a 15-year warranty.
GLENRIDGE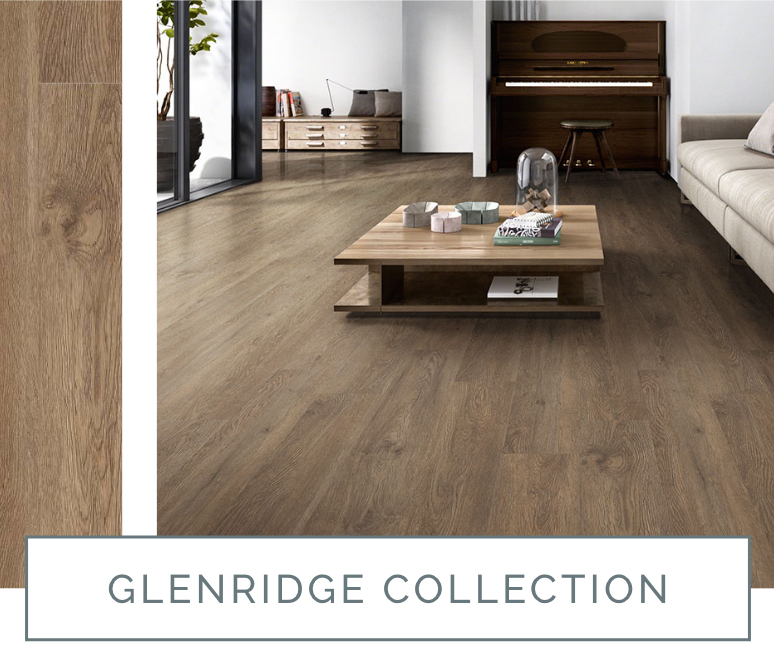 Upgrade to MSI's Glenridge collection, which features a tougher, 12-mil wear layer. It is available in 14 colors that realistically replicate natural hardwood flooring, including the wood grain patterns and even the knots. Colors include all of the options in the Katavia collection, plus a few more – Aged Hickory, Coastal Mix, Jatoba, and others with tons of character and natural beauty.
These planks are 6" x 48" and slip-resistant, with excellent protection against scratches and other damage. In addition, we offer a 25-year residential warranty and a 6-year warranty for light commercial use.
WILMONT

MSI's premium Wilmont collection is manufactured with an impressive 20-mil wear layer that offers exceptional protection against damages such as stains, dents, and scratches. Options include most of the same colors as the Katavia collection, with the addition of Lime Washed Oak, a light-brown shade with an eye-catching graining pattern.
The plank size in this collection is slightly larger – 7" x 48". It's an excellent choice for businesses and includes a 15-year warranty for light commercial and a 10-year warranty for heavier commercial use. So, it can stand up to your busy family within your home; we offer a lifetime residential warranty on this collection.
We hope this article answers some of your questions about MSI's top-quality luxury vinyl planks. We encourage you to browse our web gallery to see all our LVT products, including stone-look luxury vinyl tile. You'll find all these flooring options incredibly realistic, allowing you to enjoy the look of natural wood and stone without any drawbacks, including the time and labor involved with maintaining the real thing.
Are you ready to get going on your next flooring project? If you need more information on our products, their installation, or design tips, contact us at MSI and see how we can help you find the material that fits perfectly into your home and lifestyle.
Our expert staff is here to help you – and we make it easy to get in touch. Contact us online by email or chat with us in real time through our MSI website chat feature at the bottom right of your screen. Of course, you can also visit one of our showrooms in person. We look forward to earning your business!
Learn More About Luxury Vinyl Planks
Get The Look And Feel Of Real Wood With Waterproof Vinyl Plank Flooring
Why You Should Choose Vinyl Plank Flooring Over Laminate
Visualize Luxury Vinyl Planks, Backsplash Tiles, And More With Our Bathroom Visualizer
Durable And Affordable Dryback Glue Down LVP Flooring
Comparing Wood Look Tile And Luxury Vinyl Planks - Which Is Right For You?