Achieve No-Fuss Natural Looking Stone Floors With Luxury Vinyl Tile
March 05, 2021
If you've been paying attention to home decor trends, you've already heard rave reviews about the marvels of wood-look luxury vinyl tile flooring. It's so much easier to take care of than real hardwood flooring, more versatile, and also much less expensive. There's a lot to love about wood-look LVT and its amazingly authentic patterns and colors. But, does that hold true for stone-look LVT as well?
Comparing natural stone flooring to MSI's Trecento collection, the answer is unequivocally yes — LVT delivers all of the beauty, elegance, and opulence of natural stone tile without any of the drawbacks. In the past, the only way to get stone-look flooring, other than installing actual stone and dealing with its complications, was the choice of ceramic or porcelain tile. Thanks to improved technology, however, LVT has become another exceptional option. Here, we discuss three of MSI's most popular stone-look LVT colors and why they might belong in your home, too.
White Ocean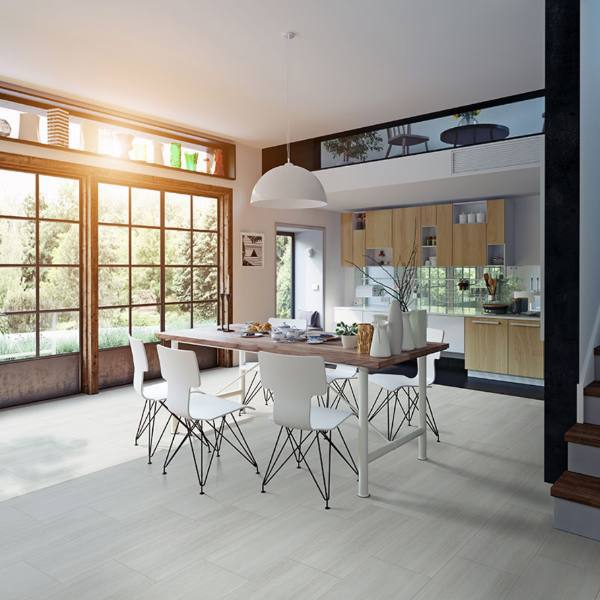 If a sophisticated, elegant look is important to you when designing your home's interior, consider including White Ocean marble-look vinyl tile. It features shades of gray in a linear pattern, and while it's manufactured instead of mined from the earth, there's enough variety between each tile so it looks impressively authentic. While natural stone is unarguably a gorgeous flooring option, it can be cost-prohibitive. LVT allows you to bring this upscale look into your home for a cost that fits into your budget.
There's another benefit to choosing LVT instead of natural stone, as well — the way it feels beneath your feet. Natural marble tile can be hard and cold underfoot, so many homeowners that love the way it looks aren't particularly fond of its hardness. Luxury vinyl tile is a much softer surface to walk on. Under-floor heating is a popular way to make natural stone tiles feel better on bare feet, but LVT stays warmer and more comfortable even without supplemental heating. It can, however, be installed beneath LVT as well.
Mountains Gray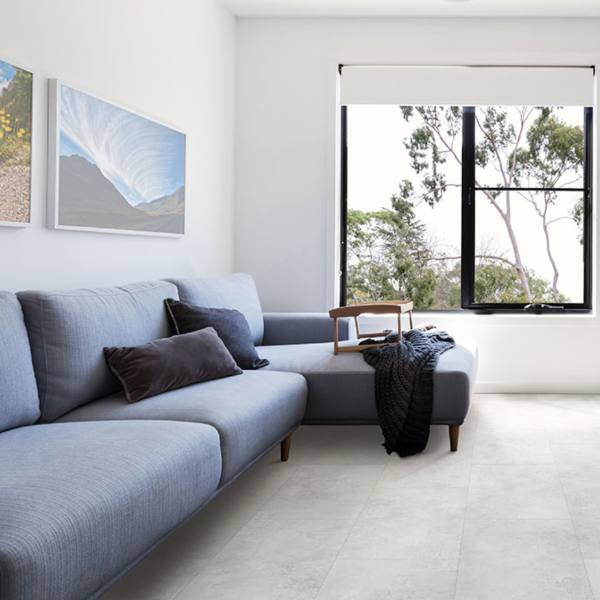 Mountains Gray luxury vinyl tile is an easy, versatile stone-look solution that works well in every room of your home. One of the reasons that it's gaining in popularity is how much easier LVT is to maintain compared to natural stone. Real stone should be cleaned only with gentle cleansers, preferably those specifically formulated so they won't damage or discolor its surface. LVT needs no special cleansers to stay looking beautiful.
Also, unlike real stone, LVT never needs sealing to maintain its waterproof quality. Natural stone needs an application of sealer on a regular basis, possibly once a year or even more frequently, to protect it against stains and moisture damage. LVT doesn't need to be waxed or polished, either. Its waterproof surface is just one of the many luxury vinyl tile benefits, so it's a great choice for rooms such as bathrooms, kitchens, laundry rooms, mudrooms, and other areas that might expose it to spills and splashes. It is produced with MSI's proprietary CrystaLux ™ wear layer, which guards against scratches, spills, pet accidents, indentations, and sun damage.
Installation of LVT is also a lot easier than real stone tile. For one thing, there's never a need to use grout or mortar. Not only does the application of grout between each tile present an extra step that adds time and labor to the installation, but grout is also a potential maintenance problem down the road — it may need to be scrubbed and sealed to prevent the absorption of moisture and the growth of mold and mildew. Also, cutting LVT to fit does not require a specialized wet saw. That makes it a realistic DIY project for those so inclined, which also dramatically reduces the cost of obtaining a gorgeous new floor.
Calacatta Marbello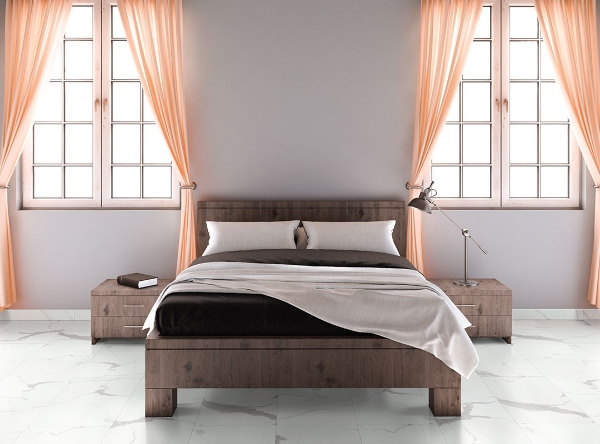 For a look that's bold but traditional, nothing beats Calacatta Marbello. It's a sophisticated combination of distinctive gray veining on a snowy white background, authentically resembling fine Italian marble. With LVT you can install marble-look flooring in places you never thought it was possible, such as the bathroom, kitchen, bedrooms, or any large expanse for which real marble tile would cost a fortune.
Even better, Calacatta Marbello is coated with MSI's exclusive new PietraTech polish. This polish imitates the sparkling, glossy smoothness of polished Italian marble to make the look even more authentic than ever before. Not only is the finish realistic, it also protects this light-colored, opulent flooring option against damage from heavy foot traffic, stains and spills, kids' messes, and the scratches and muddy footprints from pets. Despite its gloss, PietraTech is also slip-resistant, keeping your new marble-look flooring quiet and comfortable underfoot whether it's bathroom tile, kitchen tile, or installed anywhere else within the home.
There's no denying the appeal of natural stone flooring inside the home. The colors and patterns, in a variety of neutral shades, fit in perfectly with just about any design aesthetic from traditional to modern contemporary — and whatever new, hot trends the future may bring. But natural stone has its drawbacks too. It can be difficult to maintain and protect, can feel uncomfortable underfoot, and it's often prohibitively expensive. LVT changes all that, combining all of the most beloved characteristics of stone flooring with unmatched, easy-care durability.
Looking for inspiration for particular area of your home or curious about costs? Check out MSI's Luxury Vinyl Tile Gallery and read this article on Luxury Vinyl installation costs.
Are you still deciding which vinyl flooring is right for you? Learn the differences between Luxury Vinyl Plank and Luxury Vinyl Tile. LVT Flooring provides upscale looks for homeowners of all incomes. Learn more about the latest Luxury Vinyl Tile trends and styles.
Read More on Natural Stone Look Flooring
Current Obsessions: Porcelain Tile That Looks Like Natural Stone Flooring
Natural Stone Looks In Porcelain Tile You Have To See To Believe
Trecento Luxury Vinyl Tile: Affordable And Durable Natural Stone Looks