Which Kitchen Backsplash Tiles Are Easiest To Clean?
November 19, 2018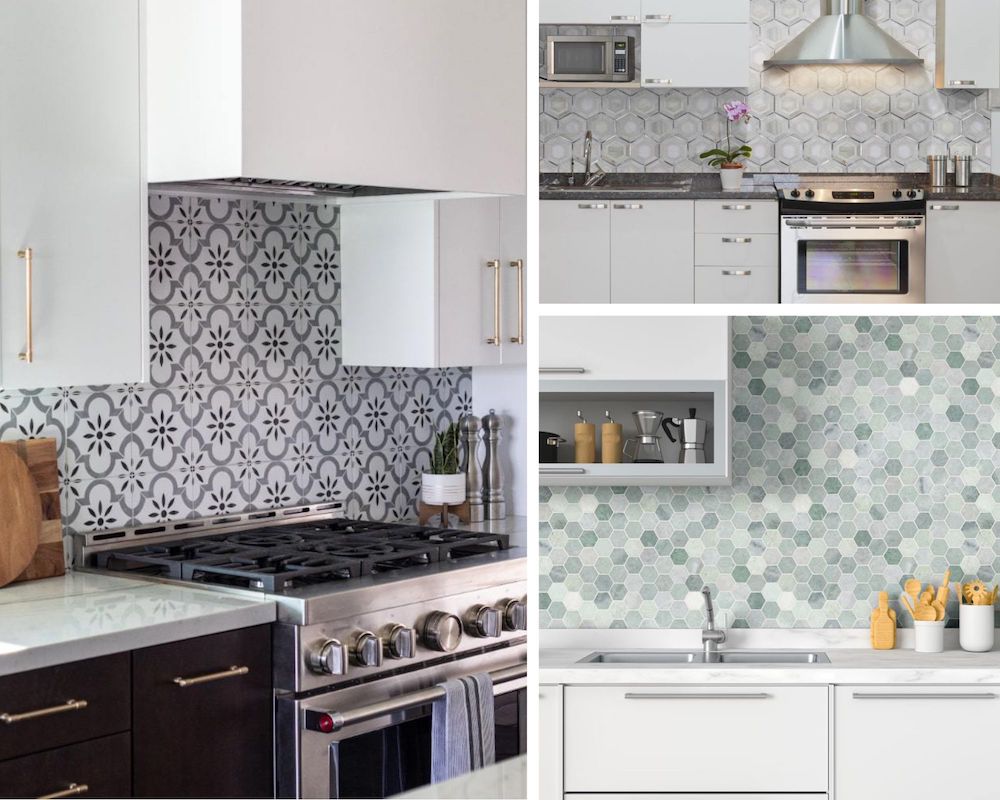 Your new kitchen backsplash tiles are going to be gorgeous — but will they be a pain to keep clean? Homeowners often select backsplash tiles for the style and character they add to the room, but ease of care is the point of installing wall tile in the first place. It's there to protect your wall from splashes and splatters.
There are two main factors that affect how easy it is to keep a tile clean: the size and the material.
Tile Size
Consider the grout line — the space between each tile, which is filled in with sanded or unsanded cement-like material. No matter how strong and water-repellent your backsplash tiles may be, unfortunately, grout is porous. Eventually, it will start looking a bit dull and dingy and will need special care. You can minimize this problem by applying grout sealer about two days to a week after installation, and repeating once a year.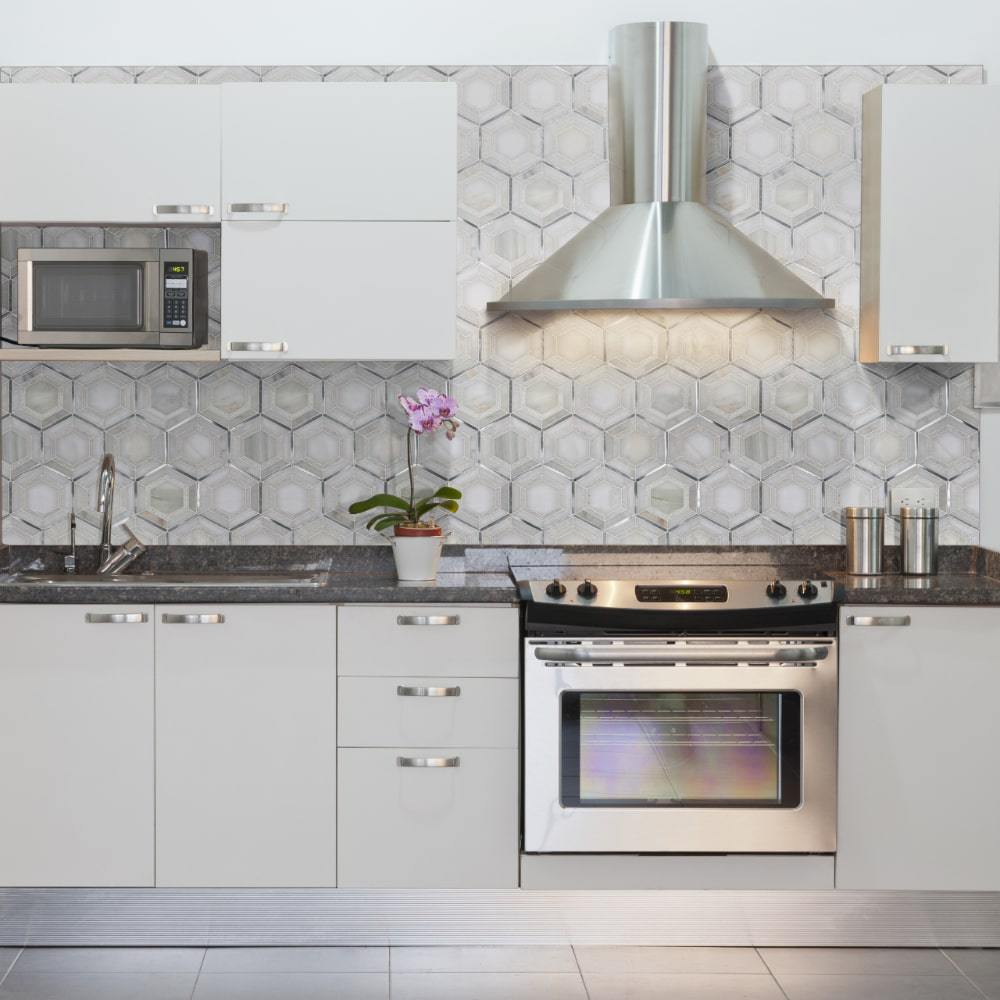 Medici Silver Tile
Another way to minimize the troublesome grout line is to choose a large format tile. The bigger the tile, the fewer grout lines for grime to stick to. Even better, some types of large-format tile are virtually seamless. They still need grout, but less grout means less scrubbing. You might also consider giving up the traditional white grout line, and opting for a colored grout to match or contrast with the kitchen backsplash tile. This won't keep the grout from getting dirty, of course, but you may be able to go longer without cleaning it.
Then again, why not go with zero grout lines? A slab backsplash, while it's not a tile, can be the ultimate easy-care surface. Choose the same material and pattern as your countertop, or liven up the vertical surface with a boldly patterned slab in contrast to a solid or more subtly colored counter.
Tile Material
When it comes to easy cleaning, not all backsplash tiles are created equal. Porcelain, ceramic, metal, and glass tile top the easy-care list because they resist staining, are naturally nonporous, and don't require any special cleansers to do the job.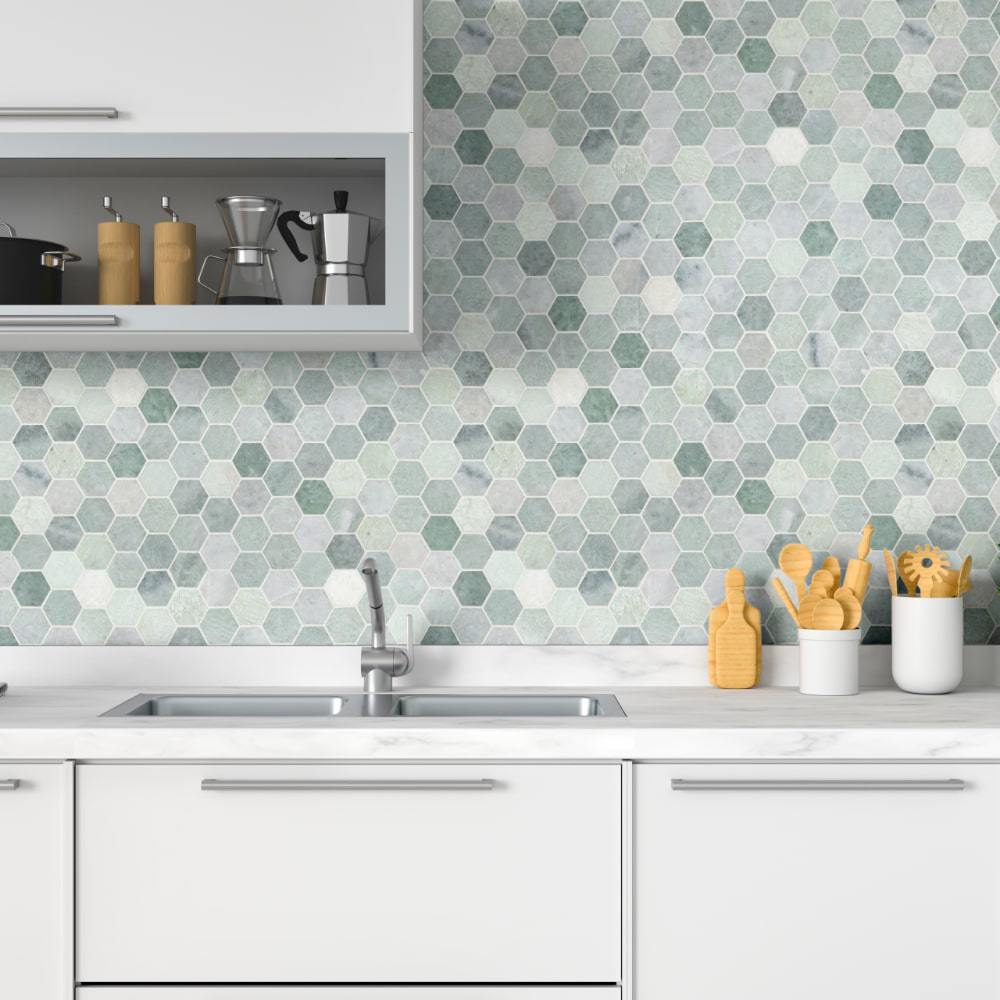 Icelandic Green 2" Hexagon Mosaic Tile
Other tiles such as travertine, marble, and other natural stones are gorgeous in a backsplash installation, but they have special care requirements. All natural stone needs regular sealing to resist stains and other damage, even when used as wall tile. You must also use cleansers that are formulated for use on natural stone.
If your kitchen is a busy place, consider using marble-look porcelain instead of real marble. Inkjet-printed porcelain tiles can imitate any type of surface, including wood grain and textiles. Although porcelain brick has a texture that makes it slightly more difficult to clean, it's much easier to clean than real brick.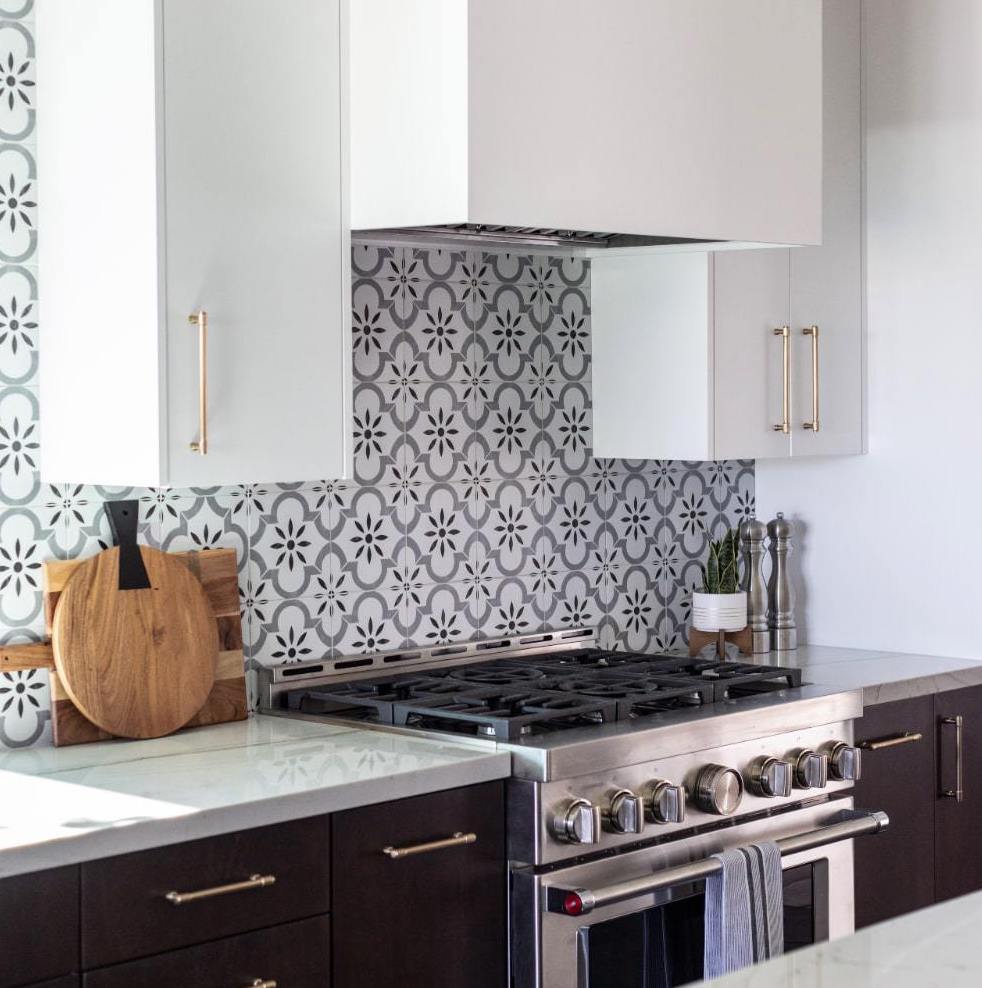 Azila Porcelain Tile
Still not sure which tile is best for you? Take this backsplash tile quiz for some insight into making that big decision. There are so many different types of tile, including pre-meshed mosaics and inkjet-printed lookalikes; it's not difficult to find backsplash designs that provide easy care while also creating a designer look in your kitchen or bath.
Still have more questions about kitchen backsplash tile care? We're here to help! Chat with us online, visit one of our showrooms, or find an MSI authorized dealer near you.
More About Kitchen Backsplashes
Mosaic Monday: The Go-To Guide To Decide On A Kitchen Backsplash
Mosaic Monday: Steps To Prepping The Wall For A Kitchen Backsplash
Tricks To Cleaning The Grout On Your Kitchen Backsplash
Current Obsessions How To Remodel Your Kitchen With A Stacked Stone Backsplash
Mosaic Monday: The Modern Way To Tile Your Kitchen Backsplash
READ MORE ABOUT MSI BACKSPLASH TILE