MSI Unveils W™ Engineered Hardwood Flooring: Ladson™ And Mccarran™ Collections
September 18, 2023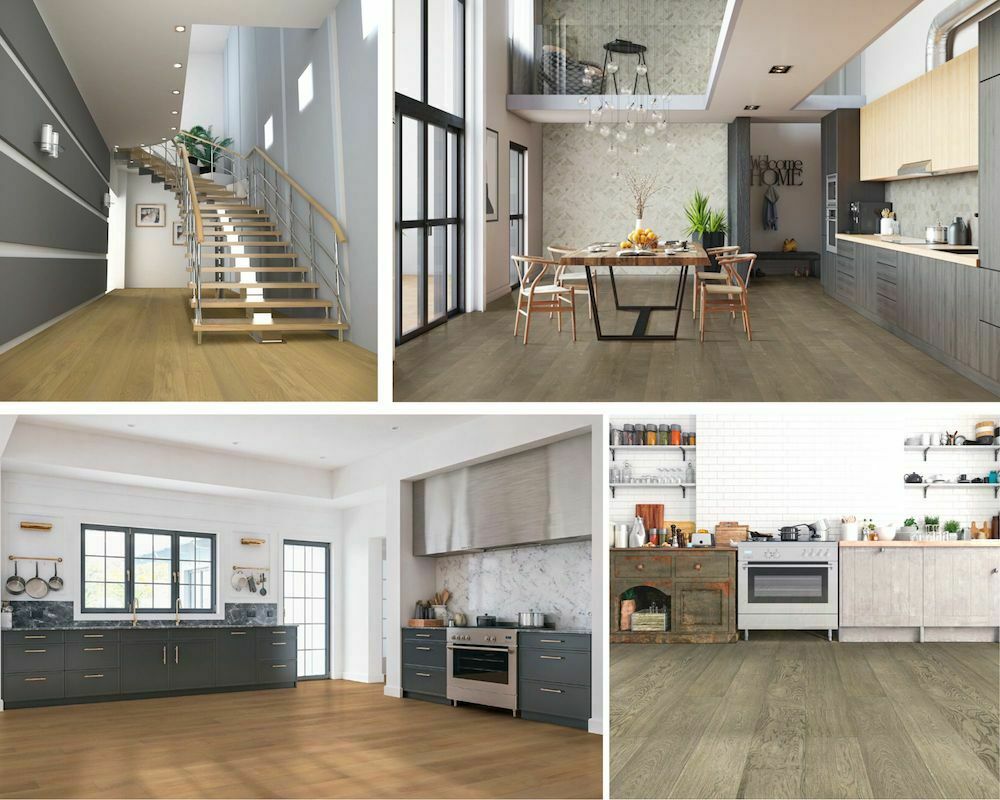 MSI is proud to introduce our new W™ Engineered Hardwood Flooring series, spotlighting two alluring collections—Ladson™ and McCarran™. From luminous blondes and chic grays to modern dark browns, this high-end hardwood line is crafted from genuine European White Oak. These planks are more than pieces of wood; they're works of art, meticulously crafted by supremely skilled artisans, ensuring every grain and knot is flawlessly presented.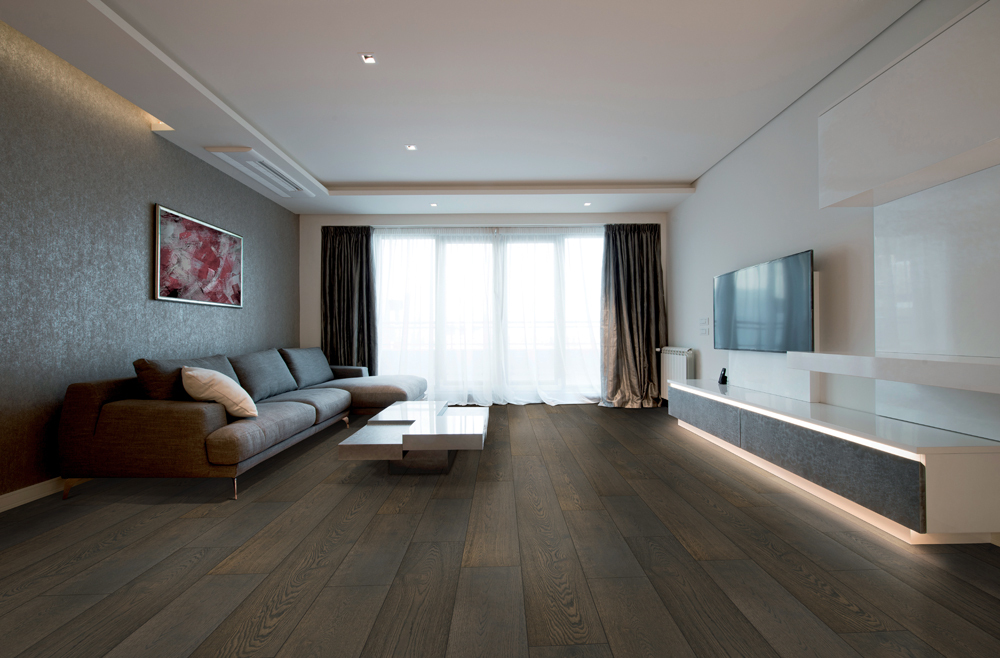 McCarran™ Atwood Engineered Hardwood Flooring
Understanding Engineered Hardwood
The charm of engineered hardwood is its fusion of classic real wood with enhanced sturdiness and stability. Distinguished from solid wood flooring solely by a single timber piece, engineered hardwood employs a composite of wood veneer and plywood layers. This pinnacle layer, known as the wear layer, features genuine hardwood species, capturing an unmistakable natural wood essence.
Hidden between the wear layers are multiple layers of cross-grained plywood. This composition amplifies the hardwood's strength, giving it a robust resistance to moisture. This makes it an ideal fit for zones where the typical hardwood might falter, such as in basements or busy kitchens. The individual layers of the engineered hardwood are fused by heat and pressure. This results in a product resilient to warping and expansion. Versatility in its installation methods—glue-down, nail-down, or floating—further underscores its appeal.
Diverse in its style, finishes, and wood species, engineered hardwood has increasingly found favor among homeowners who yearn for hardwood beauty augmented by reliability and resilience.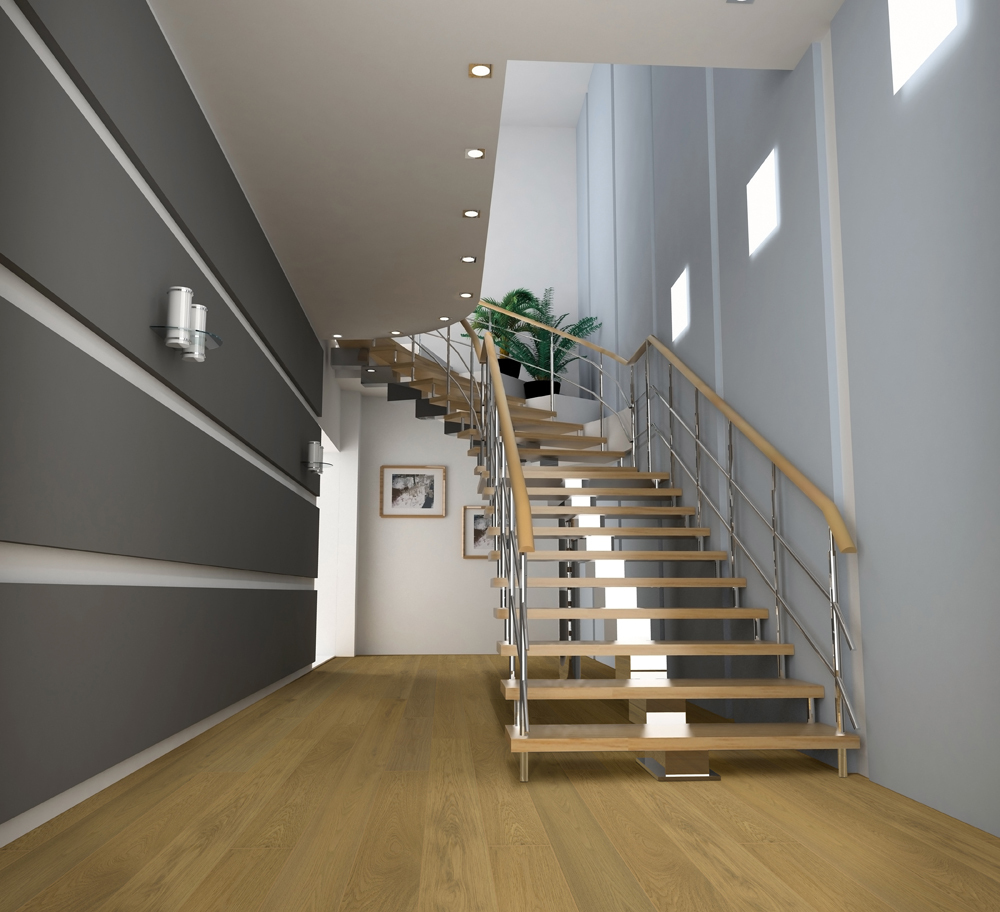 Ladson™ Northcutt Engineered Hardwood Flooring
The Distinctiveness of Engineered Hardwood
Engineered wood flooring is a testament to a harmonious blend of elegance, resilience, and functionality. Its signature trait is the layered structure, with each layer playing a role. The bottom and topmost hardwood layers mirror the grandeur of solid hardwood, an accompaniment to various interiors. Apart from the aesthetics, its installation simplicity and durability against consistent foot traffic make it an investment of beauty and longevity.
The Many Benefits of
MSI W™ Luxury Genuine Hardwood Planks
Let's dive into the world of luxury flooring as we explore the unparalleled benefits of our W™ Luxury Genuine Hardwood Planks. Marrying artisan craftsmanship with state-of-the-art manufacturing, these planks enhance the aesthetics of any space and embody sustainability and durability. Read on to unwrap the distinctive features and advantages of this exceptional hardwood flooring series.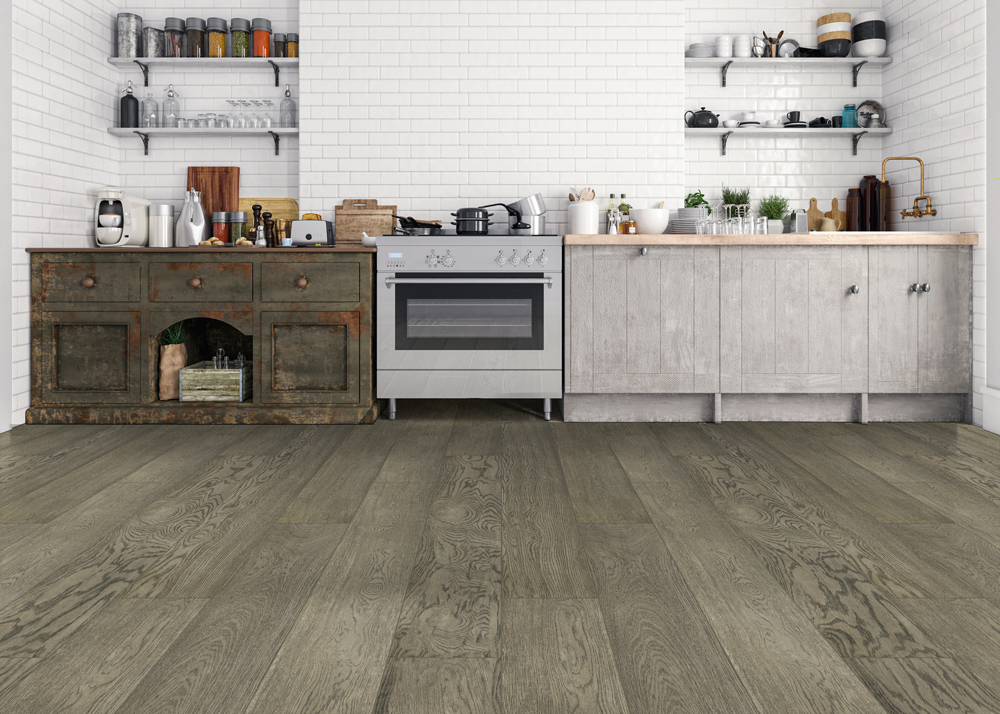 Bourland Engineered Hardwood Flooring


Refined Design & Craftsmanship
Our W™ Luxury Genuine Hardwood Planks truly stand out, drawing inspiration from nature with designs influenced by lush woodlands, treetop canopies, and the therapeutic benefits of nature. This luxury hardwood emanates sophistication and a soothing ambiance, fitting any contemporary living space. Beyond just looks, the craftsmanship speaks volumes about its quality, and each plank has intricate detailing and superior artistry. By combining traditional crafting techniques with modern manufacturing methods, the planks showcase sliced (Ladson™) and flagship sawn (McCarran™) cutting methods. The precision staining further ensures every plank boasts consistent and exquisite coloration. This, combined with the freedom for designers to introduce unique patterns and shapes, ensures a stunning outcome for any flooring installation.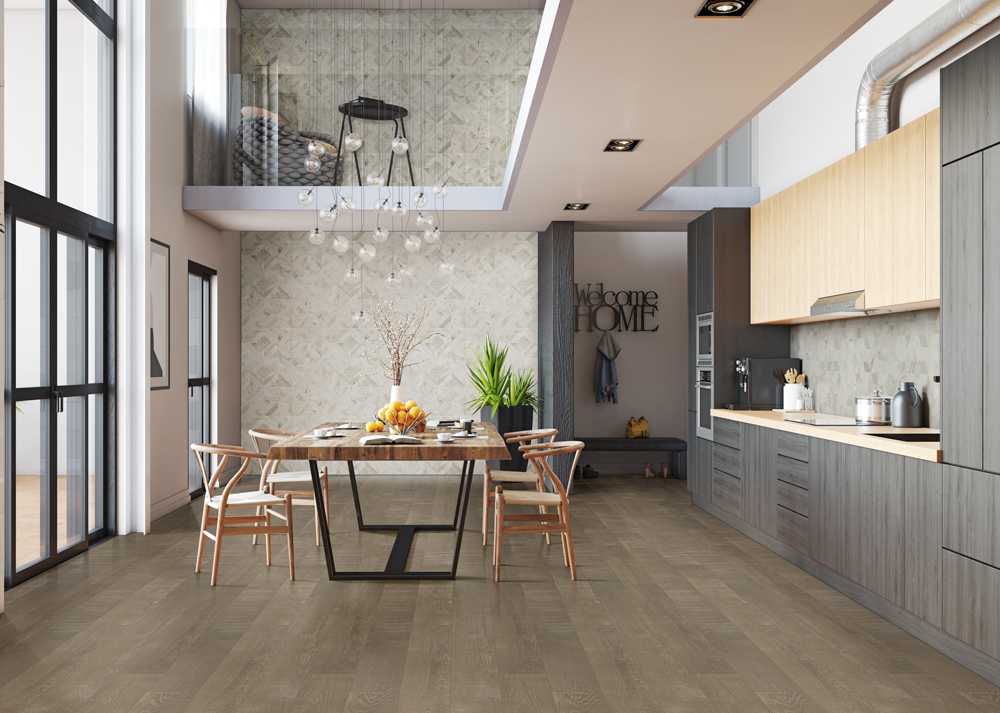 Ladson™ Hinton Engineered Hardwood Flooring


Beauty and Versatility
The beauty of the W™ Series is evident in its details. These hardwood planks come adorned with the most sought-after knots, grains, and splits, intricately hand-graded to perfection. With a spectrum of designs offered, from light blondes and grays to the darkest browns, there's a style for every aesthetic preference.
Not only is this flooring stunningly beautiful, but it also excels in adaptability. The W™ Series' random-length beveled planks provide the ultimate in versatility, lending the collection a luxurious real wood aesthetic. Ladson™ features spacious 7.5" x 75" planks, while the McCarran™ collection showcases ultra-wide 9.5" x 86" planks. Both are suitable for a variety of interiors, whether it's a grand entryway, bustling kitchen, or serene bathroom.


Strength and Security
Safety and durability are paramount in our W™ hardwood planks. Featuring a proprietary ZeroSlip™ anti-slip surface, each plank is crafted to ensure your feet find a secure grip. This durability is further enhanced by the multi-ply core construction, protected by CrystaLux Ultra™ with a satin finish. For those looking to introduce underfloor heating, each plank is radiant heat approved, ensuring warmth without compromising the plank's integrity.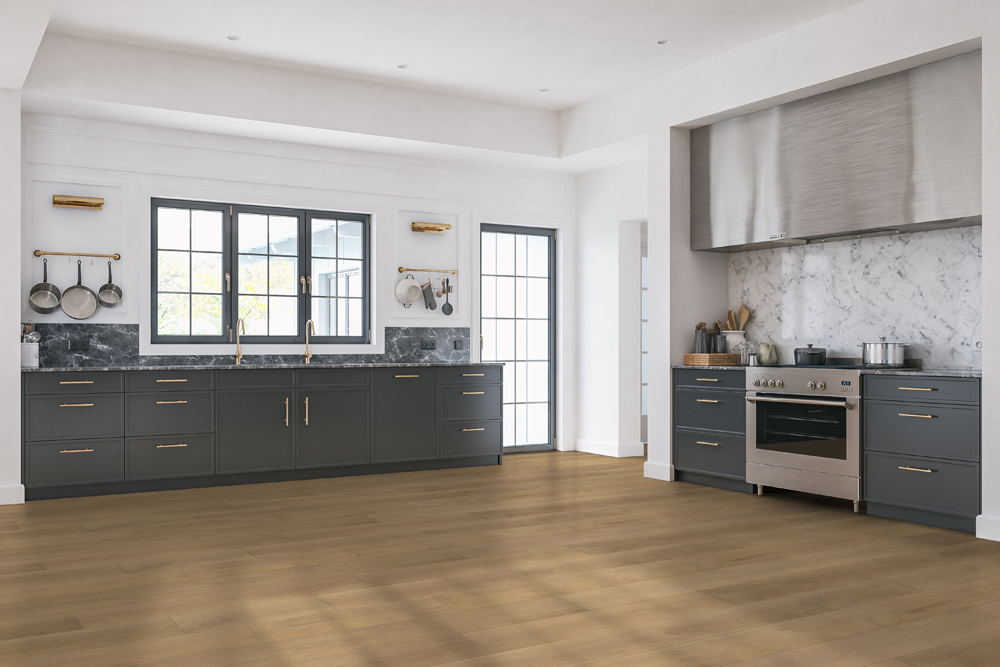 McCarran™ Bramlett Engineered Hardwood Flooring


Industry-Leading Warranties
At MSI, we provide quality and ensure longevity. The McCarran™ collection promises a Limited Lifetime Structural and Residential Finish warranty and a 10-Year Light Commercial warranty. The Ladson™ collection extends a Limited Lifetime Structural, a 30-Year Residential Finish, and a 5-Year Light Commercial warranty. These warranties reinforce our commitment to quality and customer satisfaction.


Eco-Friendly Practices & Reduced Carbon Impact
Today, when sustainability is vital, our W™ Luxury Genuine Hardwood Planks resonate with environmental responsibility. We employ only sustainable harvesting methods, ensuring the conservation of natural resources. Designed to preserve the environment, these planks come equipped with various indoor safety certifications, such as GreenGuard Gold, CARB, TSCA, and FloorScore. Moreover, by being Lacey Act compliant, we take a stand against illegal harvesting and trafficking. The wood sourcing methods ensure protection against deforestation, guaranteeing our green cover isn't compromised. Our hardwood planks also contribute to climate change mitigation, advocating for a sustainable and safer planet.


Perfectly Paired Trims and Transitions
Enhancing the further appeal of our W™ series, we offer Trims & Transitions as finishing tools to complete your project. These pieces are meticulously crafted to harmonize with our luxury genuine hardwood planks. Serving not just an aesthetic purpose, these transitional components enhance safety, ensuring smooth transitions between areas. For homeowners aiming to achieve a seamless and unified look throughout their spaces, combining these transitional elements with the trim is paramount. This integration promises a functional advantage and a bespoke design, accentuating the rich quality and artistry of the entire W™ series.
Timeless Beauty and Lasting Strength:
The W™ Hardwood Promise
For design and functionality, our W™ Luxury Genuine Hardwood Planks are more than another flooring option. Its unique blend of beauty, resilience, and eco-conscious sourcing sets this engineered wood apart, offering homeowners a choice that meets aesthetic desires without compromising safety or sustainability. As we've covered the myriad of benefits they present, it's evident that these planks can enhance any space, infusing it with timeless elegance and unmatched performance. Whether renovating or building from the ground up, these hardwood planks promise a foundation that will stand firm and look impeccable for years.
Ready to experience our new engineered hardwood yourself? Chat with us online, visit a nearby MSI showroom, or find an MSI authorized dealer in your area to experience our W™ Luxury Genuine Hardwood Planks now!
LEARN MORE ABOUT FLOORING
7 Realistic Wood Look Planks From The Everlife® Luxury Vinyl Flooring Collection
Weighing The Options: Engineered Hardwood Floors Vs. Wood Look Tile Planks
Oversized Luxury: MSI's Xl Luxury Vinyl Plank Collections
Hotel Bathroom Renovation: One-Stop Source For Vanity Tops, Shower Surrounds, Flooring And More