8 Quartz Countertop Island Ideas To Inspire Your Dream Kitchen
September 09, 2022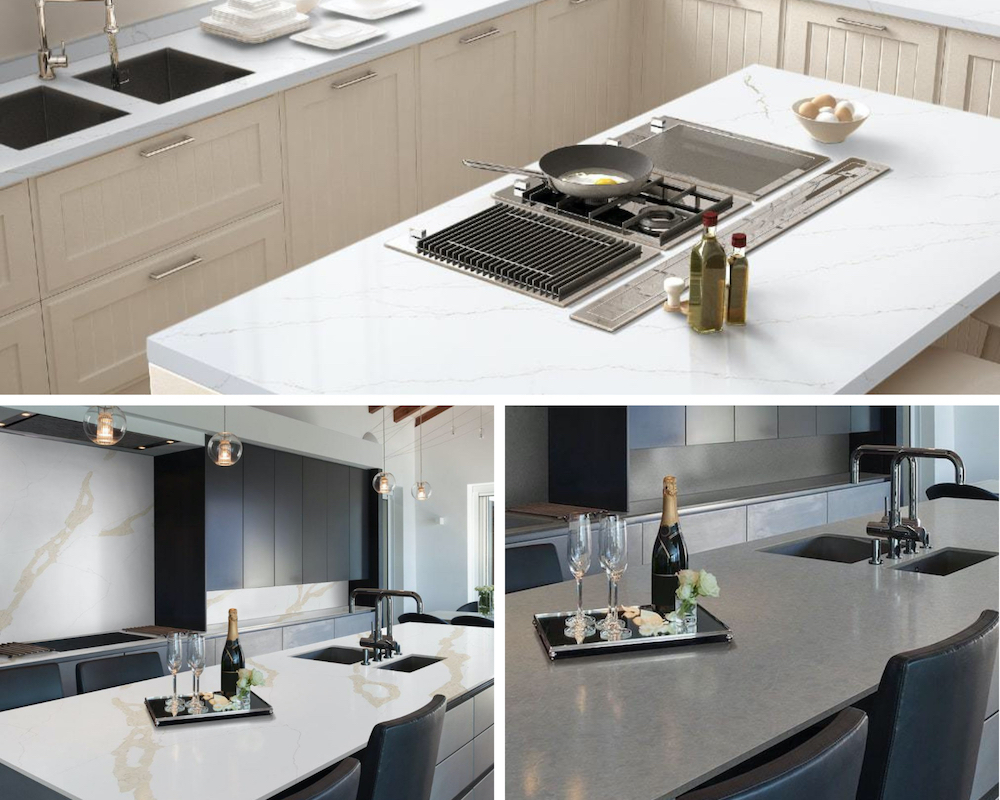 When there's not enough work space in kitchens, designers often solve the problem with islands made of quartz countertops. The more practical and durable the island's countertop, the more useful the surface. That's why remodeling a kitchen with an island made with quartz will pay dividends for years to come.
There's no end to the ways to use quartz. So let's examine eight island countertop ideas that can be easily implemented in any remodel. But first, let's consider why islands are great additions to a kitchen.
Why a Kitchen is Better With an Island
An island offers one additional space to introduce a primary or secondary color and texture to the room. The effect can be dramatic due to the sizeable uninterrupted surface area.
But when most homeowners think of their islands, they think of practicality. It provides additional space for slicing, chopping, and mixing.
An island can also expand storage space. Below may be drawers for utensils, shelves for cookbooks, and cabinetry for pots and pans.
Islands give family and friends a place to gather. They can assist with the meal prep or simply watch. Either way, an island can make for a cozy gathering spot. An island can also accommodate extra guests when you run out of room at the table.
In some families, kitchen countertops double as work surfaces for business and school assignments. In addition, a nearby outlet makes it ideal for laptops and tablets.
Why Use Quartz For An Island Countertop?
Quartz offers a convenient way to bring a luxurious look to a space without the typical concerns accompanying luxe items. For example, kitchen designs reserved for the wealthy are often impractical, requiring continuous upkeep.
Marble and granite fall into this category. Those stones are gorgeous, expensive, and high-maintenance. Cleaning them after heavy use can take diligent effort. And preserving them requires sealing periodically.
No one wants their marble countertop permanently stained after only one dinner party. But unfortunately, that worry can make it challenging to enjoy hosting family and friends.
In contrast, quartz countertop colors and patterns can match marble and granite in looks while still being easy to clean. Most ordinary all-purpose cleaners are suitable for keeping the countertops spotless.
And quartz doesn't require sealing. The surface is non-porous, so even the darkest of wines wipes off. Watch the video below to see the durability of quartz.
Quartz is also difficult to scratch. That quality alone makes it more appropriate for a working kitchen than other options. And when it comes to colors, it may not be easy locating the correct one in marble, but the chances are you can find it in quartz.
Ways to Use Quartz for Your Countertop Island
Quartz countertops are highly adaptable, working with anything from a farmhouse kitchen style to an urban industrial look. Here are a few ways to incorporate it into your kitchen island remodel.
1. Soapstone Metropolis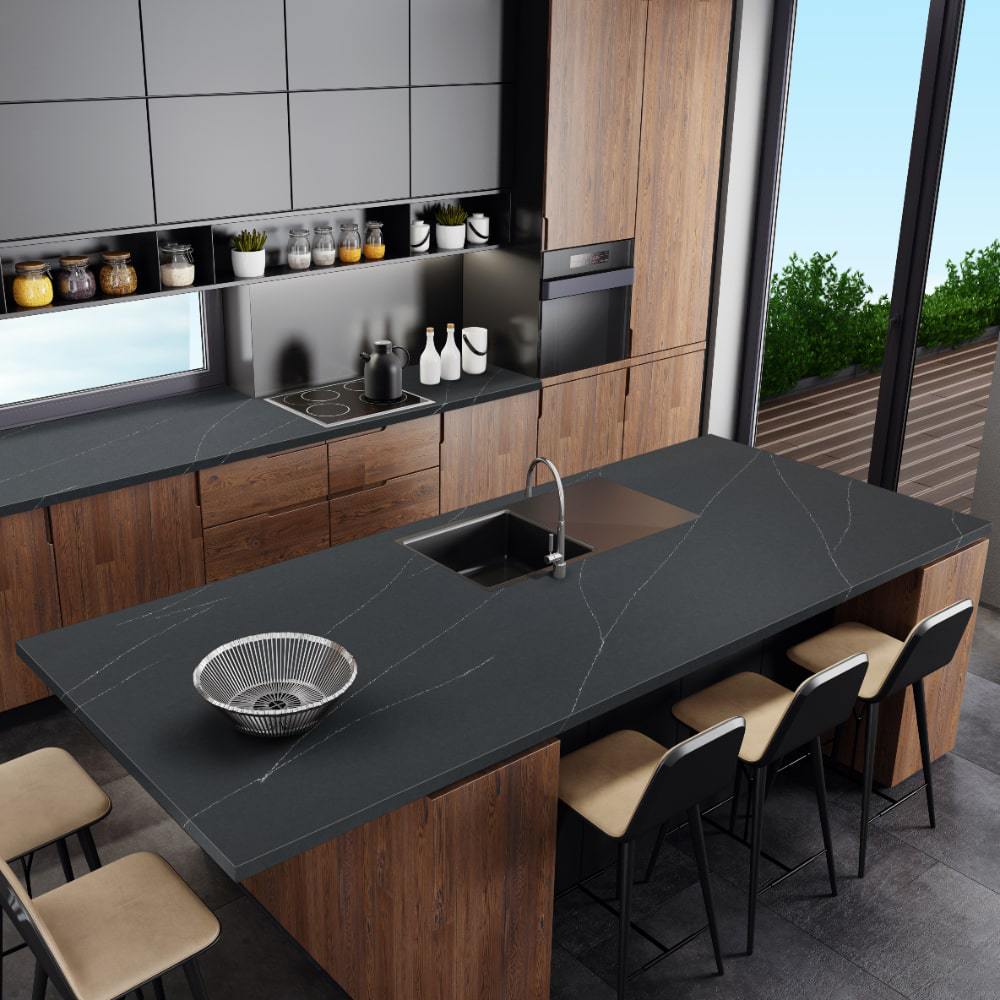 Achieve an upscale, sophisticated kitchen with slate gray quartz like Soapstone Metropolis. The neutral color can ground your color scheme to provide the needed support for lighter-colored chairs and cabinetry.
It can also harmonize your work surface by complementing a stainless steel kitchen sink nicely. And Soapstone Metropolis gives a kitchen depth without an overly heavy appearance, thanks to white veins providing additional visual interest.
2. Babylon Gray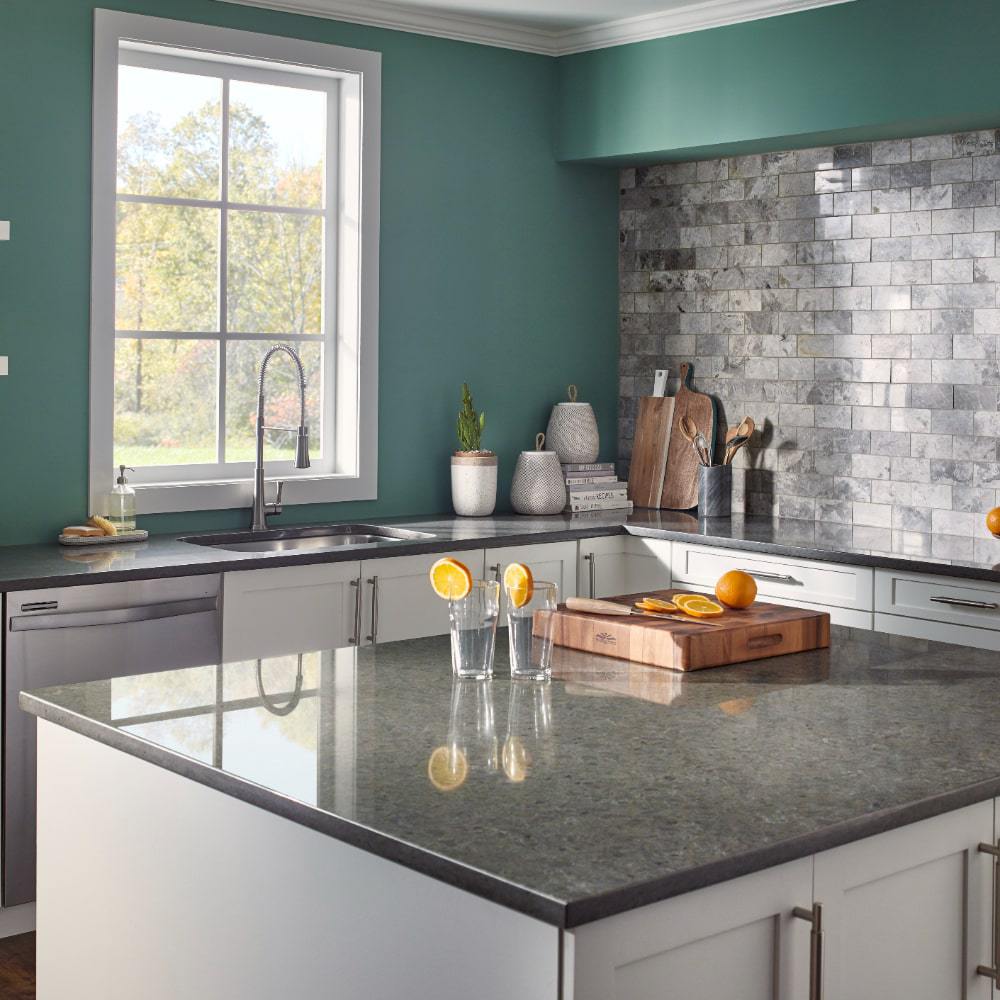 A gray kitchen island doesn't have to be super dark. Babylon Gray is a mid-range gray suitable for various color palettes and style schemes. Its tone fits with a minimalist environment.
However, this quartz has enough pattern for maximalist kitchens and other designs that lean heavily on a mixture of visual stimuli. For example, Babylon Gray is also available as concrete-looking quartz.
3. Calacatta Goa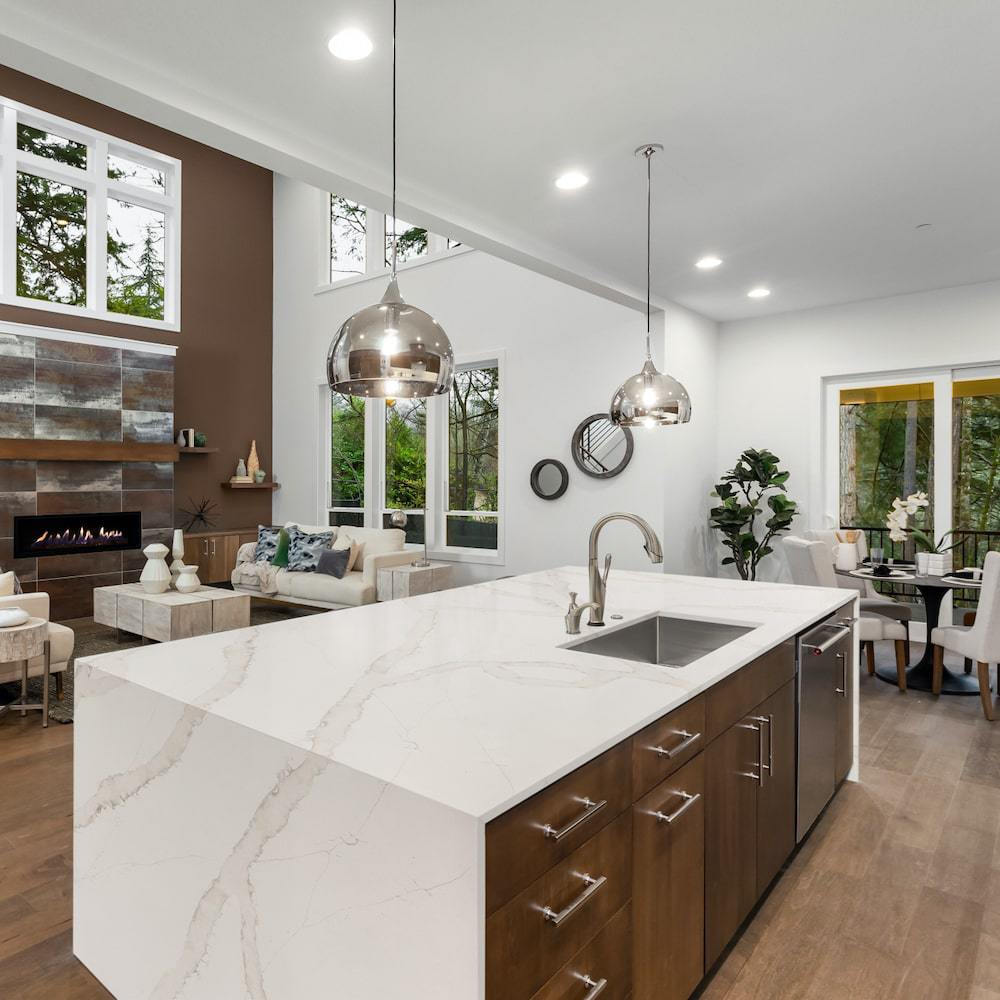 If there's a quartz ideal for a waterfall island top, it's Calacatta Goa. Its thick veining cascading over the edges works well to emphasize the waterfall motif.
Calacatta Goa is also an excellent choice if you're trying to avoid a stark white kitchen. This quartz is a warm white, which helps humanize the space rather than create a sterile environment.
4. Carrara Lumos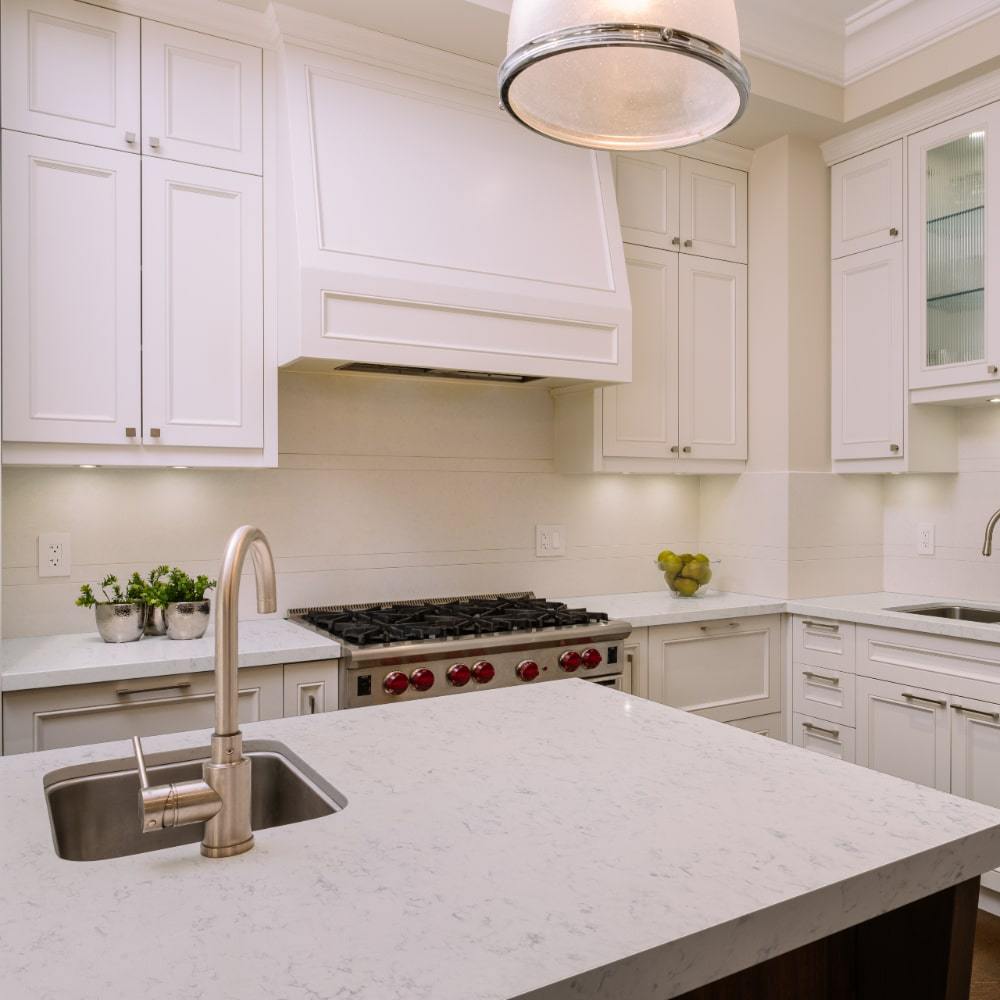 Achieve the look of white marble without the cost. Carrara Lumos presents a creamy white surface accented with light gray veins. This quartz is at home in any kitchen design that otherwise would call for the more expensive marble.
But with quartz, there's none of the concern you have about staining your marble with acidic liquids like wine and tomato sauce. Quartz is stain-resistant.
5. Vena Carbona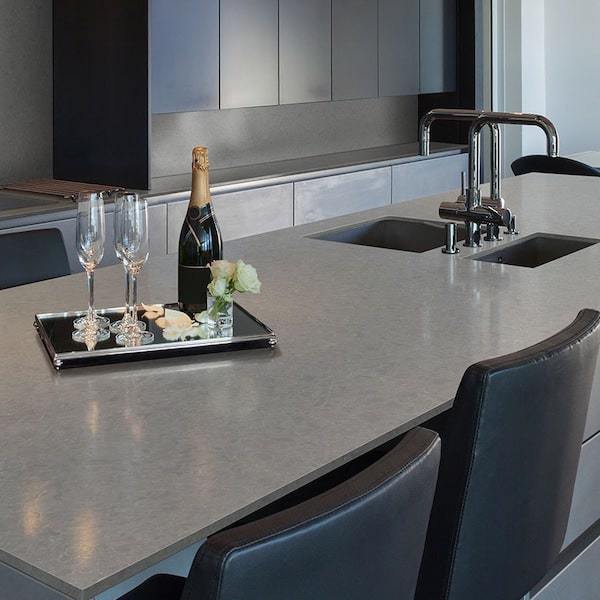 Vena Carbona is an understated light gray with subtle veining. It's handsome enough to stand on its own, but it also can lay an elegant foundation for your other decor.
It'll capture the attention of visitors without being overbearing. And quartz can withstand the closest inspection. Moreover, the surface is free of the inevitable naturally-occurring flaws that can bedevil the best granite.
6. Calacatta Miraggio Gold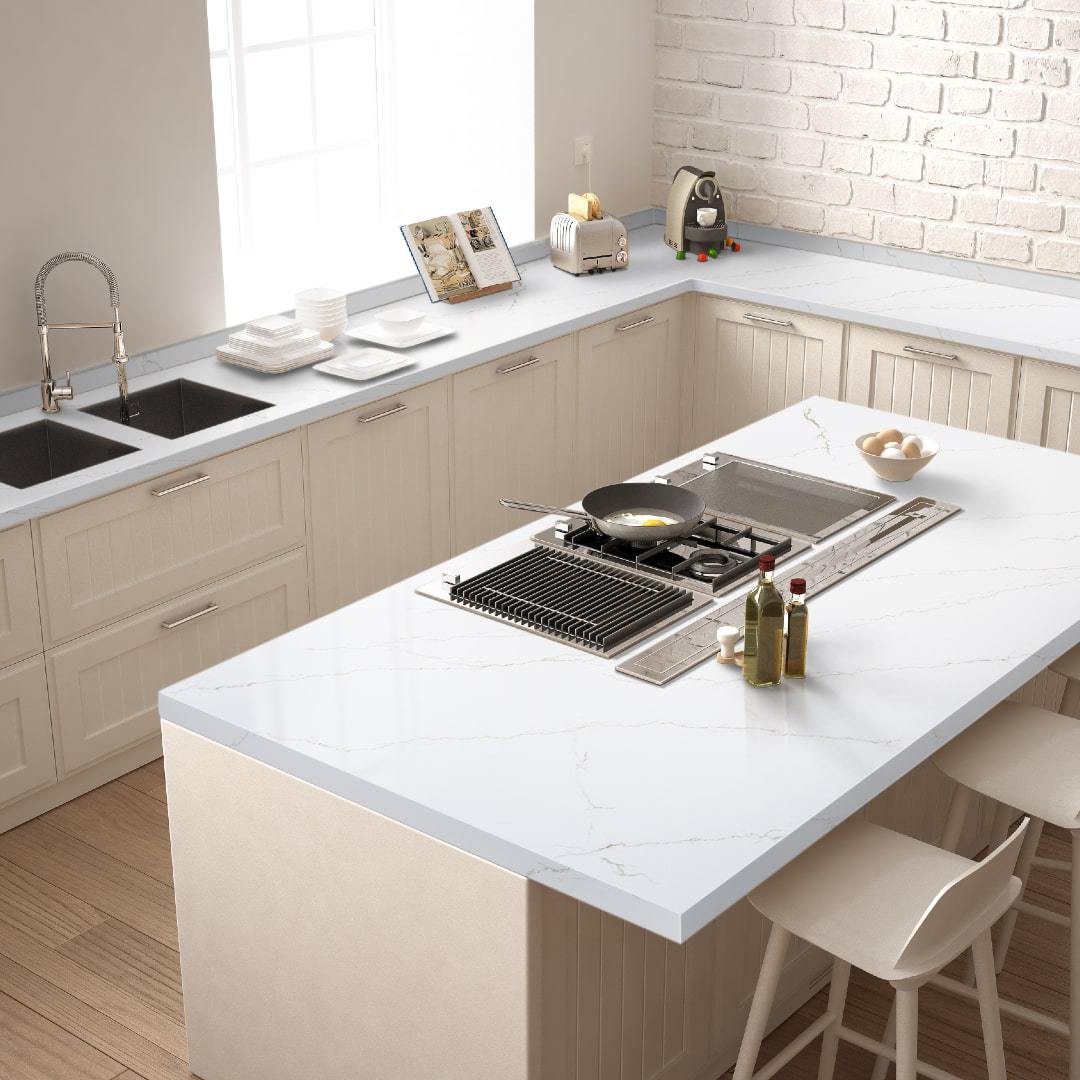 This luscious white Calacatta quartz brings an extra dimension to the white kitchen because of its veining. The veins are golden. The streaks of color give a white kitchen more dimension without intruding on your overall design.
The veining in Calacatta Miraggio Gold opens up many color scheme possibilities. For example, bronze cabinet hardware could tie into the veining, while black hardware could provide an exciting, bold contrast.
7. Calacatta Leon Gold
When the decor scheme calls for a white island with a bold personality, Calacatta Leon Gold fits the bill. It isn't a quartz slab that will go unnoticed.
Calacatta Gold features wide veining in taupe augmented with thinner, darker veins. But there's no worry that stains will alter the color of your veining. Quartz is easily cleaned without harsh abrasives.
8. Calacatta Ultra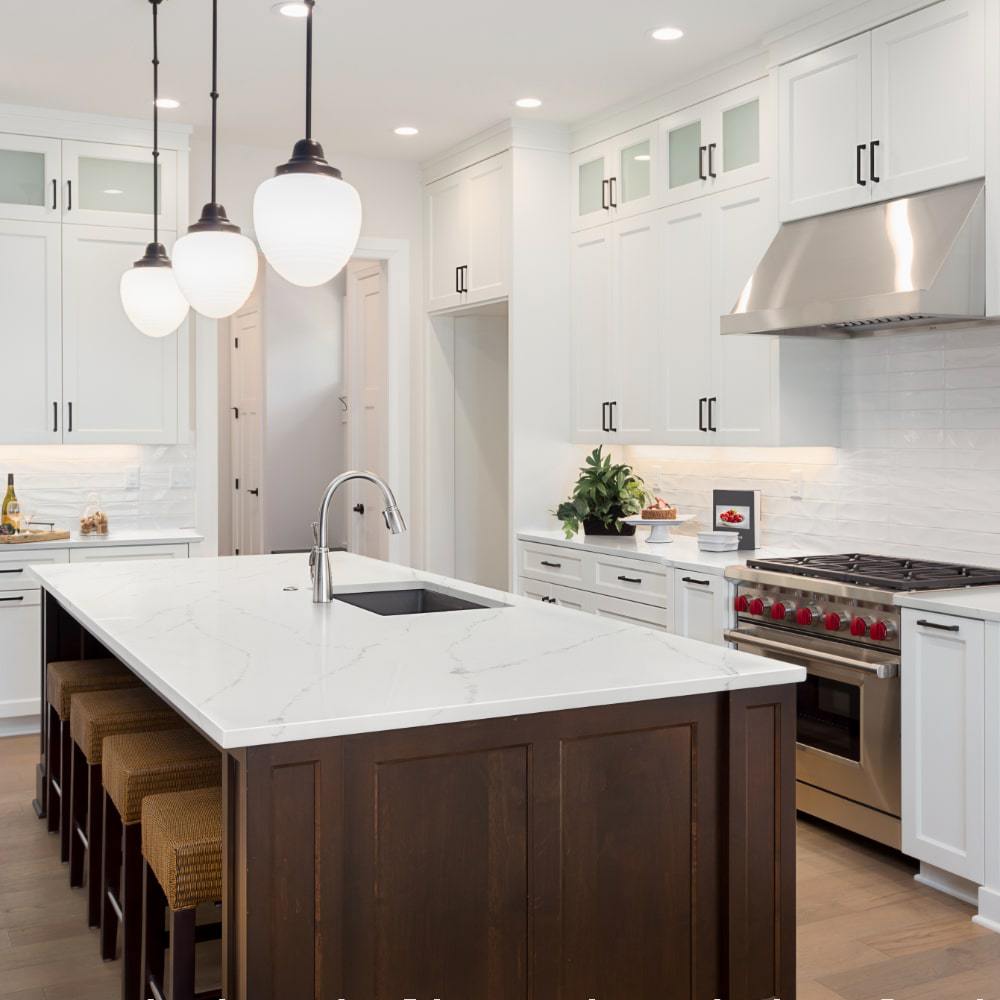 White kitchens remain a staple of modern design. And white kitchens with islands using Calacatta Ultra will remain an attractive surface year after year.
This quartz that looks like marble has delicate veins of gray traversing a robust white background. But, unlike marble, quartz can stand up to the demands of a busy household. It doesn't require delicacy or special handling.
Are You Ready to Choose Your Quartz Countertops?
Upgrade your kitchen today with one of the many modern colors and patterns available in our quartz. You'll have the assurance of knowing that in addition to beautifying your kitchen, you're also making it easier to maintain because of quartz's resistance to scratches and stains.
If you'd like to see our quartz countertops in person, use our dealer locator to find the dealer closest to you. In addition, our showrooms are open to the public.
Learn More About MSI Quartz Countertops
Sink Choices For Your New Quartz Countertop And Beyond
The Benefits of Prefab Quartz Countertops
Full Height Quartz Backsplashes to Complement Your New Quartz Countertop
6 Reasons To Choose An MSI Quartz Countertop
Get Peace of Mind with our Q Premium Natural Quartz Warranty