Sink Choices For Your New Quartz Countertop And Beyond
June 12, 2022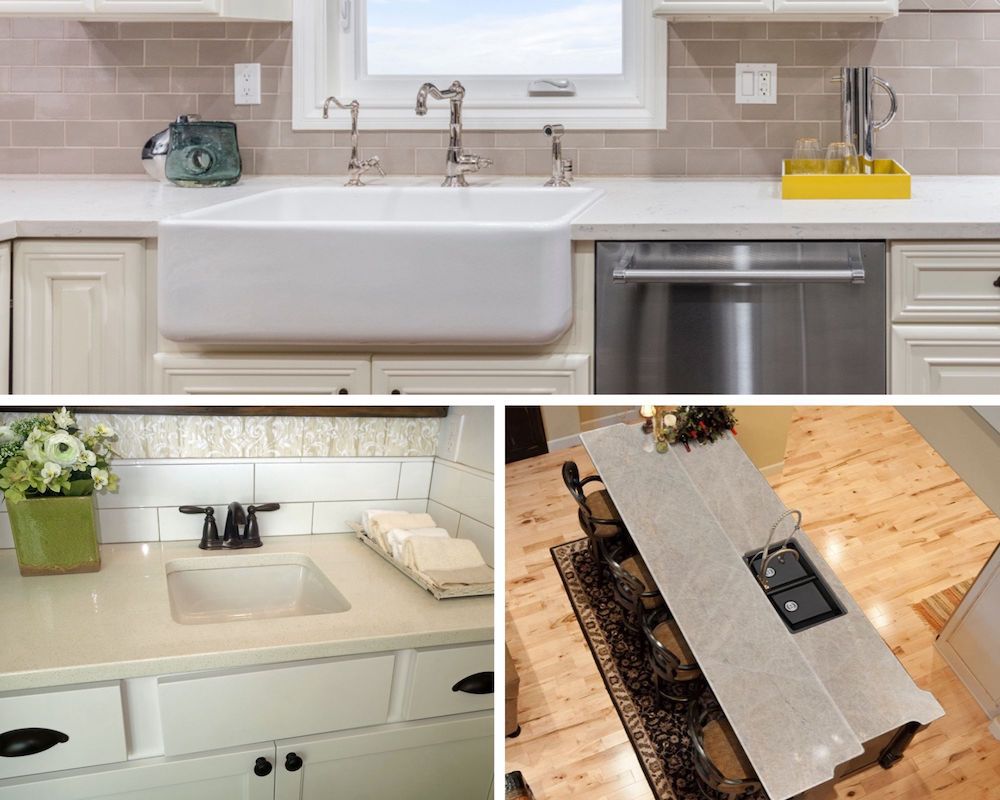 When you choose a quartz countertop from MSI, you get the premium surface and all the benefits that come with it. The manufacturing of these countertops and the technology used to do it has come so far that it's next to impossible to differentiate a quartz countertop from the natural surface it mimics like granite or marble.
Unlike granite or marble, quartz does not require sealing or regularly scheduled resealing. As a nonporous surface, you won't need to worry about your countertop harboring harmful germs and bacteria. Quartz is also easier to maintain and highly durable.
Of course, a kitchen design doesn't end with a hypnotic quartz countertop. In addition to these countertops, MSI carries a complete line of kitchen sinks and vanity sinks. Read on to learn more.
Stainless Steel Double Bowl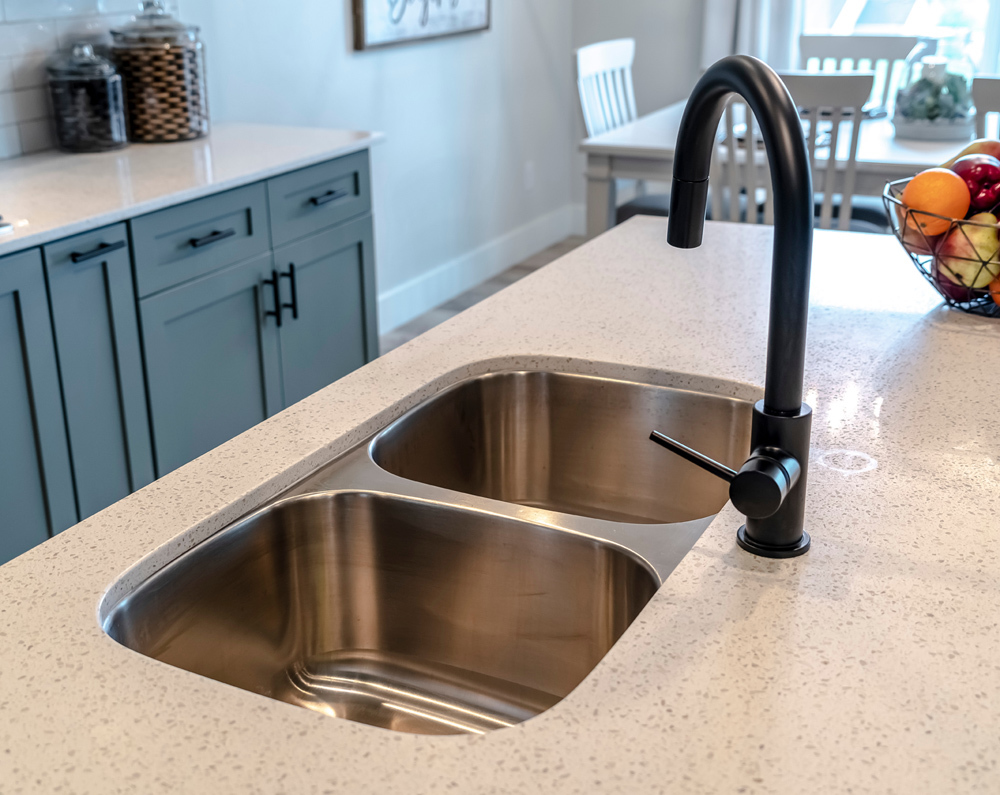 When browsing kitchen sinks consider a stainless steel double bowl. Pictured here is one with a classic dual bowl setup. These undermount sinks use stainless steel to provide a durability you can rely on throughout the years. Resourceful sound shielding pads put in work, adding practicality to the sink's overall beauty. Plus, it's the perfect choice for a busy home or a light commercial setting.
Due to their large size, these double bowl sinks are easy to clean and provide an elegant brushed satin finish that helps cut down on scratches, maintaining the sinks' beauty for the long term. Stainless steel double bowls are where durability and elegance meet.
Stainless Steel Single Bowl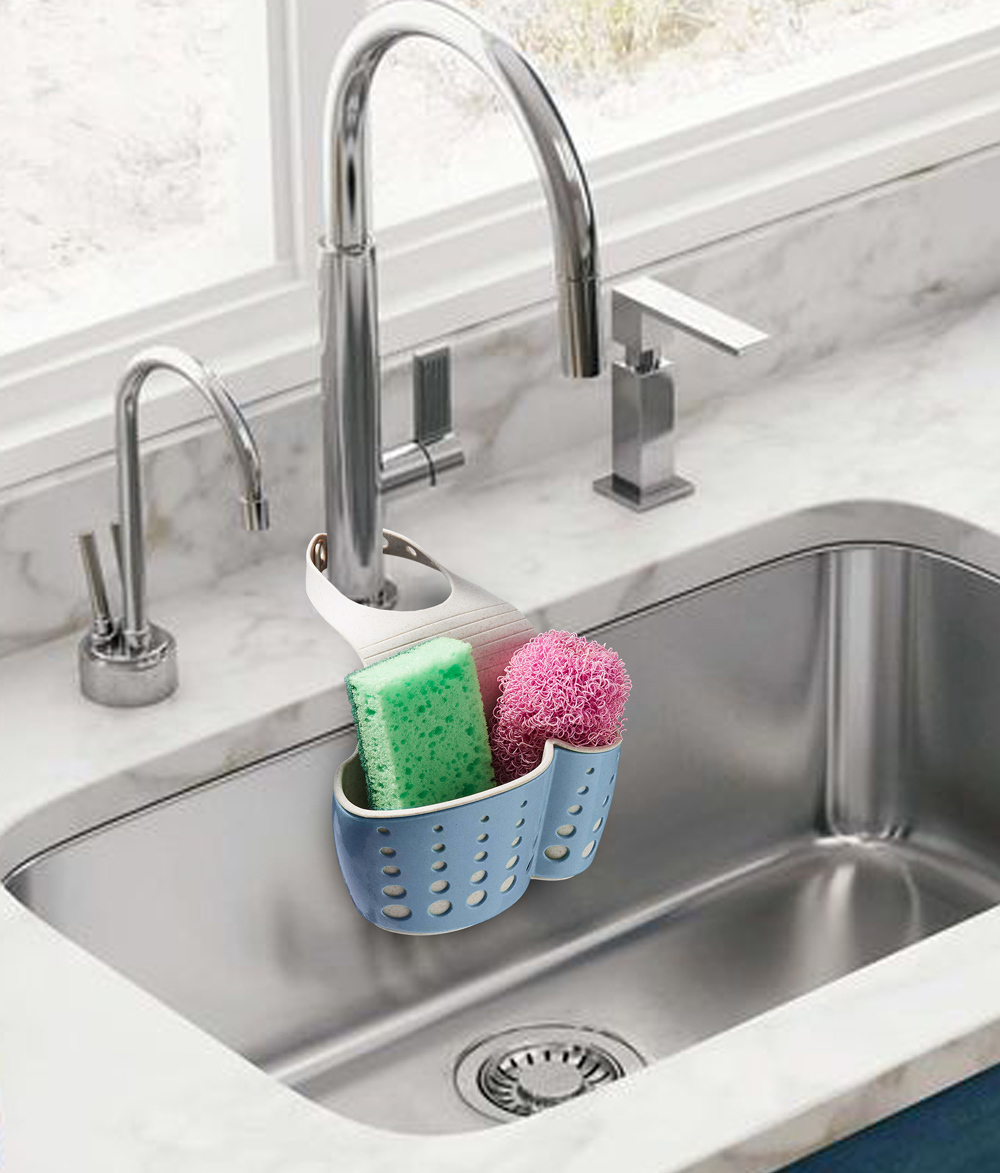 Stainless steel single bowl sinks come in a variety of shapes and sizes. The single bowl in this kitchen setting is an undermount sink with rounded corners. Beyond the kitchen, a sink like this is ideal for laundries, bar areas, outdoor kitchens, and more. Often equipped with an impressive 8-inch basin, these narrow rectangular sinks work well in virtually any space.
The luxurious brushed satin finish helps keep water spots and small scratches to a minimum, and the sound shielding pads ensure that your washing experience is a quiet one. These single bowl sinks perform as great as they look.
Adding a simple yet luxurious stainless steel sink to your kitchen is an easy way to allow the more dramatic, statement-making items of your overall design to stand out. The design possibilities are endless with a minimalist but still highly detailed sink like this.
Quartz Composite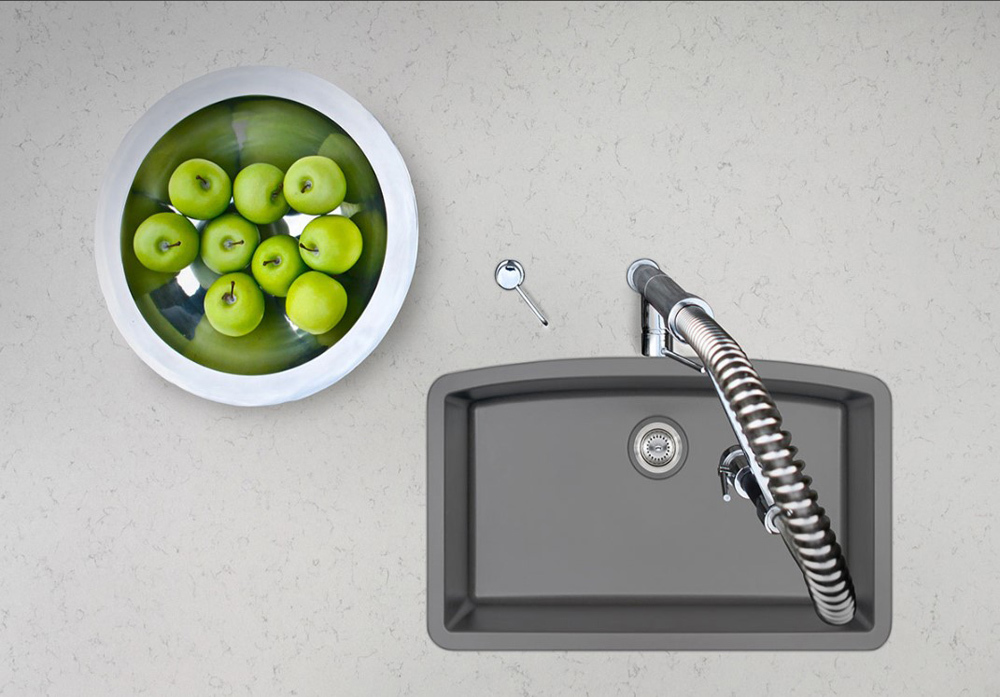 Another excellent choice for sinks to pair with your new quartz countertop is from our quartz composite line. Take a look at how great the Grey Quartz Single Bowl looks with this Calacatta Vicenza Quartz countertop. This undermount sink is germ, scratch, and stain resistant. With a 9-inch deep basin, you can easily accommodate large cookware or dish stacks.
The Grey Quartz Single Bowl has a heat resistance of up to 530 degrees Fahrenheit, and its thick construction does an incredible job absorbing sound. The sink's lavish and smooth matte finish helps to minimize water spots, and its surface is UV protected, which will help resist any fading. Finally, this irresistible sink comes with a limited lifetime warranty.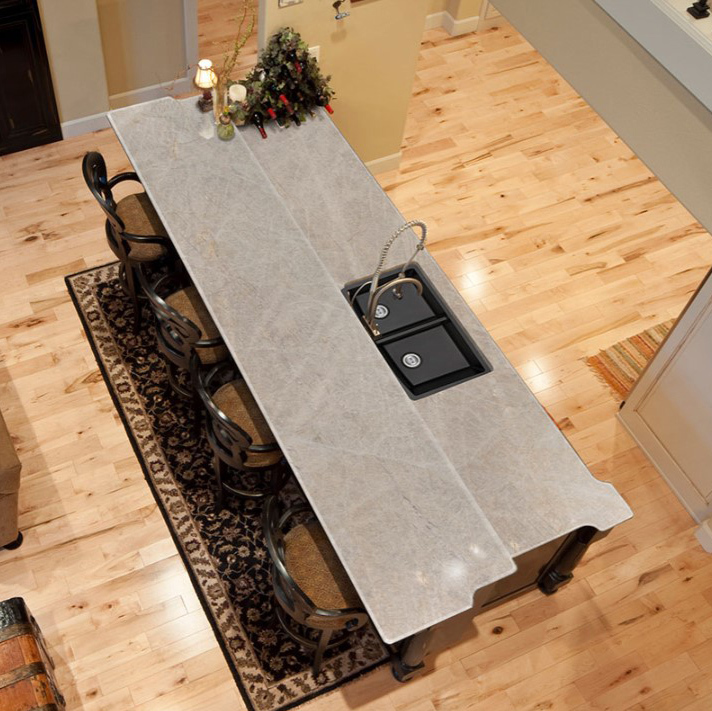 You can't go wrong with the Black Quartz Double Bowl, also backed by a limited lifetime warranty. Check out how well it gels with our Taj Mahal Quartzite countertop. A black sink like this would also look amazing, and really pop with white quartz countertops. This undermount double bowl sink is stain, scratch, and germ resistant. The two 9-inch deep bowls make the sink as practical as it is elegant.
The Black Quartz Double Bowl is a fine choice for busy households and light commercial settings. The sink has up to 535 degrees Fahrenheit heat resistance. Like the Grey Quartz Single Bowl, the Black Quartz has a silky smooth matte finish that minimizes water spots, while the UV protection works to resist fading.
Farmhouse Apron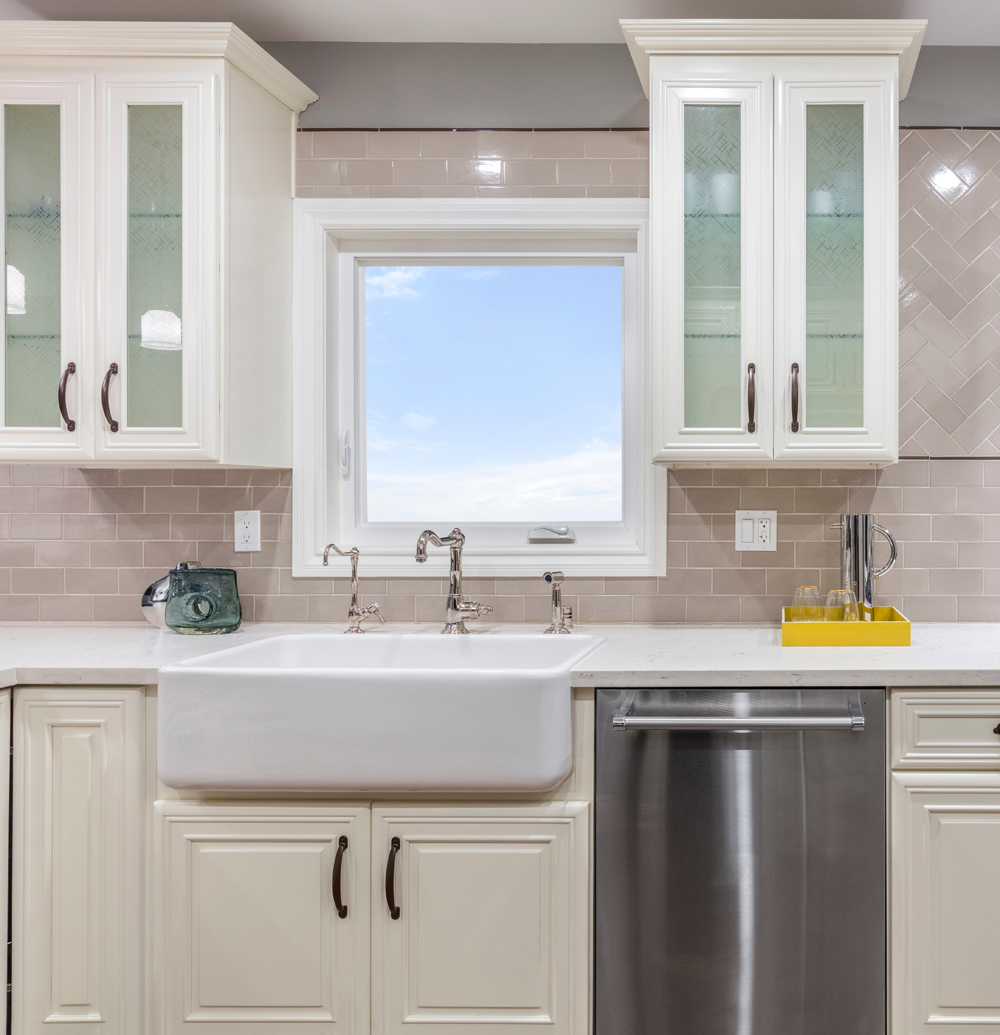 Farmhouse Apron kitchen sinks like the one pictured here never fail to impress. Use these generously sized single basin undermount sinks to add a luxurious signature look to your kitchen. The sinks pair well with farmhouse, coastal, or nearly any kitchen decor. Match them with the right kitchen tile, and your guests will praise your gorgeous kitchen to anyone who will listen. The sink's deep basins can accommodate large cookware like baking sheets, steam pots, and stacks of dishes.
In addition to the single Bowl, MSI offers a Farmhouse Apron double bowl. The basins are deep, measuring in at 8.5 inches each, and are ideal for families on the go. Finally, Farmhouse Apron sinks are easy to clean, long-lasting, and an absolute pleasure to look at and use.
Porcelain Vanity Bowls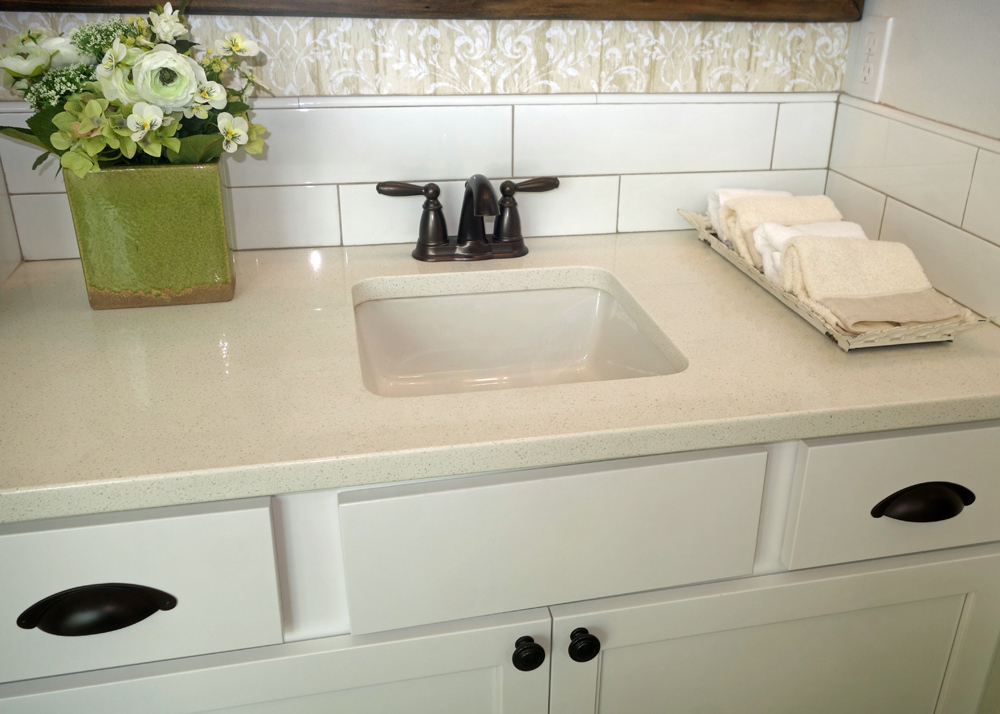 Matching quartz countertops for bathrooms with the right sink is easy, thanks to MSI's wide selection. Two great options are rectangular porcelain vanity bowls and oval porcelain vanity bowls—both designed specifically for bathrooms. Let's take a look at the rectangular style first.
A white rectangular undermount sink like this, crafted from durable porcelain, is ready to face the demands of a busy household. Its neutral white color and modern design work well with a sweeping variety of design styles. These porcelain sinks are easy to clean and will elevate your bathroom vanity top to the next level.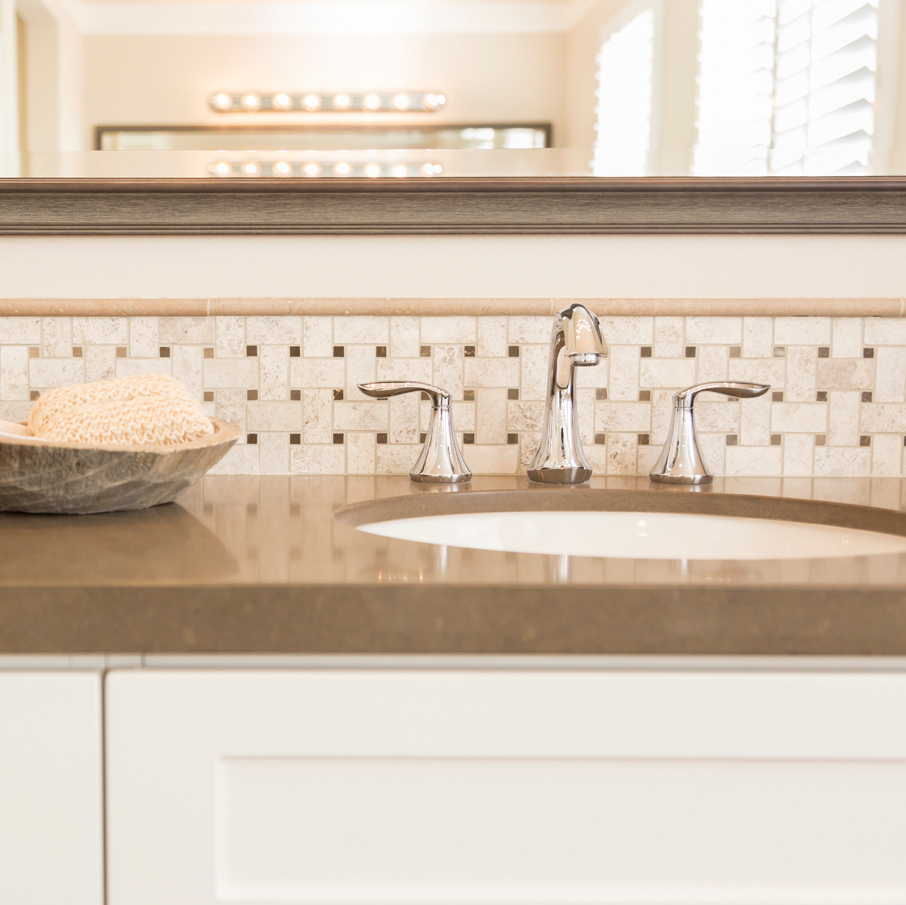 Perhaps you're not a fan of corners. If that's the case, lay your eyes on this oval vanity bowl. The oval shape of this undermount sink speaks to timeless luxury and an always on-trend style. The neutral white hue and classic shape fit in seamlessly with a wide selection of colors and decor. These sinks are the perfect size for bathrooms and other small spaces, and they make your vanity top look absolutely breathtaking.
We'd love to help you match your new quartz countertop with a sink worthy of its beauty (and vice versa). We have a large selection of luxurious sinks, and our experts are waiting to answer any questions or assist in your selections. Please contact us online or by phone at your leisure.
Learn More About MSI Quartz Countertops
The Benefits of Prefab Quartz Countertops
Full Height Quartz Backsplashes to Complement Your New Quartz Countertop
6 Reasons To Choose An MSI Quartz Countertop
Get Peace of Mind with our Q Premium Natural Quartz Warranty
8 Quartz Countertop Island Ideas to Inspire Your Dream Kitchen