Popular
Bold Interiors Focus On Natural Stone
April 02, 2015
Stunning architectural designs and stylish room décor fall flat without one crucial element: A Focal Point. This statement feature is the first thing you notice when you walk into a room; it brings all of your design elements together, communicates your personal style and livens up your space — and natural stone makes it easy.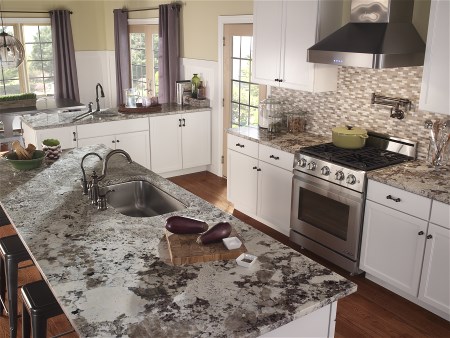 Center of Attention: Rockwall Fireplaces
The fireplace is a natural focal point of any room. Take full advantage of this feature by using a neutral surrounding palette so as not to compete with your focus on the accent wall. The natural quartzite stones in this room are Golden Honey Ledger Panels with great variation and warm tones of gold and white. A rustic mantel in a wood tone that complements the room's décor adds even more visual interest. Coordinate with rich, textured fabrics and leather, and your space will be cozy and welcoming.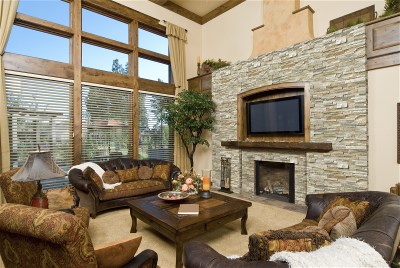 Stunning Stone Accent Wall
Turn your space from boring to spectacular with a richly toned stone accent wall of California Gold Ledgers Panels. This artistic element is complemented by neutral colors that enhances its natural beauty, but does not compete. Keep your furniture, walls, flooring and accessories in lighter tones, and let the wall's texture and dimension speak for themselves. This look is the perfect design element for a living room or home office.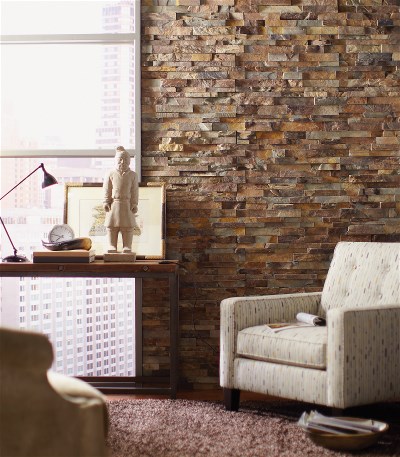 Bold, Custom Waterfall Islands
In the kitchen, the center island is the perfect place for a bold statement that brings the room together. Waterfall islands continue the granite to the floor; the high variation and dramatic color contrast make this feature truly pop. A simple quartz countertop and tonal mosaic backsplash remain quietly in the background, letting the island shine as the star of the room. In this kitchen, Aruba Dream's white background with the high contrast veining of dark grays with hints of reds lends sophistication along with its stunning visual interest.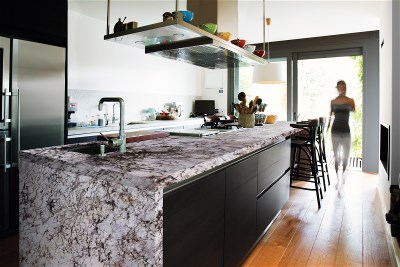 Subtle, but Striking, Statement Island
Softly toned, soothing kitchen spaces can also benefit from a bold focal point. In this kitchen, Statuary Venato Marble from Italy turns the center island into a statement piece. The creamy white background of the marble is echoed in the cabinets' colors, and the gray veins pull in the color of the Shadow Gray Quartz which is used as a backdrop. The effect is sophisticated and timeless, with all design elements working perfectly together as a whole.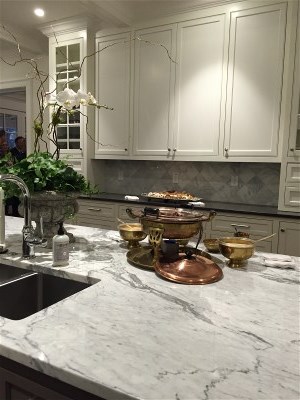 Contemporary Elegance: Mosaic Tile Accent Wall
The architecturally rich bathroom below has its focal point built in with the use of trendy graphic pattern mosaics and wall tiles. Here, our Tundra Gray Basketweave Mosaic is used to create a stunning backsplash that adds elegance and style while still maintaining the neutral feel of the room. The darker tones of the wood, along with the light ceilings, match the high and low points of color within the mosaic.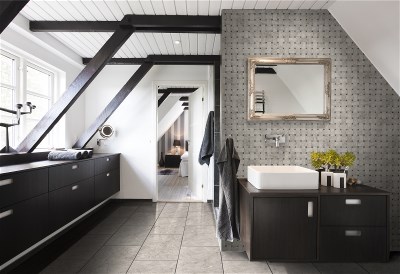 Exterior Focal Point
Natural stone can add dramatic, bold focal elements to exterior design as well. Driveways, patios and landscaping are all excellent places to add one of these features. Yellow Polished Pebbles, used in this landscaping project, highlight the beauty of the sculpture. These could also very easily be adapted for water features and other exterior projects. These smooth polished marble pebbles are perfect for aiding in drainage around plants and trees, while creating visual interest. MSI offers polished pebbles in a variety of colors to complement the beauty of all your outdoor spaces.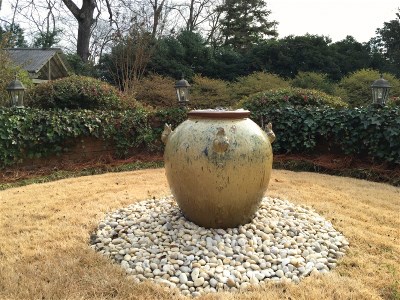 Don't be afraid of creating a dramatic focal point in your home or yard. Being bold with natural stone accent walls, statement kitchen islands, backsplashes, and in landscaping can transform your home into a reflection of your own personal style and personality. Accentuate architectural features including fireplaces and interesting walls, bring the eye into the kitchen with custom granite or marble islands, and provide your home's unique design elements with a neutral surrounding palette to keep them at the forefront of visual attention for years to come.