Create A Worn Wood Look With Porcelain Tile
January 25, 2017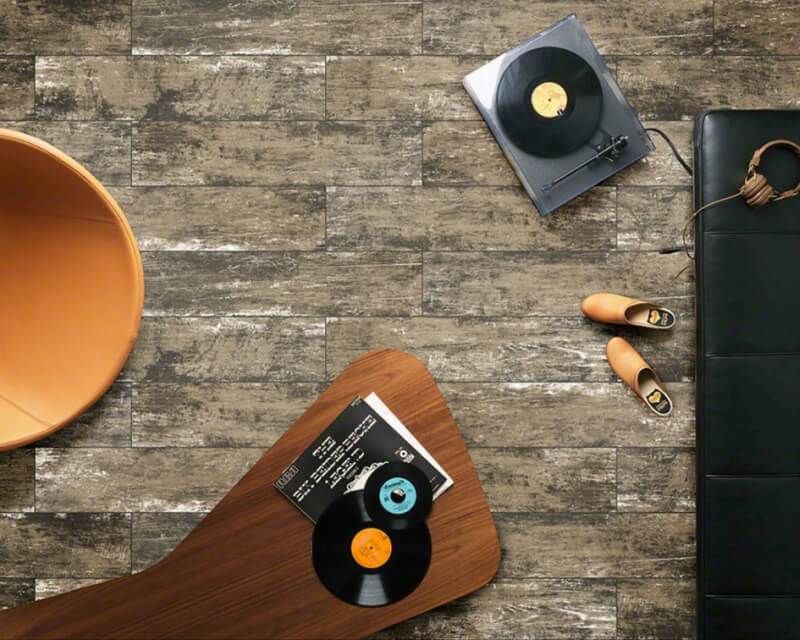 Today's technology can be a mixed blessing. It constantly pulls us, keeping us in contact with the world via social media and cell phones all our waking hours. Perhaps that's why our obsession with nostalgia is stronger than ever! Vintage-inspired home design reminds us of a simpler time, a place that is casual and rustic, where you can truly relax. When done correctly, the look can be clean and fresh – that is the effect of MSI's Vintage Collection.
Ironically, it's technology that allows us to create porcelain tile that looks like wood, using an innovative inkjet printing process. Why porcelain, you ask? Real wood is gorgeous, but it's not ideal for every room or every family.
Porcelain Wood Look Tile is durable, easy to clean and maintain and stand up to the rigors of family life with children and pets.
Lace Vintage Porcelain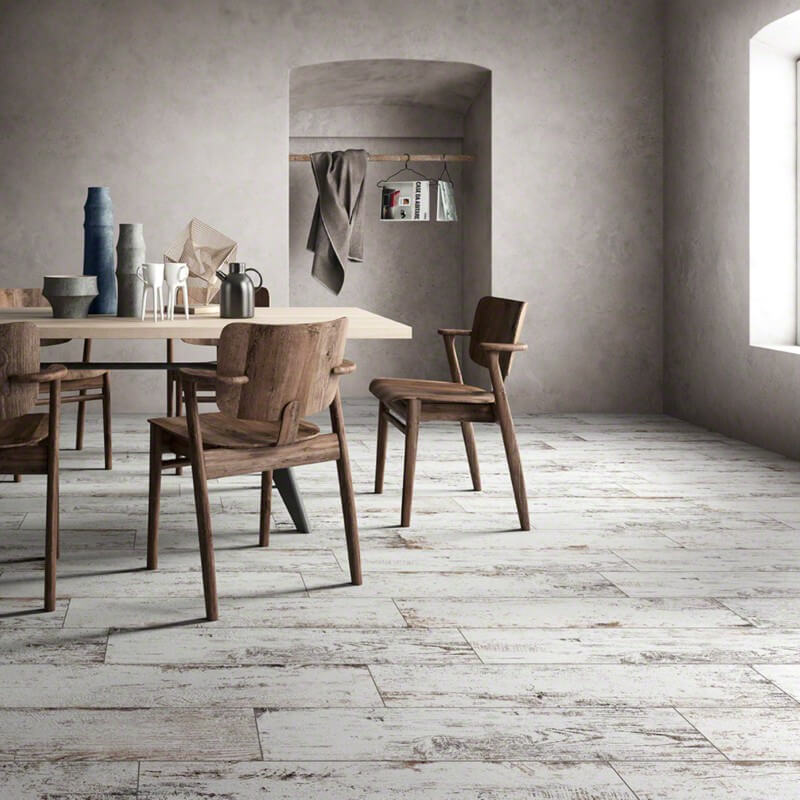 Featured: Lace Vintage Porcelain
Love the look of a rustic whitewashed fence or barn? Lace Vintage Porcelain recreates wood planks covered with snowy-white paint, then left to weather in the elements for years before winding up on your floor. The result is an airy, clean look that inspires shabby-chic or cottage décor, coordinating beautifully with wood furniture. This wood tile flooring has a matte glazed finish makes it a breeze to keep this tile looking bright and fresh.
Leather Vintage Porcelain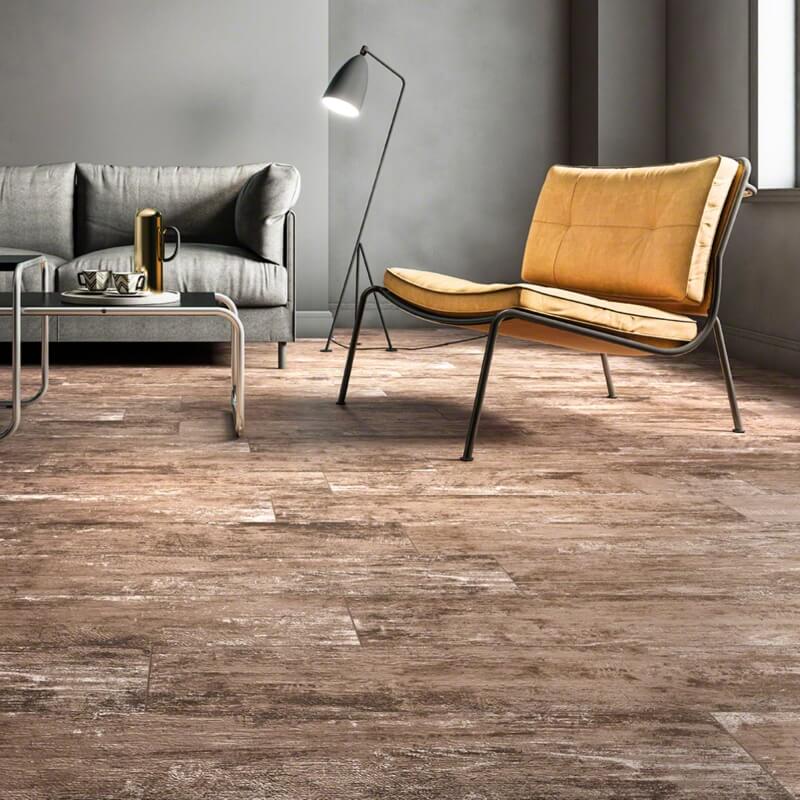 Featured: Leather Vintage Porcelain
Think reclaimed barn wood, horses and cowboys and you've got the feel of Leather Vintage Porcelain. With the warmth and character of real wood, it evokes a feeling of nostalgia – and it's tough enough to last for decades into the future. Unlike its namesake, all you'll need to care for Leather tile is a swipe with a damp mop and gentle cleanser.
Silver Vintage Porcelain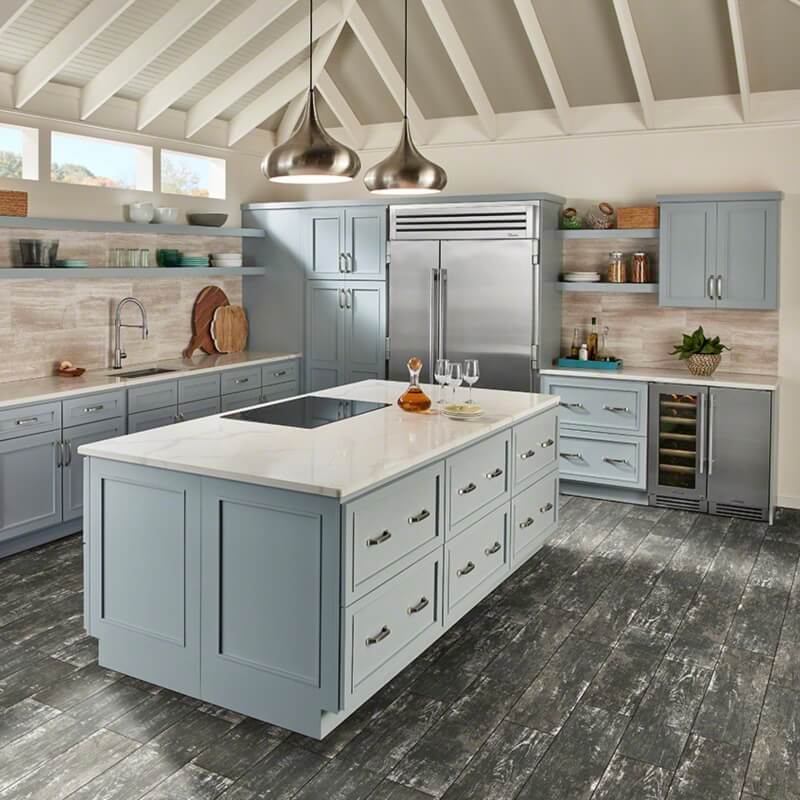 Featured: Silver Vintage Porcelain
This contemporary kitchen offers a fusion of shabby cottage style with sleek contemporary steel. Silver Vintage Porcelain tile flooring pulls both elements together. It has the look of weathered gray planks, which still retain just a touch of their original white paint. Since it's porcelain wood tile, you need not worry about scratching the surface or damaging it with muddy paw prints or those inevitable kitchen spills.
Copper Vintage Porcelain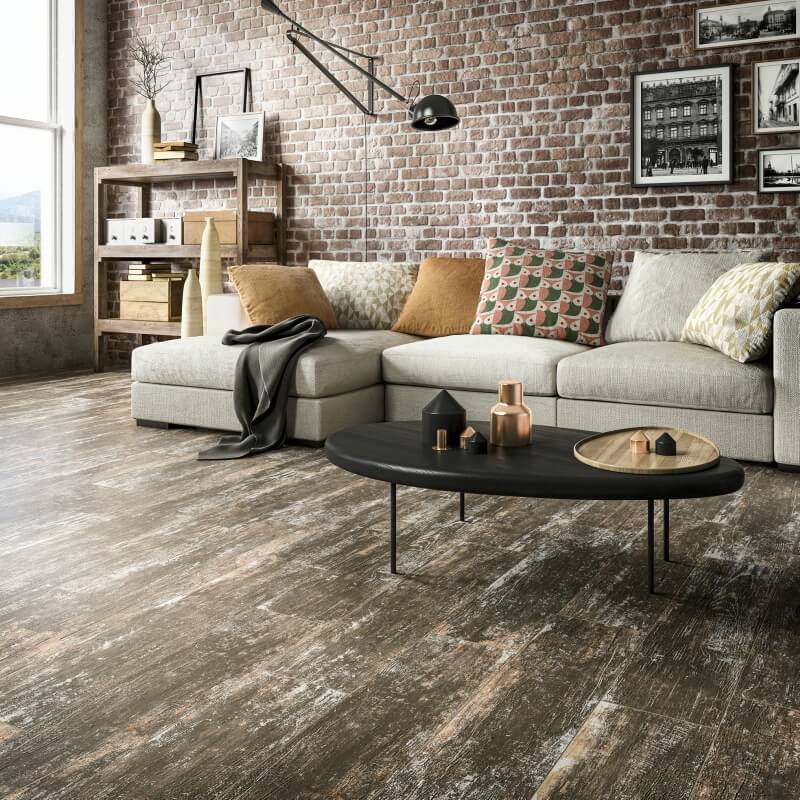 Featured: Copper Vintage Porcelain
Copper Vintage Porcelain is a wood-look tile with the character of natural aged planks, medium brown with streaks of white and beige, perhaps layers of paint worn away by the wild storms of the plains. No worries, though, about this "wood" becoming soft and flaky, or about splinters on your bare feet. As shown here, this tile flooring lends itself well to contemporary or rustic industrial décor.
Now you can live without the worry of damaging fragile wood flooring, while still enjoying the comfort and nostalgic warmth of wood – and isn't that what the vintage look is meant to accomplish, creating a home that's simple and relaxing? MSI's Vintage Porcelain Wood Tile is as comfortable as your favorite pair of jeans.
READ MORE ABOUT WOOD LOOK TILE:
Upgrade Your Home with Porcelain Wood Look Wall Tile
Is Porcelain Wood Look Tile Better Than the Real Thing?
The Different Design Styles Of Porcelain Wood Look Tile
Easy Care Porcelain Tile In Vintage Wood Looks
Move Over, Hardwood – This Is A Job For Porcelain Wood Tile!
READ MORE ABOUT WOOD LOOK TILE:
Tips For Cleaning And Maintaining Wood-Look Floor Tile
6 Popular Wood-Look Tiles For 2017
Hardwood Flooring Vs. Wood-Look Tile Throughout the Home