Easy Care Porcelain Tile In Vintage Wood Looks
November 23, 2020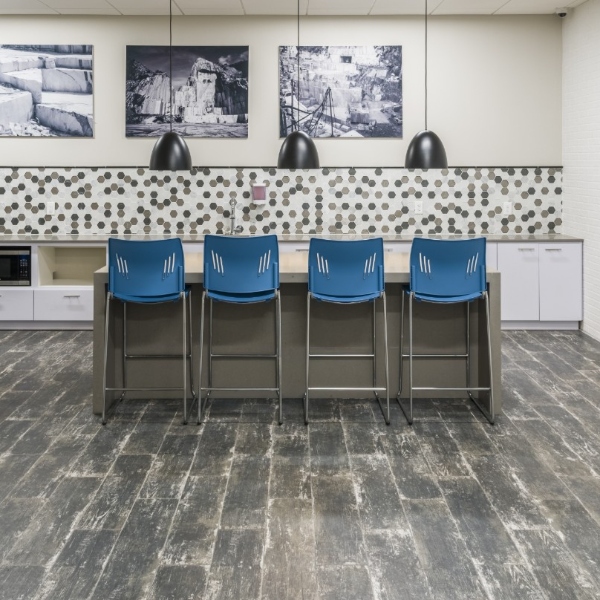 Whether you're redoing the floors in a single room or your entire home, you need to decide on the ideal flooring material. From authentic hardwood floors to porcelain tile, the color scheme, tile patterns, and aesthetic styles are truly endless.
If you're in the market for hardwood floors but would prefer a more durable option, look no further than vintage wood-look porcelain tile. From affordability to durability, there are plenty of reasons homeowners have opted for modern tile instead of reclaimed wood planks. Let's find out why kitchen and bathroom tile is the optimal choice.
Affordability
Cost is one of the most important factors to consider when choosing your flooring material. The larger the space you're renovating, the more expensive the choice becomes. With porcelain tile, the price point will be much more affordable than you'd find with reclaimed wood floors.
Because a lot of time and labor goes into sourcing reclaimed wood, the costs are going to be much higher than options like porcelain tile. You might think that with a low price point you will need to compromise on quality or appearance, but that's not the case at all. Porcelain tile can provide the vintage wood-look appearance that you're hoping to achieve. You have the option to choose from a variety of grain patterns, color palettes, and wood knots to create your own unique floors that mimic the look of real hardwood.
Don't feel like you need to spend your entire budget on your flooring to create your dream home. For a fraction of the cost, you can add character and charm to your home with wood-look porcelain tile.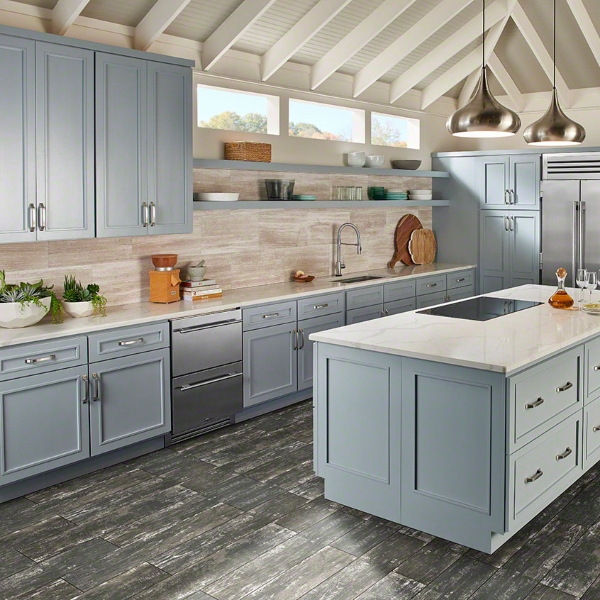 Durability
When it comes to the durability of your floors, you need something that can hold up to the foot traffic of your family. From your child's first steps to family Thanksgivings, your floor must be prepared to handle anything you throw at it. If not durable enough, you might find yourself dealing with constant headaches and costly repairs (which no one wants to deal with!)
Reclaimed hardwood floors look beautiful, but they are also softer than many other flooring options. This means that they are more susceptible to dents, scratches, and other damage. As a homeowner, there's nothing more frustrating than investing in beautiful floors only to have them visibly damaged a few months later! Have peace of mind when you install porcelain bathroom and kitchen tiles knowing that they can withstand more than their fair share of wear and tear. Wood-look porcelain tile is stain-resistant, water-resistant, and fireproof — providing you with durable floors that will look beautiful for many years to come.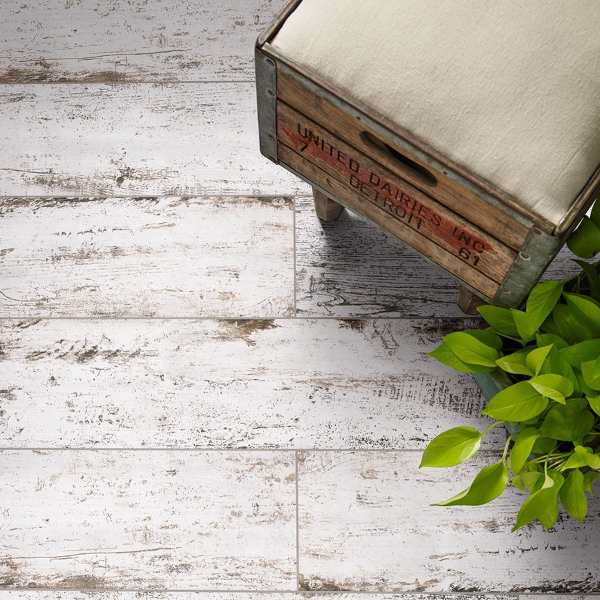 Appearance
Appearance is everything. You want your new floors to give your home a wow-factor that will leave your guests oohing and aahing. You can still get that same reaction with porcelain tile! Porcelain tile patterns have come a long way over the years, coming in a variety of sizes, colors, and styles to seamlessly integrate into your home.
If you are looking to add the look of reclaimed wood floors to your home, you need to consider porcelain tile as an alternative option! While affordability and durability are great, they only go so far if porcelain tile can't give you the look you're trying to achieve. But there's no reason to fret because porcelain tile can replicate the reclaimed wood look perfectly!
Instead of relying on the natural grains of authentic reclaimed wood where it can be hard to find the exact color and style you're looking for, porcelain tile makes it easy with a vast array of design options. Whether you're looking to create a traditional farmhouse look with deep wood planks or a more modern appearance with gray tones, you can achieve that with porcelain tile. You'll have the ability to customize everything from the color palette to grain patterns to tile patterns like herringbone or brick.
Our flooring visualizer makes it easy for you to see how different wood-look porcelain tiles will look in your space. Whether you're looking to transform the look of your master bedroom, kitchen, or the entire first floor of your home, the flooring visualizer allows you to test out a variety of styles and colors to see what creates the striking appearance you're looking for.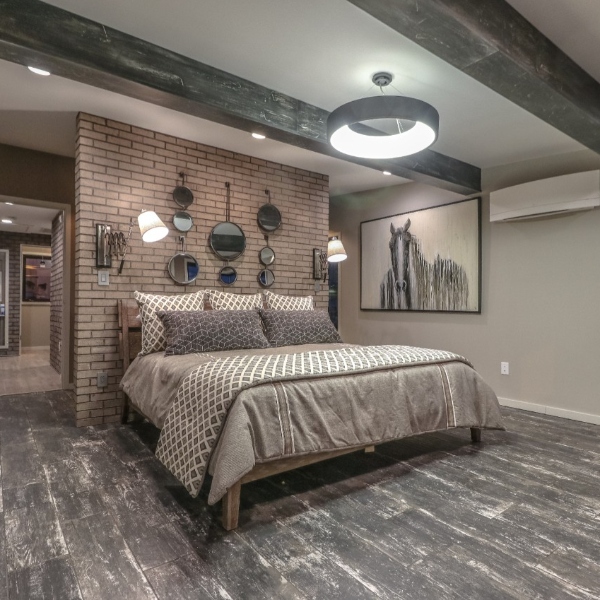 Moisture Resistant
When choosing the flooring for your kitchen or bathroom, you must select a moisture-resistant material. Whether you're constantly creating mouth-watering meals in the kitchen or taking long bubble baths, you don't want any moisture or water to cause damage to your floors. Wood-look porcelain tile is an optimal choice for homeowners because it resists moisture, making it ideal for areas of your home where water is more likely to be present — your kitchen, bathroom, mudroom, or outdoor living space.
Reclaimed hardwood will absorb the moisture, which can lead to mold, mildew, and warping. By increasing the chance of mold and mildew in your home, you could be exposing your family to allergens and making it more difficult for them to breathe comfortably in your home. No matter their application, your wood-look porcelain tiles will resist moisture, keeping them as beautiful and safe as the day they were installed. You can breathe easy knowing you won't be dealing with costly water damage in the event of an emergency.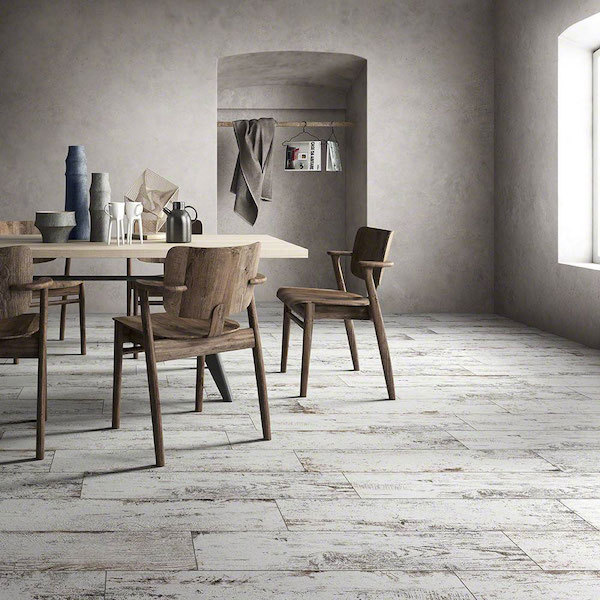 Learn More About MSI's Vintage Wood-Look Porcelain Tile
MSI's vintage wood-look porcelain tile collection is a no-brainer when you want an affordable, beautiful, and durable flooring option. Get the look you want without the headache of sealing, staining, and repairing your reclaimed hardwood floors that won't be able to withstand all the wear and wear over the years. Take a look at this video to see how wood-look porcelain tile can be used in a variety of applications in your home.
To learn more about our vintage porcelain tile collection, contact MSI Surfaces today. We can help you determine the most effective and affordable way to bring your vision to life.
READ MORE ABOUT WOOD LOOK TILE:
Upgrade Your Home with Porcelain Wood Look Wall Tile
Create A Worn Wood Look with Porcelain Tile
Is Porcelain Wood Look Tile Better Than the Real Thing?
The Different Design Styles Of Porcelain Wood Look Tile
Move Over, Hardwood – This Is A Job For Porcelain Wood Tile!
READ MORE ABOUT WOOD LOOK TILE:
MSI Rigid Core Vinyl Plank Flooring - Low Cost, Durable Hardwood Looks
The Different Design Styles Of Porcelain Wood Look Tile
Luxury Vinyl Tile Pros And Cons - Wood Look Vinyl Flooring Vs. Real Wood Flooring