MSI Rigid Core Vinyl Plank Flooring - Low Cost, Durable Hardwood Looks
June 08, 2021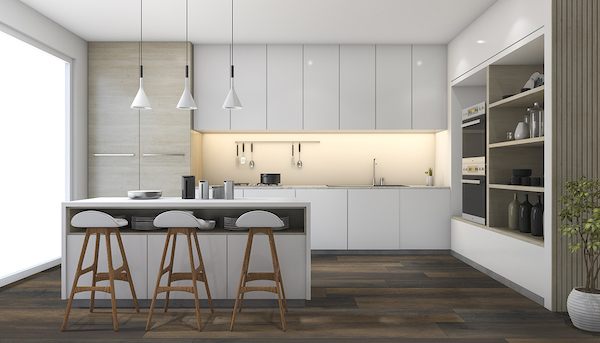 Modern rigid core vinyl plank flooring perfectly mimics the look, feel, and texture of real hardwood floors. Similar to wood, vinyl planks with a rigid core are sturdy underfoot, but that's because of its enhanced rigid core composition that blends polymer and stone together. Some of the reasons why it's becoming a more popular choice over its natural counterpart are because of its lower cost and dimensional stability. Let's take a deeper dive into rigid core LVT, including several rigid core collections from MSI.
The Rigid Core Construction
Rigid core vinyl is exactly that, a more rigid plank that won't bend much unlike older vinyl with a flimsier feel. There isn't any messy glue or floor adhesive tape to deal with because they float over the subfloor. The vinyl planks are strong and sturdy much like that of real hardwood but are constructed of four main layers that work together for improved performance.
MSI's rigid core includes a combination of limestone and polymer for a super durable center. Underneath the rigid core is the backing, which MSI provides a pre-attached underlayment that helps reduce sound and give more cushion and comfort underfoot. On top of the rigid core are the printed vinyl layer and the all-important wear layer. MSI uses top-of-the-line photography and printing technologies to create realistic wood-look patterns that are printed on top of the vinyl, and styles range from rustic to traditional to modern. The wear layer helps protect the wood-style floors from dents, scratches, sun damage, and high traffic areas, and MSI's CrystaLux wear layer technology provides excellent protection against daily wear and tear.

An Affordable Flooring Choice
For generations, many have featured real wood flooring in their beautiful abodes to sprawling castles, but realistically, the high price for hardwood isn't in everyone's budget. Many rigid core vinyl products look high-end but come at a more affordable price. In comparison, hardwood materials on average costs $3 to $7 per square foot, and labor for installation on average costs $3 to $5 per square foot. Vinyl plank materials on average costs $1.50 to $6 per square foot, and labor for installation on average costs $1.50 to $10 per square foot, depending on the product.
MSI is known for manufacturing high-end LVT that is also budget-friendly. Plus, its easy-click tongue and groove construction and floating installation method, rigid core vinyl is simple enough for DIYers to complete the job, no matter if you're a first-timer or DIY expert, and this will save you a lot of money compared to hiring a professional installer.
More Dimensionally Stable
One of its unique characteristics is dimensional stability, which refers to the amount a floor moves once it's been installed. With real wood, this natural flooring type is less dimensionally stable, as it will shrink and swell as a result of temperature changes or exposure to moisture. However, with rigid core vinyl, you have a highly stable, 100% waterproof product that is much more resistant to these fluctuations.

More Durable Than Hardwood
While you wouldn't want wood in moisture-prone areas like kitchens, bathrooms, or even basements, you can install rigid core luxury vinyl flooring in any area of the home or business. That is because the durable flooring is waterproof and stands up to spills, splashes, or pet accidents. Another benefit is that luxury vinyl tile care and maintenance is super simple. Daily cleanings can be done using a broom, dust mop, or wet mop and a neutral pH cleaner.
While it's important to choose a look and feel that suits your design aesthetic, it's also crucial to look at the wear layer thickness. The thicker the wear layer the better, as it will keep vinyl floors looking like new for longer. Once the wear layer wears thin, then your printed layer is subject to damage, and you'll need to replace the planks.
MSI's Rigid Core Collection
With six collections of rigid core luxury vinyl, MSI provides a variety of vinyl flooring options to suit different residential and commercial needs. The next-generation, rigid core planks are 100% waterproof and feature a simple locking system for easy vinyl flooring installation processes.
The Cyrus Collection features a 12-mil wear layer, 5-mm thickness, and 7x48" planks in on-trend hues. The XL Cyrus Collection is a super-sized version of Cyrus with 9x60" planks and enhanced beveled edges. The Prescott Collection features the same on-trend hues but is better suited for commercial installations with its 20-mil wear layer, 6.5-mm thickness, and 7x48" planks.
The Andover Collection is another commercial-rated product line with its 20-mil wear layer, 5-mm thickness, and 7x48" planks with enhanced beveled edges in a more limited color scheme. The Ashton Collection is the most affordable solution with three wood-look styles, a 6-mil wear layer, 4.4-mm thickness, and 7x48" planks. A different style rigid core line is the Trecento Collection of neutral stone-look 12x24" vinyl floor tile options with a 12-mil wear layer and 5-mm thickness.

MSI's Rigid Core LVT Warranties
With any of these product lines, you can be confident knowing that MSI proudly offers several warranty options. Many products come with a limited lifetime or 25-year limited warranty for residential installations, while commercial applications come with a 6- to 20-year light commercial use warranty. Prior to picking your product, you'll want to review all of the details under the warranty in order to know what is and what isn't covered.
Choosing Rigid Core
Rigid Core LVT truly is an improvement on the traditional, more flexible vinyl flooring. These solid planks look and feel more like real hardwood than ever before, and the stone and plastic composite core provides extra durability for a tougher product that's made to last. One of the benefits of luxury vinyl tile is that they're 100% waterproof and can be installed in any room and on any level. Because MSI offers a wide range of rigid core collections, choosing the right color, style, and wear layer needed for your next residential or commercial project is easy. To learn more about LVT, check out our definitive guide to luxury vinyl tile.
Learn More About Rigid Core Vinyl Flooring
Luxury Vinyl Planks - Flexible Vs. Rigid Core Vinyl: What's The Difference?
New LVP Rigid Core Ashton Series
What Is Rigid Core Luxury Vinyl Flooring?
READ MORE ABOUT WOOD LOOK TILE:
The Different Design Styles Of Porcelain Wood Look Tile
Luxury Vinyl Tile Pros And Cons - Wood Look Vinyl Flooring Vs. Real Wood Flooring
Easy Care Porcelain Tile In Vintage Wood Looks