When it comes to the latest in flooring, homeowners and designers alike are flocking to luxury vinyl flooring (LVF), and it's a trend that's likely to have staying power. After all, constant technological advancements mean that this 100% waterproof or water-resistant material now comes in realistic hardwood designs, giving you the best of both worlds – beauty and brawn! Luxury Vinyl flooring is available in both glue-down (flexible) and slip-resistant Rigid Core click system, providing homeowners and businesses with the look of wood planks and natural stone looks, but with high-dimensional stability and durable wear layers that can withstand kids, pets, moisture, and heavy traffic. If it sounds too good to be true, read on to hear more about this affordable flooring choice and how it compares to standard vinyl flooring.
WHAT'S THE DIFFERENCE BETWEEN LUXURY VINYL FLOORING AND STANDARD VINYL FLOORING?
You may have heard the terms Luxury Vinyl Planks (LVP), and Luxury Vinyl Tile (LVT), and these all fall under the category of Luxury Vinyl Flooring, either Rigid Core or flexible glue-down. Rigid Core click-system installation products are very popular, as are flexible glue-down LVP products. A third non-luxury vinyl product that is not as popular as Rigid Core and flexible is standard sheet vinyl.
LVT and LVP is typically made up of layers of polyvinyl chloride – or "vinyl," as it has come to be known. The print layer that displays the product's colors and design sits atop a vinyl core, which is then covered by a protective wear layer and a urethane coating. Glue-down flexible LVP requires an additional underlayment to be put down first, whereas Rigid Core click-system products typically come with backing already attached.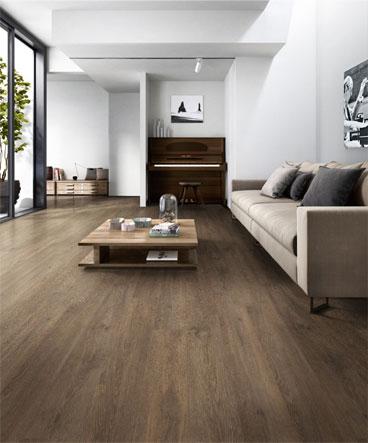 When it comes to thickness, Rigid Core LVT and LVP is several times thicker than standard 1 mm-thick sheet vinyl and thicker than flexible LVT (2mm). As a result, it is extremely durable and easily withstands daily use and abuse. While standard residential sheet vinyl flooring could give you as much as 15 years, LVF will oftentimes last the lifetime of the installation.
As you might expect, the word "luxury" means that LVF is more expensive than standard vinyl flooring, ranging from $2 to $4 per square foot for premium products. In contrast, sheet and flexible LVT are easy on the pocketbook at a price point of about $0.50 to $2 per square foot.
However, there's a trade-off. Higher prices mean you have more choices, greater detail, and superior durability with LVF. If you love the character of natural hardwood, with all its textures, knots and grains, or crave the coloring and pattern of natural stone, the picture quality of Luxury Vinyl Plank is more realistic than regular sheet vinyl, as seen in this luxury vinyl tile flooring video.
WHAT'S THE DIFFERENCE BETWEEN LUXURY VINYL PLANK (LVP) FLOORING, LUXURY VINYL FLOORING (LVF) AND LUXURY VINYL TILE (LVT)?
Luxury Vinyl Plank (LVP) is a quick and easy way to refresh your home or business. The plank design provides the look of hardwood flooring, with the versatility of vinyl. Luxury Vinyl Tile (LVT) is also a plank design, its available in a variety of styles from natural stone to printed patterns.
The process of creation is similar for each in, manufacturers typically take photographs of beautiful true hardwood floors, real natural stone, ceramic, or other materials, and then imprint these images on the printed layers that sits atop the vinyl core. This process applies to both Rigid Core and flexible glue-down LVP, and although these premium products cost more than standard sheet vinyl, they are far less expensive than real hardwood and natural stone. Besides, with advancing technologies, it's becoming more and more difficult to tell the difference between natural materials and luxury vinyl flooring.
WHERE ARE DESIGNERS USING LUXURY VINYL FLOORING?
Because of its thick wear layer that guards against scratches, scuff marks, stains, and dirt, luxury vinyl tile can be used almost anywhere – whether a busy household or a commercial business with high traffic. They are a popular choice for any room of the house, from bedrooms to offices, mudrooms to living rooms, and are particularly great for areas that require 100% waterproof flooring, such as laundry rooms, kitchens, and bathrooms. In addition, Everlife® Rigid Core Luxury Vinyl Flooring is ideal for moisture-prone rooms because of its waterproof properties.
ARE THERE ANY DOWNSIDES TO LUXURY VINYL FLOORING?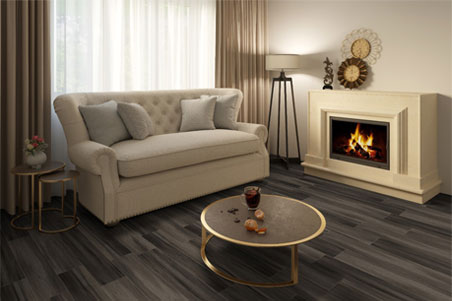 Not many. Luxury Vinyl Flooring (LVF) is a great DIY installation as it's quite easy to glue down or click into place. In addition, there's no wait time between delivery and installation for Rigid Core flooring, since no acclimation period is needed, so you can start laying your floor the moment it arrives. For flexible LVP flooring, you may need to give it 24 - 48 hours to rest before you start installation, depending on the manufacturer. Another major benefit of LVF is that if your previous flooring is in good condition and is flat and clean, you might be able to lay the LVF directly on top of the old floor, which can save a lot of time and money.
Besides all that, once you have your LVF installed, it's a breeze to maintain. Routine cleaning is as easy as running a dust mop or broom over the flooring. Unlike laminate or hardwood flooring, which are sensitive to moisture, you can safely wet-mop Rigid Core LVF, and you won't ever have to seal, buff, wax, or condition your floor. Simple routine cleaning should keep it looking brand new for decades.
There are only two potential drawbacks of LVT and LVP. First, although your guests may think that your floor is natural stone or hardwood, some homeowners still prefer the natural imperfections of the real thing. Second, like hardwood floors, luxury vinyl flooring doesn't belong outside, while some natural stone products are versatile for indoor and outdoor installations. However, companies such as MSI offers LVP flooring products and coordinating porcelain outdoor pavers with their Indoor/Outdoor Collection.
IMPORTANT CONSIDERATIONS FOR LUXURY VINYL FLOORING
When it comes to luxury vinyl flooring (LVF), the protective wear layer is significant. This transparent polyurethane layer is reinforced with mineral additives and allows you to see the printed design underneath while protecting it from damage that comes from wear and tear. This wear layer is between 6 to 30 mil; a protective layer of between 6-20 mil is cost-effective yet ideal for residential spaces, while commercial applications are best served by wear layers of at least 12~20 mil.
Another option in some of the newer LVF designs is a painted beveled edge. This gives definition to individual "planks" and makes them look even more like the real thing.
HOW DOES LUXURY VINYL FLOORING COMPARE TO HARDWOOD FLOORS?
Luxury Vinyl Plank (LVP) wood-look designs are so convincing that your guests won't believe your floors aren't hardwood! However, LVP wood looks have several advantages over real wood planks. First, they are waterproof or water resistant, which means that LVP wood lookalikes are perfect for kitchens, bathroom, laundry rooms, and mud rooms – basically all the rooms where homeowners hesitate to lay real hardwood for fear of water damage. Plus, LVP is hard wearing and easy to clean, so it can withstand busy toddlers and messy pets. In contrast, hardwood is porous and can warp or sustain other damage if exposed to the elements – or to hard wear.
Because LVP flooring is so durable and easy to maintain, it is increasingly popular for installation in high traffic areas. Besides that, vinyl plank flooring is far more cost effective than hardwood for expansive rooms or commercial spaces, ranging from an average of just $2 to $4 per square foot. In contrast, at $8 to $25 per square foot of material, natural wood floors are more expensive to install and maintain in large or commercial spaces, especially since the polyurethane coating must be redone regularly.
HOW MUCH DOES IT COST TO INSTALL LVT AND LVP FLOORING?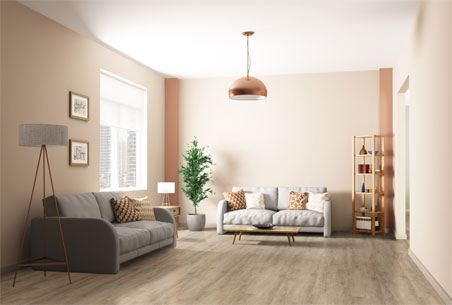 When it comes to installation, you have to calculate labor and tools in addition to materials, and these additional elements can account for 20 -50% of the total LVT and LVP flooring costs. If you have the skills and tools, you might consider a DIY luxury vinyl flooring installation, but sometimes it's better to invest in a professional, which can save time on the project.
Costs of hiring a professional can vary, and the installation costs may vary between $1 - $3 per square foot to install your luxury vinyl flooring (LVF). You might also have to pay to have your old floor removed, so it's good to do some investigative work before you decide how to proceed. Labor costs vary by the material being laid down and the location, but you might also be able to get some additional perks from hiring a professional, such as discounts on materials, floor removal and prep, and construction clean-up once the crew is done with the project.
In addition, the DIY cost of installing LVF might incur some hidden costs, such as local disposal fees and tools you might have to purchase to do the job yourself. For example, beyond the basic hammer, measuring tape, and utility knife, you will likely need a carpenter's square, an embossing leveler, a notched trowel, flooring cutters, and possible other tools. Another consideration is underlayment and molding. Your chosen material might come with the underlayment already attached, but if not, you'll have to purchase that as well. Depending on your needs regarding extra cushion, insulation, and noise dampening. However, molding and trim will also have to be removed prior to your LVT installation. If you have lots of cabinets, like in bathrooms and kitchens, you might need less molding, but rooms with plenty of wall space will cost more. Besides proving the actual molding, you may need to paint baseboards and trim, or hire someone to do it for you. Fortunately, many LVF options have coordination trim available to create professional finishes, or to replace any original trim that gets broken during demo.
HOW DO I INSTALL LUXURY VINYL FLOORING?
As DIY projects go, LVT and LVP floors are fairly easy to install and require little preparation time. If you are installing Rigid Core LVT or LVP, which doesn't require an acclimation period in the room of installation, simply bring the planks or tiles to room temperature prior to starting your installation. However, if you have a new concrete subfloor, be sure to allow it to cure for at least 60 days before installing vinyl flooring. Floating LVT or LVP flooring can be installed directly over wood or concrete subfloors, or even over existing vinyl or tile. It's a good idea to purchase at least 10% extra materials to allow for waste, as you will not be able to use every cutting.
To begin, you need to get the space ready. This means that the subfloor should be clean, solid, secured, and sound before you begin. If you have chosen a glue-down product rather than floating LVT that already has a subfloor, preparing the subfloor in advance is especially key – any lumps and bumps will be visible through the vinyl. You can pre-install cabinetry, islands, bathtubs, etc., since you will be installing the LVT around them
Next, take time to measure carefully and plan out the installation. Measure the length of the room and then divide it by the length of the planks. Be sure to measure for a 1/4-inch gap on the walls so you can fit spacers on both ends of the room. If, when you measure, you find that you will end up with a gap of less than 8 inches at one end, you'll want to cut your first plank to avoid having a short plank at the end. Now, measure the room's width and divide it by the width of the planks. If one end of the room measures less than half the width of a plank, just trim the first and last row so they end up being equal widths in the installation. These little details are pro tips that will give your DIY installation polish and professionality.
Now it is time to install that first row. You don't necessarily have to have electric cutting tools for luxury vinyl planks; you can simply mark the planks, score them and then cut them using a utility knife and straight edge. For a clean break, you then snap the vinyl along the score line you've made. In order to allow for expansion of your floating floor, insert the 1/4-inch spacers between the wall and plank rows as you lay them down. Begin the first row in the left corner and have the tongue of the plank facing toward the wall. Lock the first two planks of the row in place, laying them flat on the subfloor to ensure they are fully locked, and then continue this process until the first row is complete. If you have any irregular object to go around, simply use paper or a scribe to trace around them and then use the trace lines as a guide to cut with the utility knife.
Next it is time to start the second row of vinyl floor installation. Select a plank with a length that ends at least 8 inches from the seam of the first plank. Once you get to the second plank in this second row, connect the short side first, followed by the long side. Use a tapping block or soft-faced hammer to ensure the joints are tight. Each time you cut the first plank for a row, put the cut edge against the wall, and be sure to stagger your planks in a way that appears random, to achieve a more natural look. Remember that the 1/4-inch spacers at the end of the rows are necessary to allow for expansion, but will be covered by quarter round or molding, which will be installed at the end. A word on door openings: cut any non-metal door casings to allow you to slide the LVT plank underneath. Once you have finished installing your planks, polish off the look with coordinating trim, stair noses, and baseboards. If you need a bit more demonstration, watch this vinyl flooring installation video.
It's not hard to see why luxury vinyl flooring is gaining popularity with homeowners as the perfect flooring material. With its many authentic looks and textures, high-tech LVF takes on the look of natural hardwood or stone with ease, and you've already read about how versatile LVF is in comparison to natural flooring materials. Luxury vinyl flooring is hard to beat – durable, easy to maintain, and beautiful to look at. On top of that, it's a breeze for a quick DIY installation, and even if a plank gets damaged, it can be popped out and replaced without needing to redo the whole floor.