Although vinyl flooring has been around since the 1930's, modern vinyl bears little resemblance to the vintage classic, except in name. An inexpensive alternative to linoleum tile flooring, early vinyl was available in a wide range of designs, which is why renovators find themselves ripping up layers of avocado green and harvest gold from the 1970's.
Modern homeowners are no longer on board with the tacky vinyl fads of years gone by, and require a much more sophisticated look; however there are a few things about vinyl that haven't changed much – it's still durable and easy to maintain, and it's still available in many different designs and hues. Plus, even modern vinyl flooring is less expensive than its lookalike flooring options of hardwood, ceramic or natural stone tile, or even other flooring options popular today. And besides all that, vinyl flooring can be put into nearly any room in a home or commercial space. It's that versatile!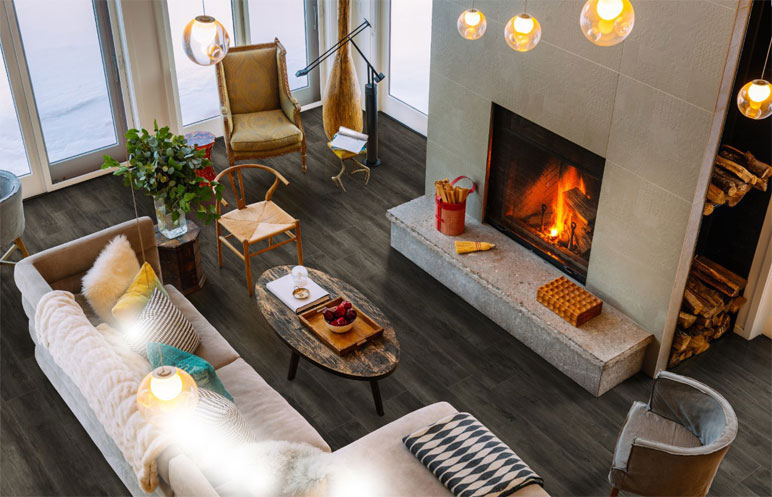 Billingham elegant dark wood look vinyl tile for the living room from the Cyrus collection by EverlifeTM
With the many beautiful looks of modern vinyl flooring, it's not surprising that many homeowners are sold! But which type of vinyl flooring is right for you – sheet vinyl or luxury vinyl tile flooring (LVT)?
The Many Designs of Modern Vinyl
Vinyl tile is nothing new, but modern vinyl is definitely "not your Grandma's vinyl floors"! Luxury vinyl tile is available in planks, traditional squares, or rectangles, so you can get the look you want, whether it's natural stone, hardwood, or something different altogether. The authenticity of luxury vinyl tile's natural wood and stone looks is remarkable, and the variety of grains, veining patterns, and hues take LVT truly over the top with its many options.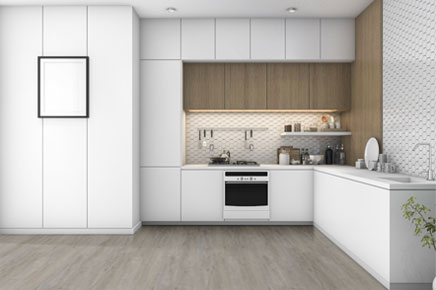 Smokey York Gray luxury vinyl tile from the Ashton collection
by everlife® used in natural modern kitchen.
Similarly, sheet vinyl comes in many patterns and colors, giving you the option of solid color, stone looks or even wood. Remember that when it comes to modern sheet vinyl, the design you see is the design you will get. If that sounds attractive to you and you don't feel the need to have greater variation or customization, it might be the ticket for your design.
One of the greatest advantages of rigid core LVT is that it is 100% waterproof, unlike sheet vinyl.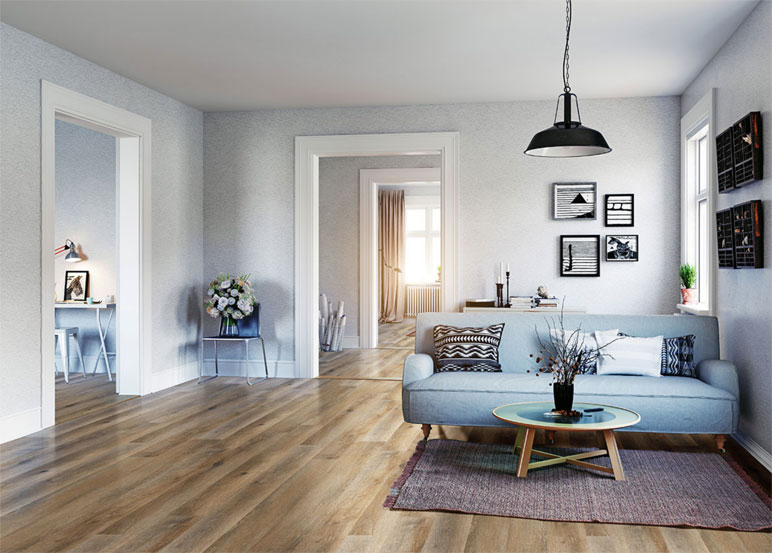 Maracay Brown natural light wood look luxury vinyl tile from the Ashton collection by everlife® and used in an open living room
What Do Vinyl Floors Feel Like to Walk On?
Many LVT flooring come with pre-attached underlayment, which provides cushion so they give underfoot and are comfortable to walk on. This is especially important in areas where people stand for long periods of time, such as the prep space in a kitchen. In contrast, flooring materials such as stone or ceramic tile tend to be hard on the feet and prone to feeling very cold.
Vinyl flooring also provides a realistic look of various materials with its photographic layer, which authentically reproduces the appearance of 3D texture, such as wood grains, textured stone and veining. However, these "textures" are not really there; the surface of vinyl flooring is therefore much easier to clean because it doesn't have the grooves, indents and other physical imperfections of natural materials. But you will be surprised at how authentic vinyl wood looks can be!
How Durable is Vinyl, and Can It Be Repaired?
Rigid core LVT is an incredibly durable product. However, hard use and accidents can damage even the most durable of materials, including LVT. Sheet vinyl tends to be more vulnerable than LVT in this respect, particularly the less pricey options. And sheet vinyl is more difficult to repair, since it's all one big sheet of flooring material. It's tricky to cut out a piece and match it with a new piece, and the seams may be difficult or impossible to conceal entirely. As a result, in the event of a significant damage, replacing the entire sheet vinyl flooring may be the best option. In contrast, a damaged vinyl floor tile can simply be popped out and replaced, so it's a good idea to purchase extra material and keep it on hand.
Can I Install Vinyl Flooring Myself?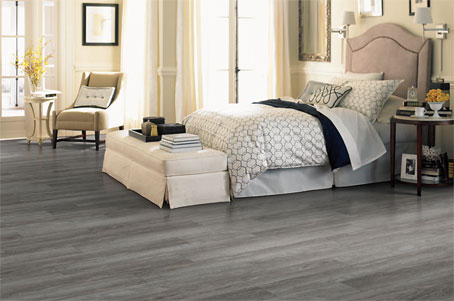 Photo Credit: Houzz
When it comes to achieving a professional looking installation, sheet vinyl can be intimidating for DIY projects. After all, sheet vinyl installs demand careful measurement and cuts, which can be particularly difficult in rooms with irregular corners or shapes to work around.
Conversely, luxury vinyl tile floorings are a much easier DIY project, even for beginners. Still, DIY-ers need to be sure to follow appropriate steps as they go, such as marking the underlayment to ensure perfectly straight rows. However, vinyl tile is still a fairly manageable project for many homeowners, since each tile is an individual piece rather than a single roll of material. You can account for irregular contours or obstructions as you go, simply cutting each piece as it is needed, instead of having to plan it all out from the start. With vinyl tile, mistakes are easier to remedy, and repairs are less expensive.
How Much Will It Cost?
Although we just told you that vinyl tiles are less expensive to fix, sheet vinyl is less expensive as an initial investment. But whether you opt for tile or sheet vinyl, the cost is far less than hardwood, natural stone, or even ceramic tile. Ultimately, the price variance between sheet vinyl and vinyl tiles is minimal. Check out this luxury vinyl tile pricing guide to learn more about costs.
But it would be a mistake to think of vinyl flooring as the "cheap" option, which implies that the quality and effect cut corners. In reality, luxury vinyl tile or sheet vinyl can be found in many high-end looks, particularly for homeowners who want the look of stone or hardwood but have lifestyles and families that are better served by a durable, easy-care material. It all comes down to your needs and your design taste. However, if you are looking for a DIY vinyl product that can easily be repaired and is the most durable, LVT might be for you.