Choosing the right flooring material to suit your lifestyle and style is crucial, but with so many choices, it can be difficult to weigh all your options and take the plunge. In today's market, one type of flooring that has really taken hold for both home and commercial spaces is luxury vinyl tile, also known as LVT. And it's not surprising; after all, LVT flooring is durable, easy to maintain, and offers many gorgeous looks, including realistic natural stone and hardwood looks.
Luxury vinyl tile (LVT), luxury vinyl plank (LVP), and luxury vinyl flooring (LVF) are all synonymous terms. They are the same.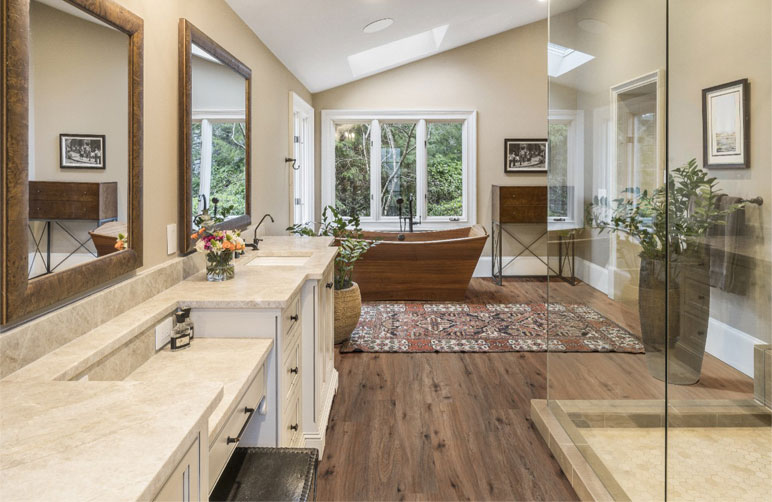 Whether you're building a new home or updating your existing space, LVT and its close relative – luxury vinyl plank flooring (LVP) – are both great options. The question is, which one is right for you? And what's the difference? To begin with, they do share many characteristics, so you're not completely off base if you were thinking they are exactly the same. However, there are a few differences. Not only that, but there's also a flooring material called vinyl sheet flooring, and while that product also has "vinyl" as a key word, it's quite different from both LVT and LVP. So, let's dig in and learn the differences – big and small – between these various flooring materials.
How is lvt different from lvp?
The operative word in luxury vinyl planks is, of course, "plank." Because of its elongated board-like shape, it accurately mimics the look of hardwood flooring, providing even the realistic scraping or embossing you would expect. In contrast, luxury vinyl tile comes in square or rectangle tiles, and tends to feature the look of concrete, stone, or other traditional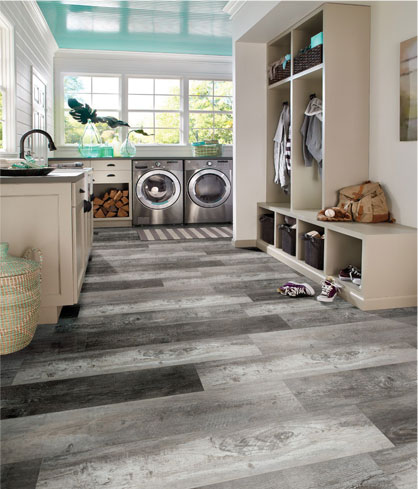 tile material. Some LVT even includes surface texture or can be installed with grout to truly evoke the natural stone look. However, because LVT and LVP are both manufactured in the same manner, they really are very similar except in their end shape.


Both types of vinyl flooring are composed of several layers, including a protective wear layer, a print layer that displays the color and design, and a core of PVC. One optional layer that some types of LVT and LVP may include is a comfort and quietness backing, which can come in a variety of thicknesses.


And while LVP features a variety of hard-wood looks and LVT often features natural stone looks, that's not the whole story. LVT can also realistically give you the look of any number of materials, from patterned ceramic to fabric, concrete to bamboo. The sky's the limit when it comes to bringing your design dreams to life with LVT, and the amazing technological advances behind the realistic print layer mean that this modern marvel is the farthest thing from the tacky vinyl of days gone by. Luxury vinyl tile has truly entered the modern era!
What else do lvt and lvp have in common?
Quite a bit, actually. For example, if you've started pricing out differing flooring options, you already know that hardwood and natural stone can be hard on the pocketbook. However, you'll be happy to know that luxury vinyl flooring is very affordable in comparison, and can end up saving you a lot, while still giving you the look you want. In addition, LVT and LVP are fairly simply to install as a DIY, which can save you a lot of money in a remodel or build.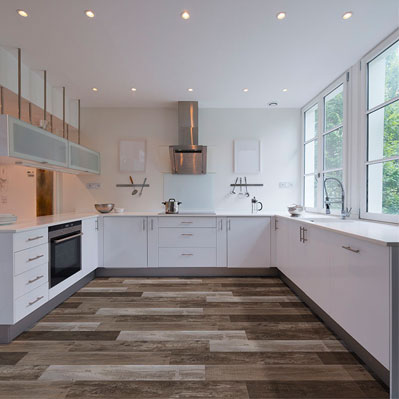 In addition to the cost savings, there are other luxury vinyl tile benefits to consider. For example, LVT and LVP are very durable and can handle your busy, messy life, so you won't constantly be worrying about scratches, spills, cracks or dents in your expensive hardwood or stone tile. Plus, luxury vinyl is a softer place to fall for toddlers, and is super easy to keep clean and sanitary. One of the most important characteristics of LVT and LVP flooring is its water resistant or waterproof qualities. Both wood and stone can be vulnerable to moisture and spill, but luxury vinyl performs like a champ in kitchens, bathrooms, basements, mudrooms, and more. There's really no indoor room where LVT or LVP isn't appropriate.
One last benefit of LVP and LVT is that it is extremely easy to care for. With simply vinyl flooring care and maintenance such as regular sweeping or vacuuming (turn off the beater bar) and the occasional damp mopping with warm water, your floors will stay looking like new for years to come. It's never a good idea to use strongly abrasive cleaners on any floor, and vinyl is no different. If you need a deeper clean, a bit of white vinegar in your water should do the trick. As with any floor, clean up spills as soon as you see them, but we all know that sometimes a spill goes unseen for hours. Fortunately, luxury vinyl tile can hand the wet very well. And if you do find that a tile sustains damage, you can pop it out (if not glued down) and replace it.
How are lvt and lvp different?
One thing that sometimes sets LVT and LVP apart from one another is their different vinyl installation methods. Both can come in either glue-down varieties or floating-click vinyl pieces. As the name suggests, glue-down luxury vinyl flooring is affixed directly to the subfloor, which may mean that they are not as water resistant (depending on the adhesive used) and are not as easy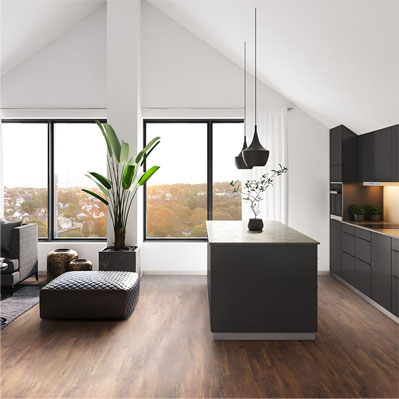 to repair as the floating-click variety. Floating-click LVT or LVP comes in individual tiles or planks that click together to create a seamless seal, and these are easier to repair as they can be "un-clicked" to remove and replace a damaged tile or plank as needed. That's why it's a good idea to purchase extra material, in case of repairs down the road.

The reason some homeowners and even business owners opt for glue-down luxury vinyl is that it is great for large installations in high traffic areas. However, it's more tricky to install glue down vinyl, since you have to cut it to fit exactly right and there's less margin for error, so it's probably best to hire a professional if you choose a glue-down luxury vinyl flooring material. Even with the cost of a professional installation, glue-down vinyl is more cost effective than floating-click planks and tiles, so the price should still be very reasonable.
Starting your lvt or lVP project
With its durability, easy maintenance, and cost effective price point, you can't really go wrong with LVT. And with its many design looks and its versatility for moisture-prone and even high traffic areas, it's a winner for every room of your home. And while hardwood and natural stone can prove to be a bit of a headache in terms of maintenance and worry, both luxury vinyl tile and luxury vinyl plank flooring are easy to keep looking like new for years to come. So what are you waiting for? Check out our many LVT looks, and begin to reach for your design dreams today!