8 Luxury Vinyl Flooring Trends: Inspiration Abounds
Boasting extreme durability and beautiful designs, luxury vinyl flooring includes everything we love, all wrapped up in one pretty product. It appeals to many consumers because of the various color and style choices available, from traditional to modern and everything in between.
Designers and homeowners alike are head over heels in love with luxury vinyl flooring because it's one of the easiest ways to transform a home or office, as flooring creates a significant impact and influence over the overall design. And because luxury vinyl planks warm up a space without the worries of real wood, the waterproof product can be installed just about anywhere. Plus, seeing the highly advanced, realistic patterns with life-like knots and grains will leave your jaw on the floor – it's that good.
Classic wood tones to shades of gray to sun-washed hues are just some ways families are designing an environment that suits their busy lifestyles and design aesthetics. Can't wait to install one of these flooring styles? We think that these eight Luxury Vinyl Flooring trends will fill you with the inspiration needed to create your ultimate dream space.
Sun-washed chic
Desire something bright and airy? Sunny California is a top inspiration for the blonde wood look and warm-tone trends. These daydreamy styles set the perfect backdrop for a neutral color story influenced by bright, sun-kissed beaches to lazy days by the lake.
The sun-washed hues come in subtle shades of honey blondes, light tans, modern grays, and mid-tone greiges for a more relaxed feel. To achieve an elegant yet laid-back look, we like using Andover Bayhill Blonde that features a light cashew brown with subtle knots and grains, Presscot Akadia that includes creamy neutral beiges with delicate brown graining, or Cyrus Ryder that offers a warm beige and brown colorway completed by darker knots and grains.
Perfect for Scandinavian to California cool to wildly rustic, the beach-chic color will brighten up any room with its luminous style, one of the many benefits of luxury vinyl flooring. Top off the design by keeping things light with lots of whites, light woods, sandy tones, blue hues or pops of yellow, and natural textures. But, before you pick your planks, you'll want to learn more about sun-washed LVP flooring.
modern farmhouse
After a feeling that there's just no place like home? Modern farmhouse embodies all the cozy feels with its laid-back style and clean looks that beautifully blend both classic and contemporary design elements.
This trend's simplicity allows LVP flooring to shine by contrasting earthy wood-look tones against timeless black-and-white color schemes or other neutral palettes.
Choosing luxury vinyl with brown backgrounds, from lighter browns to dark chocolates, accented by either subtle knots and grains for a more modern vibe or more pronounced details for an authentic reclaimed-wood look will give your space the warmth and connection to nature it needs.
Dark walnut Andover Abingdale, neutral brown reclaimed Andover Blythe, and warm coffee-brown Andover Hatfield are just some of the LVP plank flooring that we love for the modern farmhouse trend. The fresh, crisp style can be finished with other natural elements like natural stone, wood accents, and brushed brass fixtures to classic subway tile and durable quartz countertops.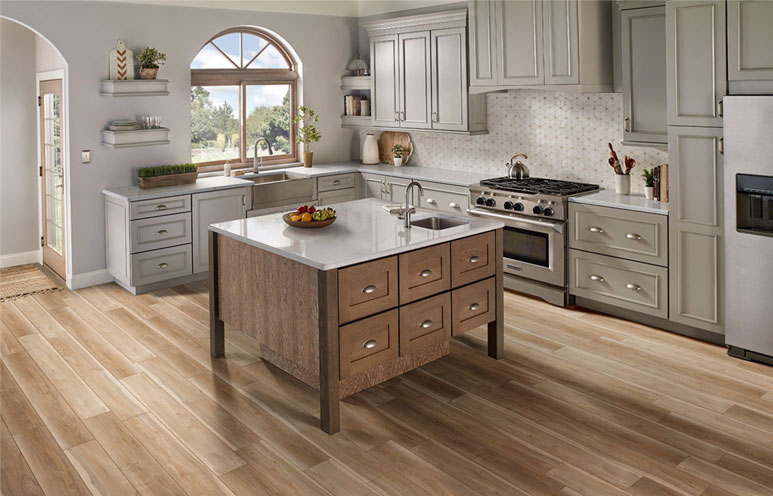 Andover Bayhill Blonde
Strong and Steady Grays
Wish for a design scheme that's not too light or too dark? That's where gray comes into play, as it strikes a perfect balance between the two. Ditching beige or brown floors for a stunning gray hue will help create a unique space.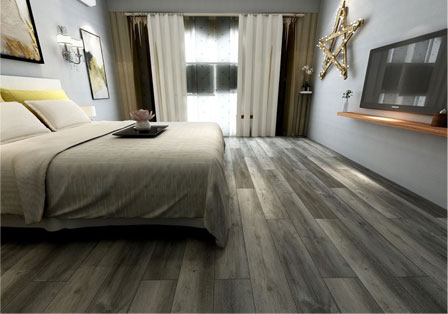 Kattela Ash
Since gray LVP flooring comes in a variety of shades, you can choose from products like
Katella Ash
that comes in a mix of darker gray and brown planks with realistic knots and grains,
Ludlow
that offers gray tones with charcoal gray knots and grains, or
Ashton Loton
Hill that features light grays with a mix of other hues for more movement.
The neutral tones work with just about any design style and allow other optional colors into the color palette. The balanced shade can be elegant with pairings like luxurious marble with gray veining or edgy by incorporating metallics or high-gloss finishes.
Simple and Monochromatic looks
Long for a more timeless look? A monochromatic color scheme is a smart choice for a neutral style that will last thanks to its simplistic design. There's a luxury vinyl flooring color from whites and creams to beiges and browns to grays and blacks to go with any of these monochromatic looks.
Prescott Cranton features a modern matte beige wood look, Prescott Sandino comes in a neutral light brown with subtle knots and grains, and Cyrus Whitfield Gray offers a sophisticated gray with delicate knots and grains.
Picking a flooring with light knot holes but some color variation creates additional visual interest and opens the door for a little more movement within the shade range. Plus, having a neutral floor and other significant pieces means you can change out accents over time without getting rid of any high-priced items if you wish to introduce different colors.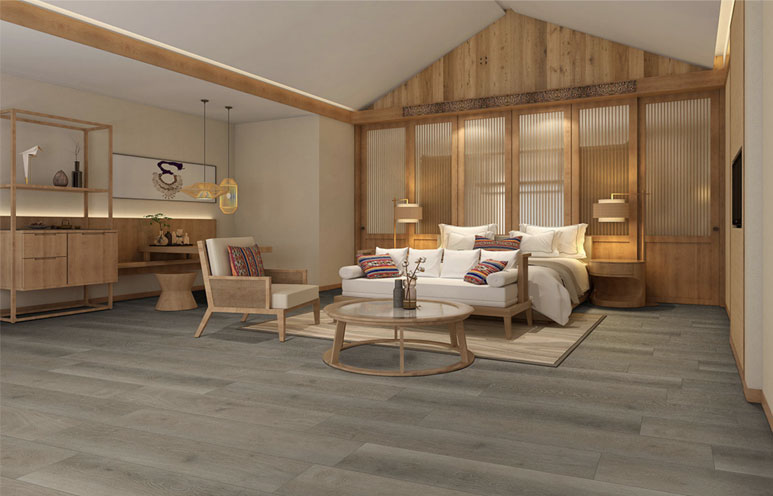 Prescott Cranton
Washed and Worn Looks
Crave something comfortable with a familiar, lived-in feel? We love the washed and worn trend because it reminds us of slipping on our favorite oversized sweatshirt. These cozy, relaxed spaces are quite the opposite of uber fancy and formal, and when it comes to flooring, the worn luxury vinyl looks add tons of character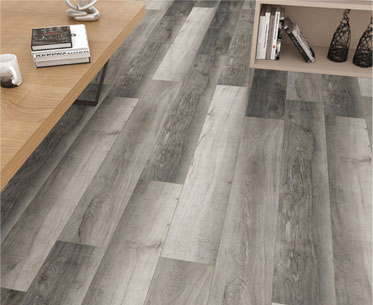 to any room, whether it's a kitchen featuring a farmhouse sink or a bathroom boasting reclaimed brick.
Look for luxury vinyl planks with distinct grains and knots, a worn finish, and variation in tone. Some of the products we love include Cyrus Bracken Hill for its dark gray hues mixed with lighter tone planks, Cyrus Boswell for its rustic gray wood look and prominent knots and grains, and Cyrus Draven for its mix of beige and cool gray.
Cyrus Bracken Hill
Classic Wood Looks
All about that classic style? Look no further than the perfect shade of brown. You may feel a bit like Goldilocks searching for something that's not too red or too yellow, but with the ideal mid-tone wood, you'll create a storybook ending that's just right for your new room redesign. Some of our favorite classic browns include Andover Blythe, Ashton Maracay Brown, Cyrus Braly, and Wilmont Reclaimed Oak.
With LVP flooring options that masterfully mimic real hardwoods like oak, maple, and teak, the brown colors are sure to be one of the most convincing wood-like looks for LVP. The classic wood styles work well with a wide range of design aesthetics, and it perfectly highlights both light and dark design schemes, whether it's a light gray wall or deeper hue, light or dark woods, or silver or black accents.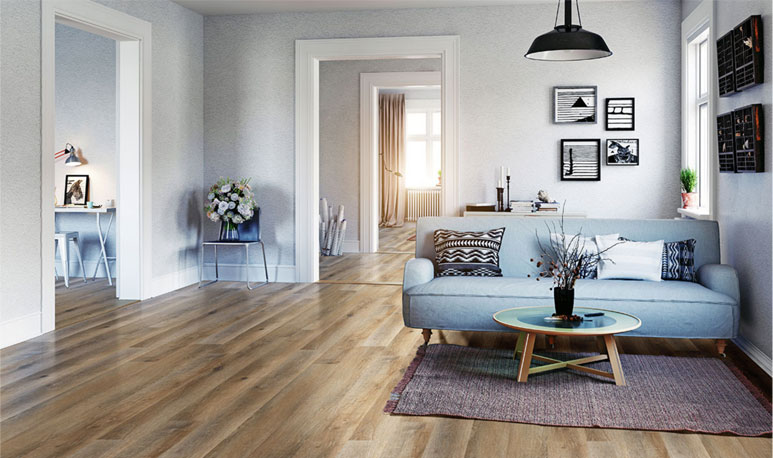 Ashton Maracay Brown
Large Wood-Look Planks Are Calling
Bigger is better! And large wood-look planks are totally trending, as these oversized 9" x60" planks are especially fitting for larger spaces. When you compare large-format collections like XL Cyrus side-by-side with typical LVP, you'll instantly notice the tremendous size difference and how they exude grandeur and a high-end look and feel that dramatically differs from regular vinyl. Plus, those with painted beveled edges enhance the vinyl's beauty and realism and emphasize the individual planks. And, with larger planks like the XL Cyrus collection, you may have your floors installed even faster.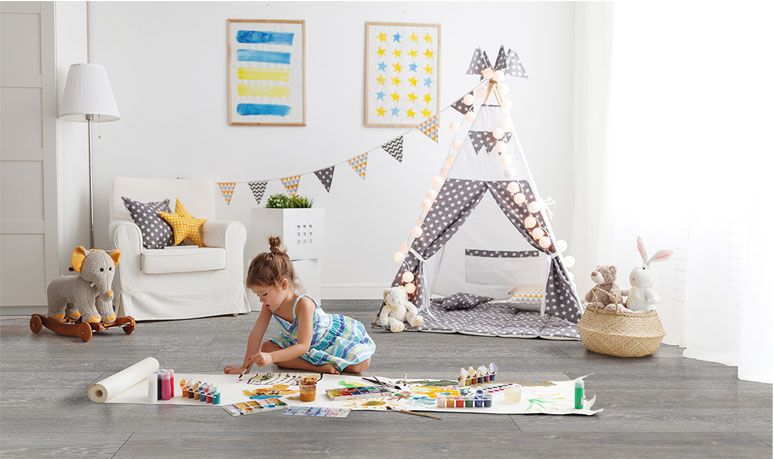 XL Cyrus Finely
Worry-Proof
Desperate for a design that's durable and good-looking? One of the best features of on-trend wood-look LVP is its sturdiness and low maintenance, making it an ideal flooring solution for those designing for busy families with kids or high-trafficked areas. Redefining worry-free floors, these waterproof planks easily rival porcelain tile and can be installed anywhere in the house, so you can achieve a uniform look that seamlessly moves from one room to the other no matter if it's a wet or dry area. The durable wearlayer helps protect against stains, scratches, and dents, so it'll stand up to rough kids play or rambunctious pets.
Choose from float-click products like Prescott Akadia and Andover Highcliffe Greige that feature a 20 mil commercial-grade wearlayer for tough protection against spills, pet accidents, indentations, scratches, and even sun damage or glue-down products like Charcoal Oak Dryback that includes a 12 mil wearlayer. These durable floors are just a few of our favorites from our worry-proof wonders collection.

So, we want to know which luxury vinyl trend has caught your eye the most? From sun-kissed to gorgeous gray to classic brown and so much more, luxury vinyl flooring comes in a wide range of wood-look products ready to transform your space into the designer dream you've always envisioned. Plus, it's everything and more you need to keep up with your busy day-to-day lifestyle with low-maintenance requirements.
Whether you're focused on color, pattern, size, or wearlayer thickness, know that luxury vinyl flooring is a very durable product, so you really can't go wrong no matter what style or colorway you select. But, before you pick the perfect planks, you'll want to read the definitive guide to Luxury Vinyl Flooring to understand everything you need to know about your new fabulous floors.
We are so excited to see which luxury vinyl tile trend you choose and how you make it all your own! Share your beautiful designs with us by tagging us on Instagram using #msisighting to inspire others to create their dream space!