With their many attractive benefits, including low maintenance, durability, and excellent price point, modern luxury vinyl tile and luxury vinyl planks – often referred to as LVT and LVP – are taking the flooring industry by storm. Homeowners and commercial business owners are both jumping on the trend, but what's the real story behind this modern craze, and is LVT flooring truly the perfect material, or is it too good to be true? We break down all the important pros and cons of LVT that can help you decide for yourself.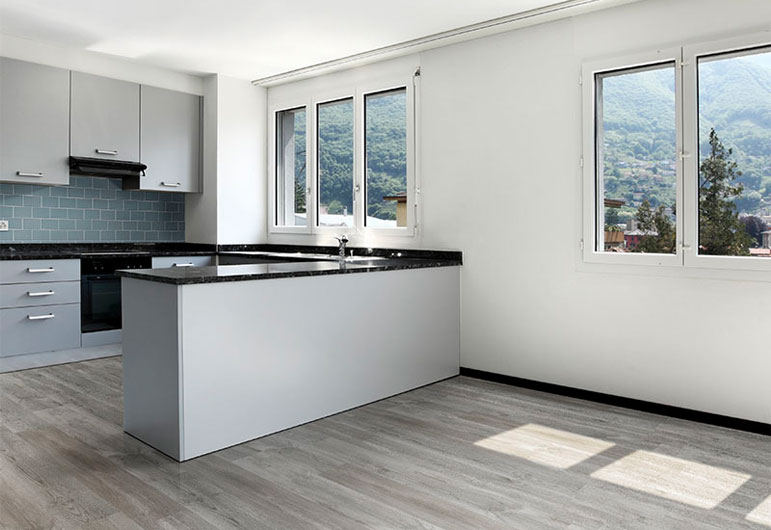 Pros of Luxury Vinyl Tile and Plank Flooring
Whether you are considering the material for a residential or commercial space, the durability of both LVT and LVP is an attractive feature. Being 100% waterproof, it can be installed in indoor spaces that are prone to puddles and other moisture, such as mud rooms, laundry rooms, basements, kitchens, and bathrooms. And because it comes in many designs that convincingly mimic hardwood and natural stone, it is a perfect substitute for areas that are not suited for those natural materials. Besides standing up to drips and steam, luxury vinyl flooring is not susceptible to stains, scuffs, scratches, mold, or mildew, making it a popular choice in heavy traffic areas and entry zones.
Of course, no floor is indestructible, but if you want to add an additional layer of protection to your LVT, you should add rugs or runners, as well as putting sliders or felt on the bottom of furniture legs.
For many homeowners and business owners, the promise of an easy-to-clean floor is the luxury vinyl tile benefit that clinches the deal. It already has a protective wear layer and does not require sealing, which means that waxing, polishing and staining are a thing of the past with LVT. While hardwood, natural stone, and even some types of tile require extra TLC, luxury vinyl tile and plank flooring are super low maintenance – simply sweep or damp mop regularly, or even run the vacuum over the floor with the beater bar turned off – and your floor will look pristine for years!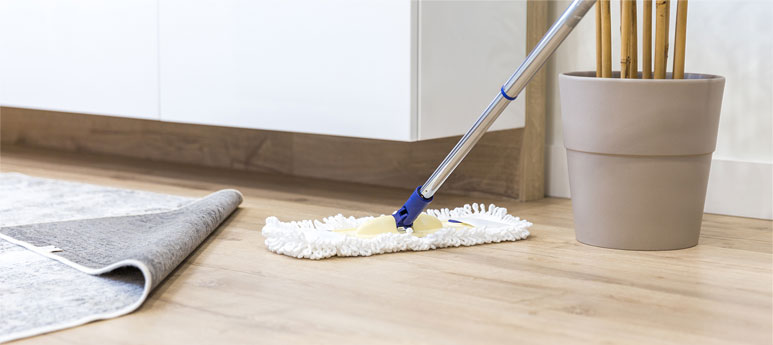 When it's time for a more thorough deep clean, a bucket of hot water with a cup of white vinegar will do the trick for mopping. Check with the manufacturer first before using all-purpose or commercial cleaners, as they will be able to fill you in on any vinyl flooring care and maintenance recommendations. And of course, steer clear of harsh chemicals that contain bleach, abrasive ingredients or ammonia, which could harm the protective wear layer.
In the flooring world, luxury vinyl flooring is at an attractive price point compared to hardwood, stone, or even carpet. On average, LVT runs about $2-5/squ ft, a cost that may even include installation. In contrast, carpet will set you back approximately $3-5.50/squ ft, and hardwood floors will lighten your pocketbook by anywhere from $8-25/squ ft. And considering that LVT and LVT can convincingly give you the look of natural wood, the price difference is potentially a game changer.
Besides the initial investment, LVT will cost less over its lifetime to maintain than carpet, which requires regular cleaning to keep dirt, dust, and worse at bay, and will have to be replaced sooner as well. In addition, luxury vinyl flooring can often be installed directly on top of an existing floor, as long as it's free of bumps and bulges, and that represents a savings in the time and effort of ripping up the previous floor before laying down your new tile or plank flooring.
In addition to LVT and LVP, a third option is sheet vinyl flooring, which is even more cost effective. However, sheet vinyl is not as durable as LVT and LVP, which means that it will likely need to be replaced sooner. And because it's all one big piece, you can't simply replace an individual damaged tile or plank as you can with LVT and LVP.
We would be remiss if we represented luxury vinyl flooring as the perfect flooring solution, because that doesn't exist. And while it has several attractive features that explain why many homeowners and business owners are choosing it, there are a few things you should know before you jump on the bandwagon.
Yes, LVT and LVP are highly durable, but that's not to say they are indestructible. If you drop a heavy item or drag something weighty over the surface, it could dent the floor or leave scuff marks. However, vinyl tile and plank flooring will stand up to such mishaps better than hardwood, so that's something to consider.
The sun's rays are incredibly powerful, and LVT and LVP are not immune to fading if exposed to direct sunlight, as in areas right by windows where the light floods in. Luxury vinyl flooring performs better than cheaper vinyl, but it's important to keep this factor in mind.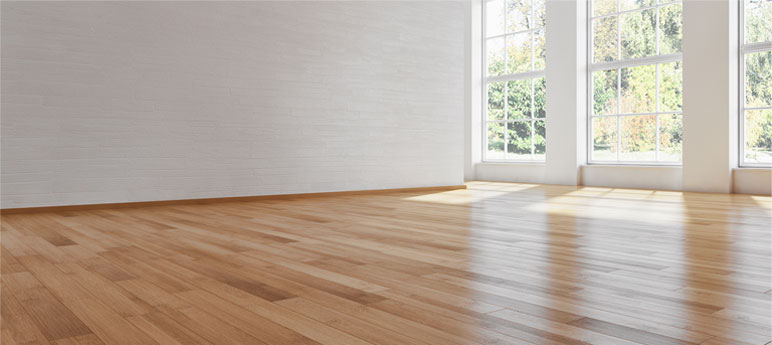 While you could of course keep your blinds closed to prevent fading, that might make your rooms less inviting. A better solution is to put a UV blocking film on your windows to tint them slightly and block these powerful rays without darkening your rooms.
In addition, you might consider changing the format of your furniture placement now and then. Obviously, the areas covered by rugs or furniture is more protected from the sun's rays, and over time, keeping the same configuration could mean your floor will fade unevenly – which is more noticeable. By changing things up a bit, you can extend the life of your floor's unfaded beauty.
One last strategy to consider when buying vinyl flooring is to purchase additional tiles or planks. It's a key selling point of both LVT and LVP that you can easily replace one tile or plank as needed, but that means you should buy it up front to ensure you aren't stuck needing an out of stock item. If you have extra material on hand, you can replace any faded or damaged tiles or planks down the road, and have your floor looking like new again in no time.
If you choose luxury vinyl of the click-lock floor tile variety, this won't be a problem, as it's very easy to remove and replace a single tile or the whole floor. However, if you opt for sheet vinyl or glue-down LVT, it can be difficult to get up once the adhesive has dried. However, there is a strategy for removing glue-down flooring – cut it down into strips a foot wide before starting to pull it up, then scrape off any remaining glue residue and vacuum anything left over.
Coming as it does in a virtually endless number of designs and colors – including hardwood and natural stone looks – LVT is a beautiful and durable option for home- and business owners who require a low maintenance flooring. And because vinyl flooring has come such a long way in terms of technology, you won't even recognize it as the great-grandchild of your grandma's kitchen floor. It comes in a wide array of realistic wood and stone looks, while offering a level of water resistance and durability that natural materials can't rival. However, before you dive in, take time to consider the pros and cons of LVT and LVP, and then confidently choose your next flooring project!