Luxury Vinyl Tile Pros And Cons - Wood Look Vinyl Flooring Vs. Real Wood Flooring
February 05, 2021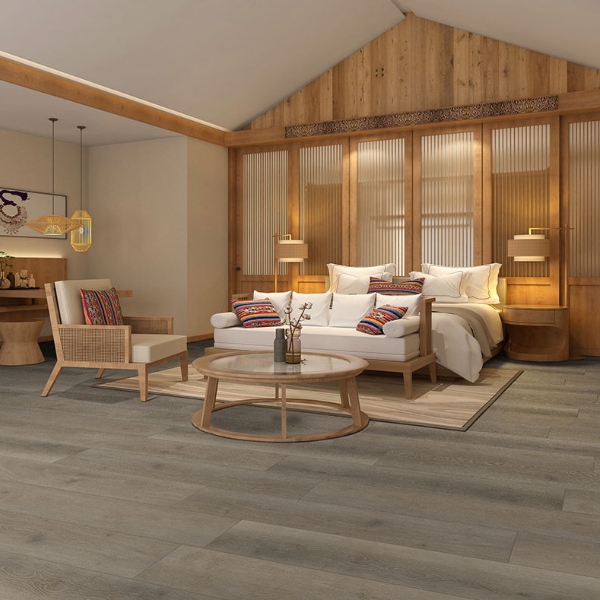 Updating flooring is a big decision, and now that you've narrowed down your choices between luxury vinyl tile and real hardwood, you're probably wondering which one is best? Natural wood is a timeless beauty, but luxury vinyl has been around long enough that it definitely rivals the real deal. Yet, each flooring type comes with its own set of pros and cons, which is why we're reviewing six essential categories so that you can make the best flooring choice for your next project.
Water Resistance
Water damage is a real-life threat, but LVT is made of synthetic materials, so they are naturally resistant to moisture and 100% waterproof. A luxury vinyl tile floor can be installed in any level and any room, including high-moisture areas like bathrooms, mudrooms, kitchens, and basements, and is unlikely to sustain damage from an H2O hazard.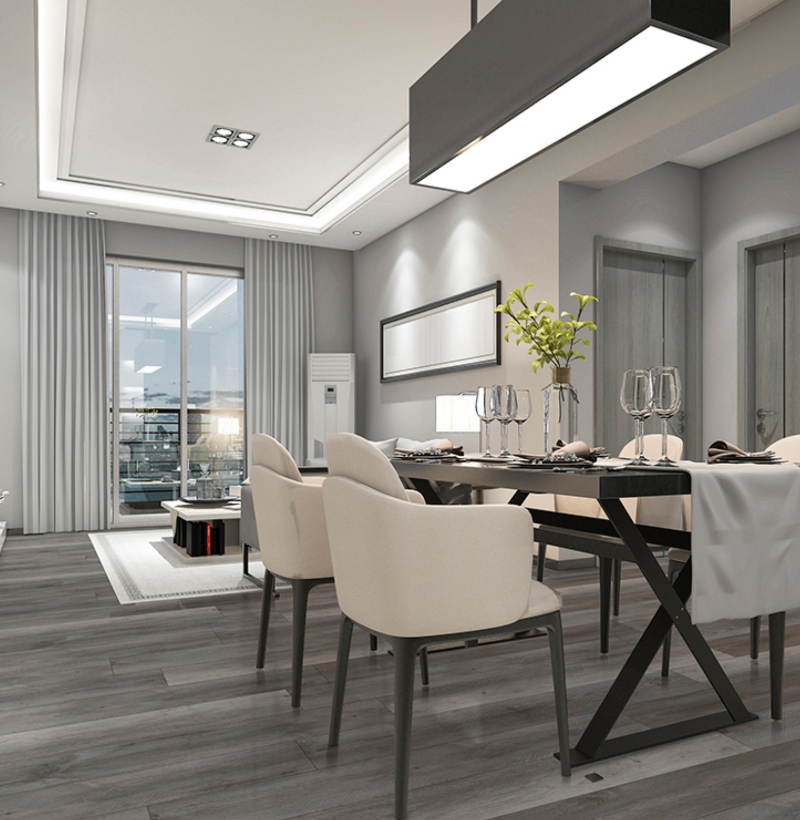 However, hardwood is a natural, porous material, so it's susceptible to water damage. While you could add a polyurethane coating to make the wood more durable against spills and moisture, you shouldn't install hardwood in moisture-prone areas, especially bathrooms. In the event of a burst pipe, an appliance malfunction, or a flood, real wood would likely rot and lead to a costly replacement.
Style Options
Because vinyl plank flooring includes a photographic image layered between a clear wearlayer and the vinyl core, it can come in just about any color, pattern, or design, including wood, stone, and concrete looks. The advancement in nature-realistic imaging and editing means you can get any species of wood or even a combination of woods for a more unique look. The texturization of the wearlayer makes it feel like real hardwood, too.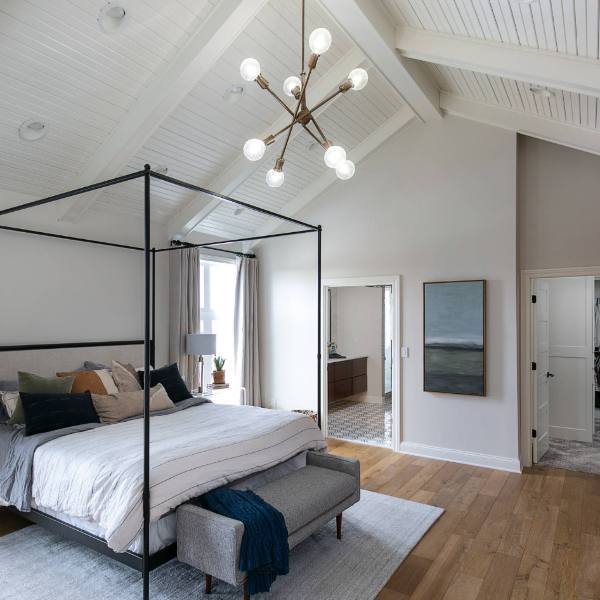 Of course, with wood, you get a selection of traditional to exotic hardwoods like oak, hickory, and teak. Stains and finishes are ways to alter the coloring of your natural material. Hardwood may be more limited compared to LVT's versatile styling range since only certain wood types or species may be available.
Maintenance
One of the luxury vinyl tile benefits is that the wood-look material is low maintenance, so it's great for busy homeowners with little time and active households with kids or pets. Daily vinyl flooring care and maintenance can be done using a broom, dust mop, or vacuum cleaner, while deeper cleaning can be tackled with a wet mop. Unlike real wood, you'll never need to wax your LVT floors since wax will leave a residue that builds up on the floors. To revive the shine, make sure to use a no-wax polish that's made just for vinyl flooring. One thing, though, with vinyl is that it is susceptible to fading over time from sunlight, which is why blinds or other window coverings are important, especially in sunny areas. Once the floors fade, they can't be restored and should be replaced.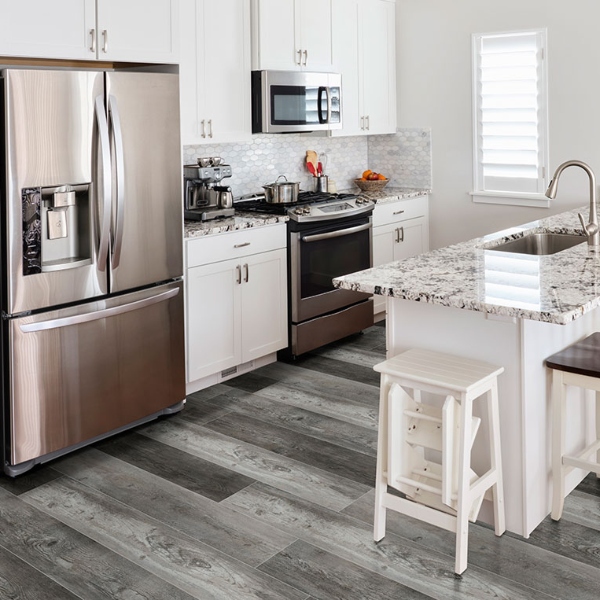 Hardwood flooring comes with some special considerations, so it depends if real wood will work for your lifestyle. Daily cleaning can be done with a broom, dust mop, or a vacuum cleaner specifically designed for hardwoods since the beater bar can scratch the wood. Heavier cleaning should be accomplished using cleaning products made for hardwood. Softer woods will scratch easier, so durability is something to consider if you have pets or kids. As wood loses its shine, it will need a new waxing. It can also fade over time but, unlike LVT, can be refinished.
Cost
Luxury Vinyl flooring is a cost-effective alternative to real hardwood flooring. While the price of hardwood can vary depending on the type of wood and the finish, it is generally considered to be a more expensive option compared to luxury vinyl. Luxury vinyl can mimic the look and feel of hardwood, but it is made from synthetic materials and is often more durable and resistant to wear and tear. Overall, luxury vinyl flooring offers a similar aesthetic appeal as hardwood but at a more affordable cost without compromising on durability and functionality.
Installation
The vinyl flooring installation process is pretty easy, even for DIYers. LVT comes in click-float and glue-down types. For the floating floors, the planks easily click together without any glue or nails needed for installation and can be cut to size using a utility knife. With glue-down installations, prep is key since you need a very flat surface for a successful result before gluing down the planks to the subfloor. It's recommended that a professional do this kind of permanent installation, but could be a DIY job.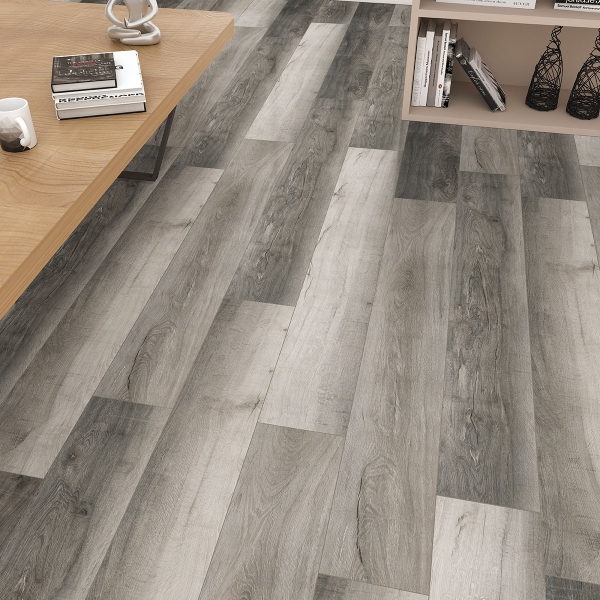 For hardwood, it's highly recommended that a professional handle the install, which will only add to the already higher cost of real wood. Proper subfloor prep, vapor barriers, accounting for expansion and contraction, measuring and cutting with a saw, and nailing the wood planks are all things best left to the pros. But, don't expect the job to be done in hours like with vinyl because it will take days or weeks to finish a hardwood install.
Environmental Impact
If environmental factors are a top priority, then you're probably wondering how a synthetic product made of PVC could possibly be good for the environment, and here's how. Vinyl only requires the photograph of a tree without contributing to the rapid deforestation rates of wood that outnumber replanting efforts. While LVT isn't biodegradable, many plastic products are recyclable, with some even being made of recycled materials.
Of course, with real hardwood, you're installing, well, real natural materials in your home or business. But, the stains and coatings, such as polyurethane, aren't natural products, and the coating needs to be stripped and reapplied often. While hardwood is considered a renewable resource, it takes a long time for forests to regrow, but it is a biodegradable product.
Which Is Best?
Both luxury vinyl and hardwood flooring each have their own positives and negatives, but vinyl comes out on top if you're concerned about water damage, design options, lifestyle, affordability, DIY, and saving trees. Although hardwood is a sought-after natural material that can last a lifetime with proper care, they are more expensive. For many, LVT is the preferred flooring solution.
More on Vinyl Flooring
Should You Replace A Water Damaged Wood Floor with Luxury Vinyl Tile?
Why Large Format Luxury Vinyl Planks are Popular
Considering Installing Luxury Vinyl Flooring? Read This First!
How To Clean Your Luxury Vinyl Flooring To Keep It Looking New
Looking for inspiration for particular area of your home or curious about costs? Check out MSI's Luxury Vinyl Tile Gallery and read this article on Luxury Vinyl installation costs.
Are you still deciding which vinyl flooring is right for you? Learn the differences between Luxury Vinyl Plank and Luxury Vinyl Tile. LVT Flooring provides upscale looks for homeowners of all incomes. Learn more about the latest Luxury Vinyl Tile trends and styles.