The Different Design Styles Of Porcelain Wood Look Tile
April 16, 2021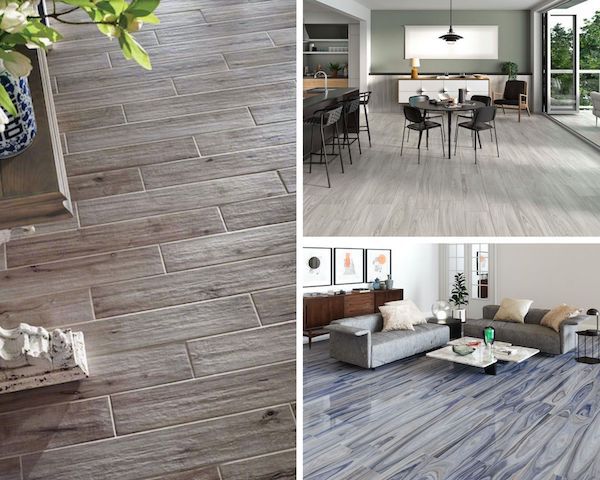 Wood floors are an easy way to elevate a home — but sometimes hardwood flooring isn't in the budget. When you're looking for a cost-efficient way to transform your vision into a reality, you need to consider porcelain wood look tile. You might be surprised to find out that porcelain wood tile comes in a wide variety of colors, patterns, and finishes, allowing you to customize the look and feel of your home without compromising your vision.
Before determining if wood-look porcelain tile is the right for you, let's take a look at the benefits and a few of our favorite options from our wood look tile collections.
Benefits of Porcelain Wood Look Tile
If you're in the market for new flooring, you know how big of a choice it is. To help you better understand why porcelain wood look tile is the optimal choice for your home, we've outlined the benefits you'll experience.
Appearance
When most people think of porcelain tile, they don't realize that wood-look porcelain tile comes in a variety of styles and colors. Are you a fan of light honey-colored wood to enhance the natural lighting in your home? Or are you looking for dark and dreamy floors to add contrast to your decor? With porcelain wood look tile, the options are endless. From varying grain and knot patterns to matte or high gloss planks in modern colors not found in nature, there's something to match every home decor aesthetic.
Durable
Porcelain tile has vastly improved over the years, and during that time, it's become an extremely durable flooring option. Durability is of the utmost importance to ensure it can withstand everyday wear and tear. Think about how much foot traffic your floors will encounter over the years. From family gatherings to your child's birthday party, you're going to have countless guests and family members walking across your floors. With porcelain wood look tile floors, you can have peace of mind knowing that its stain, dent, and scratch resistance will keep them looking as good as new.
Low Maintenance
No one wants to spend their weekends buffing out scratches or sealing their hardwood floors — and with porcelain tile flooring, you won't have to! A major perk of wood-look porcelain is that it requires very little maintenance to retain its luxurious appearance. To keep it looking its best, you will only need to mop your floors regularly to remove any buildup of dust and debris. There's no need to spend time or money buffing, sanding, or staining.
Affordable
One of the biggest benefits porcelain tile has over hardwood flooring is how affordable it is. Hardwood floors often come with a hefty price tag — not to mention the headache from maintenance and upkeep to ensure they retain their beauty. With porcelain tile flooring, you can get the look of hardwood floors but at a much more affordable price point. Plus, you'll save money on sanding, buffing, sealing, and refinishing over the years.
Achieve the Look of Wood with Porcelain Tile
Here are a few of our favorite options to elevate your home with porcelain wood look tile flooring.
Dellano Exotic Blue Wood Look Tile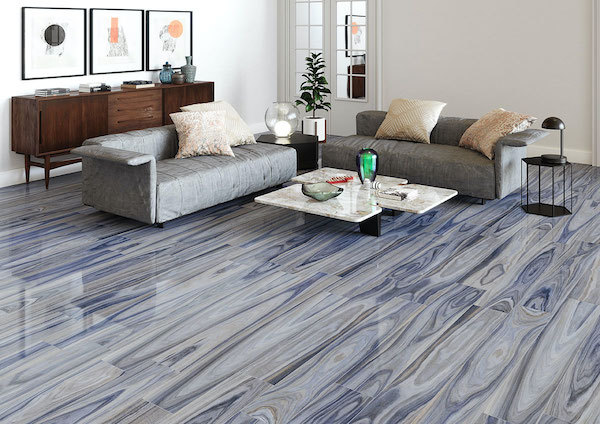 Porcelain tile comes in a variety of colors, ranging from natural tones to more exotic color palettes. If you're looking for a wood-look tile with a bit of flair, you don't want to miss the Exotic Blue porcelain tile from our Dellano wood look tile collection. Featuring remarkable shades of steely grays and blues in a pattern mimicking the natural grains of hardwood. Whether you want to install them throughout your entire living space, as an accent wall, or as a backsplash in a variety of tile patterns, Exotic Blue porcelain tile is sure to elevate your home.
Palmetto Fog Wood Look Tile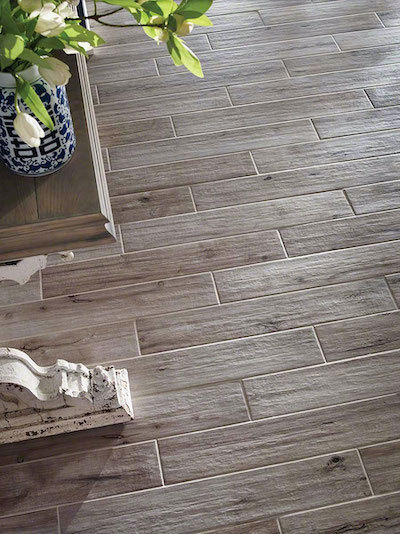 There's something dreamy about light wood floors that make a room feel more spacious and open. Create an open and inviting home with Palmetto Fog porcelain tiles in soft gray and brown hues with contrasting veins. The beautiful graining and knots make this porcelain perfectly resemble wood flooring — your guests won't even be able to tell the difference! This finely aged porcelain modern tile complements a variety of design styles and decorations, meaning it will age well with your home as your decor preferences shift.

Salvage Brown Wood Look Tile
When you're looking to add a bit of rustic charm to your aesthetic, look no further than Salvage Brown wood-look porcelain tiles resembling reclaimed hardwood with a matte finish. With varying shades of brown featuring natural grains and knots, these wood-look porcelain planks are the ideal flooring choice for a variety of home projects — including flooring, countertops, accent walls, and more.
Vintage Lace Wood Look Tile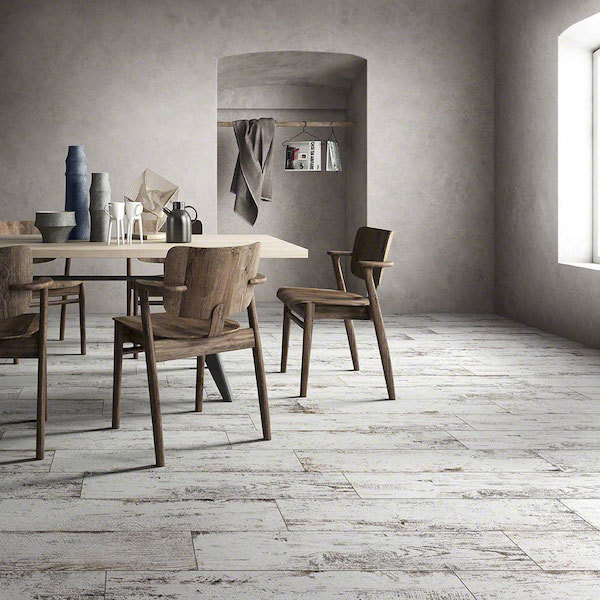 When you want to create a one-of-a-kind look in your home, Vintage Lace wood-look tiles need to be considered. Crafted from fine porcelain with a luxurious matte finish that makes maintenance a breeze, you'll be able to enjoy their beauty without spending countless hours on your hands and knees cleaning them. With the reclaimed look of hardwood covered with light whites and dark grains peeking through, there's no easier way to get your guests oohing and aahing when they walk in your front door.
Grigia Porcelain Wood Look Tile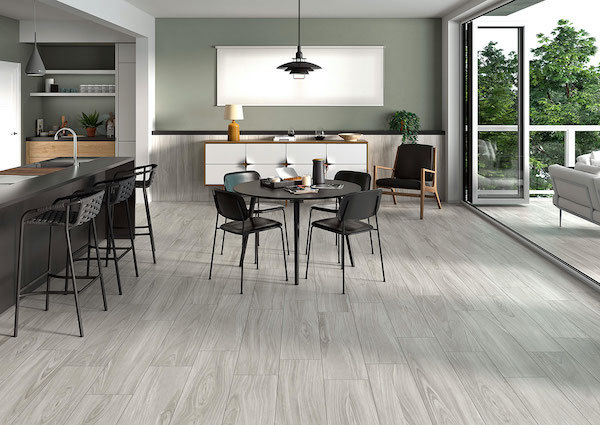 Are you looking for beautiful, yet subtle hardwood floors to elevate your space? Grigia porcelain tile features a blend of soft whites and dove gray hues that creates an affordable luxury look. Whether you plan to install Grigia porcelain tile planks on your floors, walls, counters, or other applications, you'll be amazed at how it can transform any room into a soothing and relaxing space. There's no easier way to make a statement than with these gorgeous porcelain tiles.
Need more inspiration before narrowing down your final choice? Take a peek at High-Style Wood Look Tile for inspiration:
MSI's assortment of tile and stone options make it easy for you to take any room of your home to the next level. Whether you're looking for rustic tile resembling reclaimed wood or something more exotic than
READ MORE ABOUT WOOD LOOK TILE:
Upgrade Your Home with Porcelain Wood Look Wall Tile
Create A Worn Wood Look with Porcelain Tile
Is Porcelain Wood Look Tile Better Than the Real Thing?
Easy Care Porcelain Tile In Vintage Wood Looks
Move Over, Hardwood – This Is A Job For Porcelain Wood Tile!
READ MORE ABOUT WOOD LOOK TILE:
MSI Rigid Core Vinyl Plank Flooring - Low Cost, Durable Hardwood Looks
Luxury Vinyl Tile Pros And Cons - Wood Look Vinyl Flooring Vs. Real Wood Flooring
Easy Care Porcelain Tile In Vintage Wood Looks