Quartz Countertops That Mimic Natural Stone: Granite, Limestone, And Marble Looks
November 16, 2022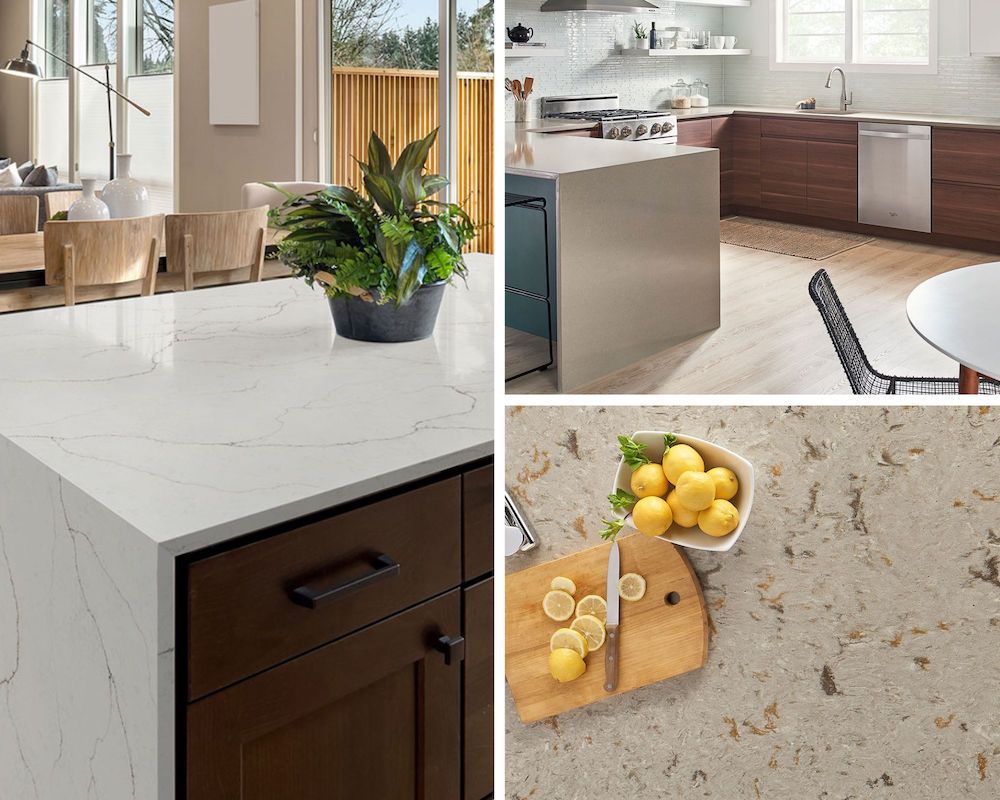 Kitchen and bath countertops in today's luxury homes must be more than beautiful. They also need to be durable and easy to maintain. While many people have chosen limestone, marble, or granite countertops in years past, a better option is now available. Quartz countertops are elegant, durable, easier to maintain, and often less expensive.
Quartz is a material that can closely resemble other types of natural stone. However, while marble, granite, and limestone make beautiful natural stone surfaces for counters, they also have some significant drawbacks.
Countertops made from these stones are costly, porous, and prone to staining if proper maintenance and care aren't given. These materials are also easily scratched, scuffed, and chipped.
Quartz countertops for kitchens and baths that mimic those stones deliver the performance, beauty, durability, and style that today's multifunctional kitchens demand.
If you're interested in using quartz countertops instead of granite, limestone, or marble, consider these products from MSI Surfaces.
Granite-Look Quartz Countertops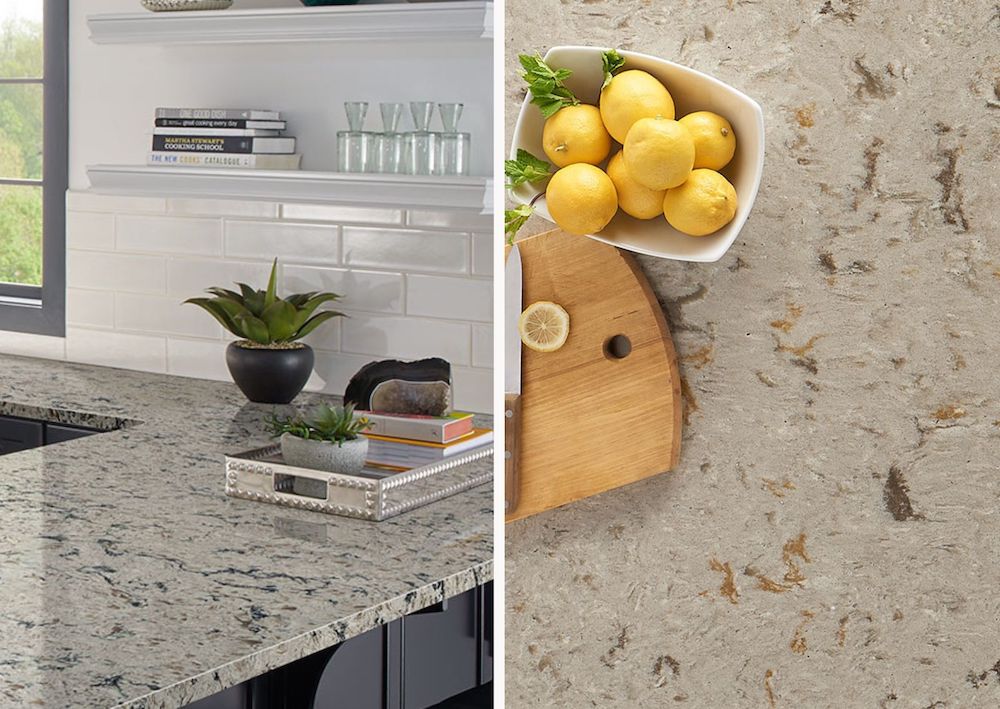 Although granite is a beautiful natural stone in its own right, as a countertop material, it has a few drawbacks that quartz doesn't. Although durable, granite countertops can be prone to chipping more than other materials. A poorly sealed granite counter can harbor bacteria and soak up wine, juice, and other staining liquids.
One granite-look countertop material to consider is Chantilly Taupe Quartz. Just as granite has an overall warm aesthetic when used as a countertop, so does Chantilly Taupe. It features grey, taupe, and beige sweeps as dramatic as those found in granite. In addition to countertops, it's also often used for:
Fireplace surrounds
Accent walls
Backsplashes
Floors
Shower surrounds
Another granite-look countertop option is Pacific Salt Quartz. While Chantilly Taupe features dramatic movement, Pacific Salt is reminiscent of the high movement that natural stone offers. It features a soft creamy background that contrasts with its tan and dark gray swirls.
Thanks to the inviting blend of quartz colors in Pacific Salt, this granite look-alike material is one of the most versatile and works with any design style. It's available in 2cm and 3cm slabs and prefabricated options, giving you ultimate flexibility in design choices.
Limestone-Look Quartz Countertops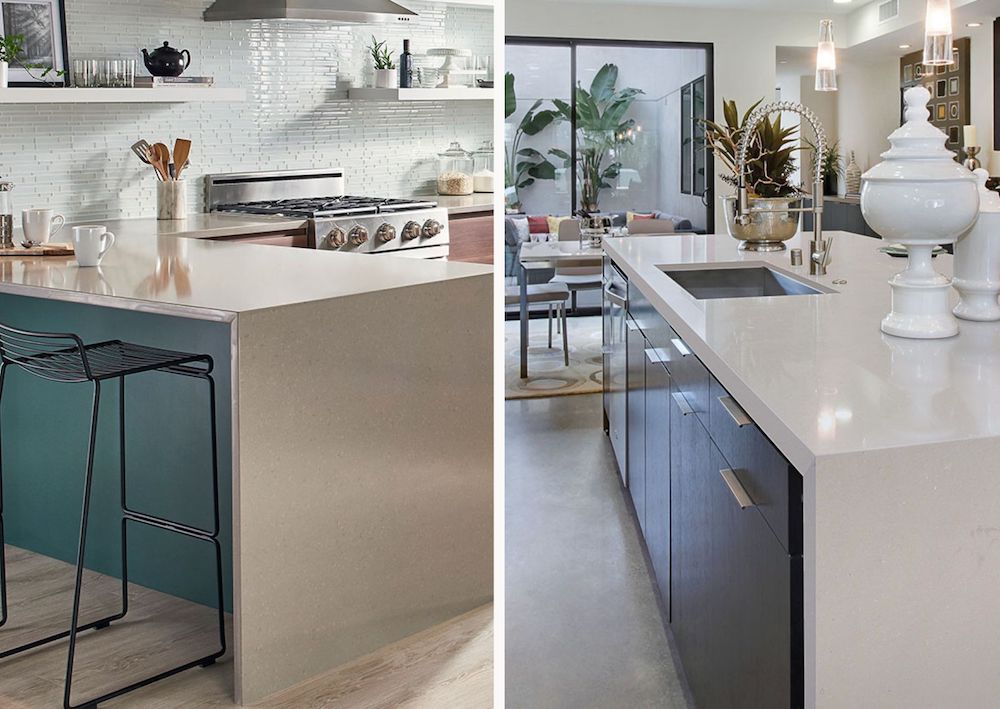 Limestone, although gorgeous, is a sensitive material that requires more maintenance and upkeep than granite and marble. It can scratch easily and stain if it's not properly cared for.
Concerto Quartz may be just what you have in mind if you're looking for a stunning alternative to limestone. Concerto features gray as a focal color, charcoal speckles, and dramatic hues on a soft field of dove and frost.
Concerto Quartz is often used for more than countertops thanks to its versatile aesthetic. You'll find it on floors, walls, fireplace surrounds, and other commercial and residential applications, and it comes in 2cm slabs, 3cm slabs, and prefabricated options.
Another limestone-look countertop option is Fossil Taupe Quartz. This stunning limestone alternative is warm and inviting with a taupe background, flecks of deep gray, and darker taupe sweeps within. Sophisticated and trendy, Fossil Taupe is durable and low-maintenance.
Thanks to its timeless style and visually exciting aesthetic, Fossil Taupe Quartz has many uses, including:
Accent walls
Floors
Waterfall islands
Backsplashes
Showers
Because of the neutral palette that suits any color scheme, Fossil Taupe quartz works well with every style and design, from modern and contemporary to traditional and classic. In addition, fossil Taupe is available in a polished finish and is ideally suited for residential and commercial applications.
Marble-Look Quartz Countertops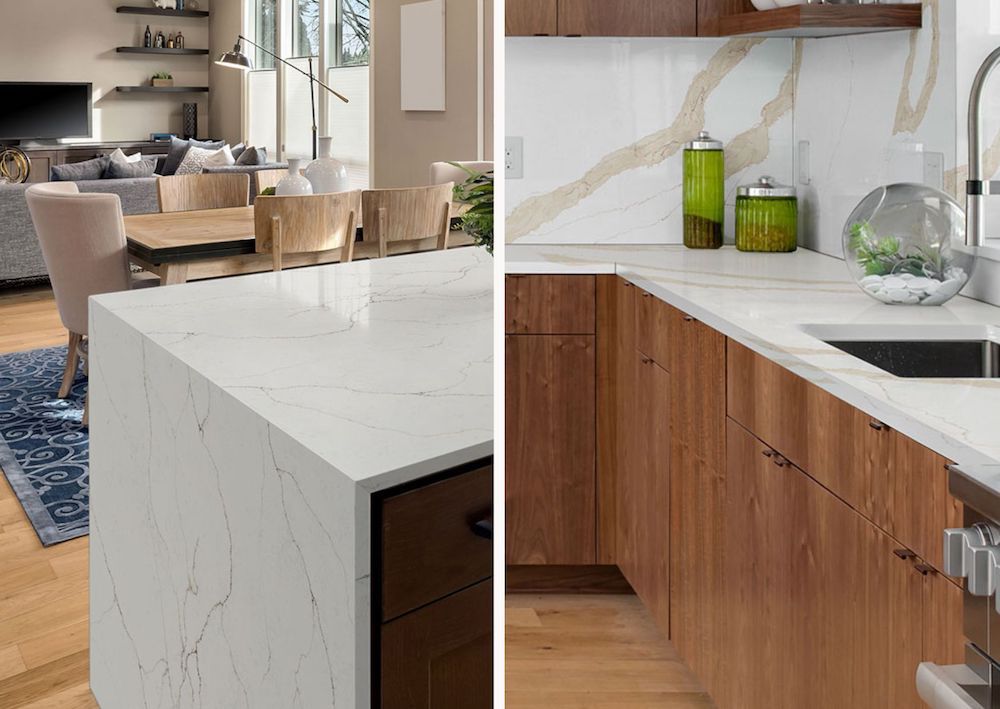 Marble is a lovely natural stone, but it will stain and scratch easily and is a high-maintenance material. Calacatta Prado is a quartz option that offers the dramatic veining of marble without the drawbacks. Calacatta Prado slabs are available in 2cm and 3cm thickness options.
It's a popular choice for both residential and commercial spaces for use as countertops. In addition, this marble-look quartz is also used for other building features, including:
Backsplashes
Floors
Accent walls
Island tops
Showers
Calacatta Prado features a bright white background with brilliant veining that creates a clean, warm, and inviting aesthetic in any application.
Another marble-like countertop option is Calacatta Leon Gold, an attention-grabbing quartz with a white background and gold veining. The veins feature a blend of soft, light taupe sweeps and bold, dark taupe lines, all pulled together beautifully with rust vein highlights.
Calacatta Leon Gold is often used as countertop material for shower surrounds, backsplashes, bars, and more. Just like Calacatta Prado, Calacatta Leon Gold is easy to clean, resistant to staining, and durable. Unlike marble, it requires almost no maintenance.
Getting Started with Quartz Countertops
There are many reasons to choose quartz that resembles granite, limestone, or marble for your kitchen or bath. The application options are limitless, and the material is durable, easy to care for, and resists chipping and scratching.
While little spills that seem harmless can quickly and permanently stain or damage other natural stone surfaces, anything from coffee cup rings in the kitchen to spilled makeup in the bathroom won't affect quartz countertops that mimic natural stone.
Ready to get started? Reach out to our team at MSI! We can help you choose the best countertops that mimic granite, limestone, or marble. So whether you know exactly what you want or are unsure where to begin, we're here to help.
MSI is an industry-leading countertop, backsplash tile, flooring, and hardscaping distributor. We're experts in matching the needs of our customers with ideal solutions they're guaranteed to love.
You can contact us online or by visiting our showrooms. You can also chat with us in real time through our MSI website chat feature at the bottom right of your screen.
Learn More About Quartz Countertops
Get Inspired With 10 Quartz Countertop Ideas
7 Kitchens With Glamorous Cabinetry & Quartz Countertop Pairings
6 Stunning New Quartz Countertop Colors To Satisfy Any Space
MSI's Top 10 Lumaluxe Quartz Countertop Colors
5 Beautiful Bathrooms With Quartz Countertops
The Do's And Don'ts Of Quartz Countertop Care
Learn More About Quartz Countertops
Quartz Countertops That Mimic Natural Stone: Granite, Limestone, And Marble Looks
Are Quartz And Quartzite The Same?
5 New Q™ Natural Quartz Colors Featuring A Mix Of Bold And Soft Veining