Get Inspired With 10 Quartz Countertop Ideas
October 09, 2022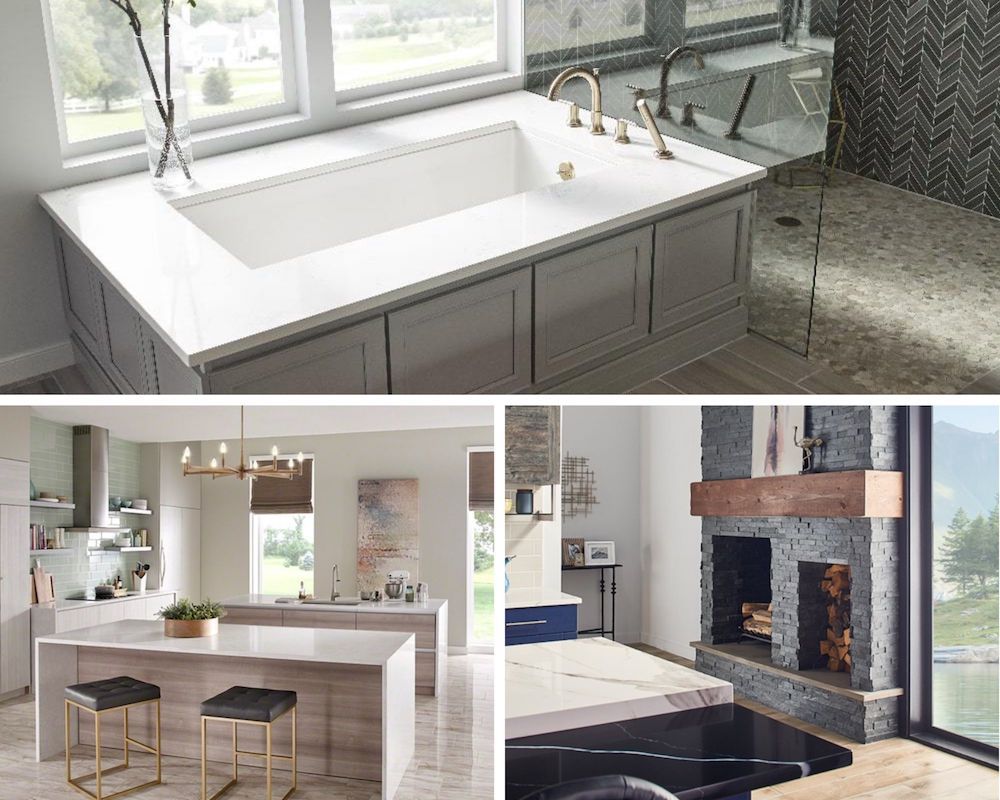 A dramatic quartz countertop can serve as the focal point of your kitchen, bathroom, or bar area. Or you could choose a more sedate slab that perfectly complements bolder design elements like colored cabinets or an eye-catching backsplash.
With engineered quartz, you'll enjoy untold beauty and a mountain of practical benefits. Quartz is strong, durable, resistant to damage, and easy to clean and maintain. It's also a nonporous surface that's food safe and resistant to microbial growth.
Modern quartz adds sophistication and function to any kitchen design. You just have to decide which MSI quartz is right for your home upgrade project. Here are several inspiring ideas to get you started.
1. Brighten Up a Room with Vibrant Color
You might think an all-white color scheme is the only way to get a bright kitchen space, but this simply isn't true. If you love the drama and ambiance that bold colors can bring to your space but want to avoid a dark atmosphere, choose a bright countertop to offset a colored backsplash or cabinets.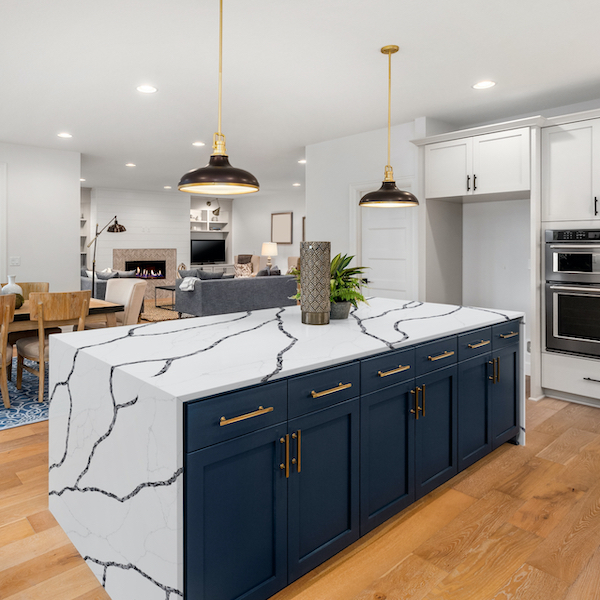 Calacatta Laza Night quartz is a great choice, thanks to a pure white background and chunky charcoal veining that adds tons of dynamic flair. If you want quartz that looks like marble, this design is next level, and it's absolutely striking paired with saturated tones of navy, teal, or cranberry. Of course, you can always pair colored lower cabinets with white uppers for an airy feel.
2. Create a Welcoming Waterfall
A waterfall island is a great way to add elegance to your kitchen remodel, especially when you choose a soothing design like Marbella White quartz.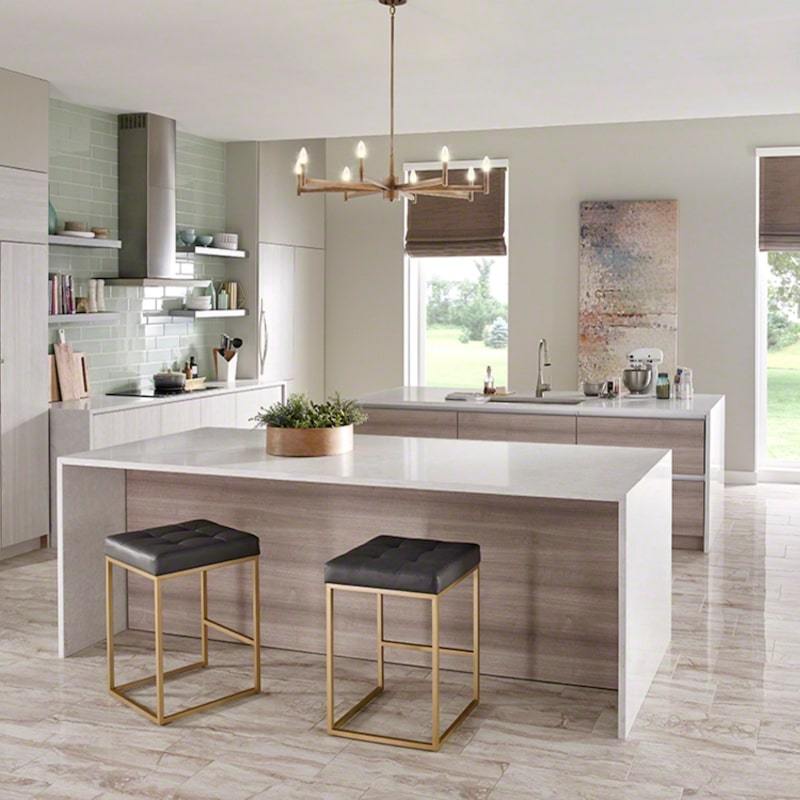 The soft white background is marked by pale wisps of tonal veining, creating a barely-there pattern that imbues your space with a feeling of serenity. It's the perfect pairing for pale wood cabinets if you want to create an inviting kitchen with simple but sophisticated Scandinavian design sensibilities.
3. Choose All-White Quartz to Lighten the Mood
The right countertop material can set the tone for your kitchen or bathroom, and if you want a bright, airy feel, Calacatta Ultra quartz is an excellent option. The pure white background with subtle veining in pale gray is the perfect counterpoint to darker materials.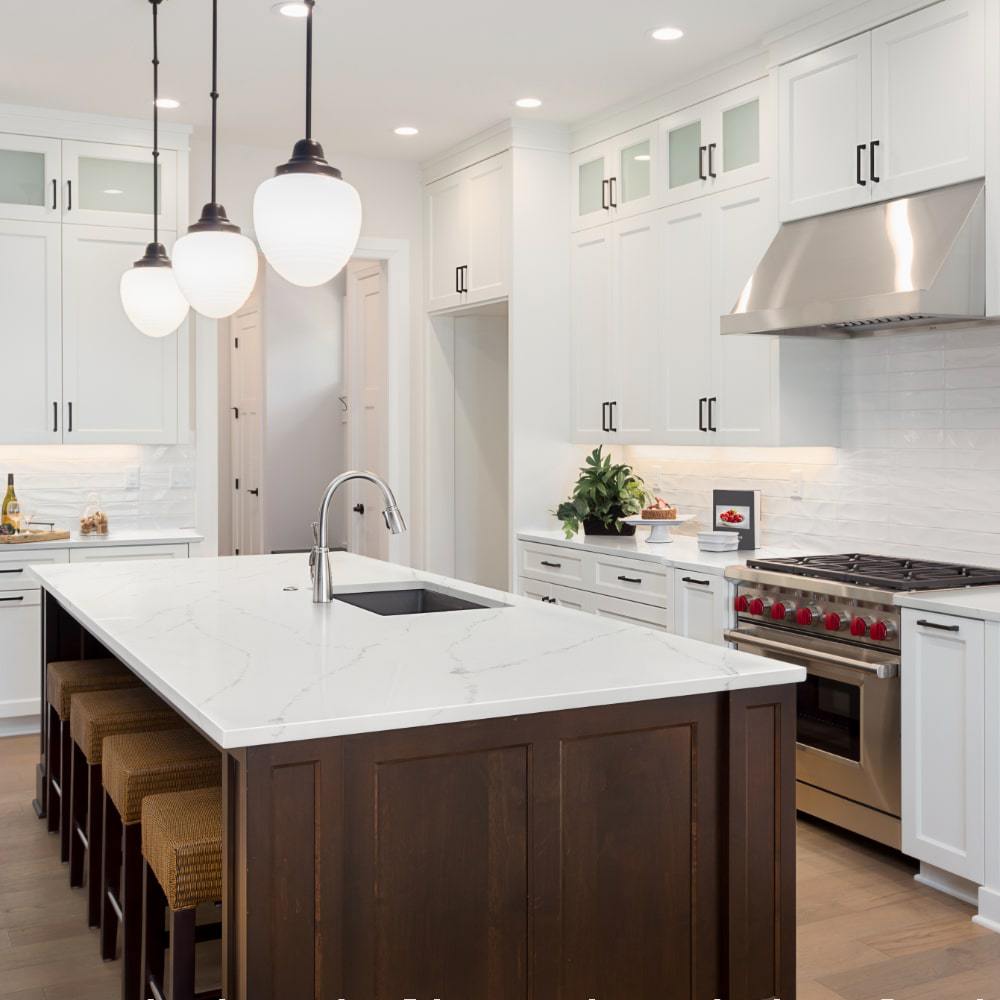 Added to black cabinetry and white backsplash tile, this subtle Calacatta quartz creates a timeless appeal. For a modern look, choose gray cabinets instead, or opt for dark wood like mahogany to soften the contrast and bring in some warmth.
4. Install Worry-Free, Marble-Look Quartz
Subtler than Calacatta Laza Night, Calacatta Laza quartz features a milky white background with prominent veining in pale gray and brown hues. This option allows you to enjoy both classic aesthetics and modern design.
While authentic white marble offers a pristine surface that glows with a soft, milky luminescence, it also requires regular maintenance to avoid harm like staining. You'll never have this problem with nonporous quartz, so you can get the look you love with endless practical appeal.
5. Match Your Backsplash And Countertop
Ropy, translucent, pale gray veining winds across the soft white Calacatta Verona quartz surface, adding the perfect dose of style to your kitchen upgrade. It's especially striking when you use it for both the countertop and the backsplash.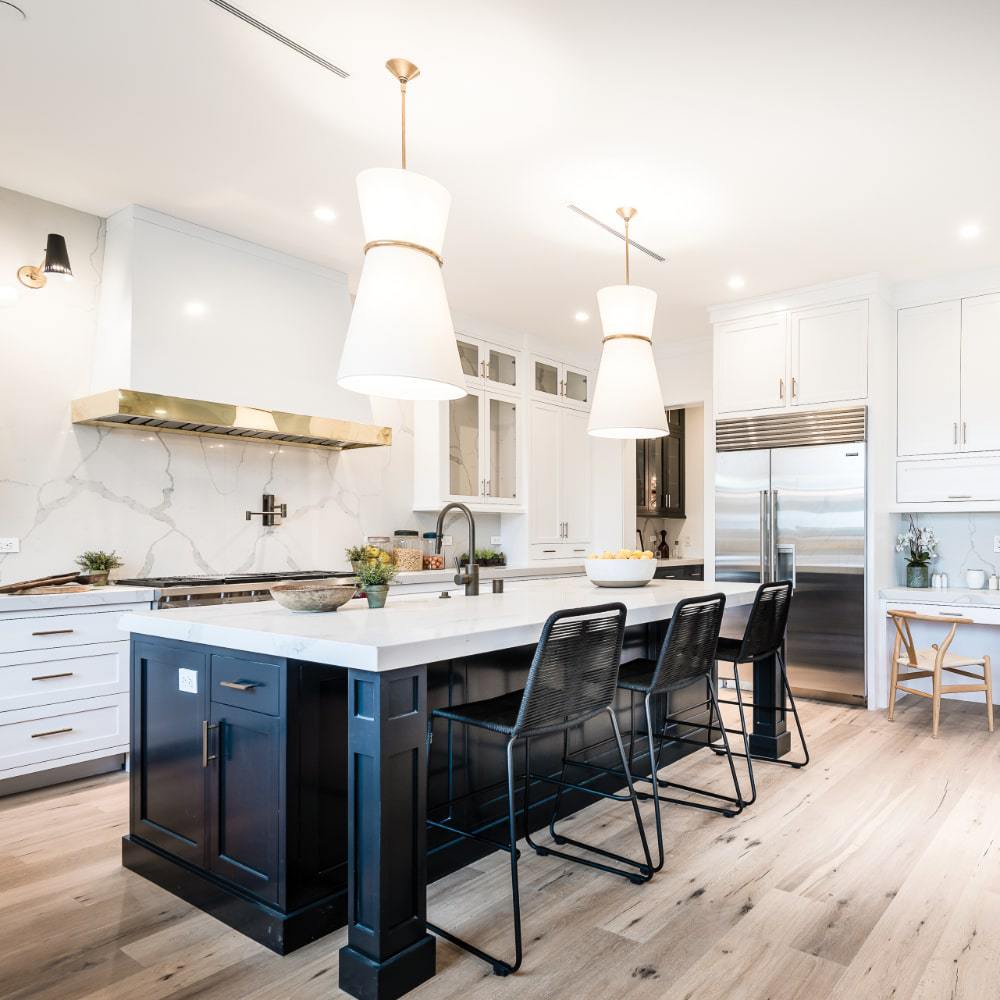 A bolder pattern could become an eyesore if used too expansively, while a low-variation design won't have much impact when extended to vertical space. For quartz countertop colors that offer just the right amount of visual interest without overwhelming your space, Calacatta Verona is the ideal choice for counter surfaces paired with a full-height backsplash.
6.Pick the Perfect Edge Profile
There are few white quartz countertops more stunning than pure Arctic White. Because it is a low-variation, unbroken expanse of white, you can do a lot to enhance it, including adding attractive edge profiles.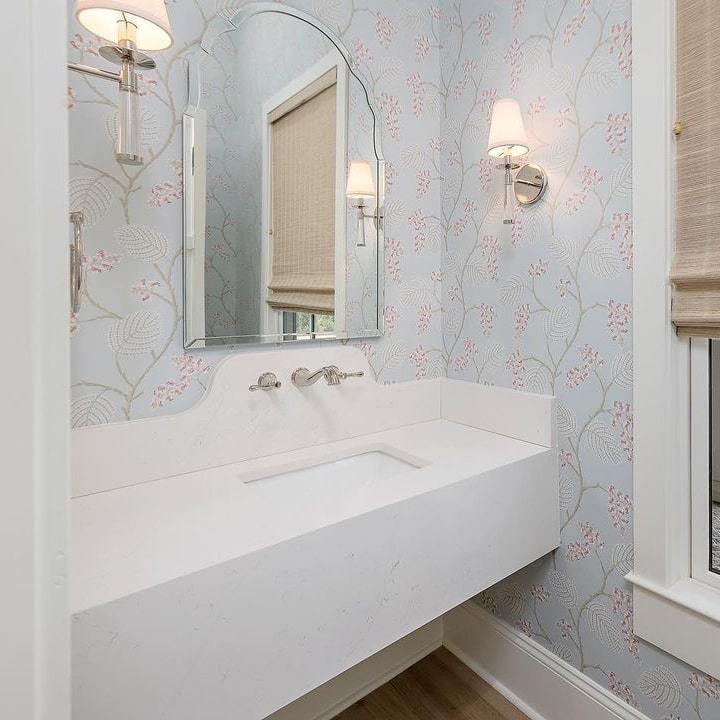 If you like a minimalist aesthetic, a simple eased edge or waterfall is likely your preference. However, you could add a bit of detailing with a bevel, bullnose, or even a classic ogee or triple pencil for incredible elegance and increased visual interest.
7. Mix Other Materials with Versatile Quartz
Marquina Midnight quartz is among the moodier quartz colors, making it the perfect choice for a masculine design or style sensibilities that prize high drama. But, of course, you don't necessarily have to pair it with other dark elements.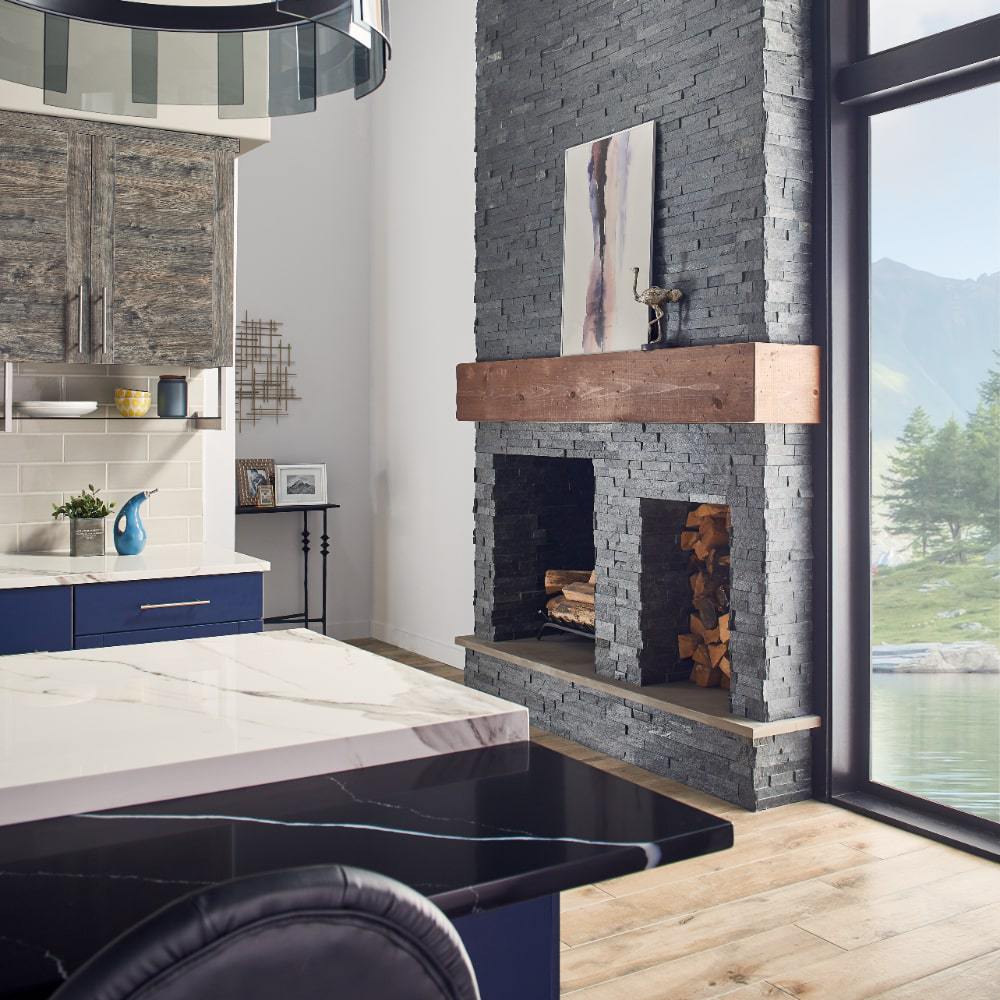 This versatile option beautifully offsets pale wood or white cabinets, delivering high contrast and eye-catching appeal. It can elevate colored cabinetry as well, particularly for homeowners embracing the maximalist trend.
8. Find Creative Uses for Quartz
Few quartz designs are more calming and attractive than Carrara Marmi quartz, which features a soft white background with delicate gray veining sketched across the surface. It complements nearly any color palette, allowing for a range of uses.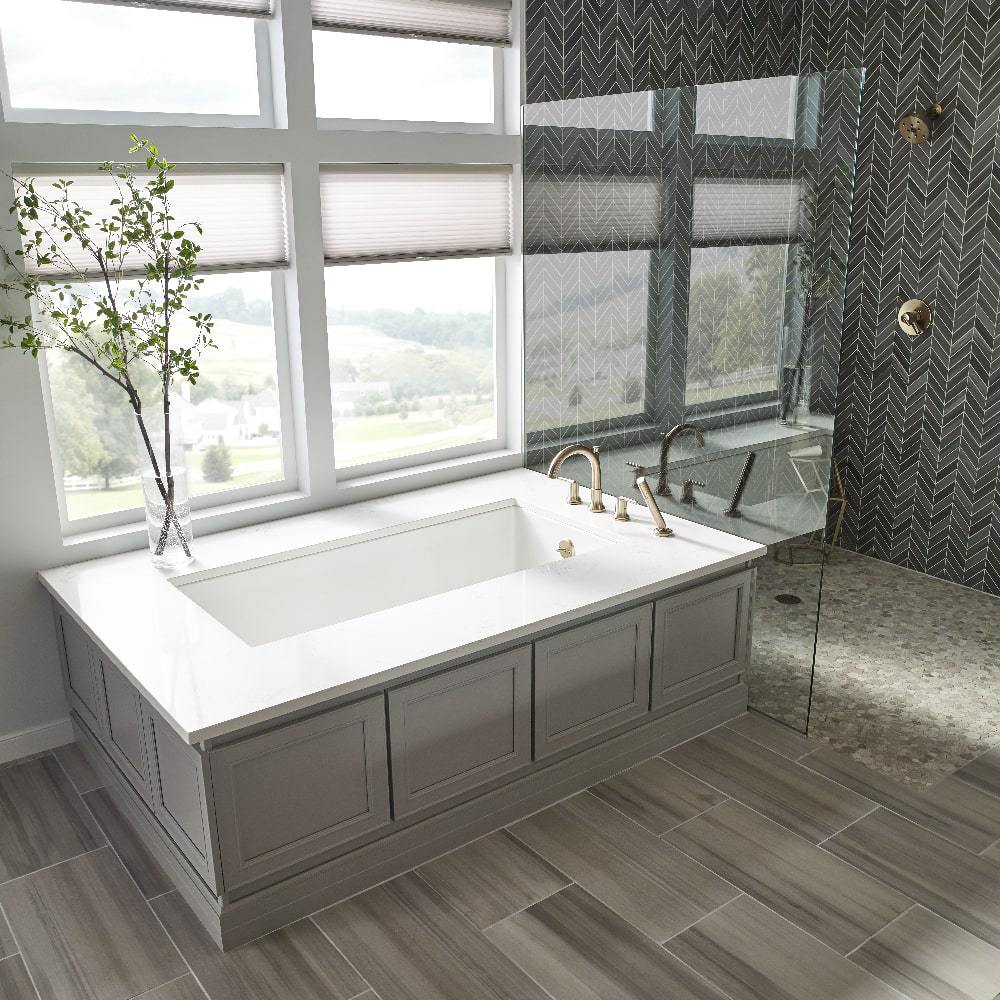 It's perfect for counters, backsplashes, shower enclosures, accent walls, and flooring. This versatility is why interior designers are so enamored with this particular quartz.
9. Explore Textured Quartz Countertops
You might expect a fiery disposition with a name like Urban Lava Concrete quartz, but this concrete-looking quartz brings drama not with color but with texture.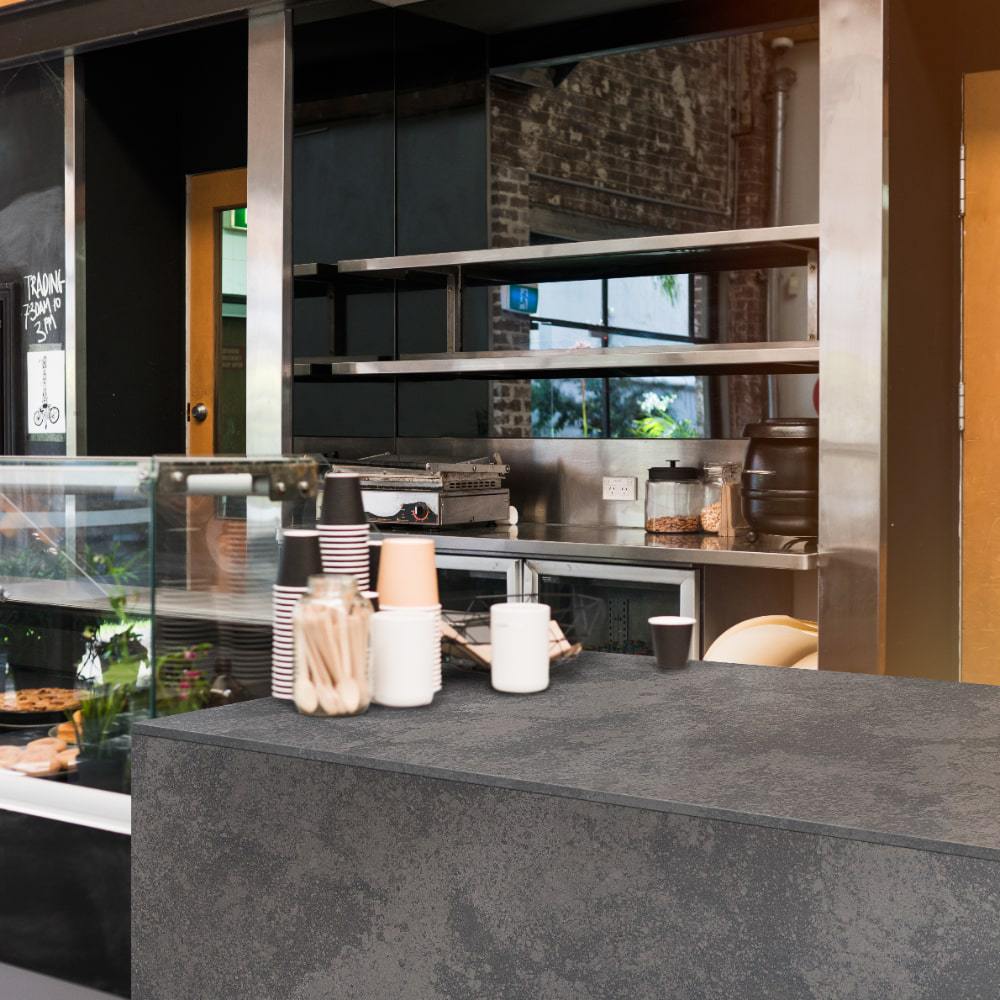 Shades of gray, ranging from mid-tone to graphite, undulate over the surface, creating an effect somewhere between concrete and basalt. Even with a polished finish, the visual texture is simply stunning, especially when paired with rich wooden cabinets and flooring.
10.Combine Different Quartz Styles and Colors
Modern kitchens laugh in the face of traditional designs like counters or cabinets that are all the same. But, just as you can combine light and dark upper and lower cabinets or choose a color for the island while keeping the perimeter cabinetry neutral, you can mix and match your counter surfaces.
Calacatta Arno quartz, with a warm white background and delicate gray veins featuring gold accents, is lovely with darker slabs. For an iconic kitchen design, consider a waterfall island in Calacatta Arno with perimeter counters in Marquina Midnight.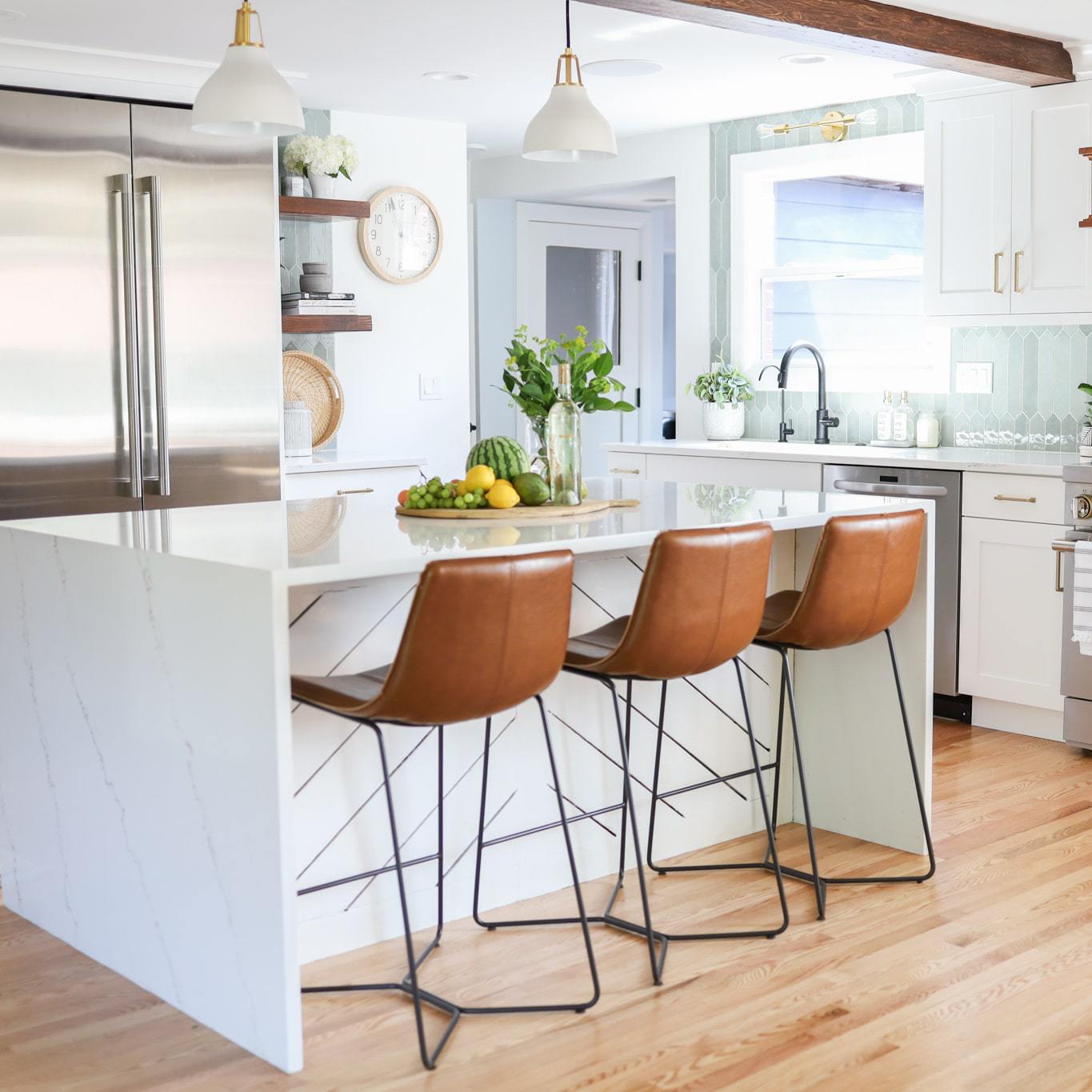 MSI quartz is a natural choice for modern homeowners seeking convenience paired with sophisticated style. If you need help choosing the best countertop for your home upgrade, call or contact us via live chat or find an authorized dealer near you.
Learn More About Quartz Countertops
Get Inspired With 10 Quartz Countertop Ideas
7 Kitchens With Glamorous Cabinetry & Quartz Countertop Pairings
6 Stunning New Quartz Countertop Colors To Satisfy Any Space
MSI's Top 10 Lumaluxe Quartz Countertop Colors
5 Beautiful Bathrooms With Quartz Countertops
The Do's And Don'ts Of Quartz Countertop Care
Learn More About Quartz Countertops
Quartz Countertops That Mimic Natural Stone: Granite, Limestone, And Marble Looks
Are Quartz And Quartzite The Same?
5 New Q™ Natural Quartz Colors Featuring A Mix Of Bold And Soft Veining