How Does Luxury Vinyl Flooring Differ From Standard Vinyl?
July 08, 2019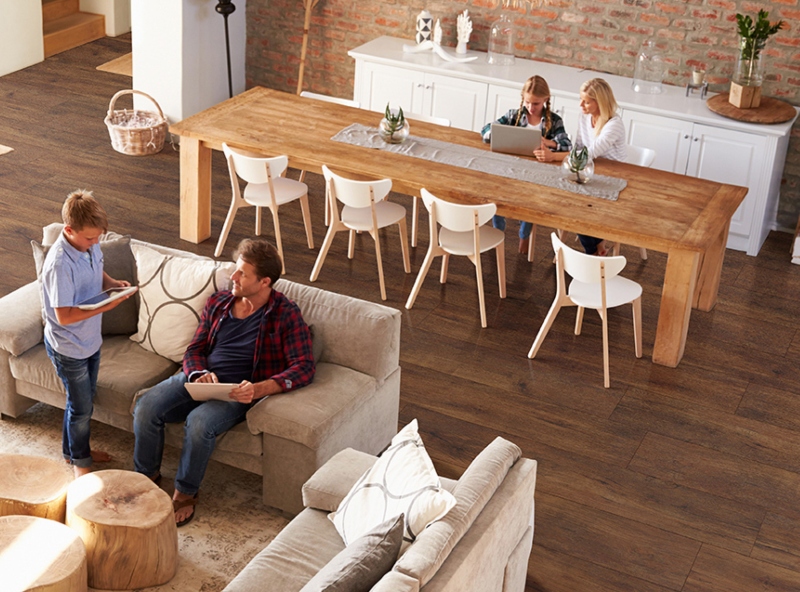 Vinyl may be thought of as a newer invention, but, surprisingly, it has been around for well over a century. However, it was not until the 1930s that it was utilized as flooring. It had to be reintroduced after WWII because of its unavailability during the war, and soon after standard sheet vinyl became a major competitor to other types of flooring like carpet. While some may think all vinyl is the same, luxury vinyl tile (LVT) offers some major differences. It has a decades-long history with the first vinyl plank flooring being introduced back in the 1970s. It was a durable and affordable alternative to real hardwood, but it does not compare with the realism LVT provides today. While both kinds of vinyl are selected for their easy installation and simple maintenance, there is one type that stands tall above the rest.
Vinyl Defined
Luxury vinyl tile, like its name suggests, is on the high-end of the vinyl spectrum, but it is a more affordable option to natural stone and wood flooring. The lifelike tile flooring features a photograph of the natural material that is transferred onto the tile with the help of advanced technology using 3-D imaging. Design options range from travertine to marble stone styles and oak to pine wood-look planks. Not only does this high-tech process provide realism, but it also allows for more consistent patterns than natural stone or hardwood. LVT is not a flat surface because it features texture thanks to unique embossing. It includes several durable layers, comes in various shapes and sizes, and can be laid with or without grout for the most realistic result. Common types include both easy interlocking and glue-down products.
Sheet vinyl is known for being a bargain flooring option and is comprised of a single vinyl sheet that comes in 6-foot or 12-foot rolls. The most common type features a felt backing for added strength and comfort. But, if a room is wider than the roll, then another sheet is installed, which means seams will be visible where the two or more sheets connect. While it does come in wood designs, stone looks, geometric patterns, and checkerboard styles, the ones with grout lines do not look very realistic. And, it does not include the same imaging technology LVT does.
Vinyl Composition
Whether you choose luxury vinyl flooring or standard vinyl, know that both feature the same four-layer construction. However, what makes them different is the thickness of the layers. The top layer is one of the most important layers since it helps prevent scratches and scuffs, and this wear layer consists of a polyurethane coating that can be reinforced with aluminum oxide, ceramic, or silica. The second layer consists of a clear film that protects the material against rips and tears. The third layer features the photo-print design of the stone or wood it is imitating. Finally, the bottom layer is the backing that gives the vinyl its structure and solidity, and it accounts for 90 percent of the material's thickness.
Recreate this look with MSI's Ludlow (Photo Credit: Houzz)
Luxury vinyl flooring comes in planks that are typically 48 inches by 4.5 inches or tile that is typically 16 inches by 16 inches. Its thickness can range from 5 mm up to 10 mm or even 20 mm for higher-end products. Sheet vinyl is typically 1.5 mm, which is remarkably thinner.
Vinyl Installation Methods
There are different ways to install luxury vinyl and sheet vinyl based on its type, and many are simple enough for any DIY-er. LVT that locks in place is plank flooring that incorporates an easy-install locking system, lays over the subfloor, and can be installed within a few hours. LVT dry back products are a more flexible product that require being glued down.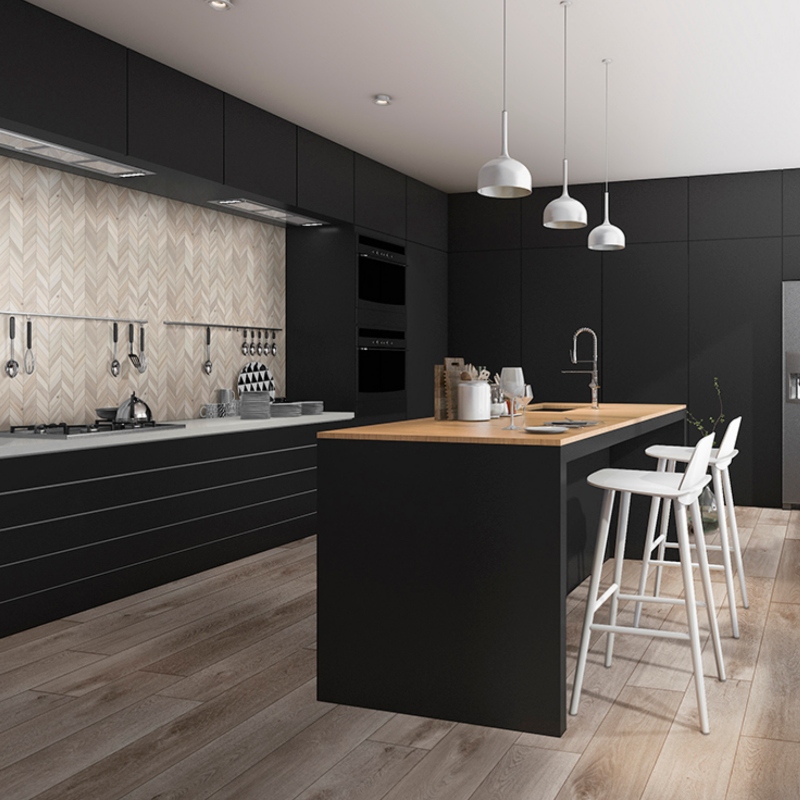 Create a similar look with MSI Whitfield Gray (Photo Credit: Houzz)
A felt-backed sheet vinyl is the most common one since it includes an extra felt layer for comfort and strength. The way to install it is to use an adhesive. Modified loose-lay sheet vinyl features a fiberglass backing for improved strength. While it may require less floor prep because it floats, it does require double-sided tape, especially around seams and under heavy items like appliances. Vinyl-backed sheet flooring is the least common type and is glued down along the edges only.
Vinyl Durability and Care
One of the biggest benefits to vinyl is its ability to warm up a space like real wood can but with low maintenance and without the expensive price tag. Since both vinyl plank flooring and vinyl sheet flooring feature a hard wear layer for moisture resistance, it can be installed anywhere in the home or commercial space, including wet areas.
Giving the floors a good sweep or run with the vacuum will help keep them immaculate. If you still need additional cleaning power, then mop up the floors with some warm water and dish soap, rinse with clean water, and let it dry. Stains from things like food can be wiped up using a baking soda paste. Just make sure to use a non-abrasive sponge or soft-bristled broom when cleaning to help avoid scratching the floor.
Vinyl Pricing
LVT has a much wider range for pricing and can be as affordable as $2 per square foot and reach up to $10 per square foot for high-end products. Pricing for regular vinyl is on the low end from 50 cents to $1 per square foot. However, keep in mind that the underlayment is optional with luxury vinyl flooring, so that is another cost to factor in when choosing the standard option. Vinyl is becoming an increasingly popular flooring choice for homeowners and business owners alike. Luxury vinyl tile is a more modern tile or plank choice compared to sheet vinyl thanks to its innovative technology process. While their construction is essentially the same, it is the thickness and quality of layers as well as realistic imaging that sets them apart. While you have many design styles to choose from, you must also consider which product fits within your budget and suits your lifestyle needs.
More Information on LVT Flooring
Does Luxury Vinyl Flooring Go Well with a Granite Countertop?
What Most People Don't Realize About Luxury Vinyl Flooring
How to Clean Your Luxury Vinyl Flooring to Keep It Looking New
Is Luxury Vinyl Flooring in the Bathroom a Good Idea?
Considering Installing Luxury Vinyl Flooring? Read This First!
Wood Look Game Changers: Introducing Everlife Luxury Vinyl Flooring