Waterproof And Pet-Friendly New Luxury Vinyl Flooring
September 09, 2022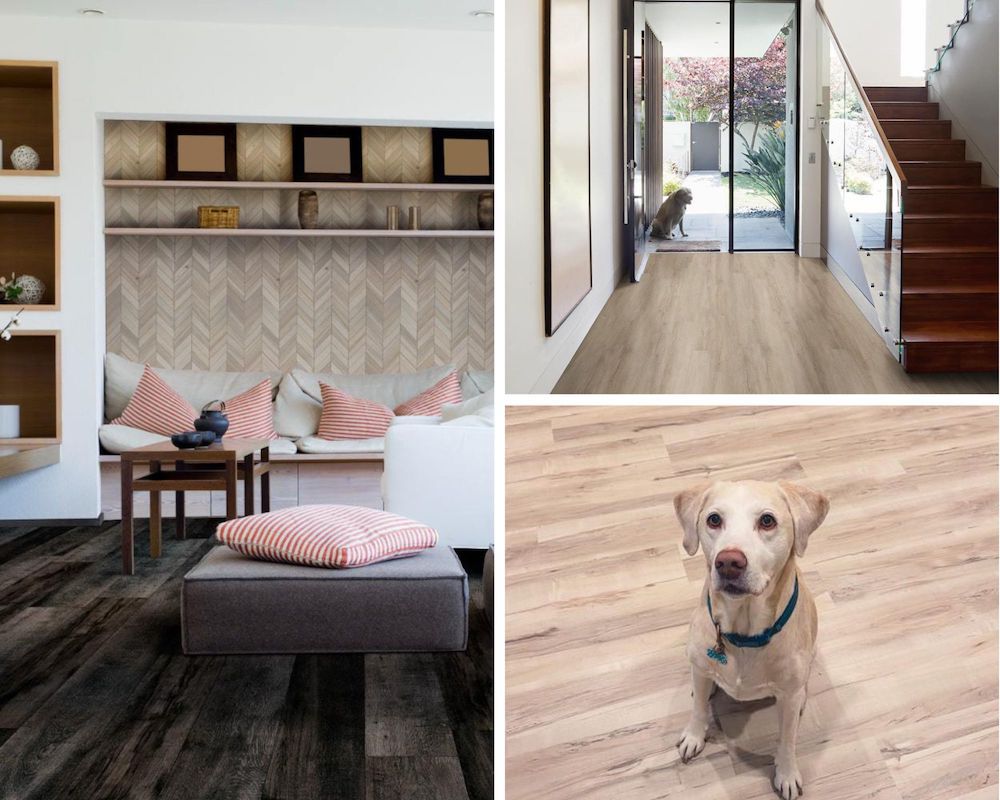 Keeping a home clean and tidy is always a chore. But for a family with young children and pets, it can seem nearly impossible. You're always wiping up spills, drips, splashes, pet accidents, just to name a few. We're here to make your job easier, though, with MSI's new luxury vinyl flooring. As a result, you won't have to compromise on your home's stylish good looks!
Our luxury vinyl flooring is engineered using state-of-the-art technology to authentically replicate the look of many popular flooring options, such as natural stone and beautiful hardwood planks. Although we love the real thing, it requires work to maintain its beauty. Natural stone needs regular sealing, and real hardwood shows every scuff and scratch. Plus, there are places in the home where this type of flooring is impractical, such as kitchens, bathrooms, laundry rooms, mud rooms, entryways, and so on. With MSI's proprietary CrystaLux wear layer, luxury vinyl flooring allows you to have a look you love anywhere in your home.
If you have pets in the home, you'll love Everlife luxury vinyl flooring – it's one of the most pet-friendly flooring options available. Anyone with pets knows that although they're wonderful companions and lots of fun, life with our furry friends can get a bit messy sometimes. No worries about spilled water bowls or muddy paws with our vinyl tiles! Watch this short video to find out more about why pet owners are falling in love with MSI's luxury vinyl flooring:
Read on to discover a few of our popular luxury vinyl flooring colors and learn more about why interior designers and homeowners love this practical, on-trend flooring option.
FAUNA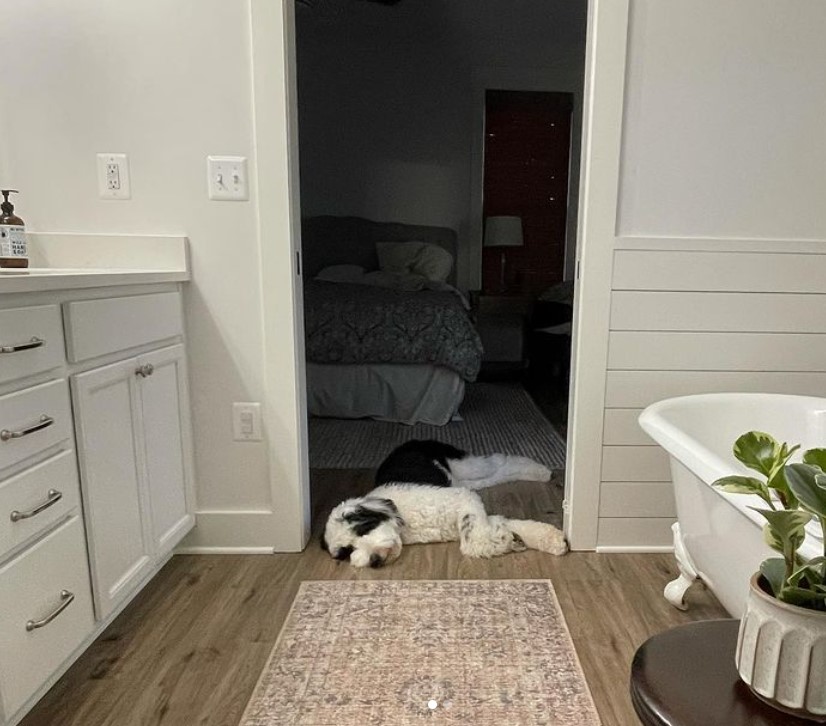 Photo Credit: @ecn107 on Instagram
The CrystaLux wear layer does more than protect the design underneath. It is often textured to give the wood or natural stone-look tile a more realistic look and enhance its slip resistance – a welcome feature in rooms that are likely to become wet, like bathrooms. In addition, MSI offers a range of premium surfaces to suit your budget and preferences; the thicker the wear layer, the longer your LVT will last.
Fauna luxury vinyl planks from the Cyrus collection have a durable 12-mil wear layer. This faux wood flooring is a medium brown with realistic-looking graining and knots. Don't forget to order matching trim pieces, such as end caps, T-molding, and quarter-round, which create a long-lasting, professional installation.
AKADIA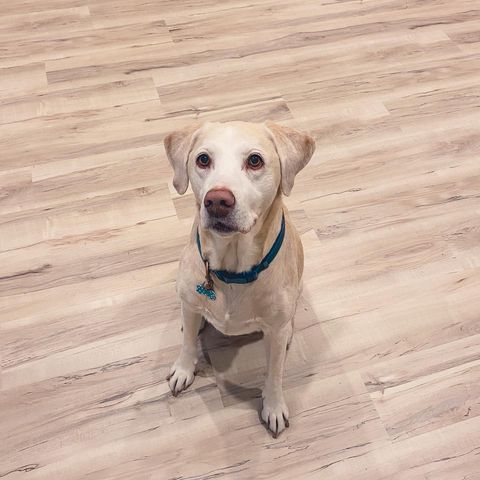 Photo Credit: @casa_de_sass on Inbstagram
Here's one more feature of our Everlife LVP that makes it pet- and family-friendly: It's Greenguard and FloorScore Certified. You can breathe easier knowing that MSI's flooring meets all standards for indoor air quality, having been tested against emissions of volatile organic compounds (VOCs) and other harmful chemicals. And since it's so easy to keep luxury vinyl flooring clean and hygienic, you won't need to use harsh chemicals that may affect your family's health and impact the environment.
Also from the Cyrus collection, Akadia has a bold wood-grain pattern and light-brown shading that resembles pine. Not only is it environmentally friendly, but it's also super-easy to install with its click-lock system. So if you enjoy do-it-yourself projects, you may be able to install this flooring in a weekend.
DAKWORTH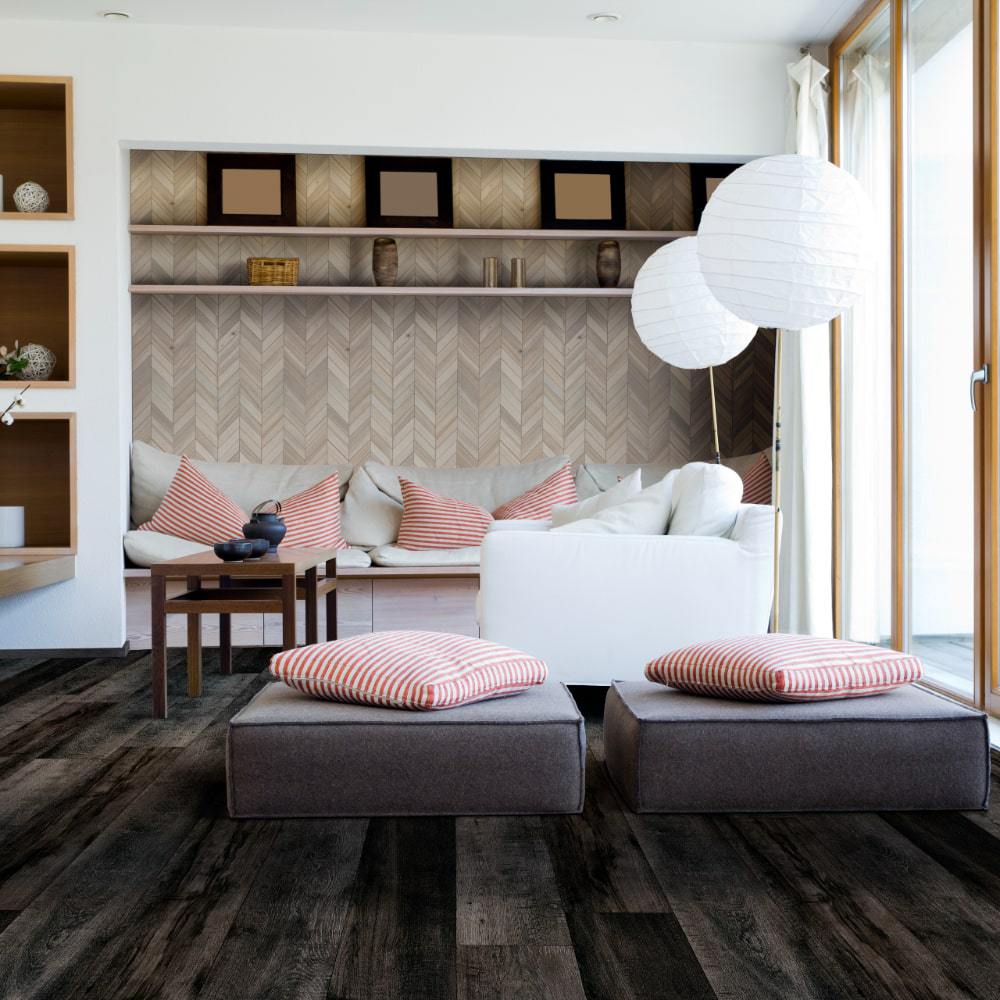 MSI's patented CrystaLux Wearlayer technology is the secret to our vinyl flooring's durability and easy care. It's built permanently into every Everlife luxury vinyl flooring product and provides industry-leading protection against scratches, scuffs, stains, and damage from sunlight, even in high-traffic areas. And despite this tough, durable wear layer, the beauty imprinted onto the tile will show through for the lifetime of your flooring.
Dakworth features a tough 20-mil wear layer and is considered commercial-grade, so you know it'll easily stand up to your family's everyday wear and tear. This dark, charcoal-gray LVP has subtle wood graining and knots and deluxe beveled edges that add dimension to its realistic wood look. In addition, it comes with a pre-attached backing that absorbs sound and contributes to a feeling of warmth underfoot.
SANDINO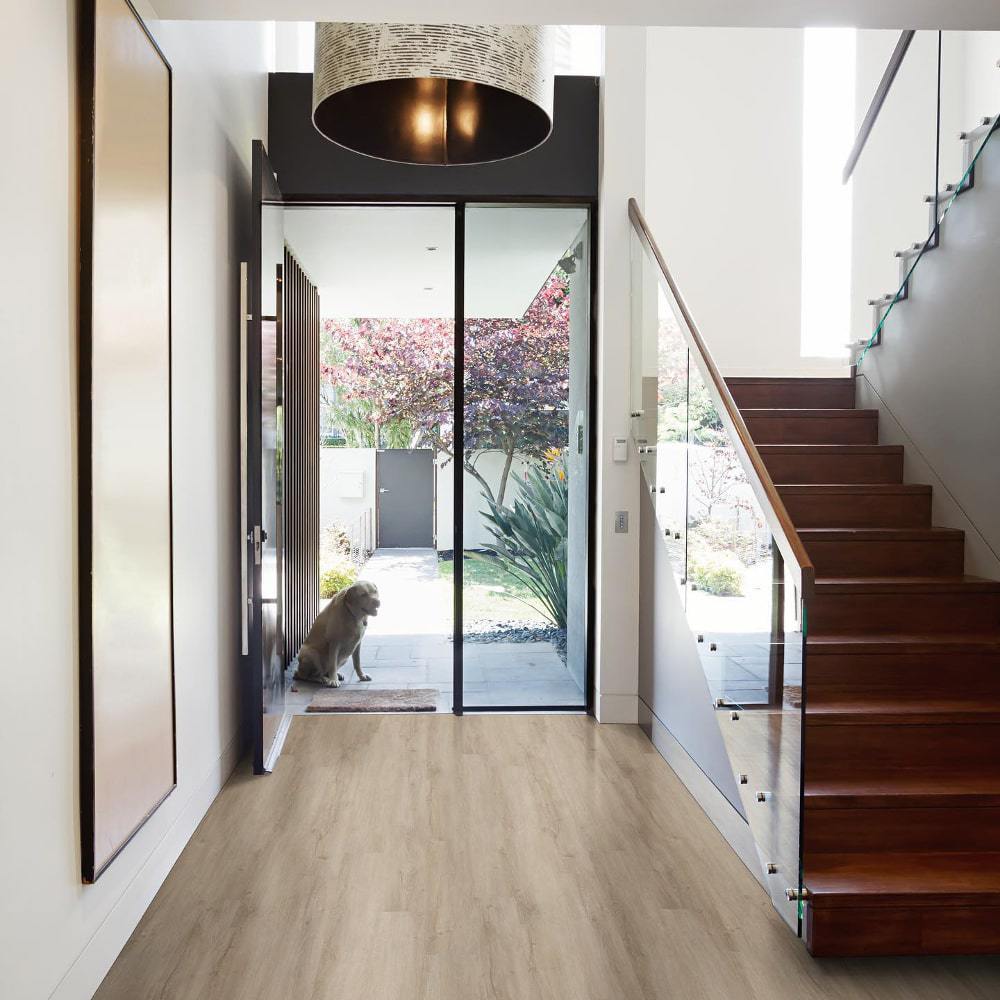 Photo Credit: @homeimpmarketing on Instagram
No matter which type of luxury vinyl flooring you choose, our CrystaLux wear layer means it's 100% waterproof. That means you can install it confidently in every room of the house. You can stop worrying about the kids splashing water out of the bathtub or the washer overflowing in the laundry room. These luxury vinyl flooring benefits make it perfect for active families who come in out of the rain in muddy boots and for messy cooks in the kitchen.
With its nut-brown shading and subtle wood grain, Sandino LVP is a natural choice for any décor, from contemporary to traditional.
GRAYTON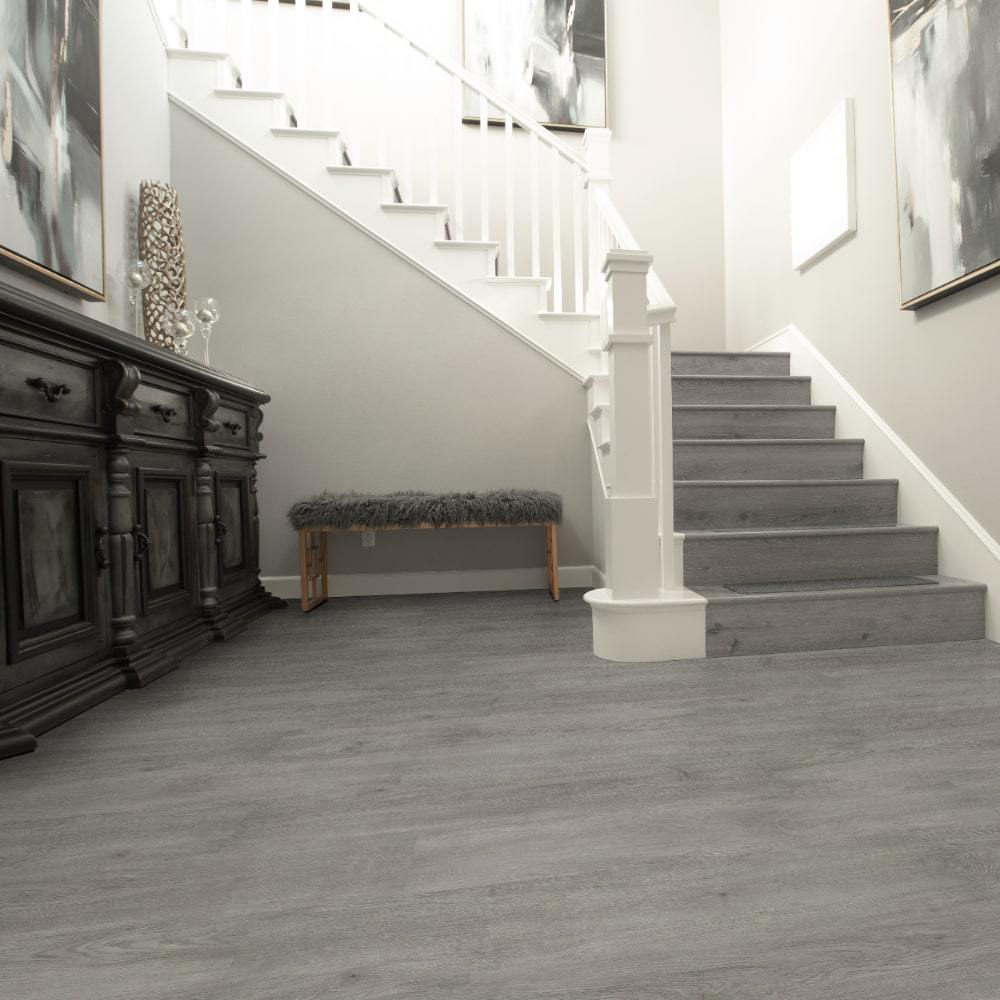 When we say our LVP is pet-friendly and waterproof, that means vinyl flooring care and maintenance are super-easy. You'll never need to use floor polish, wax, or any other sealer to keep your flooring looking as good as the day it was installed. Instead, use a moist cloth or mop with a neutral pH cleanser. For everyday care, use a broom, dust mop, or vacuum.
Grayton LVP is available in both 7" x 48" and 9" x 60" sizes–the larger format makes it an excellent choice for filling big spaces like entry halls. Matching stair nose trim pieces are available, and you'll love how easy it is to trim our water-resistant vinyl flooring to fit your space.
We'd love the opportunity to answer any of your questions about our luxury vinyl flooring–whether it's helping you choose a product, install it, or care for it afterward. So feel free to give us a call or stop by a showroom near you, and one of our knowledgeable staff members will be happy to assist you.
Discover More About Waterproof Flooring From MSI
What Is The Best Luxury Vinyl Flooring For Bathrooms?
Check Out These 7 Instagram Worthy Rooms Featuring Waterproof Flooring from MSI
Get The Look And Warmth Of Wood With Waterproof Flooring
MSI Luxury Vinyl Flooring Product Overview
Whitewash Vinyl Flooring Planks From MSI