Whitewash Vinyl Flooring Planks From MSI
September 06, 2022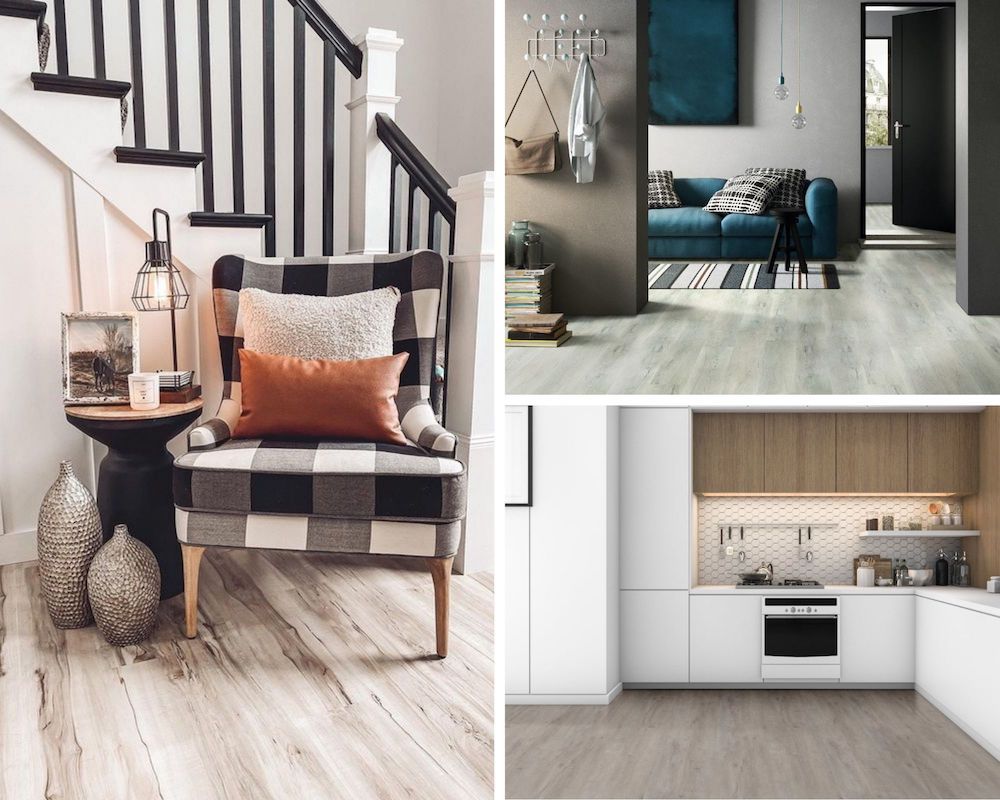 Flooring may only be one part of any interior design, but it's crucial. Not only does flooring cover a significant surface area of the home, but it also acts as the base for every room upon which your living spaces are built. When you choose luxury vinyl planks, you have the opportunity to elevate both function and ambiance.
A significant improvement over the sheet vinyl of old, vinyl flooring planks offer tough, rigid construction and dozens of aesthetically pleasing, wood-look designs, including trendy whitewash.
Vibrant stains may provide a traditional look that hearkens to a different decade (or century), but if you're looking for modern minimalism, these styles hardly fit the bill. Instead, whitewash flooring delivers the sleek, trendy appeal you prefer, with pale washes that keep your home bright and breezy from the ground up.
So, what exactly is this whitewash flooring trend, and how can you incorporate it in your home with MSI vinyl waterproof flooring?
What Is the Whitewash Trend in Flooring?
Whitewashing is a West Coast trend that speaks to the laid-back, beachy vibes of coastal living. But, unlike many design trends, it never goes out of style. Whitewash flooring, in particular, has recently become a popular choice for interior design, rivaling luxury vinyl flooring trends and infiltrating a range of other styles.
Perhaps it's because this look helps to visually soften the physical rigidity of wood flooring surfaces, creating a more relaxing vibe. In a way, it's the best of both worlds, pairing the practicality of hard flooring with the subtlety and softness of a whitewash to elevate comfort and luxury.
How to Incorporate Whitewash Vinyl Flooring into Your Design
Suppose the benefits of luxury vinyl planks have already put this durable material on your list of appealing flooring options. In that case, the next step is determining how best to incorporate the whitewash look within your existing design or your planned renovations. This style can work with casual and upscale interior designs, depending on how you pair it.
A flooring visualizer tool is one of the best ways to get an idea of how it will look with other elements. Seeing your design plan in 3-dimensional spaces with countertops, backsplash tile, and other design elements can help you understand what you like.
If you're unsure what you're going for, there are a couple of options regarding whitewashed wood looks.
Chill, Coastal Vibes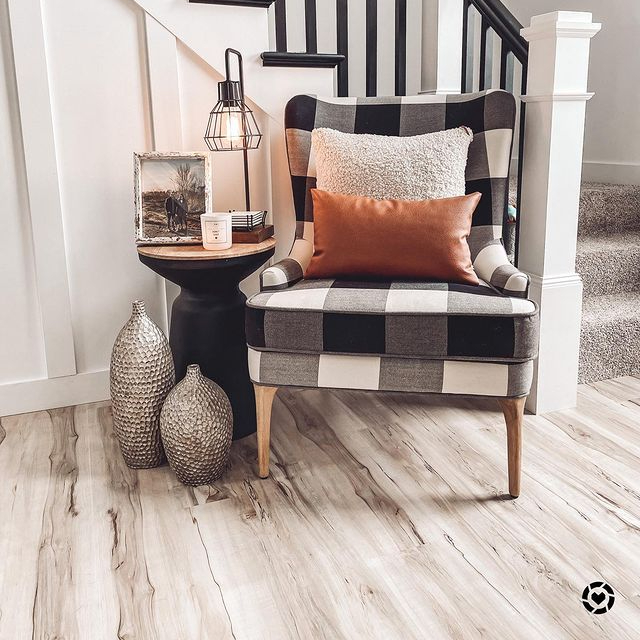 Photo Credit: @lifestyledbyash on Instagram
A hallmark of the California style, whitewash flooring imbues your home with driftwood's soft, weathered ambiance.
If you love the charm and comfort of natural elements, particularly with a sun-bleached look, Akadia luxury vinyl planks deliver the Cali vibe you seek. Soft and relaxed, the beige tones, wispy veining, and variable pattern create a tranquil space where worries melt away.
Farmhouse Chic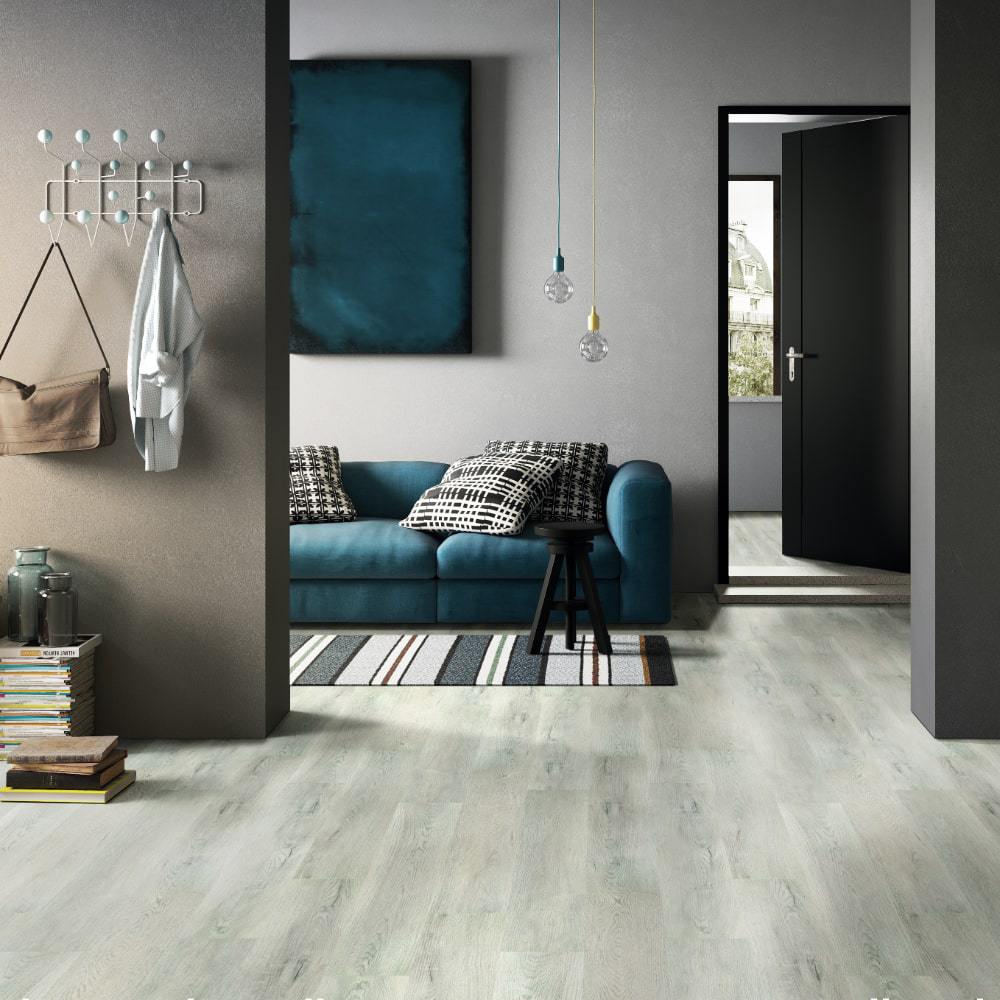 The rough, rustic nostalgia of the farmhouse style has become incredibly popular in homes across the nation, and the right flooring helps to set the mood.
Kardigan luxury vinyl planks feature the cool, light grays and even slightly blue hues of weathered barn wood, with creamy highlights and defined grain patterns that take visual interest up a notch. For a reclaimed look with modern appeal, this design offers farmhouse chic in spades.
Upscale Contemporary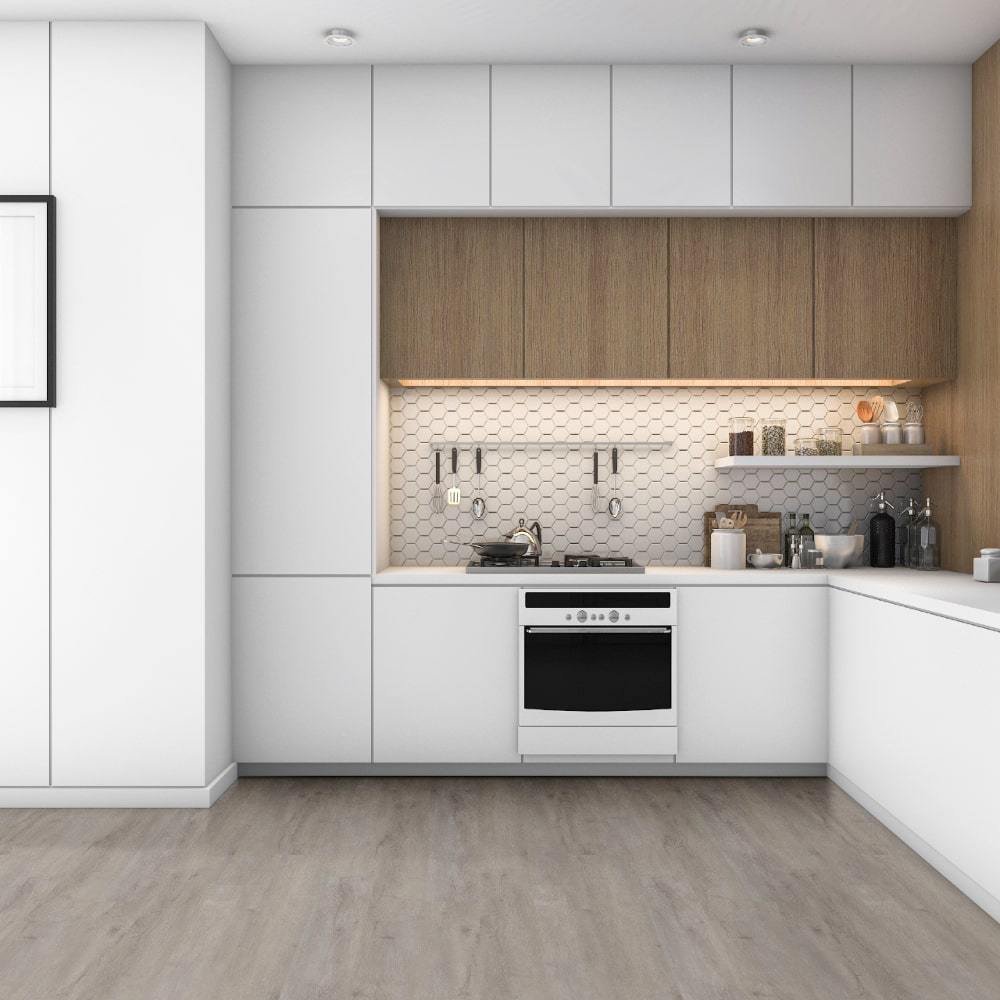 Greiges are the "it" neutral of the 2020s, thanks to easy versatility that pairs with cool and warm palettes. Ashton York Gray luxury vinyl planks are ideally suited to upscale contemporary designs, with pale grays and soft beiges that deliver the perfect marriage of warm and cool neutrals.
This whitewash look delivers subtle charm and refinement with a delicate dusting of grain and a matte look that's both casual and classy. Both the color and design are adept at hiding the dust and scuffs of daily living, especially in high-traffic areas.
Why Choose Luxury Vinyl Planks?
It's impossible to overstate the benefits of Luxury Vinyl Flooring. While hardwood is warm, inviting, and associated with luxury, it's susceptible to damage from moisture and humidity. Luxury vinyl planks will never warp or rot.
Other types of flooring, like natural stone, are also resilient and eye-catching, but stone requires regular maintenance like resealing, while modern vinyl is easy to clean and resistant to wear.
What other benefits will you enjoy when you choose luxury vinyl planks?
Strong and Durable
This environmentally friendly material has a rigid core and robust wear layer that offers the same strength and durability as other hard flooring types. But, perhaps more important for busy households is that it's 100% waterproof, which means it holds up to kids, pets, and even mishaps like leaks or flooding.
Not only is luxury vinyl flooring water resistant, but it's also worry-proof. Unlike the flimsy vinyl of old, it's resistant to common forms of damage like scratching, staining, and denting, so you can feel confident installing it even in homes with a lot of activity.
Easy to Install
A patented, industry-certified locking system offers easy installation, with planks that quickly click together to make laying new flooring a breeze.
This cuts down on labor costs over installing hardwood or other traditional flooring materials and gets you out of the renovation zone and back into your newly remodeled home faster.
Designs to Suit Every Household and Homeowner
Whether you prefer a refined, traditional ambiance, the rustic appeal of weathered wood, or sleek, contemporary design, you'll find the premium surfaces that are just right for your home and personal style with MSI luxury vinyl planks.
Designs include 50 trending colorways in warm and cool palettes, including a handful of whitewash looks that will complement any home or interior style.
Accessible, Affordable, and Authentic Wood-Look Flooring
You might think luxury flooring is out of your price range, but with authentic, wood-look vinyl planks, you can get the aesthetic you love for less. With millions of square feet in stock and industry-leading warranties, MSI delivers accessible luxury at affordable pricing.
If you want to learn more about luxury vinyl tile and plank flooring benefits, use the MSI chat feature to speak with a knowledgeable professional or find a dealer location near you.
Discover More About Waterproof Flooring From MSI
What Is The Best Luxury Vinyl Flooring For Bathrooms?
Check Out These 7 Instagram Worthy Rooms Featuring Waterproof Flooring from MSI
Get The Look And Warmth Of Wood With Waterproof Flooring
MSI Luxury Vinyl Flooring Product Overview
Waterproof And Pet-Friendly New Luxury Vinyl Flooring