Popular
Tile 101: Installing Large Format Tile
February 14, 2015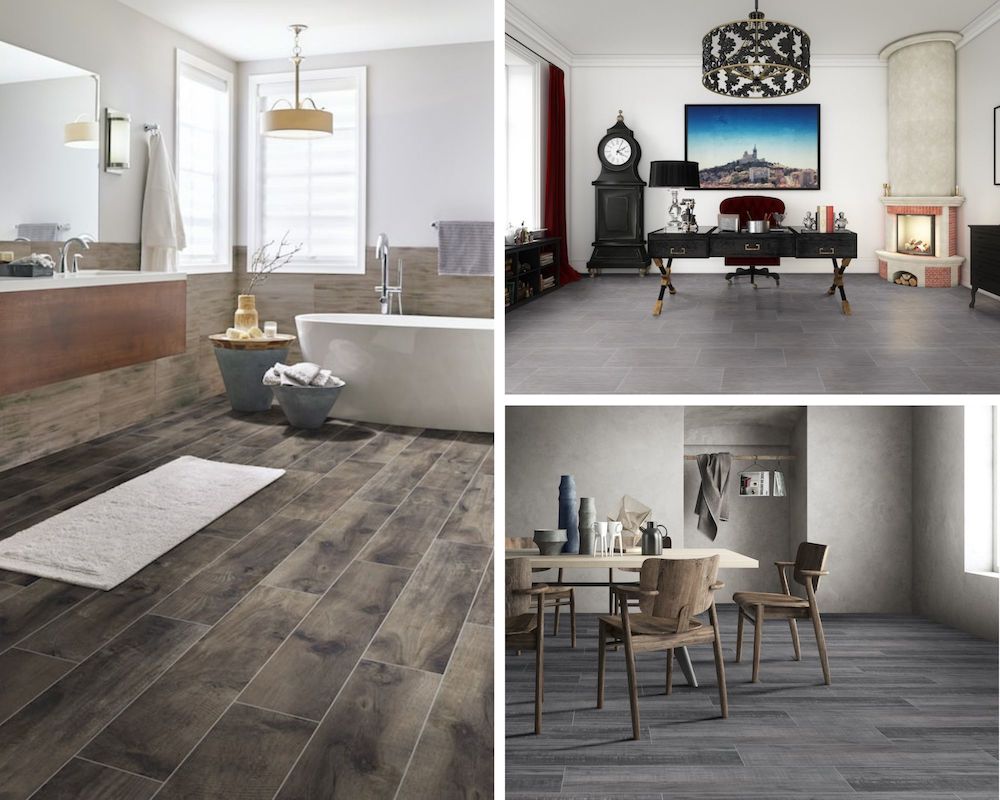 Are you considering using large format tiles in a home or commercial property? In this Tile 101 article, we will cover the benefits, the beauty, and highlight the best practices for successful installation.
Large format tiles come in a wide range of colors and designs, making them suitable for a variety of design aesthetics. Large format tile is considered to be square or rectangular tiles larger than 12x12, including popular wood look porcelain planks in sizes like 6x24 and 6x36. They are durable, and because of their size, fewer are needed per space, meaning fewer grout lines making cleanup and maintenance a breeze. For flooring, accent walls, shower and tub surrounds, countertops, backsplashes, and kitchen islands, large format tiles can help visually expand your space, and create a cohesive feel.
While large format tiles are appealing because they are durable, easy to clean, and come in a wide array of colors and designs, it is important to address installation as these tiles require special handling to insure a professional finish.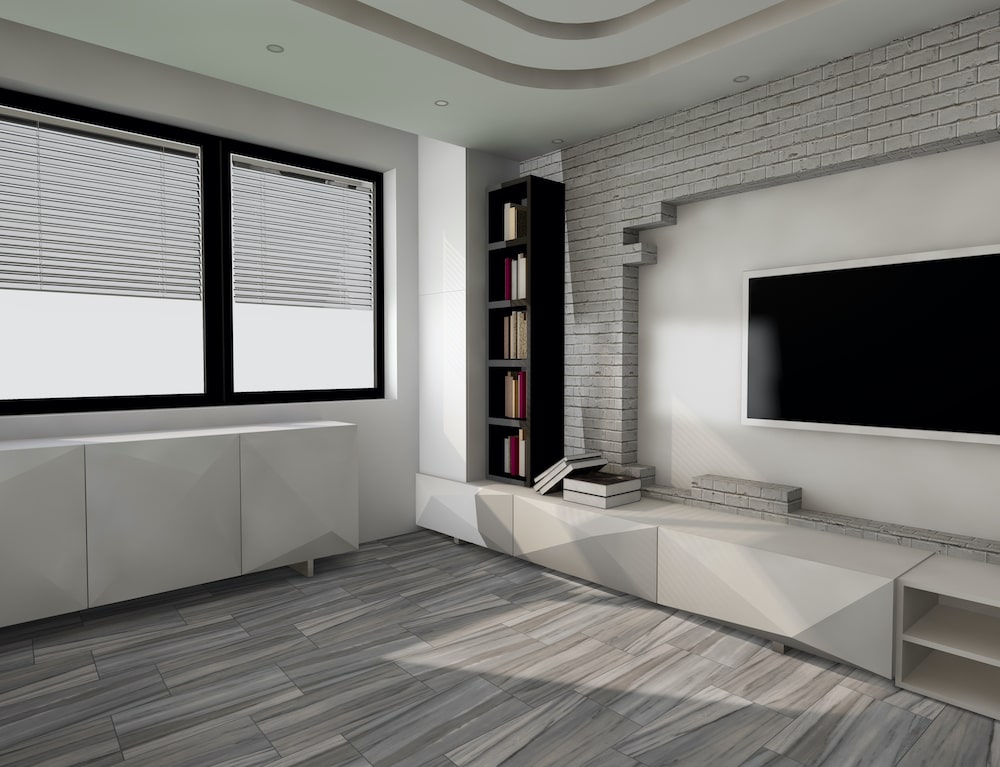 Asturia Cielo Porcelain Tile
Large Format Tiles Must Be Supported Properly
Obviously, large format tiles are heavier than smaller tiles. However, what many people fail to realize is that even though the overall weight of the floor remains the same, heavier tiles require a stronger substrate. In addition, with smaller tiles installers may be able to disguise floors that are less than level, but with larger format tiles, that becomes a challenge. A high point in the floor can cause the tile to slope, creating a tripping hazard, as well as being visually disruptive. It is recommended that the variation for 10 feet of horizontal and vertical installation not exceed 1/8 of an inch. When installing large format tiles on a vertical surface, it is important to support the tiles as the mortar sets to ensure gravity doesn't pull them out of place.
Level Floors & Plumb Walls
For proper installation, floors and other horizontal surfaces need to be level and vertical surfaces must be plumb. Height and depth variations will be noticeable. For floors that are not level, consider using a self-leveling underlayment. As mentioned above, it is important to keep the variation less than 1/8 of an inch. For walls that are not plumb, the walls may need adjustment prior to installation.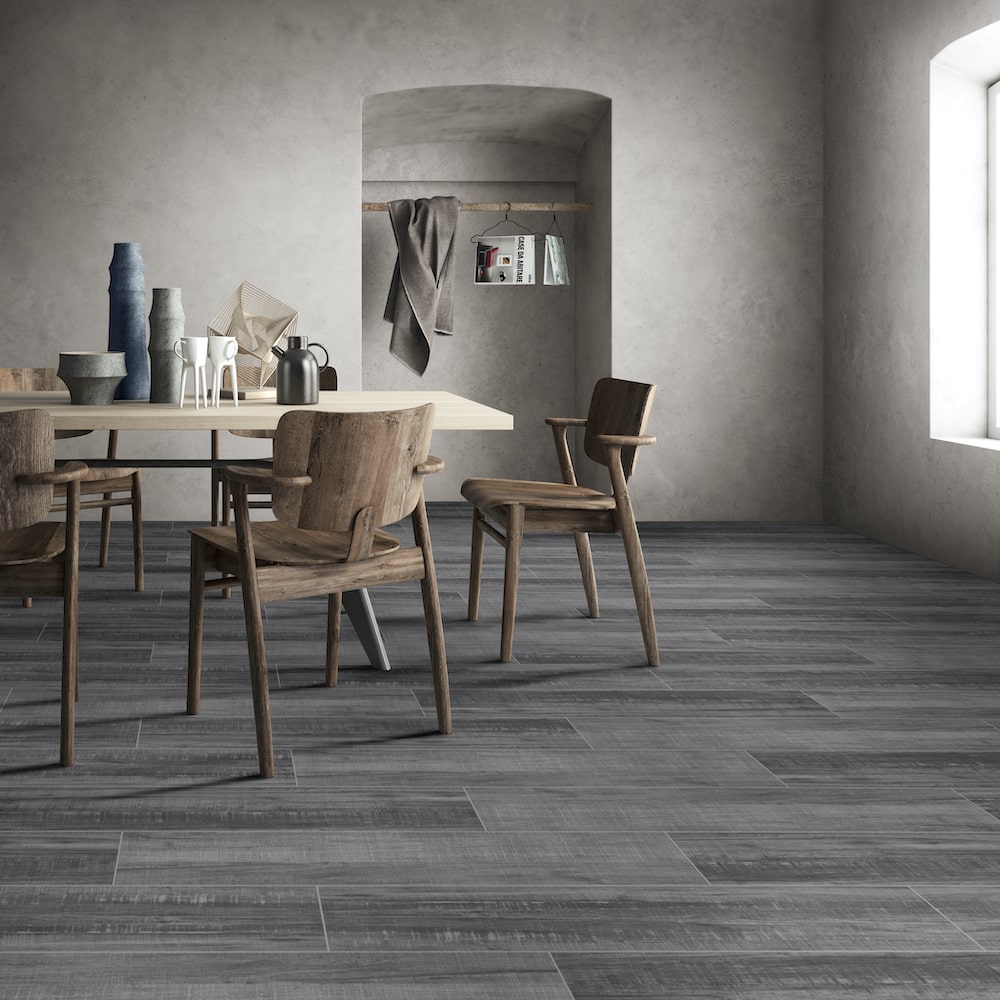 Mercury Wood Look Tile
Planning the Layout
Laying out the tiles prior to installation is important. It helps you to select a pattern that best suits the room. Large format tiles allow for a variety of intriguing patterns, including traditional brick patterns, herringbone, straight joint, chevrons, cobblestone, basket weave, and circular rectangular. For plank-sized tiles like our Mercury Wood Look Tile (above), it is important to use a 1/3 offset pattern, as shown in the illustration below, instead of a standard 1/2 offset pattern often used for smaller tiles. This helps to prevent cracking and lippage, as well as creates a more beautiful end result.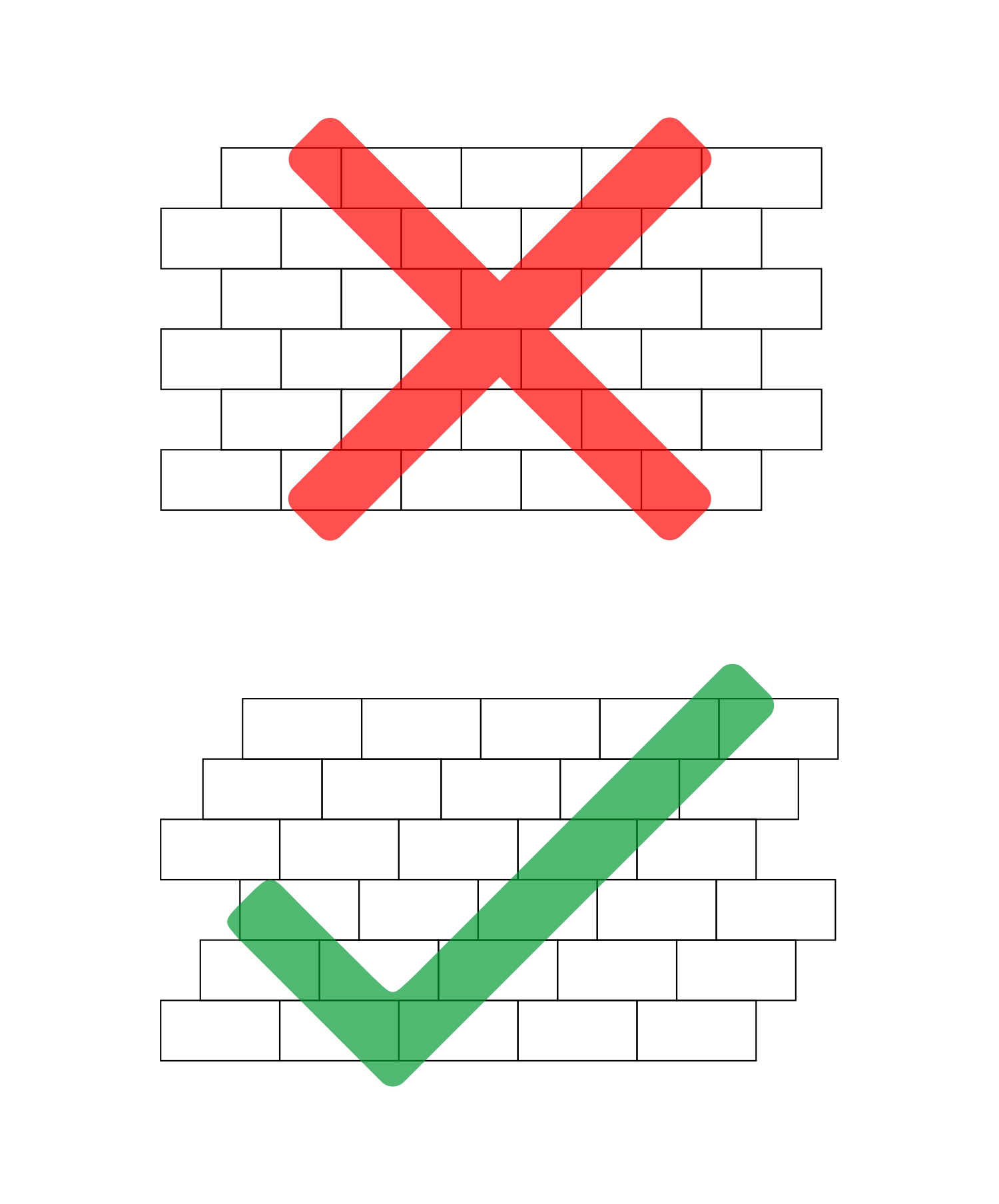 Choosing Grout
As with all tile floors, the color of the grout needs as much consideration as the tiles themselves. When installing large format tiles and planks, it is vital to adhere to the recommended grout line widths, recommended patterns, and all installation guidelines. For all of MSI's rectangular tiles, a minimum of a 1/3 or more off set with 1/8 grout joint size is recommended for rectified tiles and a 3/16 grout joint for non rectified. If you want a more cohesive flow to the room, it is recommended to use grout that is as close to the color of the tile, as possible. This creates a more seamless appearance, and helps to visually expand the room, allowing the beauty of the tiles to shine.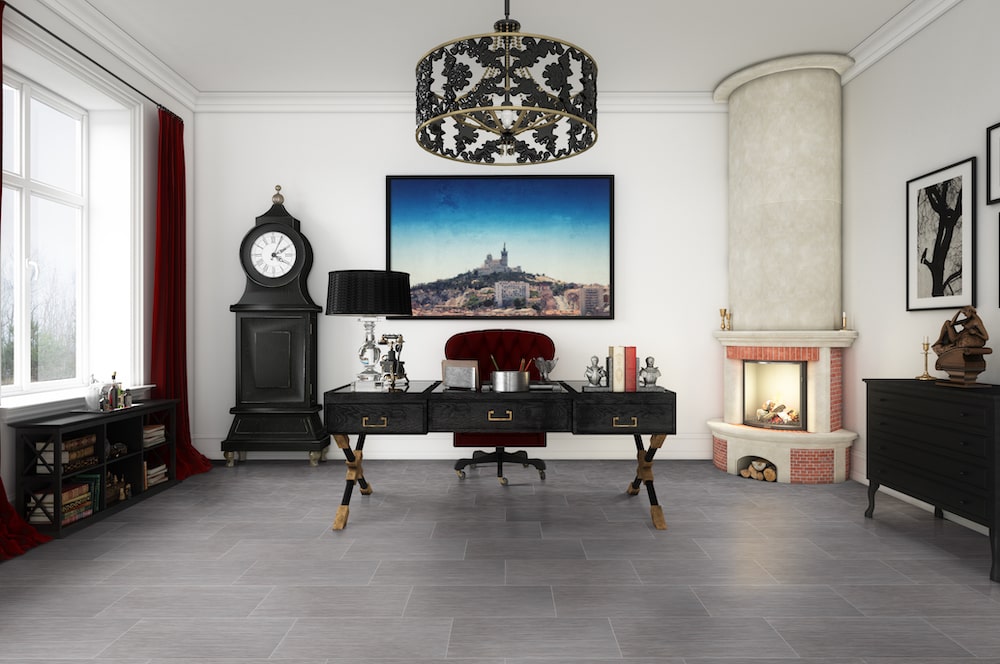 Focus Graphite Porcelain Tile
For a contemporary look, Focus Graphite Porcelain Tile (above) has a matte finish and, when partnered with a lighter-colored grout, is perfect for a 1/3 staggered offset pattern. This creates a graphic linear pattern and helps to bring attention to the floor. To produce a more seamless look, select a grout that is closer to the color of the tile, or perhaps one that is even just a shade darker to add subtle dimension.
If you love the look of reclaimed wood, but are hesitant about the durability and upkeep required, Country River Moss Wood Look Tile (below), available in 8/48 planks, is a great option. Planks in these dimensions are perfect to create a traditional wood-look floor when installed in a 1/3 offset pattern. They can also be installed in a herringbone or chevron pattern for additional visual interest. It is highly recommended that you layout a variety of patterns in the room to determine which design best suits the room.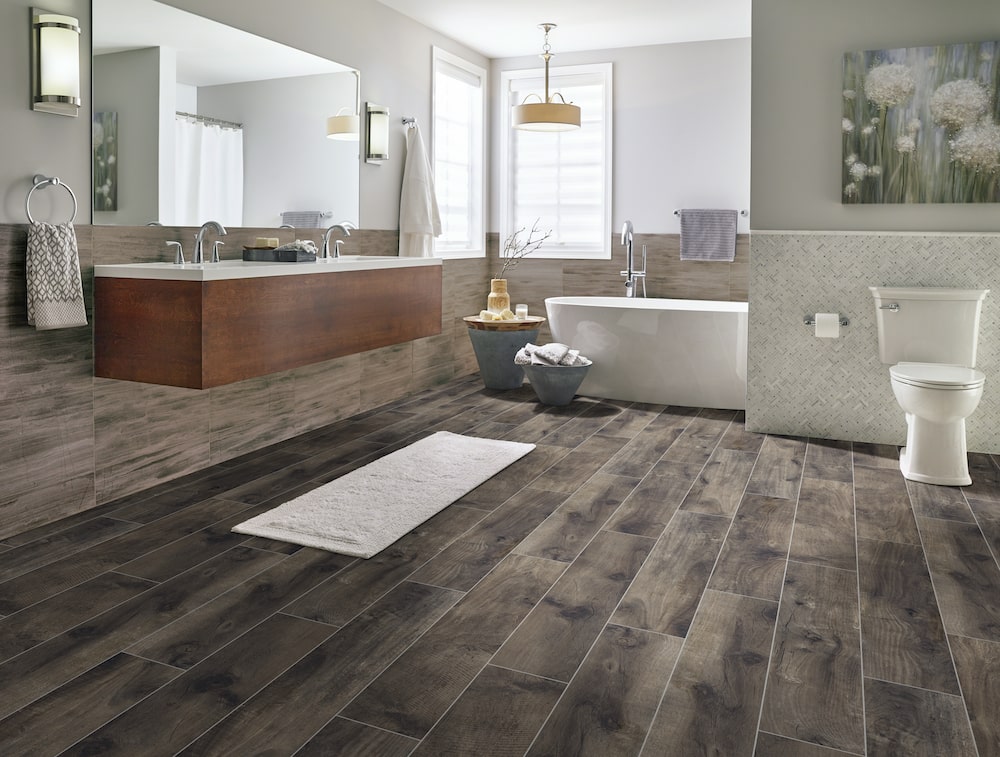 Country River Moss Wood Look Tile
Safeguarding Against Cracking with Proper Mortar
Due to the weight, and the size of large format tiles, it is imperative to use mortars or thin-sets specifically formulated to support the larger tiles. This is important for all installations, whether vertical or horizontal. Polymer modified mortars and medium-bed mortars help tiles adhere to walls better, and shrink less keeping tile from moving and cracking. Medium-bed mortars are often used for flooring to help prevent lippage and slumping into the mortar bed. It is important to note that this type of mortar is more difficult to handle, and it is important not to add additional water as this will adversely affect the mortar's ability to support the tiles.
As more and more large format tiles come to market, more specially designed mortars are developed to support the weight. Some of the new formulations contain microspheres that help to keep tiles level and plumb. When purchasing tile, discuss the various types of mortars available to ensure a beautiful result that will endure decades of wear. Cracking is also a concern with large format tiles if they are not installed as recommended. Shrinkage of the mortar and uneven surfaces are often the cause. Crack isolation membranes help to prevent this problem and are installed directly to the substrate.
Installation of large format tiles may require special handling but their beauty, durability, and low maintenance make them well worth the additional upfront planning and extra time it takes to install them. Browse through our porcelain collection, which includes our large format tiles, for inspiration on how you can transform floors, backsplashes, showers and tubs, and create stunning accent walls to enhance the beauty of your home.
Have more questions? Chat with us online, visit an MSI showroom, or an MSI authorized dealer near you.