Popular
Resort Style Backyard Kitchens
August 20, 2019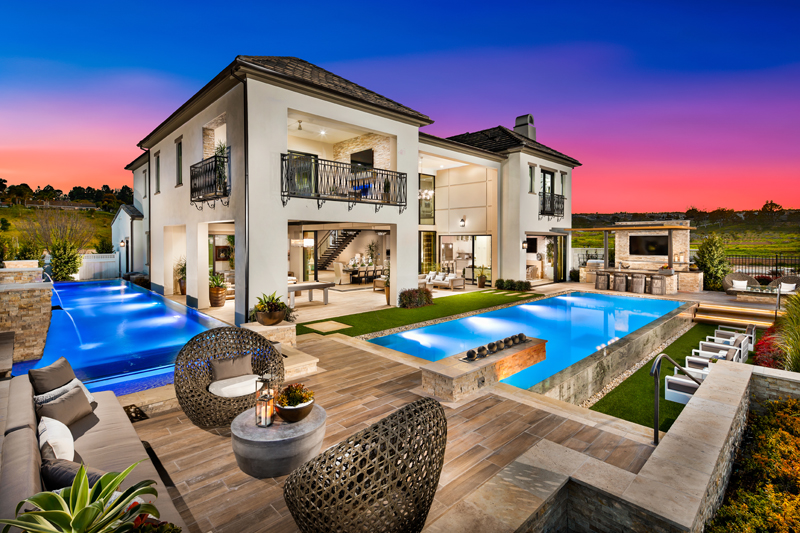 Balmy weather. The ebb and flow of guests connecting over a fabulous meal. Star-gazing. Nothing says summer like an outdoor dinner party – especially on a lively night when no one wants to leave the table.
Our favorite fresh-air havens invite dining alfresco. They're also equipped with high-performance kitchens that make entertaining a breeze. Whether you're redesigning your patio, breaking ground on a new space, or just looking to get inspired, we've got daydreamy kitchen ideas to maximize your outdoor space. Who needs to book a vacation with the alfresco lifestyle trend in full swing?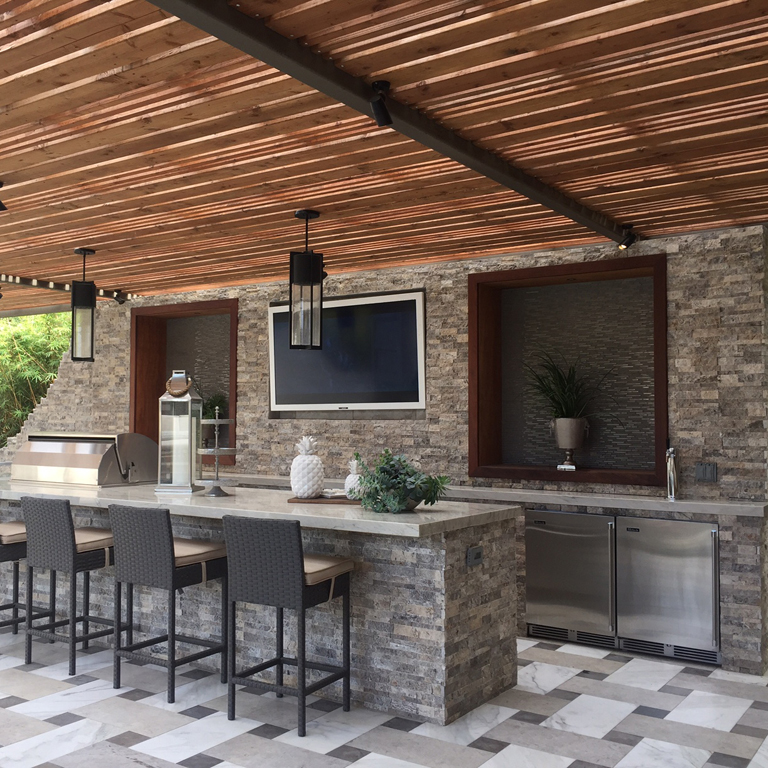 High on texture: Silver Travertine (ground) and Rockmount Panels (wall and islands).
Behind these magazine looks are something much more practical. Alfresco kitchens extend living space and drive up home value. Because it's easy to create resort-style backyards these days, 22% of homeowners (2019) are focused on building high-end kitchens in the $30k+ range. (If you're in the trade, or just curious, NKBA Market Research shares stats behind the outdoor kitchen trend story. Check this out if you're a designer.)
The Natural Way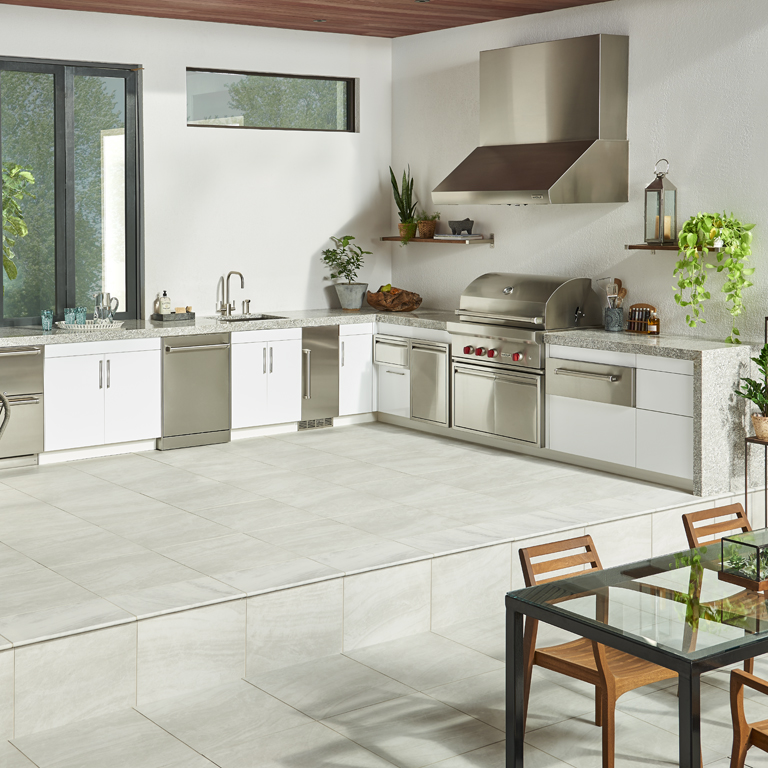 Outdoors, natural stone has it going on– like this Silver Falls Granite counter.
We're obsessed with the clean and modern waterfall edge.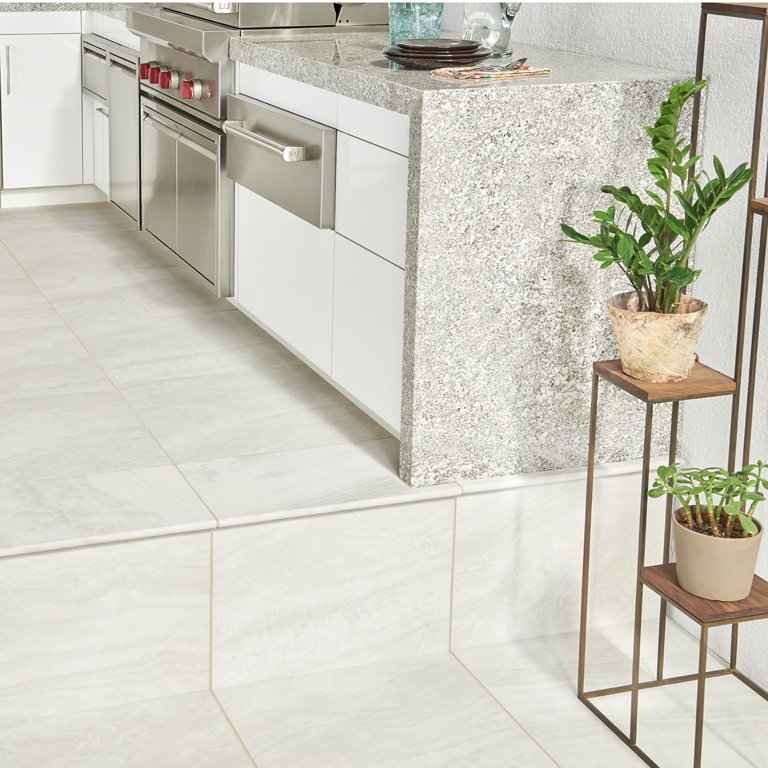 An upscale kitchen with natural stone's raw beauty is a must in a backyard dreamscape. Sun-friendly granite, the top choice for exterior countertops, is the perfect match for the elements because it's ultra-durable and won't fade or crack. For the rest, MSI offers a full sweep of on-trend hardscape, um, the last-forever-variety. Travertine and porcelain pavers, marble water features, stacked stone ledger panels walls. Our lineup is known for beautifying life alfresco, affordably.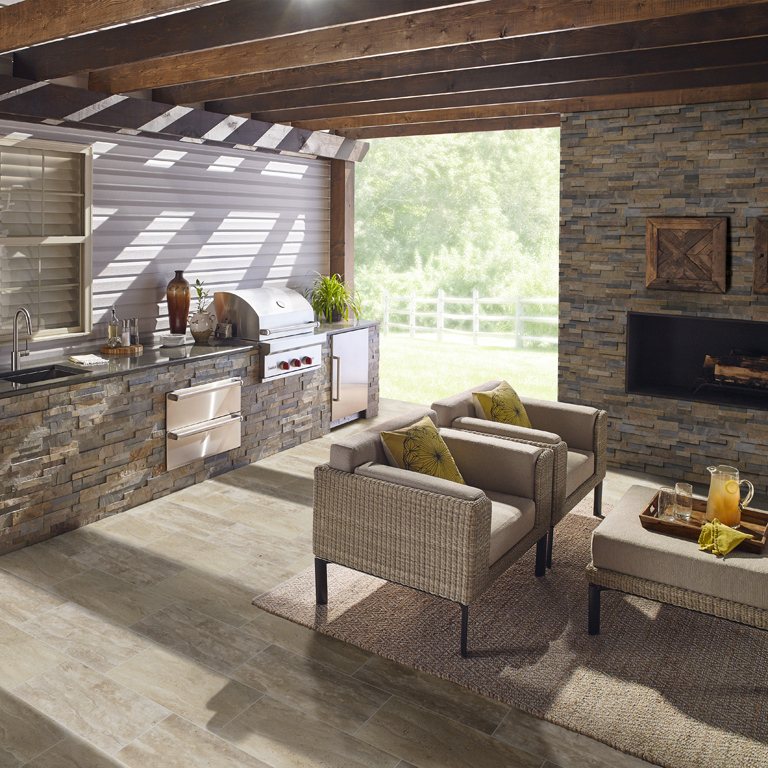 We can almost smell the mountain air. Indoors and out, our Rockmount Series makes quite a statement on grill islands. Palermo Travertine is next-level, underfoot.
A Respite from the World? Plan on it.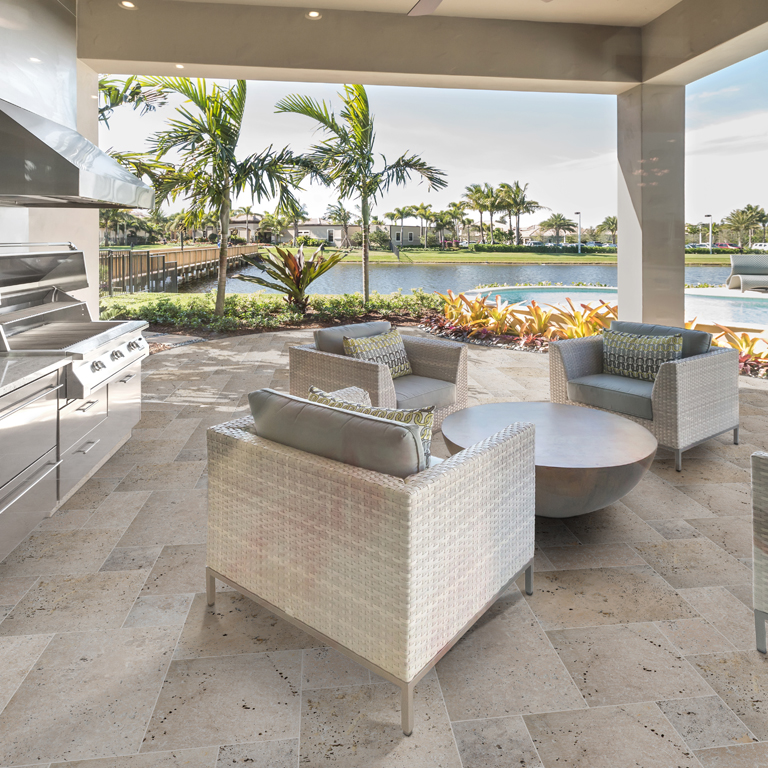 Let's meet here and never leave. Floors are Travertine in Coliseum.
Whether your space is modern like this one, or traditional like the room below, plan well to achieve the backyard kitchen of your dreams. In a perfect world, your layout includes plenty of countertop space (natural stone, non-negotiable), plumbing, and a fridge so you can prep meals outdoors. (Schlepping things back and forth from your interior kitchen does not make a relaxed host.) Choose easy-clean surfaces made for the elements like our indoor/outdoor tile. Don't forget storage for dishes, comfortable seating, areas of shade, and zoned lighting. We have nothing against delivery, but pizza ovens bliss us out.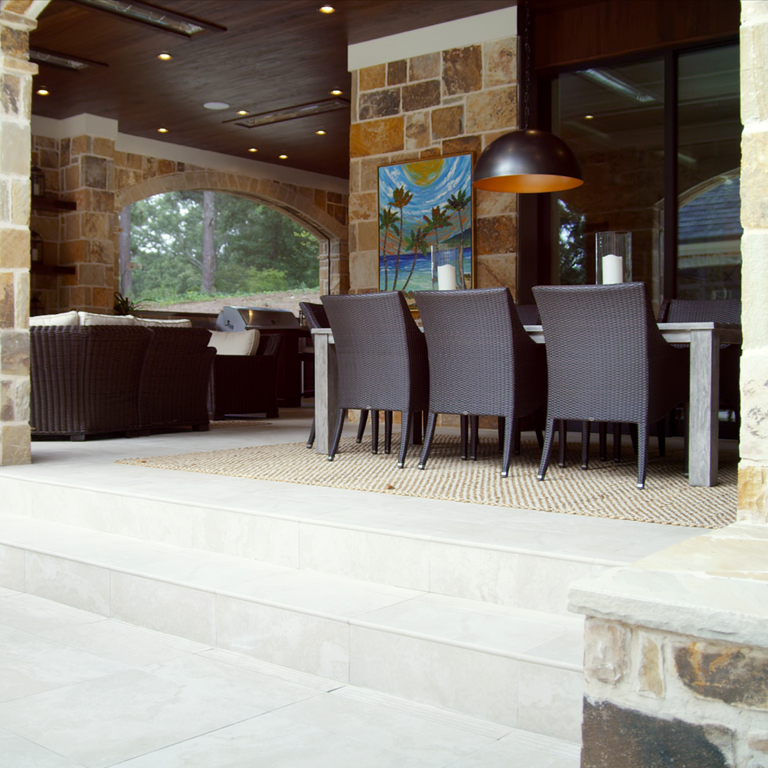 Everyone wants a seat at this table. The large-format tile matte finish Arterra Porcelain Tierra (Ivory) never disappoints.
Blurred Lines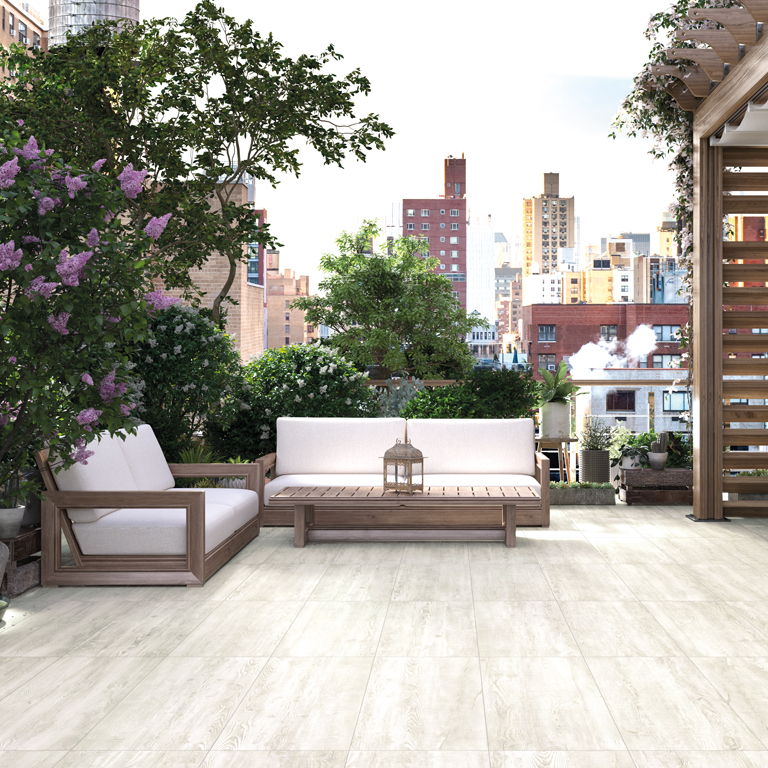 Summer in the city, never looked better, thanks to Arterra's Caldera Blanca.
The Seamless Sanctuary trend? Getting hotter by the day. It's why we introduce new indoor/outdoor porcelain lines on the regular. Bringing the party outdoors is all about using tiles with matching pavers to create a state of flow. Arterra Porcelain collections like Caldera and Praia bring all the things we love about design to the table: low maintenance, flexibility, and trendsetting looks. Praia features marble and quartzite lookalikes in polished and matte porcelain while Concerto brings a modern concrete style to interior and exterior rooms. A modern living enthusiast? The metro set loves cement-inspired Beton Antracite and Bluestone. Oh, and if you want to make a statement, bring these puppies up to the wall.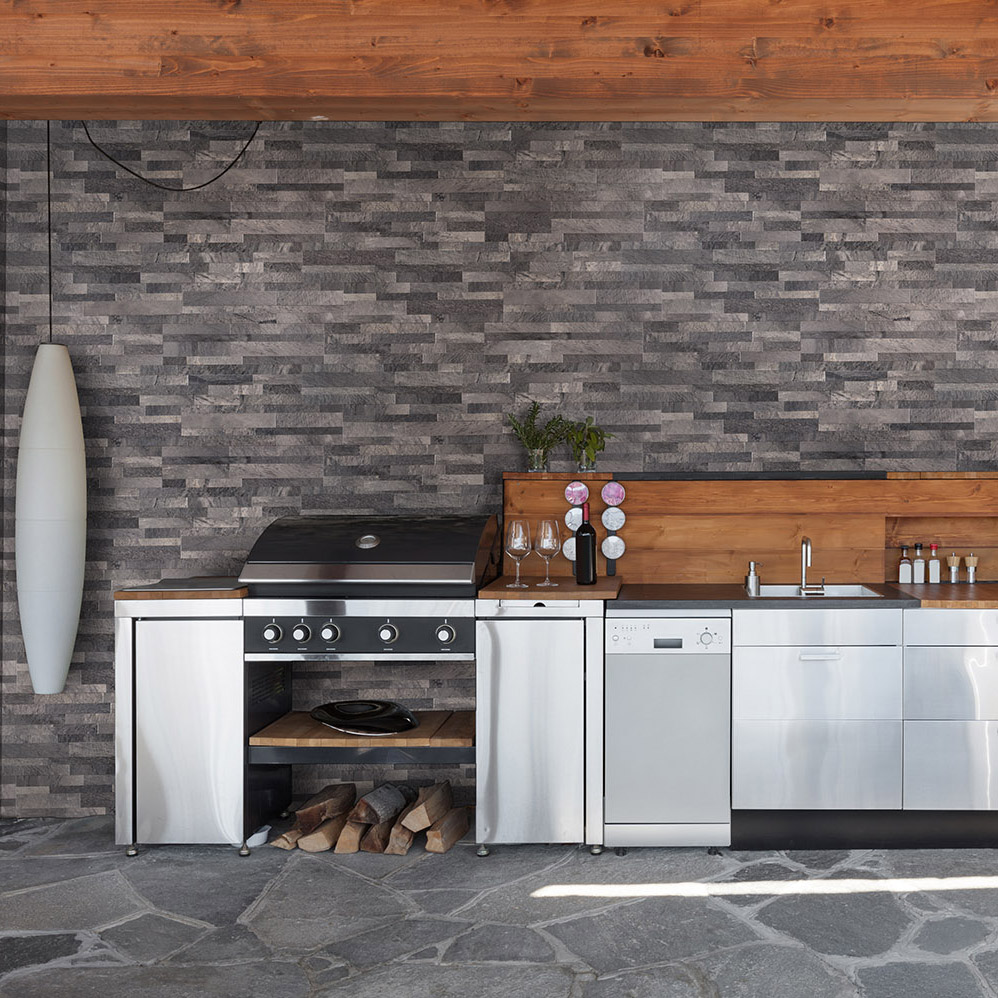 Ardesia Black Dekora Porcelain Panels are a beautiful sight, indoors and out.
Reflect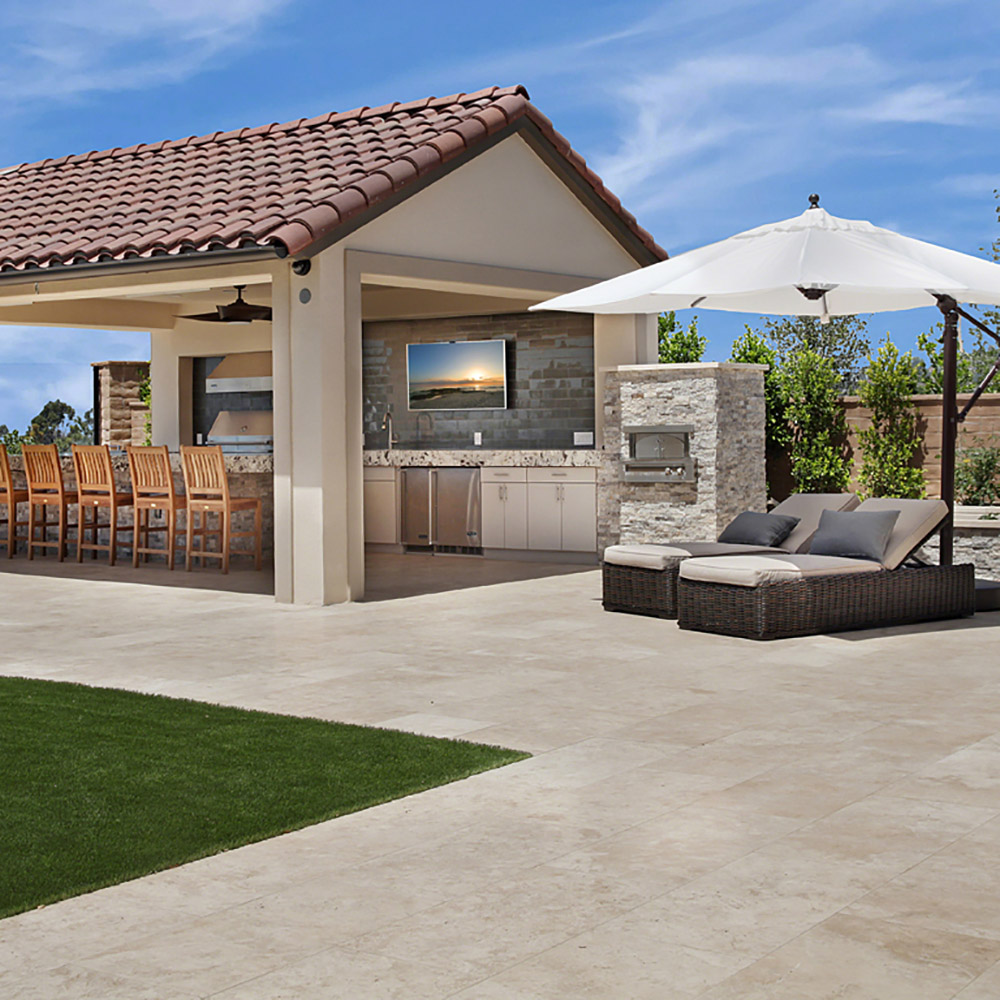 Can we live here? Metallic Gray Glass Subway Tile, thick granite countertops and an epic pizza oven combine with all the usual suspects to make this a true California oasis.
The best outdoor kitchen designs (um, what else is there?) incorporate a wild card. Beyond the pool area, a little reflection is unexpected. Add shimmer and shine to a backsplash, bar area wall, or island, with glass mosaic tile. If your design calls for the color of the moment, considered yourself covered in blue. Our lineup includes a cadre of sea-inspired options —including Carribean Jade, Hawaiian Coast, Tahiti Blue, Chilcott Treasure, and Harbor Gray. A spa-like vibe with a bit of glam, anyone?
The After-Dinner Crowd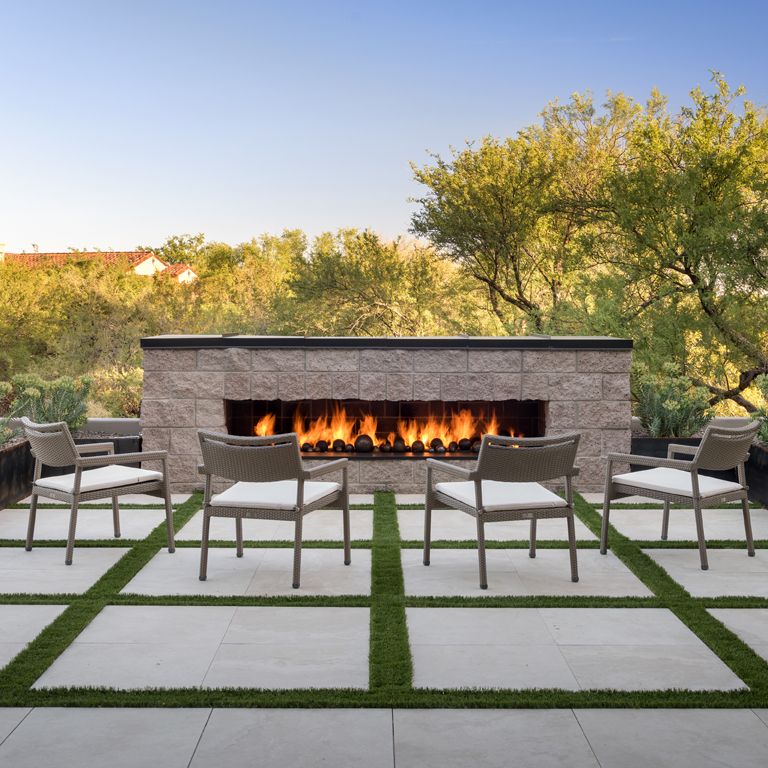 Did you know that roasted marshmallows help with digestion? Just kidding. But they sure do make an evening memorable. Arterra Porcelain Tierra Pavers in Ivory.
When daylight fades, there's nothing cozier than a fireplace– especially when entertaining. To achieve a professionally polished look in your outdoor design, take a cue from other homeowners: 64% hire a designer. From tiny rooftop patios to grand-scale kitchens to the water feature of the hour, tap our full-line of hardscape products to dress up your outdoor spaces. Need inspiration? Scroll our Instagram.
A simple rule to consider if you're not going the designer route: outdoor rooms should reflect your interior style. Old world stone is seamless in a traditional home, but if yours is modern, you'll want to carry the contemporary look outdoors with sleek surfaces.