Get Durable And Affordable Wood Looks With Cyrus And Cyrus Xl Luxury Vinyl Planks
September 28, 2021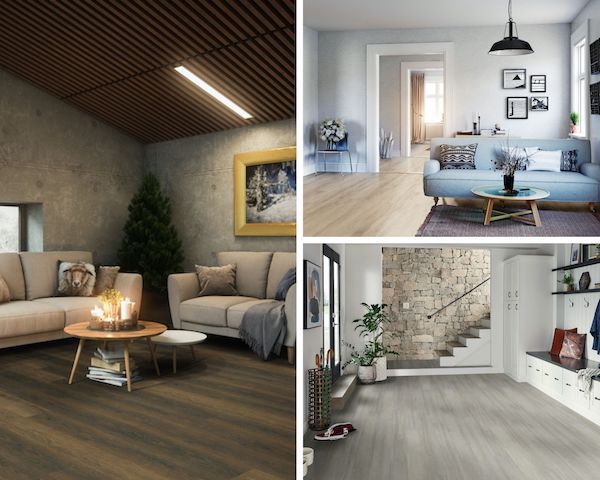 If you need to upgrade your floors to fit your lifestyle, then you're in the right place! Luxury vinyl planks are the perfect flooring solutions for both hectic households and busy businesses. The 100% waterproof planks are one of the most durable flooring types available, and they're an affordable way to get that wood-look style without the worry.
The Cyrus and XL Cyrus Series from MSI are a new generation of vinyl that will transform your space with realistic color, pattern, and plenty of character. Not only are the luxury vinyl planks tough thanks to the innovative wear layer, but they're also super easy to clean, which is a win for bustling buyers. Let's take a look at a few favorites from these two collections.
Luxury Vinyl Planks vs. Luxury Vinyl Tile
Luxury vinyl planks (LVP) are similar to luxury vinyl tile (LVT) in that they both mimic natural materials and are comprised of several layers, including a wear layer, print layer, vinyl core, and optional attached backing. LVP comes in longer rectangular plank sizes with styles that simulate real hardwood, while LVT comes in either the classic square floor tile or elongated rectangular tile and mimics natural stone, ceramic, or concrete designs. Both flooring options are affordable alternatives to the real thing and are making it harder for homeowners and business owners alike to decipher vinyl from its natural counterparts.
The Cyrus Series
This must-see collection, the Cyrus Series by MSI, features nearly 30 on-trend colors of swoon-worthy wood-look styles. The 100% waterproof vinyl plank flooring offers excellent protection with CrystaLux, a 12-mil wear layer that protects against daily wear and tear like scratches, spills, pet accidents, and even sun damage. The 7"x48" planks are a convenient length for any size room, and the easy-install locking system means DIYers to hired professionals can transform a space quickly, especially when you follow the LVT installation best practices. The rigid-core LVP also comes with a 1-mm IXPE attached backing for better comfort underfoot and increased sound absorption. For peace of mind, you can be confident in MSI's GREENGUARD Indoor Air Quality Certification, which means the floors will better your indoor air quality. Plus, MSI's Cyrus Series backs its product line with a limited residential lifetime warranty and a 6-year light commercial warranty.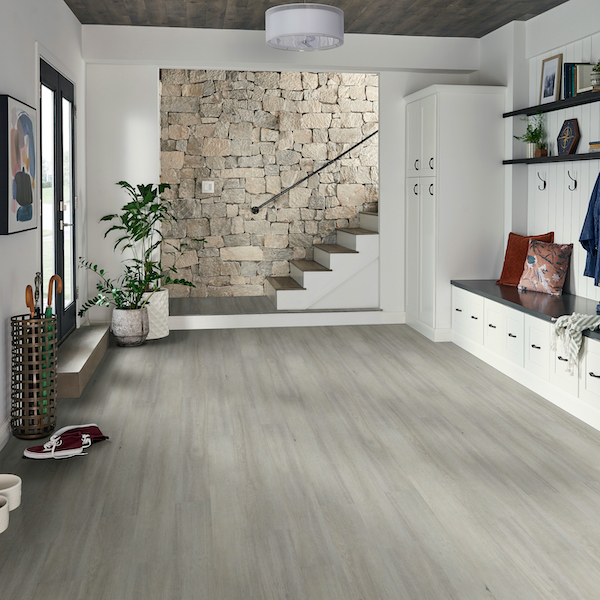 One of the benefits of luxury vinyl tile and planks is that these flooring types can be installed anywhere since they're waterproof. This makes LVP perfect for a mudroom or entryway even though it will receive daily traffic. The Brianka from the Cyrus Series is a lovely blend of soft silvery grays and light creamy hues with subtle real-wood-look knots and grains. The neutral tones are perfect for updating a traditional space, keeping a modern area sleek, or lightening up a rustic- or farmhouse-inspired room. The low-maintenance flooring is ideal for this kind of space because upkeep is minimal, and the luxury vinyl tile care and maintenance is simple with consistent sweeping or vacuuming and the occasional damp mopping.
The XL Cyrus Series
This worry-free vinyl collection, the XL Cyrus Series from MSI, never looked better. The oversized 9"x60" vinyl planks create a more modern, sleek styling, while the enhanced beveled-edge design creates more distinction between planks for a realistic wood look. The 5-mm thick, rigid-core LVP features a patented locking system for easy installation processes, an attached 1-mm IXPE backing for better comfort and acoustics, and a 12-mil wear layer for durable protection. The XL Cyrus collection includes a limited residential lifetime warranty and a 6-year light commercial warranty. It's also GREENGUARD Indoor Air Quality Certified for better indoor air quality. Of course, the XL Cyrus Series offers more than 20 colors to choose from, including a variety of dark versus light and warm versus cool tones.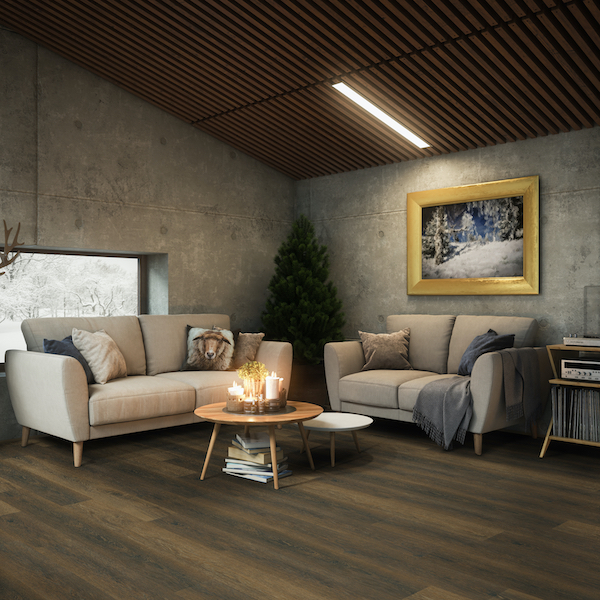 Dark definitely doesn't mean dreary when it comes to this moody, modern cabin. The refreshed take on a traditional rustic style shows how luxury vinyl fits right in with either rural or contemporary designs. The rich natural wood look of Barrell LVP from the XL Cyrus Series in this cozy cabin-inspired family room greatly impacts and elevates the overall look. The handsome hues feature dark browns mixed with lighter browns for dimension and movement, while the dark knots and grains give it an appearance that genuinely resembles real hardwood.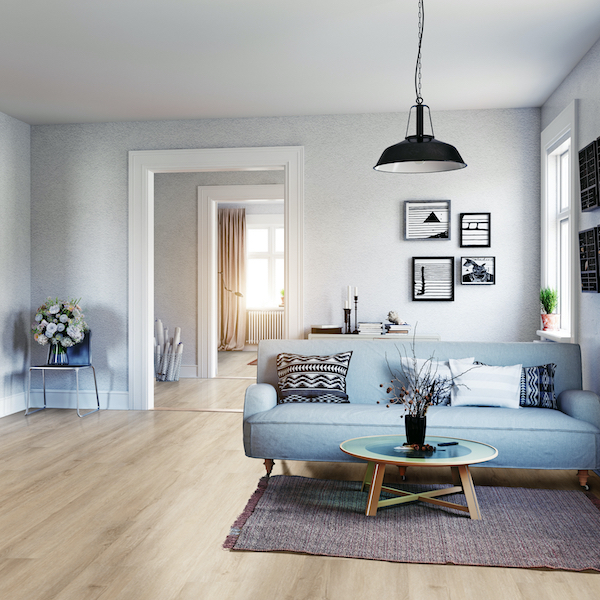 Another popular color choice from the XL Cyrus Series is a blonde wood-look for that super-chic Scandi style. Sandino is a beige-brown with subtle knots and grains for a natural wood-look design that works with any interior design style. While it's featured in this simple yet beautiful living room, you can see the floors flow from one room to the next as they continue to the hallway and into a back bedroom. That's one of the biggest positives of LVP is that you can install it throughout the entire house no matter the room or level. The simple click system means your family won't have to put up with a construction mess for long since installing vinyl flooring is fast and easy. That's important, especially when you're pulling up old flooring in every room.
Get Your Durable, Affordable Wood Looks
Between these two collections from MSI, you have more than 50 products to choose from, so you're sure to find the size and style that fits your next interior design project. From subtle neutrals and light blondes to rich tones and dramatic reclaimed looks, there are so many colors and patterns from the Cyrus Series and the XL Cyrus Series waiting to compliment any home décor or business design scheme.
READ MORE ABOUT WOOD LOOK TILE:
Country River Collection: Naturally Elegant Wood Look Porcelain Tile
Upgrade Your Home with Porcelain Wood Look Wall Tile
Get the Look And Feel Of Real Wood with Waterproof Vinyl Plank Flooring