It's Decision Time! Hardwood Floors Or Luxury Vinyl Planks?
March 24, 2020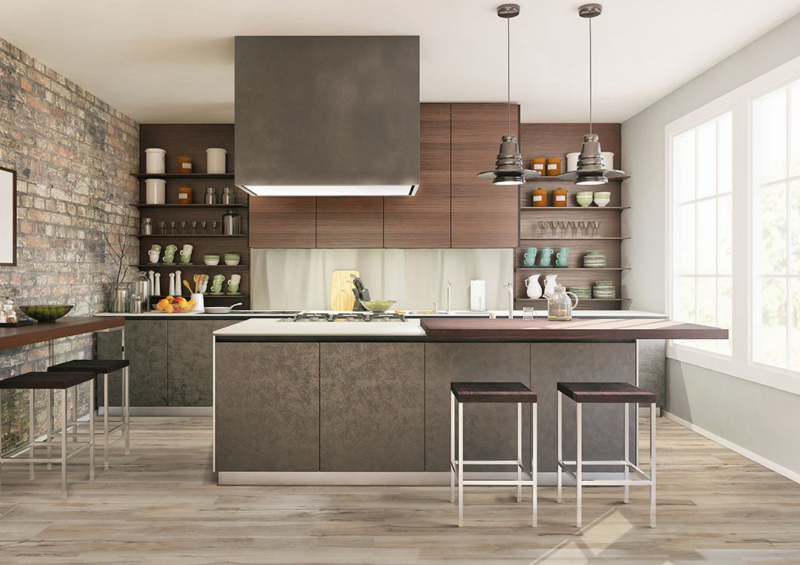 There are a few flooring choices that offer the look and feel that natural wood provides, and they include luxury vinyl planks (LVP) and, of course, real hardwood. Yet, you'll want to choose wisely because changing a floor in an entire house or a room or two not only greatly impacts the design, but it's also a big financial decision. Making a good investment should mean your flooring retains its value well; costs a reasonable price for materials, installation, and maintenance; and meets your style, budget, and lifestyle needs.
Hardwood floors may be made of solid oak, maple, or another type of wood or an engineered form with a hardwood veneer over layers of plywood. Luxury vinyl wood look tile realistically simulates the look of natural hardwood and come in easy-click or glue-down styles. They consist of several layers, which includes a protective wear layer, the wood-look design, vinyl core, and attached backing on some products. Each type of flooring comes with its own pros and cons, so consider the details below when contemplating your personal requirements and ideal investment.
Installation
As long as you have the right tools, DIYers can save money by installing either LVP or hardwood. However, floating or click vinyl is easier to install than real wood. It can also be installed over a wood or concrete subfloor or even your existing floor tile, which saves time and money on demolition and removal costs. While the easy-click LVP doesn't require a perfectly level floor, installation should start with a clean surface; on the other hand, glue-down LVP requires both.
Previously, wood was very difficult to install, but many of today's wood flooring options come in pre-cut pieces with tongue-and-groove planks similar to that of floating LVP. A level plywood or cement subfloor is important since hardwood bends over time and isn't very forgiving when installed over an uneven structure.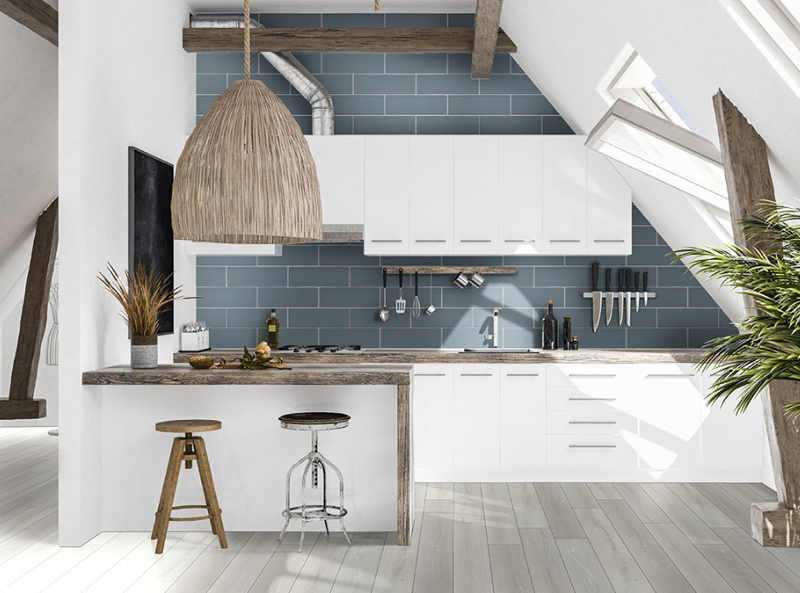 Costs
Luxury vinyl tile (LVT) and planks cost a lot less than real wood, with glue-down being the most cost-effective materials over floating LVP. Including installation, LVP prices range from $2 to $7 per square foot. Although market demand influences prices, many exotic wood-look styles cost the same as other plank designs because LVP can be printed to look like virtually any wood species.
Wood varies on price because the harder the hardwood is the more money it costs. With installation included, wood prices range from $8 to $15 per square foot for products like oak or maple, whereas more exotic woods like mahogany or teak could cost $25 per square foot or more. And, if hardwood isn't pre-finished, then expect labor costs to increase.
Moisture Resistance
Water damage in homes happens more often than you think, and the biggest difference between these two flooring types is moisture resistance. Vinyl flooring is waterproof, so it's usable in any area of the home, including bathrooms and low-grade basements where water or moisture is a concern.
Yet, hardwood floors can be damaged, warped, or even grow mold when exposed to water or moisture because they soak up liquids easily. While sealing the floors regularly may provide some relief, they still shouldn't be installed in areas like kitchens, bathrooms, or basements.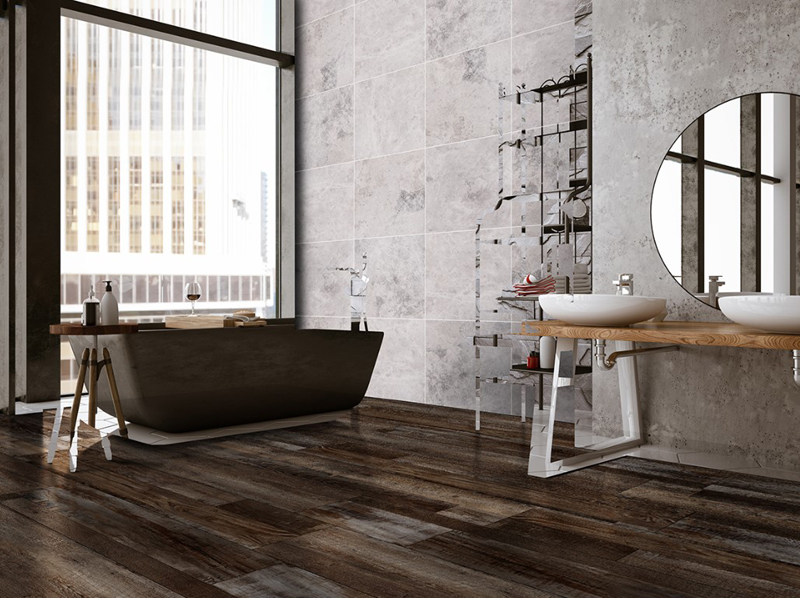 Maintenance
Vinyl flooring care and maintenance can be simple. Regular sweeping and mopping using mild soap and water or a manufacturer-recommended cleaner keeps it clean. If you decide to use a vacuum, then ensure that the beaters are turned off to help protect the vinyl planks. Adding rugs or mats to heavy traffic areas can help extend the life of your floors since they can't be refinished over time and can be susceptible to cuts and scratches. However, replacing any damaged LVP or LVT flooring is both fast and inexpensive. You can find additional information on .
Hardwood floors are well-known for their high-maintenance upkeep. Regular sweeping and dusting help keep floors clean and prevent the wood from scratching from dirt and dust particles. If a cleaner is needed, then check that the product used is specifically designed for wood since moisture can cause damage. Even things like high heels and pet claws can wreak havoc on your hardwood, so lifestyle is something to keep in mind. However, hardwood can be refinished if damaged and appear like new. Regardless, refinishing should be done approximately every decade and repaired if needed.
Environmental Impact
Environmental factors for these flooring options vary. Although vinyl is man-made, depending on the LVP brand, many don't contribute to unhealthy indoor air quality, while some even achieve a LEED credit for low-emitting material. Products with added padding not only makes LVP more comfortable but more energy-efficient as well by helping to insulate the room.
Hardwood floors are crafted from natural wood and can be considered a renewable resource depending on if the manufacturer is environmentally responsible. The biodegradable material can also be recycled if removed unlike PVC vinyl flooring. However, lacquers and sealants needed to finish and maintain the porous material is known to have high levels of VOCs.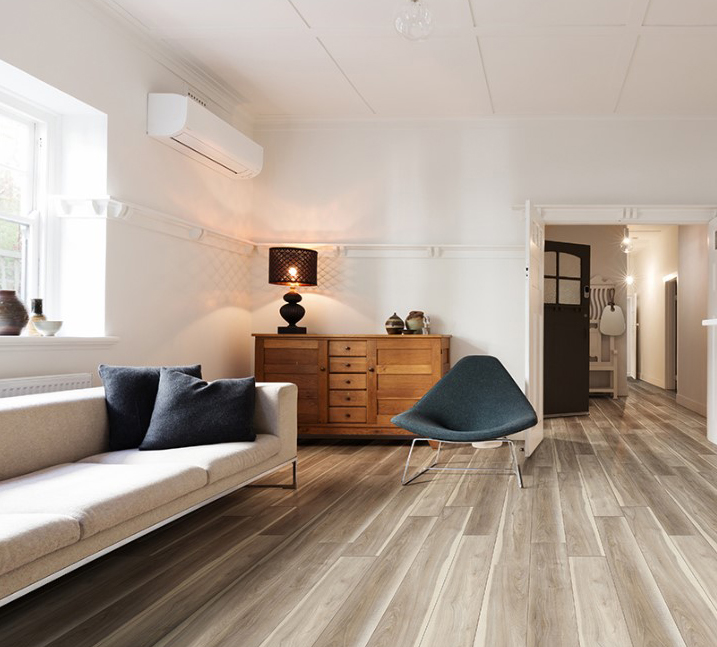 Resale Value
Predicting resale value may be challenging since it could come down to the future buyer's individual wants. Some homeowners may justify the higher price tag of their natural hardwood floors because it's supposed to add value to the home. However, prospective buyers, such as an active family with young kids or a household with pets, might not want to deal with the maintenance costs and water nightmares of real wood. They may prefer the features of luxury vinyl to the value of real wood that the original owner had hoped for.
The Better Investment
Today's technology allows for luxury vinyl planks to genuinely simulate the look and texture of real hardwood floors. From the lower costs to the uncomplicated maintenance to the waterproof capabilities, some luxury vinyl plank and luxury vinyl tile benefits simply have real hardwood beat. While we think that LVP makes for a better financial investment, we know that your budget, space, and personal aesthetic all come into play when making your new flooring decision.