Current Obsessions: 5 Marble Countertops To Inspire A Kitchen Renovation
July 21, 2018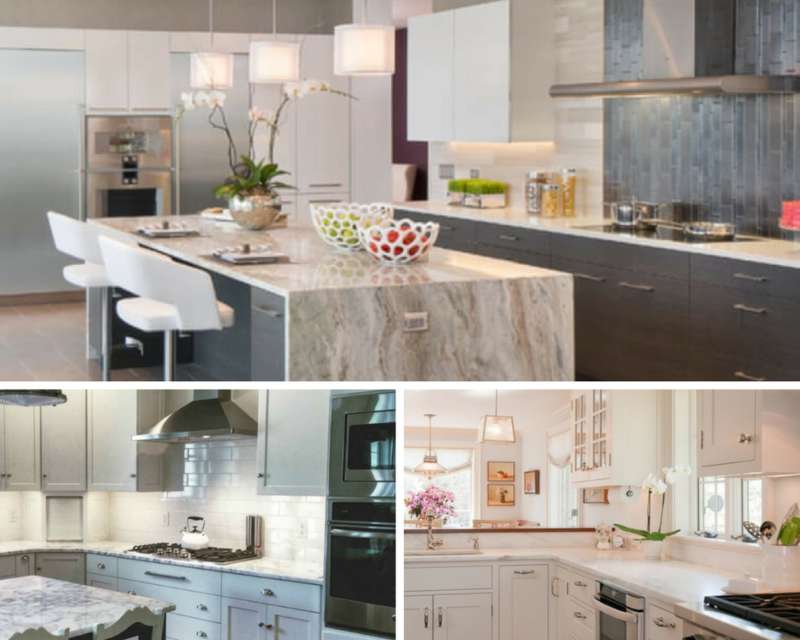 The kitchen is one of the most popular rooms to renovate, and with marble countertops, it's easy to make your new space look oh-so Pinterest-worthy! Marble is an "old world" stone that provides enduring beauty, but it can also give a fresh and updated look to your kitchen.
It comes in the classic white as well as other soft colors with natural veining that add so much texture to the design. These stunning cooking spaces will inspire you to renovate your kitchen right now, so let's take a look at the five marble beauties we've selected!
Royal Danby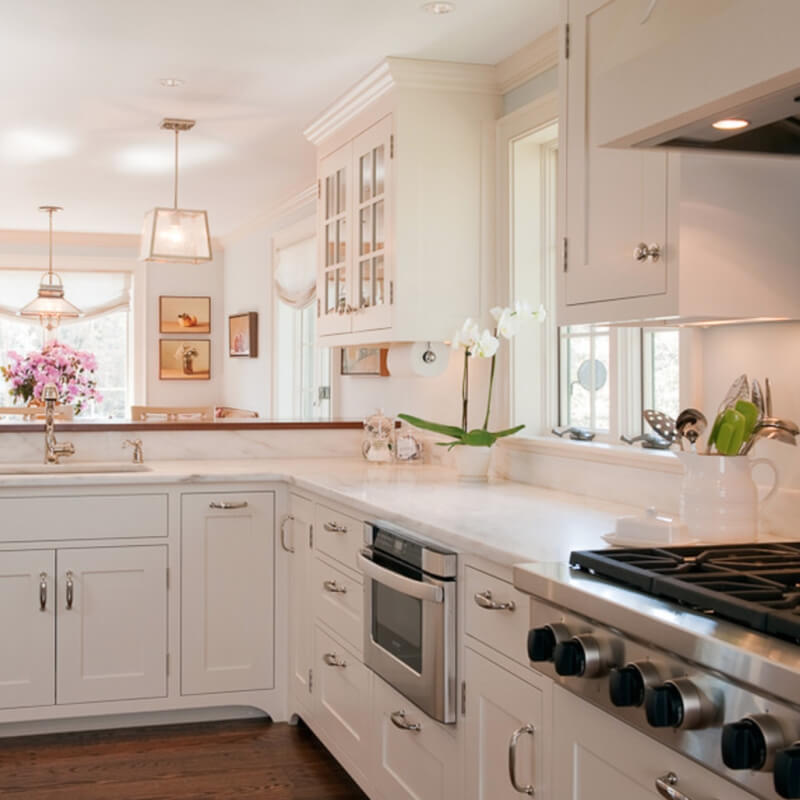 Recreate this look with MSI's Royal Danby Marble (Photo Credit: Houzz)
Royal Danby features a soothing pallet of silky creams and snowy whites that blend with grey accents and copper veining. The natural, USA-made marble slabs in this lovely kitchen will give you all the white kitchen inspiration you need!
The traditional marble counters blend in beautifully with another classic material, white Shaker-style cabinets, and the subtle pattern ties in with the stainless steel appliances, cabinet pulls, and warm wood floors.
Arabescato Carrara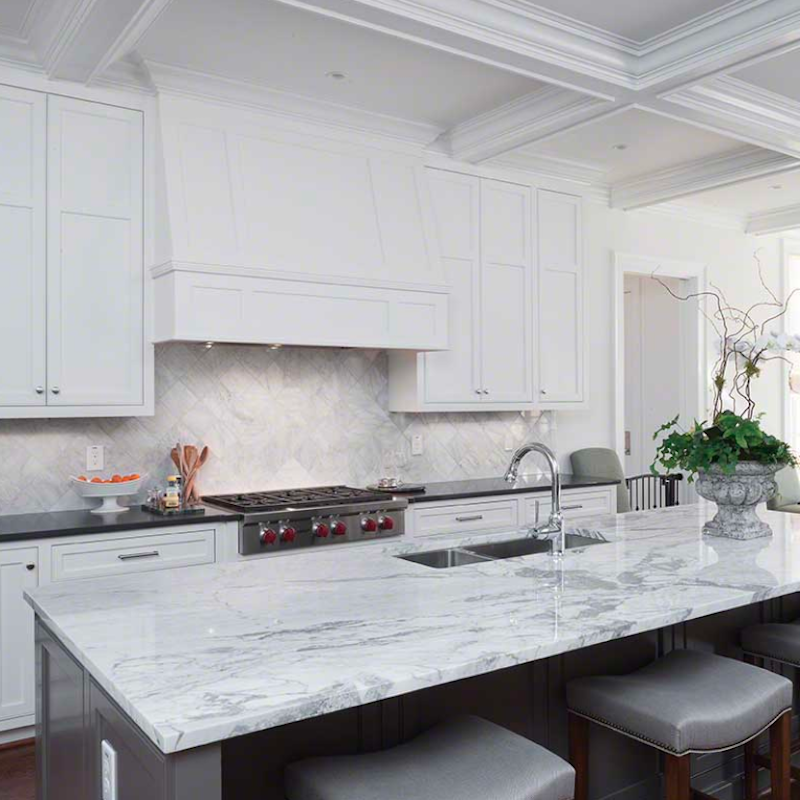 Featured: Arabescato Carrara Marble
Arabescato Carrara is an alluring marble that includes a soft white background with smoky swirls of gray veining. It offers a bit more drama to this transitional kitchen.
While it adds a beautiful texture to slightly break up the classic white Shaker-style cabinetry and oversized white subway backsplash tile, it looks even more dramatic on the dark, contrasting kitchen island!
Fantasy Brown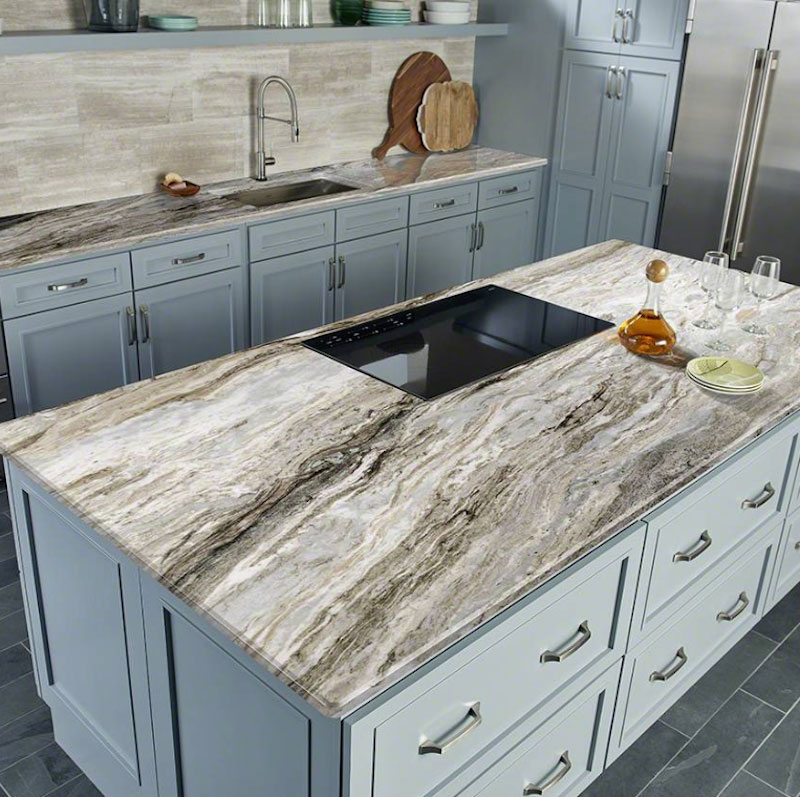 Featured: Fantasy Brown Marble
Fantasy Brown is a distinctive marble with its flowing pattern of apricot, chestnut, and pewter tones. At first, you might not think this stunning stone from India is actually marble because people often associate the natural stone with being white.
But, with the installation on the large island, it definitely takes center stage in this modern kitchen and will help to increase the value of the magazine-worthy home!
Crema Cappuccino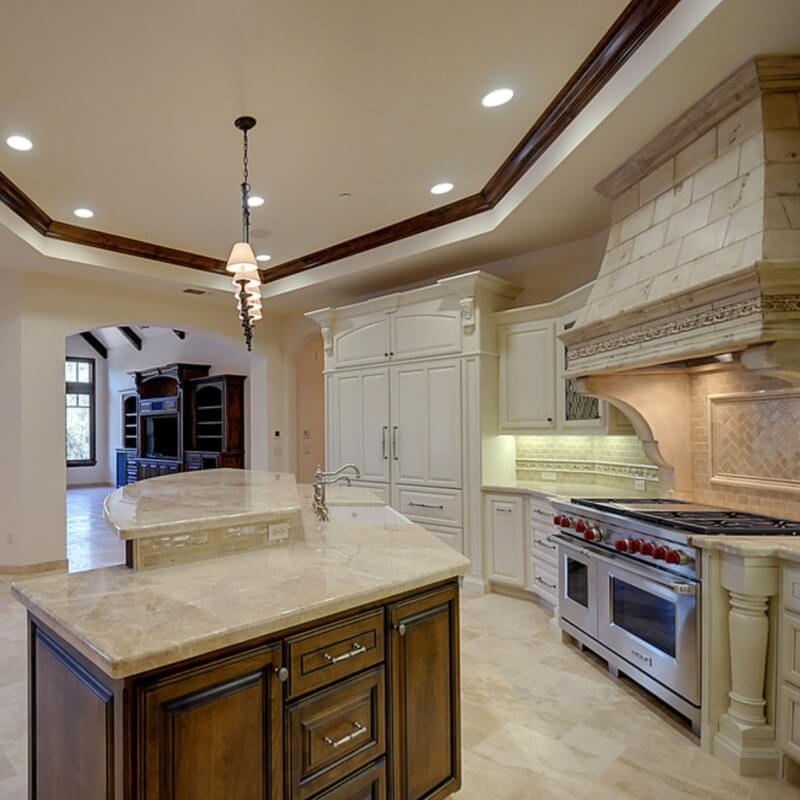 Featured: Crema Cappuccino Marble
Crema Cappuccino is a magnificent marble from Turkey that features ivory and gold colors with muddled medium-tone veining. It's an excellent neutral for an ornate kitchen like this one because the countertops complement the traditional design without overpowering it.
It contrasts well on the kitchen island and blends in with the rest of the traditional design, which allows the smaller, more intricate details in the cabinetry, backsplash, and range hood to shine.
Calacatta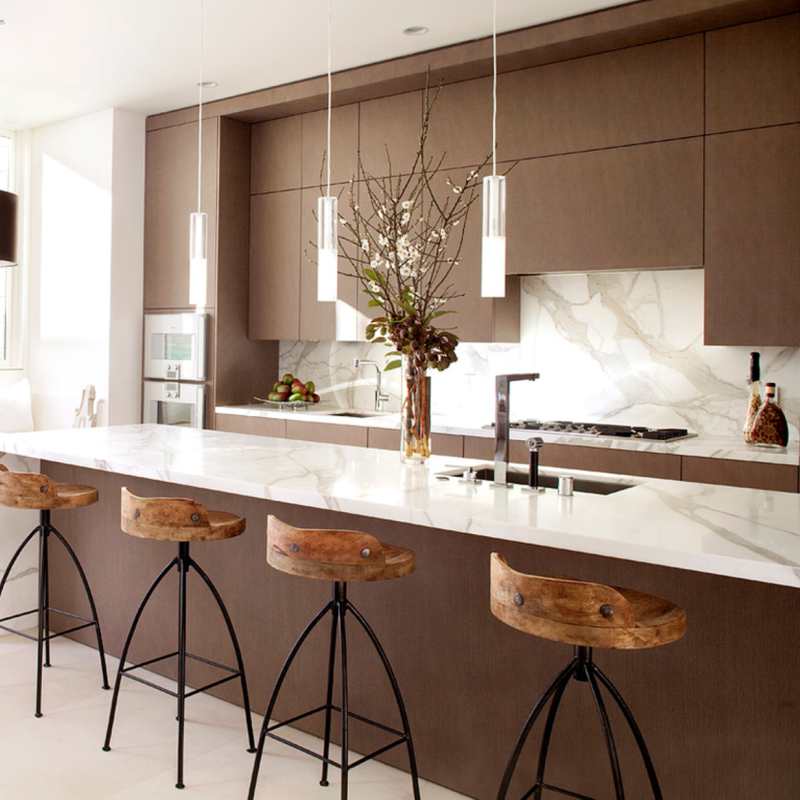 Recreate this look with MSI's Calacatta Marble (Photo Credit: Houzz)
Calacatta is a distinctive Italian marble with whites and golds. It is the most popular marble used and features the classic look and style with its defined veining. The warm white marble elevates this contemporary kitchen and brightens up the space. The pretty pattern adds an elegant texture to the design and is more noticeable against the simple brown cabinetry.
Whether you choose a classic marble or a unique slab for your modern or traditional kitchen, you'll love how this ultimate upgrade instantly updates a tired space. Although it does cost more and requires a bit more maintenance, there's really nothing quite like real marble!
MSI offers a wide variety of marble tile that each display a different beauty. Contact your local MSI showroom or check out the Inspiration Gallery to get started!