Tile Style: The Pros And Cons Of Installing Marble Tile In The Bathroom
December 19, 2017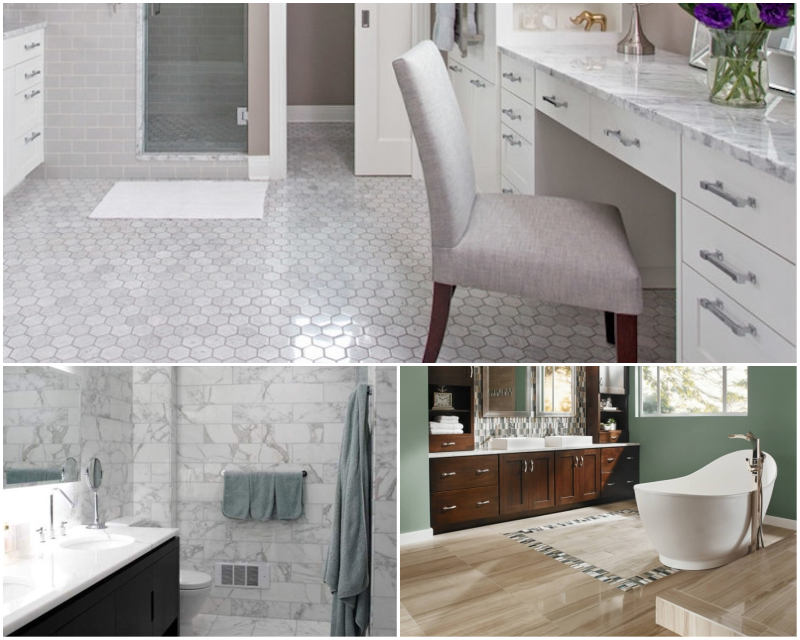 Marble is a classic material that is coveted for its beauty and sense of luxury, but is it really right for your bathroom design? In this post we will discuss the pros and cons of using marble in the bathroom, and explore just a few of the amazing marble tile offerings from MSI Stone.
If you desire a classic material that will never go out of style and will impart a sense of timeless grace and richness to your design, there is no better match than marble. Arabescato Carrara Marble is a perfect example, with its gently swirling pattern of soft grey on cool white. The look is at once both classic and contemporary, and can complement a wide range of styles and decor. This versatility is why the neutral color palette of marble is widely appealing to designers and homeowners alike.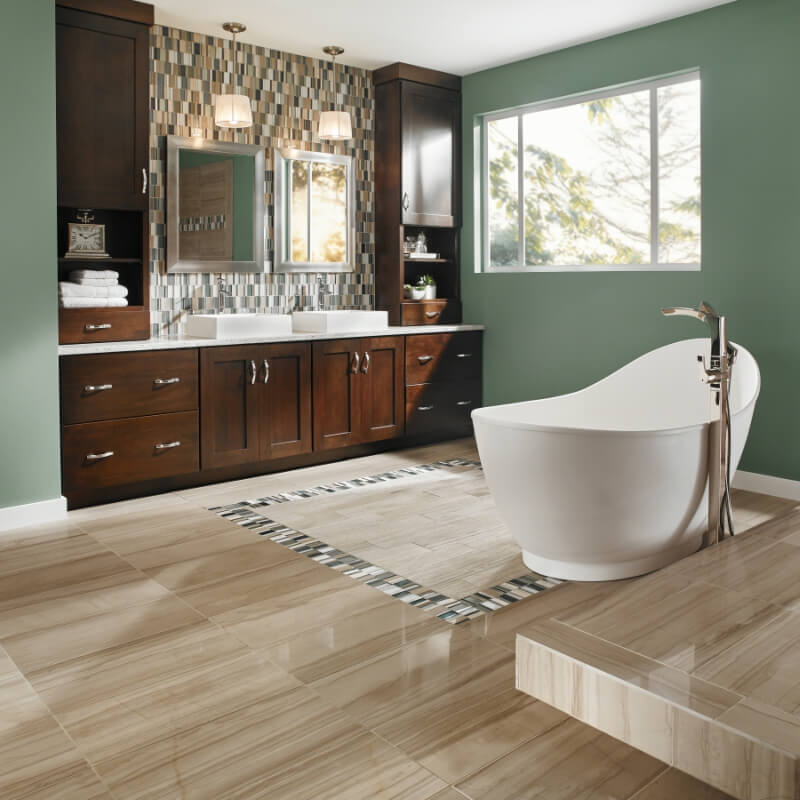 Featured: Gray Oak Marble
One common misconception is that marble is only suited to traditional interiors. However, a natural stone like Gray Oak Marble tile takes the beloved material and updates it with contemporary linear graining, creating a look that is modern and fresh. Gray Oak comes in rectangular tiles that emphasize the veining patterns and draw the eye out beyond the tile flooring.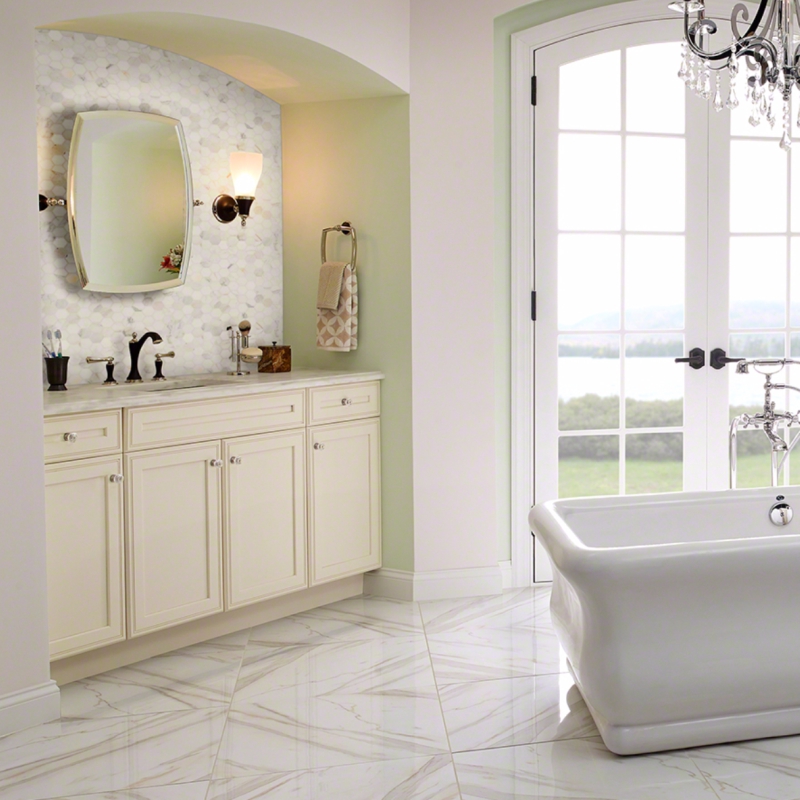 Featured: Calacatta Cressa 2" Hexagon Honed Marble backsplash
While the stylish looks of marble will easily withstand the test of time, the material itself will develop a patina as it ages. This is part of the natural beauty of this timeless classic. Many homeowners find this charming, but others do not prefer the look. Another thing to keep in mind with marble—like this Calacatta Cressa 2" Hexagon Honed Marble Mosaic backsplash—is that marble is a porous material. This makes it more susceptible to etching and staining, particularly in areas prone to be wet.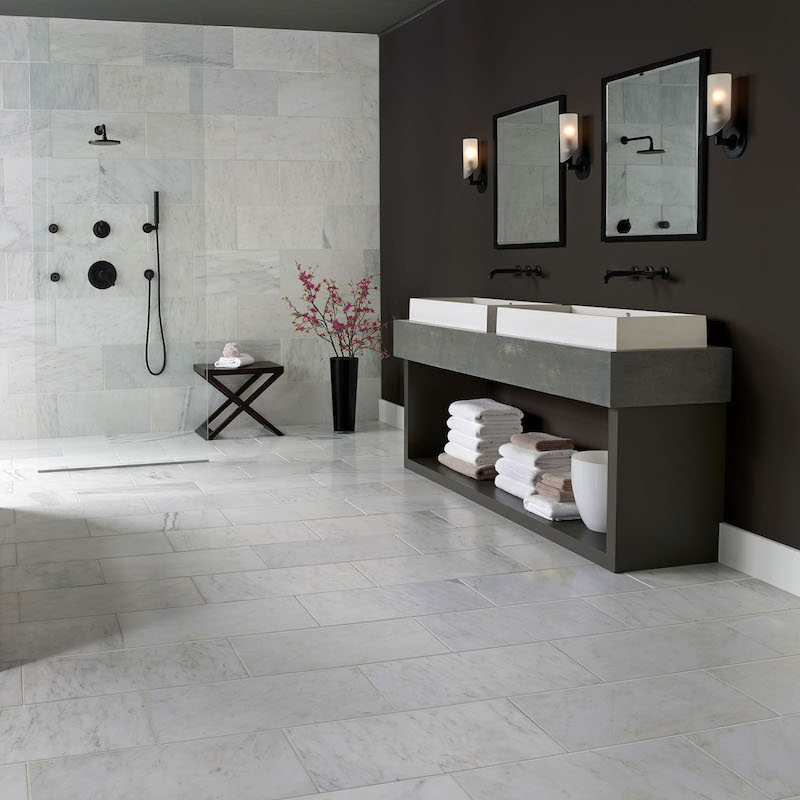 Featured: Arabescato Carrara Marble
To combat signs of wear, marble should be regularly cleaned with suggested cleaners, and should also be sealed annually. This routine maintenance is an extra effort that some homeowners aren't up to, while others will find it well worth it to enjoy a piece of natural luxury in their homes.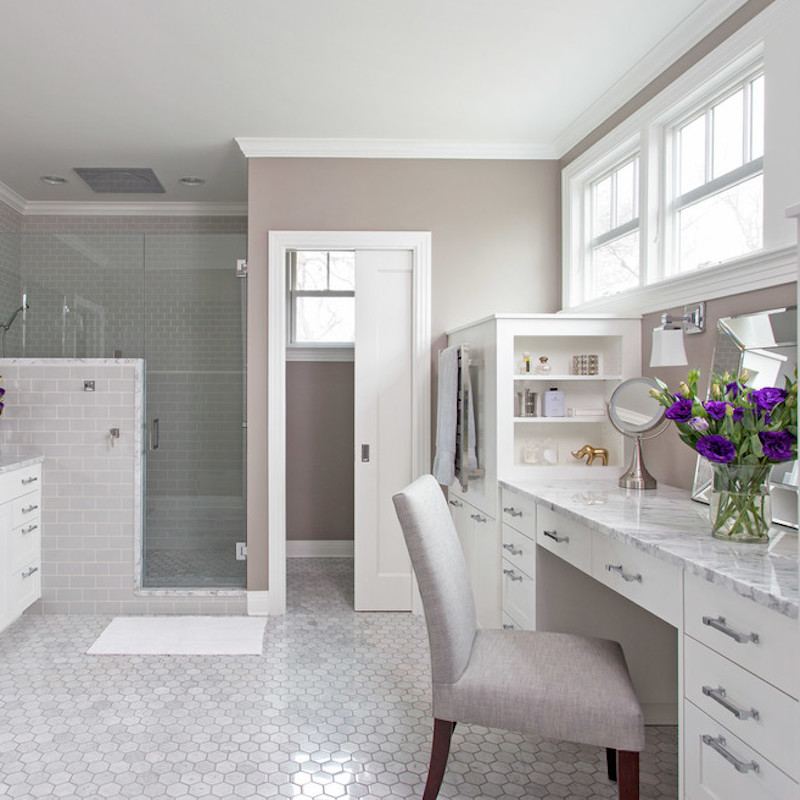 Get this look with MSI's Calacatta Cressa 2" Hexagon Honed Marble flooring
(Photo Credit: Houzz)
Despite the required upkeep and delicate nature of marble, the glamor and beauty of this material is more appealing to some than any perceived downside. Feast your eyes on this Calacatta Cressa 2" Hexagon Honed Marble flooring. This gorgeous material makes the perfect tile flooring with its rich, velvety feel and soothing grey and white palette.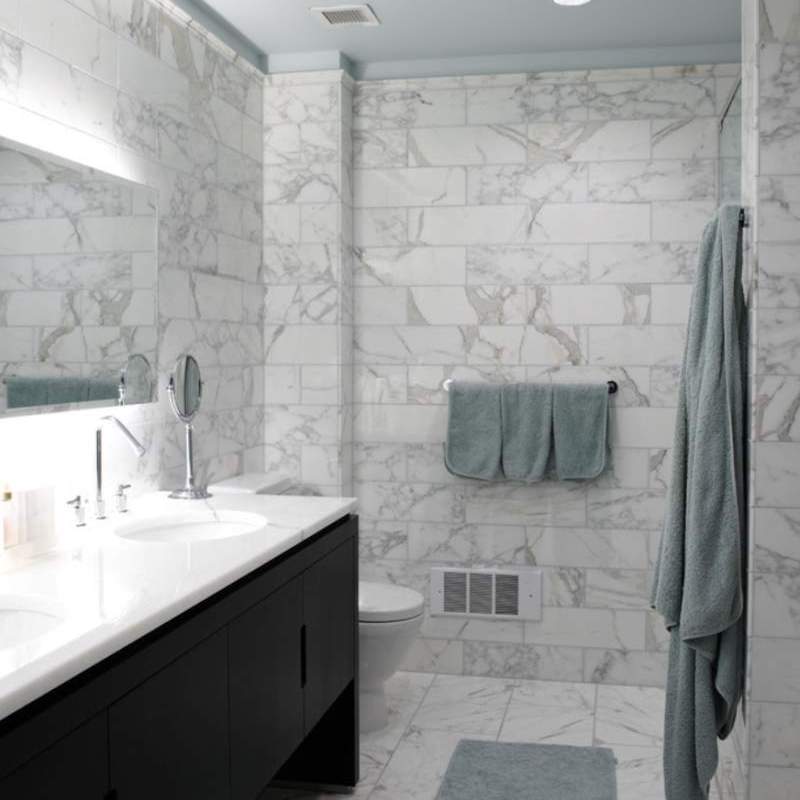 Recreate this look with MSI's Statuary Venato Marble (Photo Credit: Houzz)
Statuary Venato Marble, from Italy, is one of the most beautiful tiles offered by MSI. Plus, installing an imported luxury tile like this in your bathroom can raise the value of your home. Imported marble tile is equated with luxury and wealth, and prospective buyers will be thrilled to see a marble backsplash. This marble also comes in polished and honed slabs, as well as 12x12 and 12x24 tiles, giving you additional design choices and applications.
Marble may not be for everyone, but it's a staple of luxury interiors and is always in good taste. To explore more marble bathroom trends and decide if marble tile is the right choice for your home, read on.