Popular
New Colors Make A Splash Underfoot: Everlife™ LVT
September 01, 2020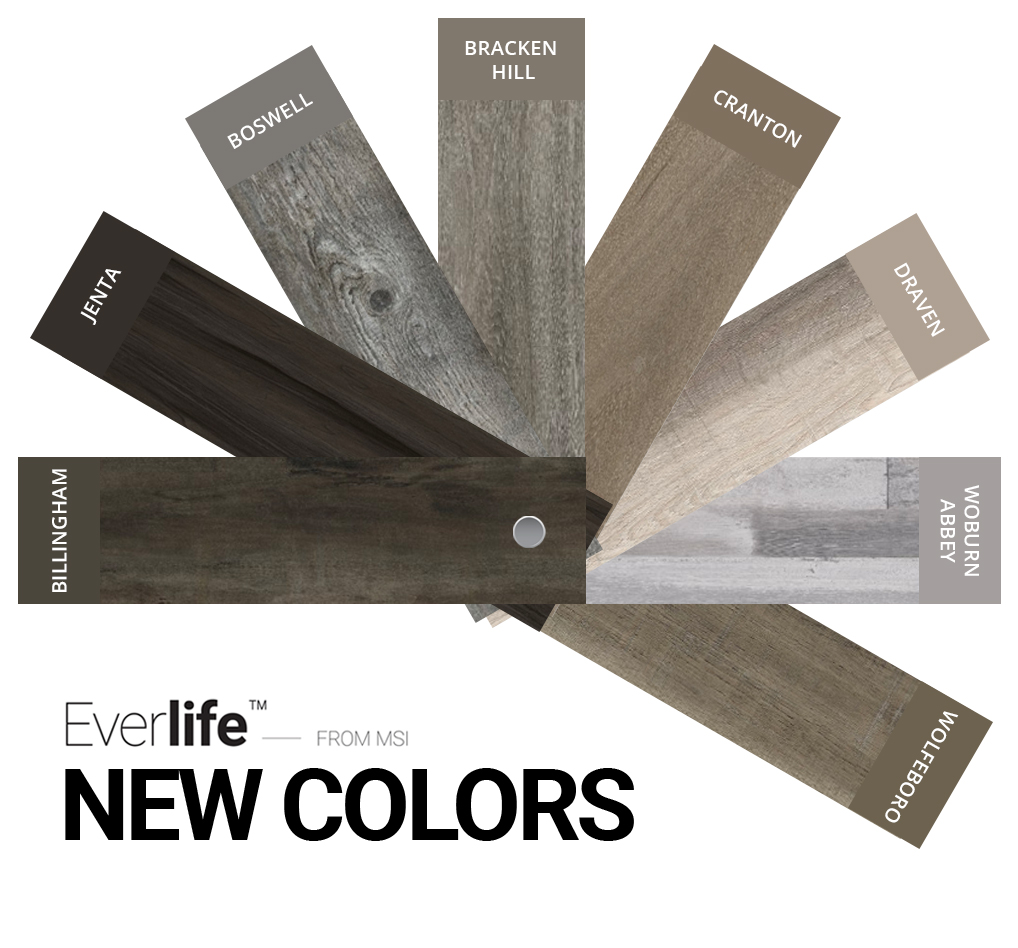 We can't remember a time when we slowed down enough to see our interiors so clearly. While it's been a year like no other, the desire to simplify our home life remains top of mind. Whether Zooming from the kitchen island or schooling the kids in the den, spending more time indoors has us looking for ways to make family life easier. For many, it means flocking to all things super practical, like the workhorse Everlife LVT. With a sea of new shades just hitting the market, there's no better time to dive into the dreamy side of this low-maintenance super-trend.
Thanks to our design team's expertise on the hottest colors in the industry, homeowners have the largest selection of on-trend luxury vinyl tile at their fingertips. From pale weathered grays to classically rich mahogany, we curated eight new shades to brighten up your next project. It's now easier than ever to find your favorites in our Rigid Core Luxury Vinyl Plank Series. Get ready to be inspired!
Billingham Goes Dark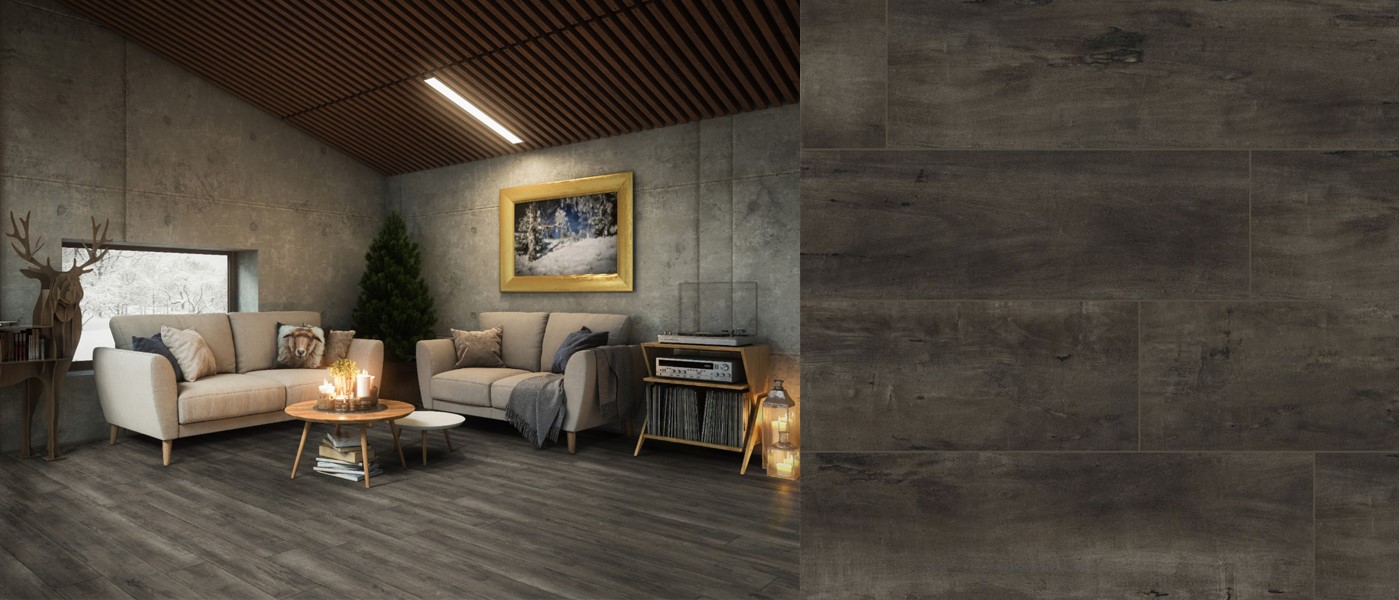 Billingham brings time-honored refinement to the deep end of the color wheel.
Rich brown hues are making a comeback – especially in ultra-sensible LVT planks. If your next project calls for dark wood tones, Billingham's classic looks are worthy. The definition of everyday elegance, the mahogany lookalike does not disappoint – especially with a contrasting white wall. A natural for traditional interiors, deep colors floors are perfect for grounding a room.
Jenta: Drama Done Right

Jenta's tonal variation and grain character have the perfect amount of zing.
Modern exotic meets understated styling to deliver distinctive looks without the distraction of a busy graining pattern. Jenta makes a statement in contrast and striation, but the optics aren't over the top – especially in an open footprint. A beautiful solution for sleek and transitional design concepts, we love the mix of dark charcoal and deep saddle brown tones.
Boswell: Barn Wood Beauty

Boswell's reclaimed wood looks lend a down to earth vibe to this relaxed, home office.
Inspired by highly sought-after aged wood, Boswell mimics timber stripped from weathered barns. Cool grays combine with warm brown accents to give these rustic yet refined planks all the natural variation of the real thing. Because it complements a variety of painted and stained cabinetry, this raw, organic look is the perfect foundation for remodels and new builds.
High Contrast, High Demand: Meet Bracken Hill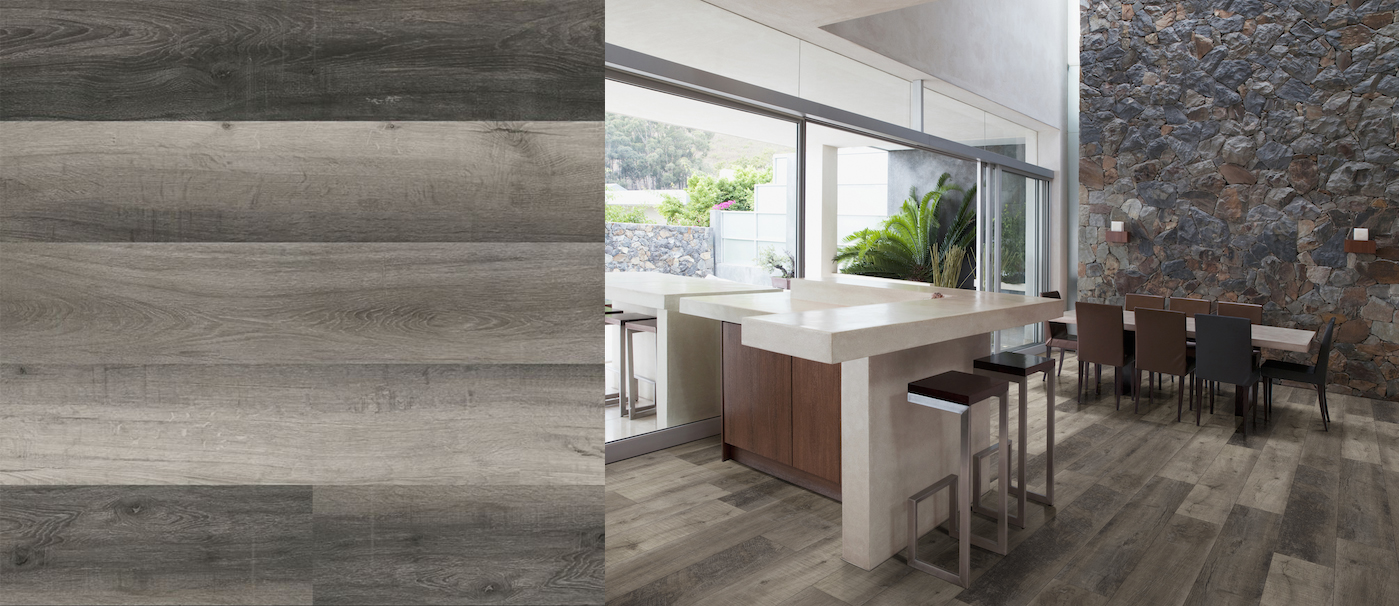 Bracken Hill proves that print technology is all grown up and ready to wow the skeptics.
High variation and packed with style, Bracken Hill gives customers another reason to love the uber-important washed and worn gray tones. Between the sophisticated graining, subtle knot holes, and light, mid, and dark grays, these neutral planks are inspired by driftwood faded by the sun. Bracken Hill hides dirt well and plays nicely with warm tones (notice the coffee table above). Paired with bulky traditional style furniture? Not so much.
Cranton Stays Neutral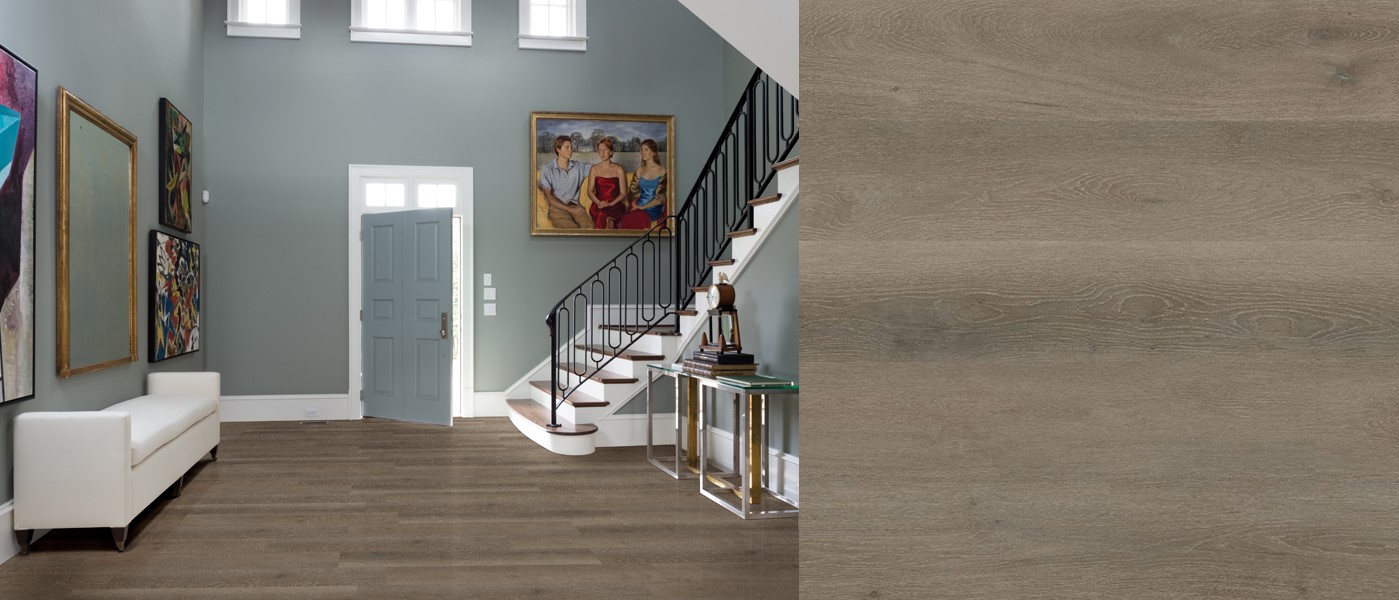 Hello calm, this is beige-for-days Cranton.
All the makings of an industry go-to, Cranton is a super neutral design option with mid-tone, monochromatic coloration. The planks appear more solid when installed, lending a warm buff color to a broad range of interior styles. If you're on the hunt for a soft, natural look that allows fabrics and furnishings to pop, this one's for you. To create seamless interiors, don't forget the coordinating trim available on all Everlife LVT colors.
Draven: Perfectly Weathered

Draven shines underfoot in this mixed-use open space.
Weathered and worn, hand-scraped and beautiful, Draven has a unique surface texture that looks like it has been around for ages. (A seaside boardwalk comes to mind.) Custom warm and cool grays mix with hints of chocolate brown, lending authentic hardwood appeal to busy households and commercial spaces. Draven is a must for designers who use texture and color to create dynamic, nuanced spaces.
Unexpected Versatility: Woburn Abbey
When you can't decide on cool or warm undertones, Woburn offers both.
A chameleon on the color wheel, Woburn Abbey swings warm or cool, depending on the lighting and furnishings. In the paint world, these highly-adaptive gray and beige shades—made all the more appealing by a multi-width plank effect—are in high-demand. A nod to the modern farmhouse, this ultra-versatile wood look effect is perfect for a variety of interiors. Try our floor visualizer by clicking "See This in My Room" on the product page (below the color swatch).
Wolfeboro Brings the Outside In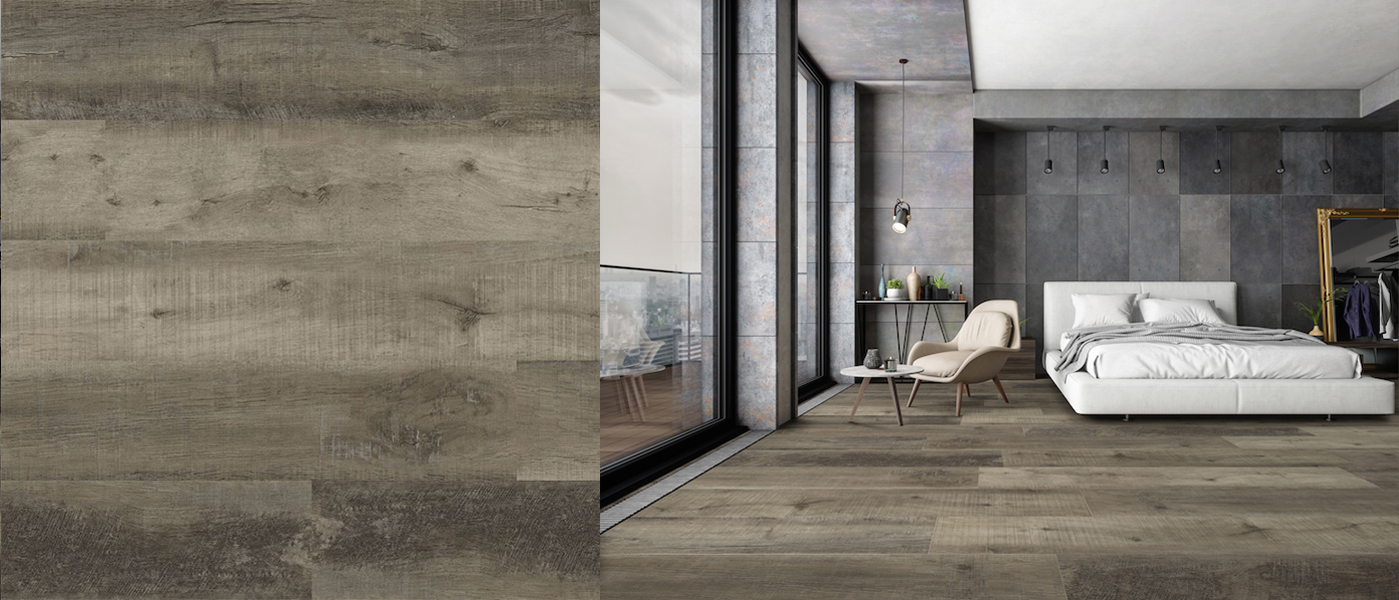 Relaxed yet upscale, Wolfeboro sets this living space apart with its high-low tones.
Rustic refinement is alive and well in Wolfeboro – which has an edge that's both fresh and updated. Saw-marks add character - especially when combined with brindled shades of brown. A warm-hued wood-look, Wolfeboro features a specialized textured surface that readily mixes with a variety of design concepts. From beach houses to contemporaries, these super-natural looking planks anchor a room like no other.
Never Sweat the Small Stuff

Transforming spaces - one worry-free look at a time—these beautiful new colors take sensible to a new level. Kids, pets, a steady stream of houseguests? We've got you covered. Whether you choose Cyrus, Prescott (both 7"x 48") or XL Cyrus (9" x 60"), this 100% waterproof collection is designed to resist whatever comes your way – including stains, scratches, and dents. Each features an easy-install locking system back by industry-leading warranties, best-in-class performance, and top-rated eco certifications. Learn more in our latest Everlife Luxury Vinyl Flooring video.
More About Luxury Vinyl Tile
Is Luxury Vinyl Tile A Good Choice for A Basement Floor?
Can Vinyl Flooring Be Used Outside?
Is Luxury Vinyl Tile Better Than Traditional Floor Tile?
How To Clean Your Luxury Vinyl Flooring To Keep It Looking New