Are Luxury Vinyl Planks A Good Choice For A Basement Floor?
September 07, 2020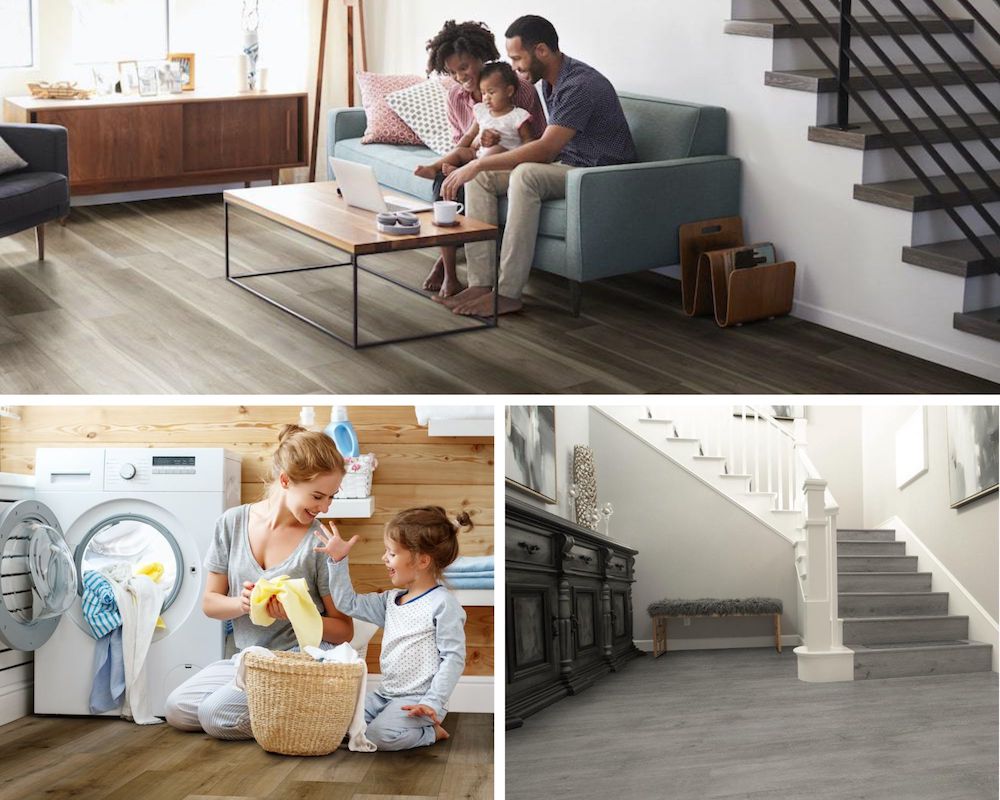 Having a home with a basement instantly increases your living space. But, before you start picking out the perfect floors for a beautiful makeover, you have to consider the damp conditions basements are prone to. That's what makes luxury vinyl planks (LVP) the perfect flooring choice because of its waterproof features and extreme durability. Instead of utilizing your cold and boring underground room as simply a forgotten storage area, you can now transform it into the ultimate game room or cozy nook of your dreams that will stand the test of time. Read on to learn more about what makes LVP the best choice for basement floors.
Luxury Vinyl Planks Are Waterproof
Since basements are below grade, meaning partially or fully below ground level, they often are damp, cold, and prone to moisture and water damage. Everything from a busted pipe to a broken water heater and rainstorms to water seeping in from outside could put your basement in danger of ruined floors and more, so it's key that you choose waterproof flooring.
A luxury vinyl tile floor is one of the go-to flooring options for basements because it's waterproof, not just water-resistant, so you can feel confident knowing that your floors will stand up to whatever moisture or water may come your way. Unlike other materials that may swell or peel when exposed to water, vinyl flooring can be exposed to water for days without getting damaged. That's because vinyl plank flooring is actually made of plastic, so water won't penetrate the surface like natural materials.
If you're installing LVP on a concrete slab, then it's important to add a vapor barrier between the porous foundation and the floating vinyl in order to avoid water being pushed from the foundation due to hydrostatic pressure in the ground. Even though it may only happen after the snow melts or after a major rainstorm or hurricane, this trapped water could cause mold to form on the underlayment. Adding this inexpensive vapor barrier to click-lock vinyl will avoid those issues, whereas the vinyl floor adhesives for glue-down LVP can be expensive in order to avoid any moisture or mold issues down the line.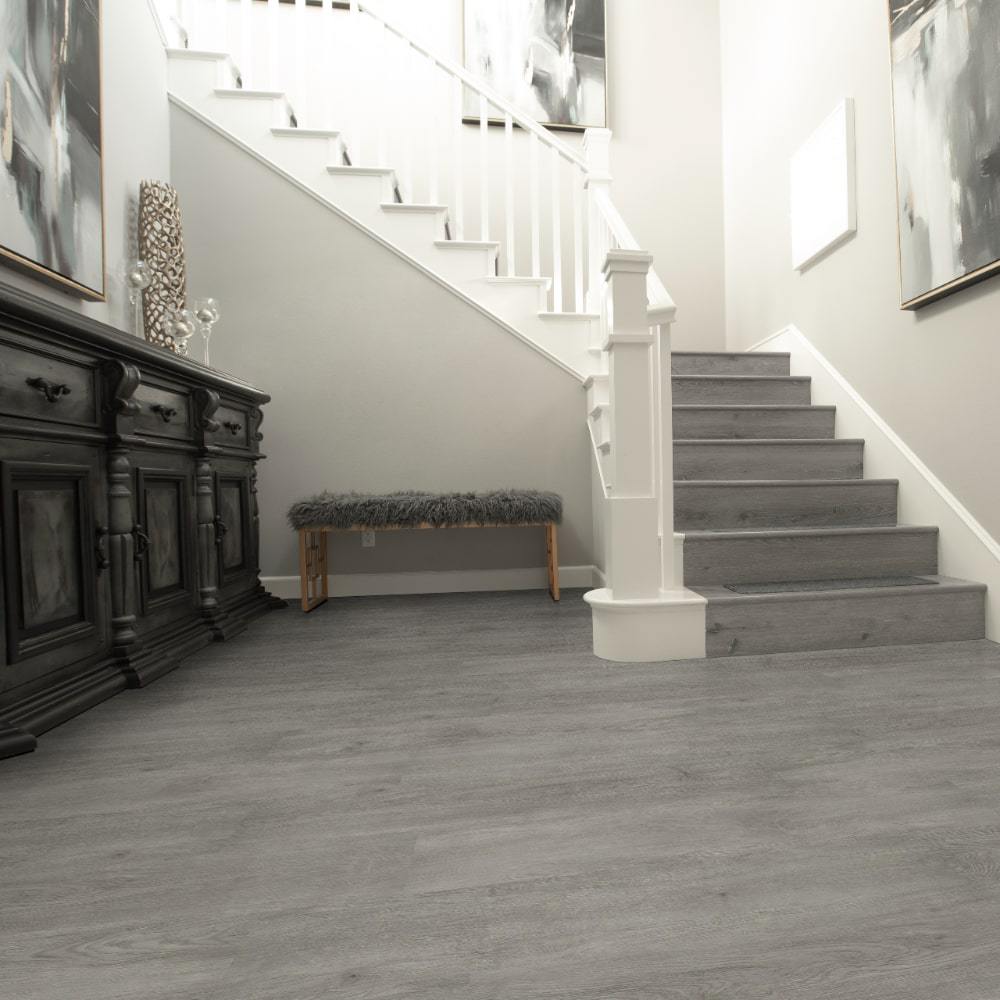 Grayton Luxury Vinyl Planks
LVP Is Durable and Versatile
There are many uses for a basement, from a movie room to a home gym, so it's important to have durable flooring, especially if heavy things are being placed or dropped on the floor on a constant basis. This is when the wear layer measurements are key for your vinyl.
To get the most durable LVP, check for vinyl with a wear layer of 20 mil or more. This measurement refers to the depth of the very top layer, while millimeters refers to the thickness of the entire tile or plank. The wear layer helps protect the vinyl from stains, scuffs, scratches, and even fading. Of course, there's also the wear from pets and kids, whether it's nail scratches and potty accidents to spilled drinks and dropped toys.
This rustic game room is an excellent space for gathering with friends and family, and that means it may get a lot of foot traffic. The darker, elegant vinyl planks ground the large area, while the weathered pattern provides tons of visual interest.
LVP Is Beautiful
Today's technology allows luxury vinyl to look so realistic that it will instantly transform your basement into an inviting, usable living space. You may even have a hard time differentiating vinyl from real hardwood, it's that good! You'll have a wide array of stunning colors, patterns, and textures to choose from to work with whatever design style or theme you love most. For instance, the LVP and other design features give this basement an elegant, classic feel. You can't go wrong with a medium-tone brown with realistic knots and grains, especially when it contrasts the sophisticated, traditional beadboard and warm beige walls.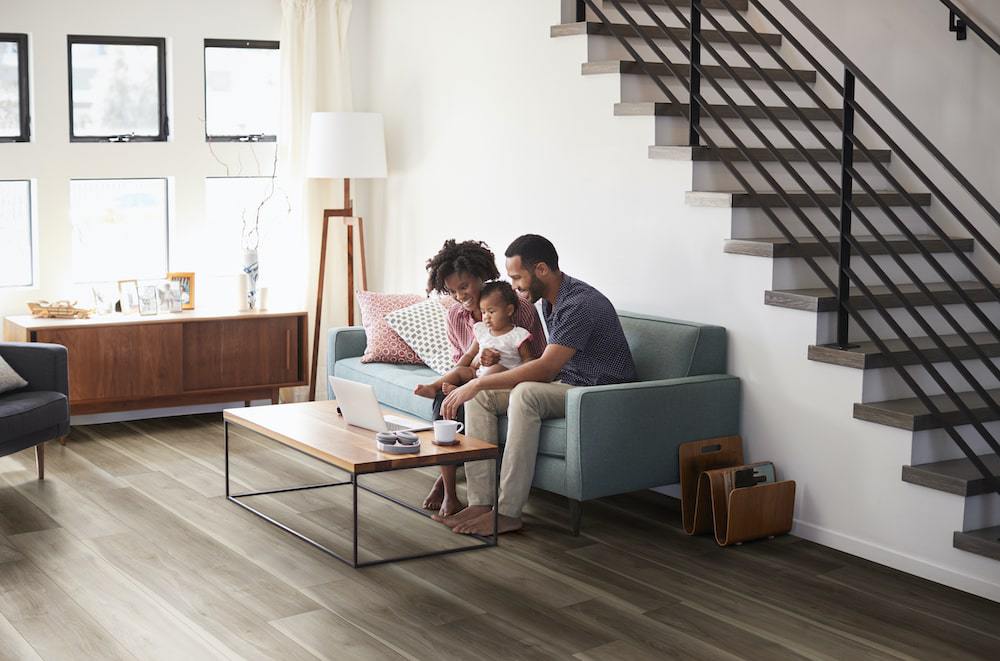 LVP Is Affordable
One of the best luxury vinyl flooring benefits is that it's an affordable flooring option. The cost typically ranges from $2 to $7 per square foot, and many can tackle an easy DIY installation without the need for any special tools. When compared to another popular option for damp spaces, porcelain tile ranges from $.50 per square foot for low-quality tiles to $15 per square foot. Hiring a professional to install them adds to the overall cost. If you were to tackle it yourself, then you'll need to add in expenses for tools and materials like a tile cutter, thinset, and grout.
Attractive and practical vinyl flooring is definitely a more budget-friendly option for your basement, and the cost savings means you can spend money elsewhere on much-needed new electrical that's up to code, can lights to help brighten up the space, cabinetry for extra storage or functionality, and wall treatments for a special touch, which can all add up to a big portion of your budget.
With a convenient kitchen in the basement, this home can be converted to a multi-gen house or include a rental unit for additional income. The lighter LVP helps brighten the space and looks beautiful against the bright white cabinetry and blue-gray walls.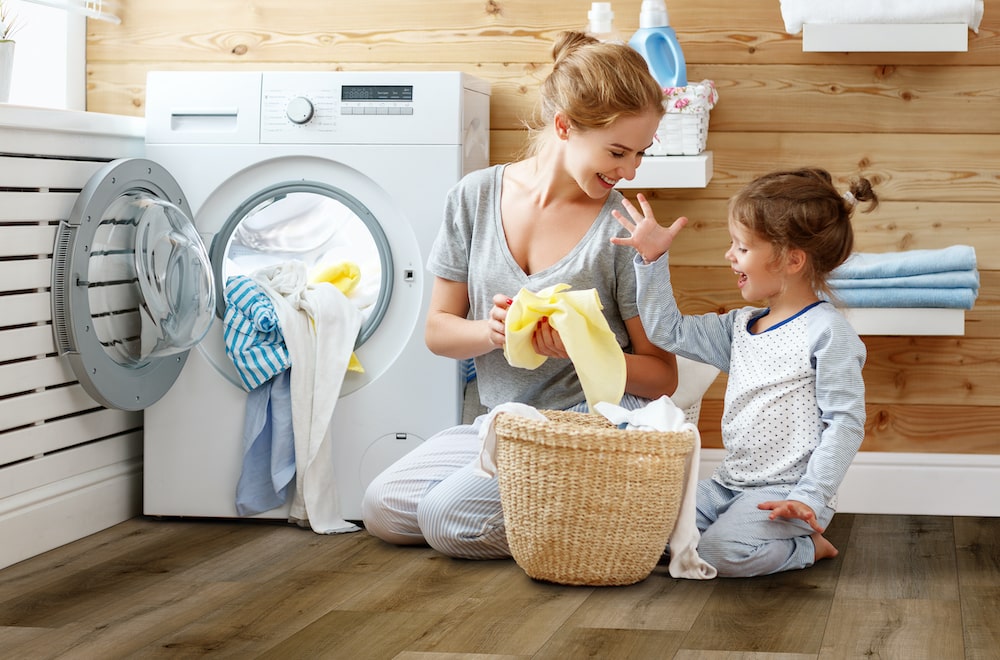 Blythe Luxury Vinyl Planks
Luxury Vinyl Planks Are Warm Underfoot
Basements tend to be colder than the rest of the house since they typically don't have forced heating down below. But, don't fret if you live in an area with frigid temps because you can install radiant heating beneath your floating luxury vinyl floors. LVP is already warmer to the touch than ceramic tile or bare concrete, and with the addition of radiant heating to your vinyl flooring installation, you can enjoy a cozy, comfortable addition the entire family can enjoy during the cold months.
Luxury vinyl planks are one of the most beautiful, practical types of flooring you can add to your basement, especially if water is a concern. It is simple to install, looks realistic, and is impervious to water. Plus, since the vinyl flooring care and maintenance required is so easy, you'll keep your new floors looking like new on the regular!
One of the reasons luxury vinyl tiles are so popular is because they can be installed in nearly any indoor space, regardless of what's already on the floors. You could get started today and be done in just a few days – and with professional, polished results. If that sounds attractive to you, read Luxury Vinyl installation best practices for optimal results.
Are you still deciding which vinyl flooring is right for you? Learn the differences between Luxury Vinyl Plank and Luxury Vinyl Tile. Chat with us online now, visit an MSI showroom, or contact an MSI authorized dealer to learn more.
More About Luxury Vinyl Flooring
New Colors Make A Splash Underfoot: Everlife™ Luxury Vinyl Flooring
Can Vinyl Flooring Be Used Outside?
Is Luxury Vinyl Tile Better Than Traditional Floor Tile?
How To Clean Your Luxury Vinyl Flooring To Keep It Looking New