Is Luxury Vinyl Tile Better Than Traditional Floor Tile?
September 23, 2020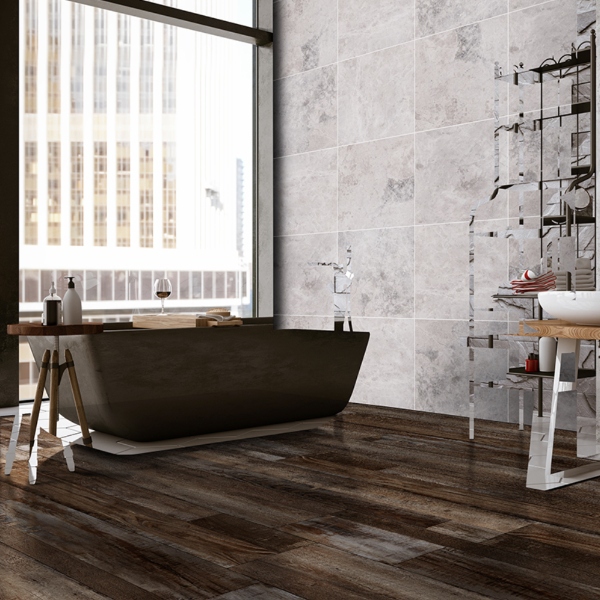 For flooring that's impressive yet cost-effective, many turn to luxury vinyl tile flooring or ceramic or porcelain floor tile. These realistic options give you the style of hardwood without the hassle. But, asking which one is better than the other really depends on the context of the flooring needs as well as other factors like appearance, installation, water resistance, and care. In order to help you make the right flooring decision for your next design project, we'll dive into the details of what makes LVT and traditional floor tile distinct.
Appearance
Luxury vinyl tile and vinyl plank flooring comes in literally every design choice you could ever want, from ceramic or stone tile looks to realistic hardwood styles in the most popular wood types. Technology has improved drastically over the years to the point where many cannot tell the difference due to improved print designs and textured embossing.
On the other hand, ceramic and porcelain tile can't be beat when it comes to design and color options with dramatic patterns and an artisanal touch. Wood-look ceramic or porcelain tile also comes in 3D printing that features realistic prints and textures that mimic real wood just like vinyl.
Transportation
One thing you may not have thought through is how you're going to bring the materials home, especially if it's for a large installation. Both LVT and traditional tile flooring are relatively easy to load up in your car or SUV. However, if you need a massive amount of materials for a big job, then you may need to hire a flatbed truck. When comparing the weight of materials on a square-foot-by-square-foot basis, then know that tile does weigh more than luxury vinyl tiles or planks because of the additional layers of thinset, cement board, and grout needed.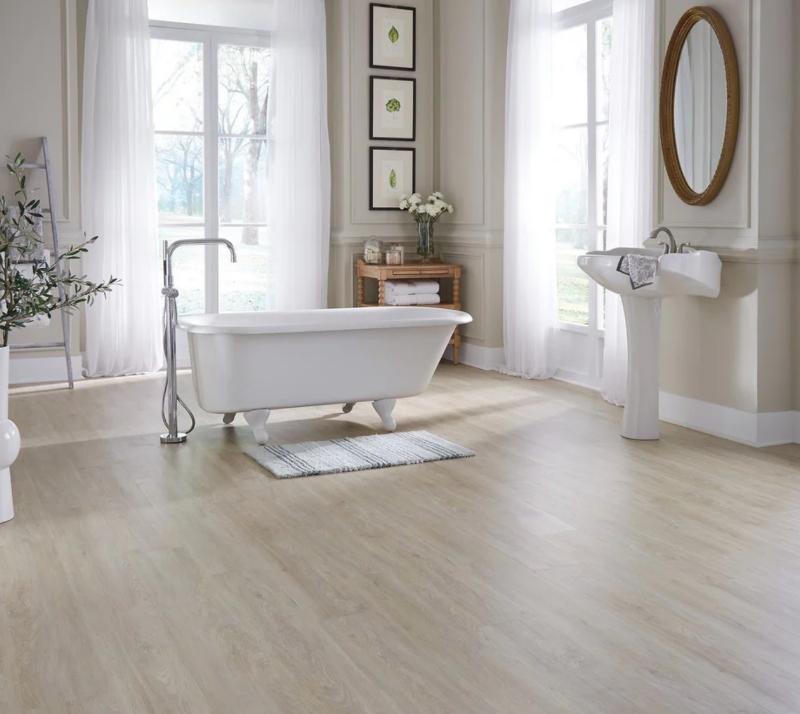 Photo Credit: Houzz
Installation Ease
Vinyl tile is easy for any DIYer since there are little tools required to install floating click-lock LVT, where planks click together piece by piece and require little floor prep, or direct glue-down LVT, where planks are glued to the subfloor and need more prep for a level surface. Cutting LVT by scoring it with a utility knife and then snapping off the excess is easy to do.
With traditional tile flooring, installation can be difficult for a DIYer because a flat subfloor is key so that the tile will be even and won't crack shortly after installation. Plus, you'll need additional tools to get the job done. Thinset is required to set the tiles, and spacers in between them help keep everything in place so that you can add grout. Throughout the install, you'll need to cut tiles using a purchased or rented wet tile saw. Using this may be more difficult for someone without floor installation experience since the tiles can chip, crack, or even break when cutting them. While you should always have an overage of tiles on hand, breaking tiles may require additional purchases and could delay the project if the same tiles aren't in stock.
Installation Speed
Both types of flooring installations require measuring, cutting, and removing certain elements like toilets to complete the job. Yet, LVT is less involved and can be done in just a few hours. Besides measuring and locking or gluing the planks or tiles down, you just need to follow a few steps and then repeat them until the install is complete, which results in a speedier installation than tile.
Ceramic or porcelain tile typically takes twice the amount of time to install versus vinyl. That's because there's more involved, including additional leveling, waterproofing, cementing, grouting, cutting, and spacing. Typically, homeowners like to hire a professional, but note that the labor-intensive work could add thousands to the overall install cost.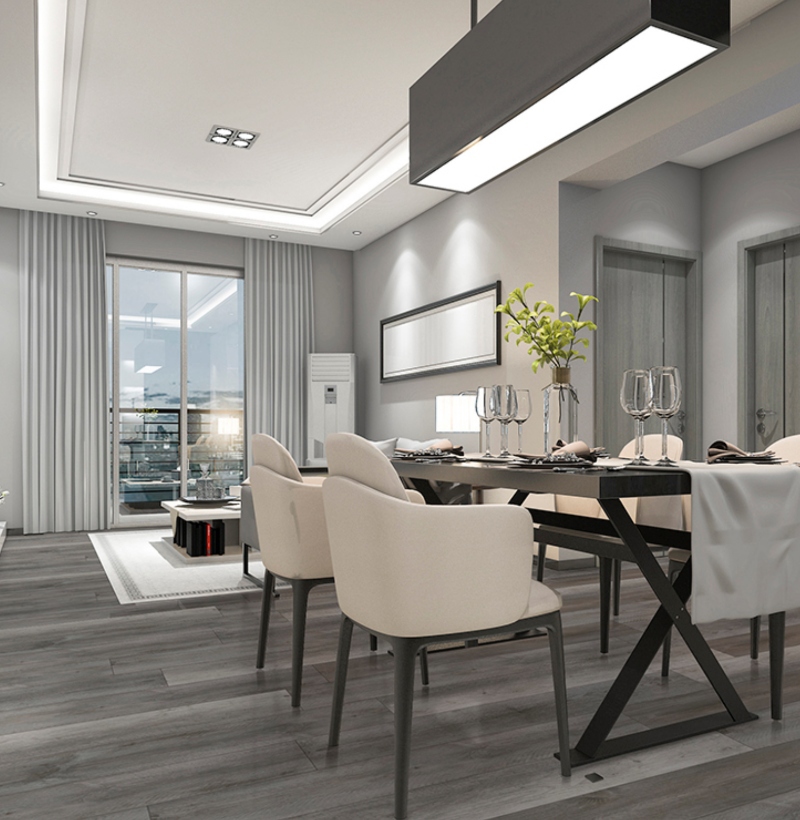 Photo Credit: Houzz
Moisture Resistance
Water from a bathroom, kitchen, laundry room, or basement can completely ruin a floor. One of the biggest luxury vinyl tile benefits of both types of LVT is that they are waterproof when properly installed. Your luxury vinyl can get wet without it warping, buckling, or staining as long as there aren't any gaps where moisture can get beneath the tiles, which could potentially lead to mold or mildew issues. Especially with glue-down vinyl, correct installation is key since the adhesive on the planks could become loose and need to be replaced. In rare cases where water damage does happen, know that the repair process for LVT may be slightly more involved.
Ceramic and porcelain tile can also be added to just about any room since they're water-resistant with the exception of the grout, and it's in these porous lines where moisture typically begins for tile floors. Fortunately, repairing cracked grout or tile to prevent water damage is a fairly simple process. But, with proper installation, the moisture shouldn't reach the subfloor beneath.
Care and Maintenance
The vinyl flooring care and maintenance required is one of the easiest to follow because there aren't any special products needed to keep it looking like new. Sweeping or vacuuming your LVT floors is recommended for daily cleaning. For tougher messes, you can opt for a mop with a non-abrasive, no-wax cleaner or a steam mop, but do be mindful of how much water is being used.
Taking care of tile is also pretty easy, but where it gets tricky is with the grout. Ceramic or porcelain floors can be swept, vacuumed, or mopped using a mild cleaner regularly. While the actual tiles may look great, the grout can get, well, grimy and gross quickly. The grout can be tediously cleaned with a scrub brush, or you can hire a professional floor cleaner every so often. Over time, you may need to restore the grout's original color using available products, or you can try changing the grout color with a grout pen.
Both flooring choices are beautiful and come with many benefits. But, luxury vinyl tile has the edge when it comes to the variety of colors and patterns, ease and speed of installation, water resistance, and simple care with no grout lines to clean.
More About Luxury Vinyl Tile
New Colors Make A Splash Underfoot: Everlife™ Luxury Vinyl Flooring
Is Luxury Vinyl Tile A Good Choice for A Basement Floor?
Can Vinyl Flooring Be Used Outside?
How To Clean Your Luxury Vinyl Flooring To Keep It Looking New
Would you like to learn more about Luxury Vinyl Tile? Read the Definitive Guide to Luxury Vinyl Tile to learn everything you need to know. And check out these vinyl flooring videos to learn more about LVT flooring styles, LVT installation, and maintenance.
Are you interested in Luxury Vinyl Tile for your home? Here are some options on where to purchase Luxury Vinyl Tile. And most LVT brands and manufacturers offer a search feature on their website to find luxury vinyl tile dealers near you.