Tips From The Trade: Why Does The Cost Of Marble Countertops Vary?
May 08, 2017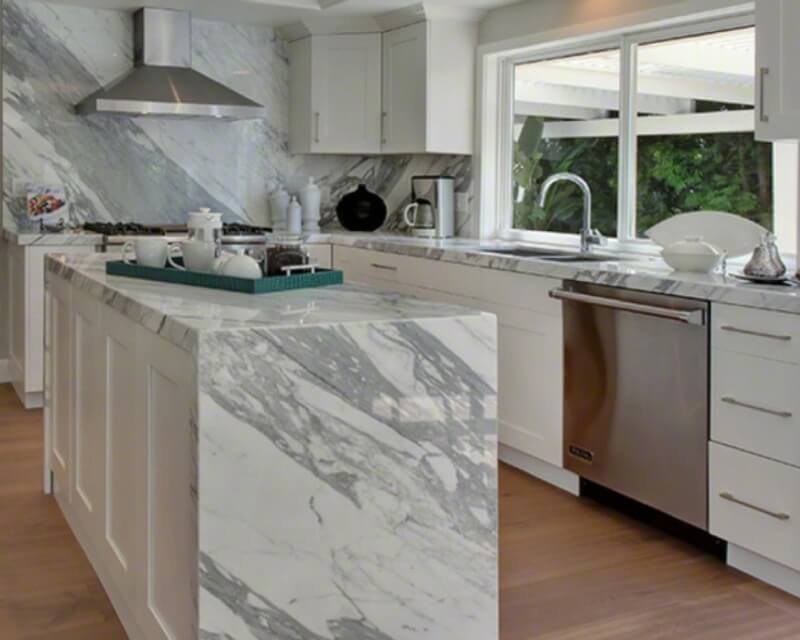 One of the most frequently asked questions in natural stone retailers across the nation is why different marble countertops vary in price. The truth is, there is no single straightforward answer that explains why some marble is on the higher end of the pricing spectrum and others are on the lower end. As you will learn below, there are many factors that determine the cost.
#1. Country of Origin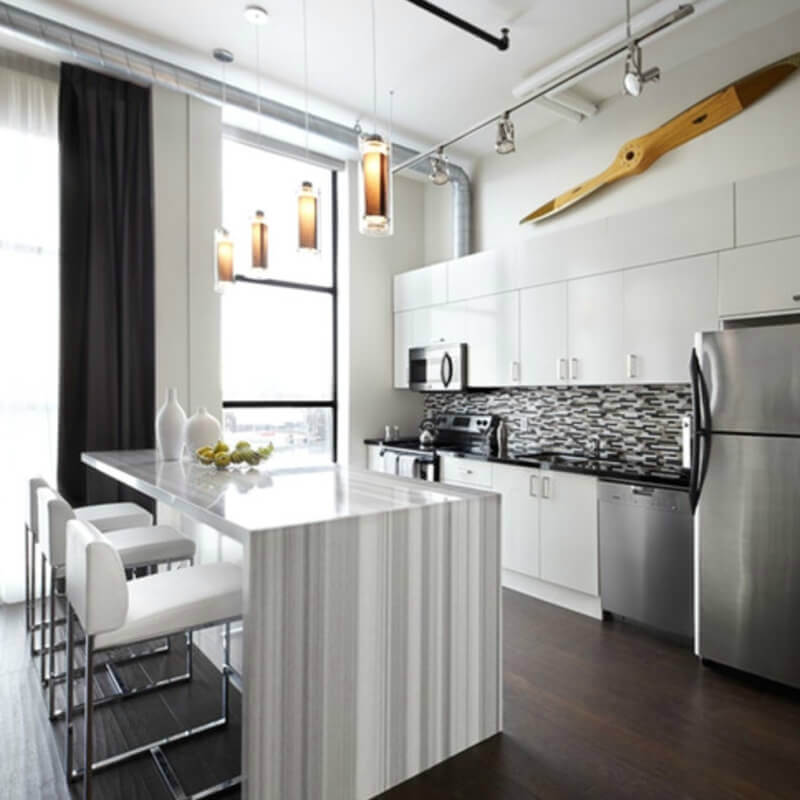 Get this look with MSI's Marmara White Marble (Photo Credit: Houzz)
Marmara White Marble comes to us from Turkey, and Mother Nature's design in this stunning gray and white linear veined marble is both on-trend and in high demand. In addition to marble from Turkey, our inventory is filled with gorgeous marble slabs from Italy, China, India, Brazil, and the USA, just to name a few countries where we do business.
We work to develop long-standing and mutually beneficial relationships everywhere we go to secure the best pricing available. However, there are factors out of our control that cause the prices of marble to vary considerably—most notably, import and export taxes and shipping.
#2. Grading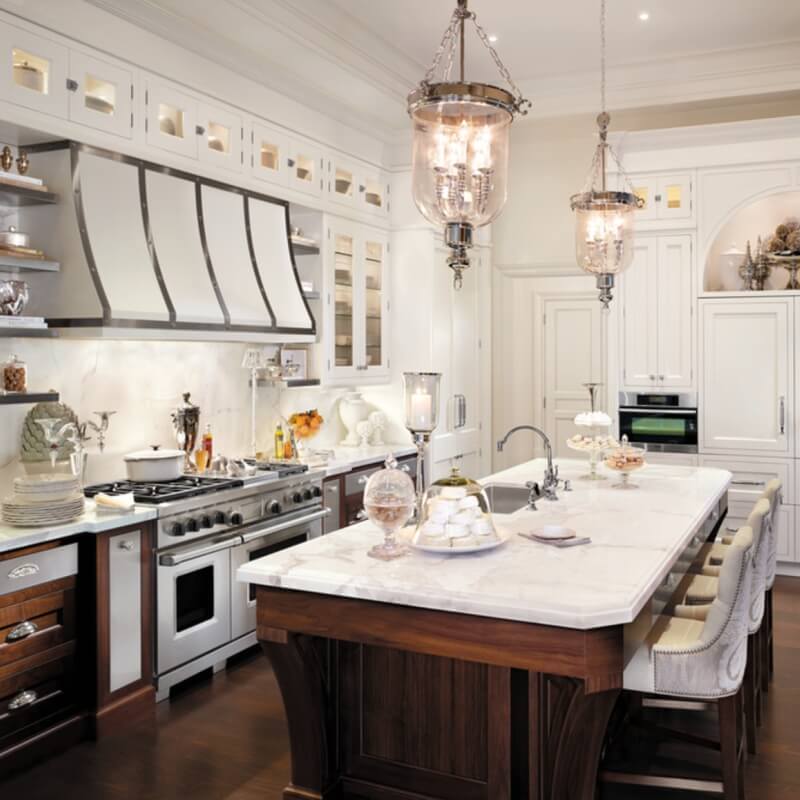 Create this look with MSI's Carrara White Premium Marble (Photo Credit: Houzz)
One of the most iconic and widely recognized marbles today is Carrara White Premium Marble. Its soft white background with subtle gray veins is a classic and timeless look many interior designers and homeowners desire. This beautiful marble is only found in Italy, and as a matter of quality and pride, the government requires each type of marble to be graded based on color and veining.
Premium Carrara marble slabs have a more desirable veining and color grade, making them more expensive than other Carrara slabs of lesser grade.
#3. Finishes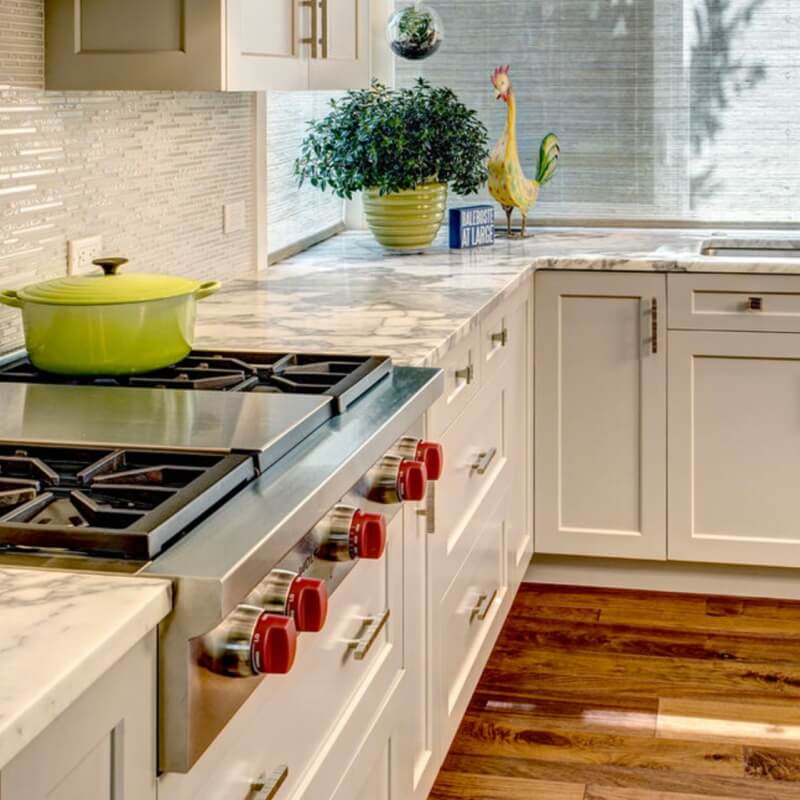 Get this look with MSI's Calacatta Black Marble (Photo Credit: Houzz)
Another factor that enters into the pricing of marble slabs is the finish. Today, many of the natural stone slabs we offer are available with a polished finish, a honed finish, or even a leathered finish.
Polished finishes are the most popular and inexpensive finish, but there are times when a more subtle texture is desired. And with a dramatic stone like Calacatta Black Marble that is so rich with color and texture, a honed finish really highlights the character of the stone.
#4. Edges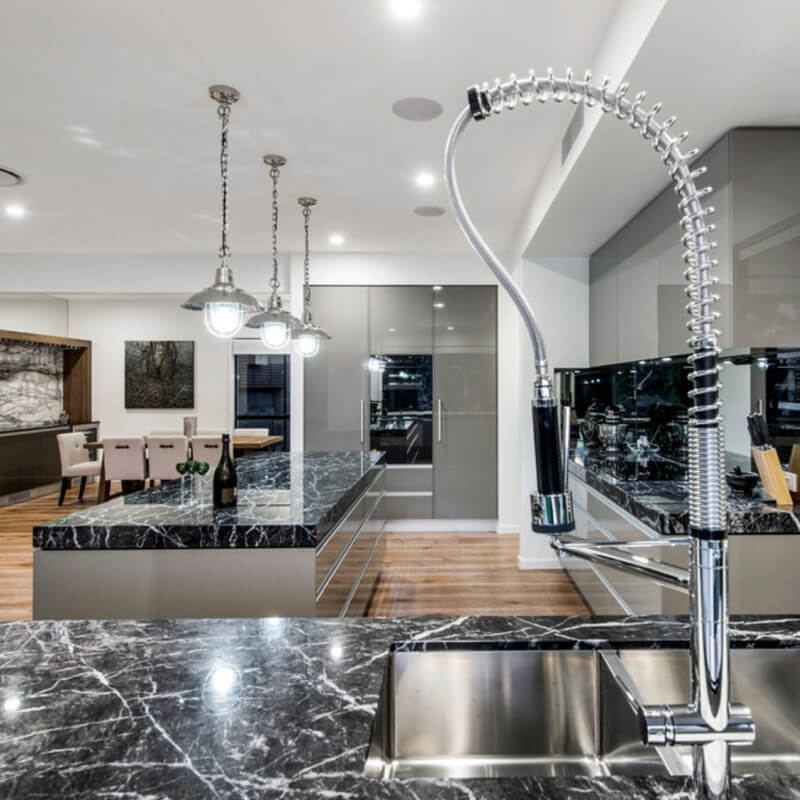 Create this look with MSI's China Black Marble (Photo Credit: Houzz)
Did you know that marble countertops can be finished with one of 12 edges? Use our Countertop Edge Visualizer tool to explore all of your options. Of course, some of the more artistic edges are pricier than others. Sometimes a double radius or a triple pencil will add the extra character you want, while some of the more dramatic marbles like the dramatic China Black Marble call for a simpler, clean edge.
#5. Installation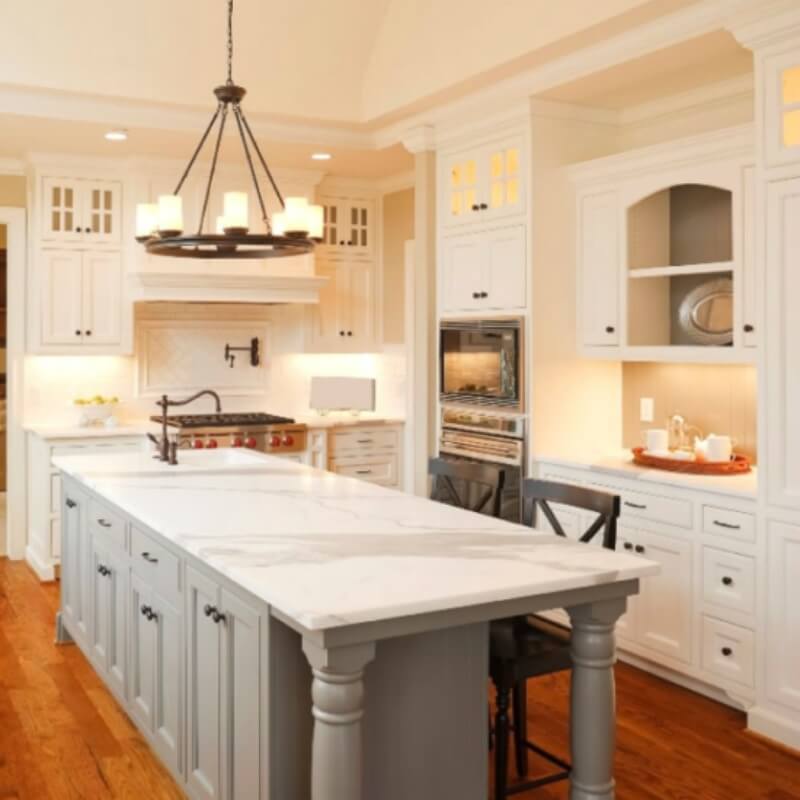 Featured: Calacatta Gold Marble
The installation also plays a big part in the final cost of marble countertops. When installing in multiple areas with various depths and widths, finishing costs and labor costs increase. For example, fabrication and installation costs are greater in this kitchen that features Calacatta Gold Marble on both countertops and island than in a kitchen where larger spans of countertop require less time.
As you can see, there are several factors that go into the pricing of marble countertops—from the country of origin to the installation, to virtually every step in between—all of these factors affect the final cost. Above and beyond cost, there are other things to consider when choosing marble countertops, including durability, best uses and areas for installation, maintenance considerations, and style. Explore MSI's entire inventory to find the perfect marble slabs for the countertops in your kitchen and baths.