Stay On Budget And On Track With Prefabricated Quartz Countertops
March 13, 2022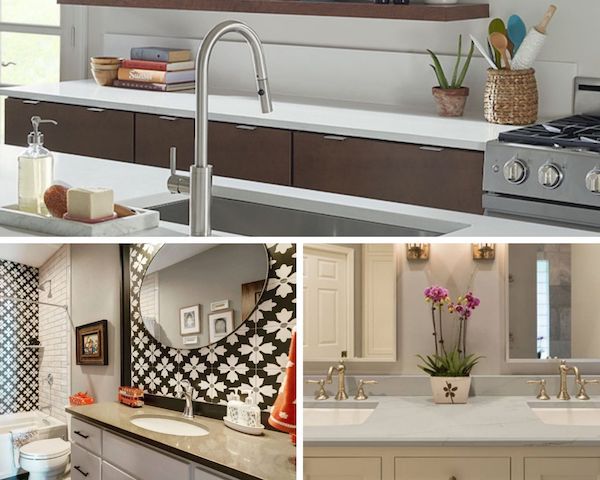 You won't be at a loss of stylish designs when it comes to prefabricated quartz countertops.
But what is a "prefab countertop" after all? And how does it compare to other countertops?
Basically, prefabricated countertops have been cut into particular standard dimensions before being delivered to distributors. They come in distinct shapes, but if a customer needs one in a certain size, it can be customized for installation.
There are a handful of benefits to prefab quartz countertops. Since they are manufactured in standard sizes, they often come at a cheaper price. This is great news for your wallet and budget as you assess your options when renovating your home! This is especially useful if your installation needs fit the standard sizing, which cuts down on costs even before, if you would believe it.
Secondly, these Q Quartz countertops are easy to install, as there isn't cutting or sizing to worry about—so again, that is great news for your remodeling bank account. There are so many prefabricated quartz colors from which to choose, too, since this material can come in all different forms. They lend themselves for enticing designs that pair well with wood cabinets, white cabinets, ideal for your revamped modern kitchen!
When you're opting for prefabricated quartz, you're selecting truly quality material without sacrificing your own aesthetic. The colors and patterns—both traditional, modern, and even eclectic—are a smorgasbord of goodies to think through as you imagine your new perfect kitchen or bathroom. And who doesn't love knowing they're saving money in the process? Dinner party guests will marvel how comfortable it is to touch your kitchen backsplash, countertop or floor and you can rest assured they are admiring how it looks just as much as how much money you saved.
Quartz is an optimal choice for countertops not just because of price, but also for maintenance. Stone like granite may require regular sealing, whereas quartz isn't porous at all, so cleanup is a cinch. That means no special wipes, liquids, or cleaning materials are needed. Quartz is not reactive to acid, does not burn or discolor due to hot plates or kitchen devices, and is generally known as stain resistant. You don't have to worry about chipping or scratching with a quartz countertop and on the whole, they last longer than their marble and granite counterparts. (So replacing one every so often is another bonus to your budget!)
Quartz countertops are also known to be more environmentally friendly, as they are found in more places than granite and marble. Some quartz can be made of recycled glass. So with so many prefabricated options, clearly quartz is a winner that kitchen renovation you have been looking forward to for so long.
When it comes to some noteworthy quartz countertop styles, let's dive into a handful of options that may get the wheels of décor inspiration turning. It's never too early to begin imagining how your new kitchen or bathroom will appear. Thankfully, there are many exciting designs, colors, and variations from which to choose!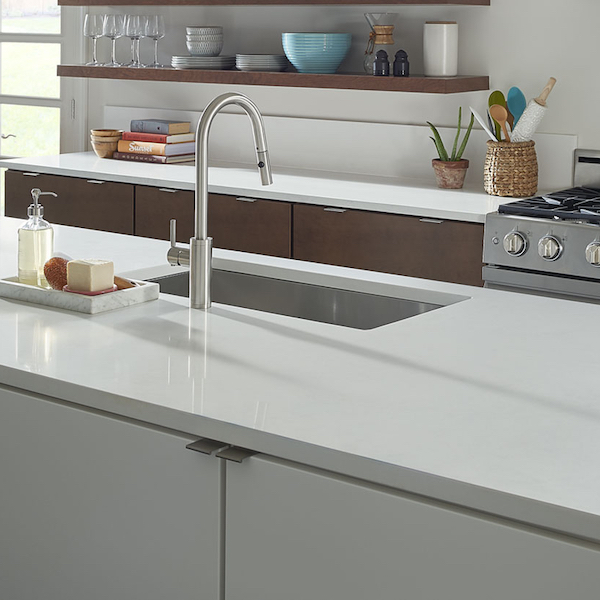 Arctic White is a startlingly white solid quartz slab with absolutely no pattern or veins. This style is ideal for those seeking simplicity and a blank canvas. Who doesn't love stunning white prefabricated quartz white countertops, floors, accent walls, and shower surrounds? Truly—this pick is ideal for a snowy and clean aesthetic the whole family will love. (And don't forget—it's easy to clean!)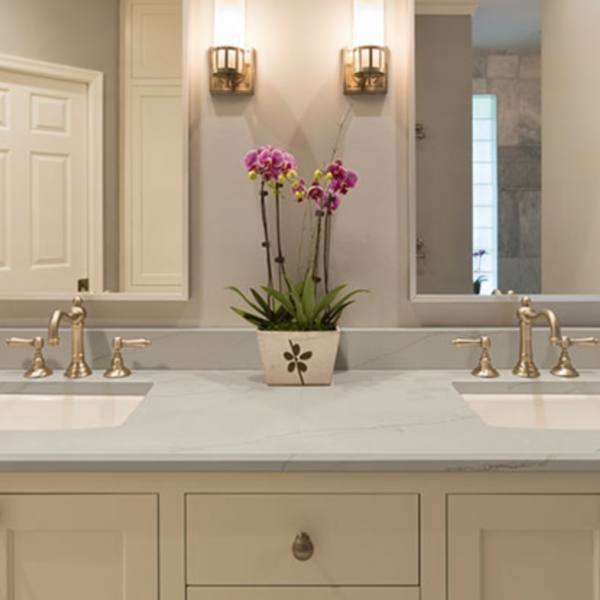 Calcatta Arno consists of a warm white backdrop peppered with thin gray veins while highlighted with charming gold accents. While this may look like marble—it doesn't stain like marble, so Calcatta Arno is a top choice for your bathroom where occasional stains may take place. (Makeup mishaps, anyone??)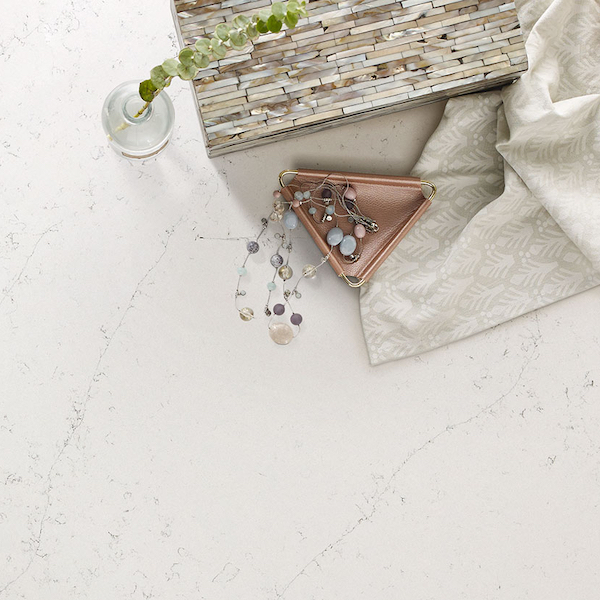 Calcatta Botanica is another white prefabricated quartz pick with light gray veining that makes for a true elegance. Some may say this is a "modern take on a timeless Italian marble," but clearly it would enhance any kitchen or bathroom beautifully. Stain, germ, and heat resistant, too. What more could you want from such a quality quartz countertop?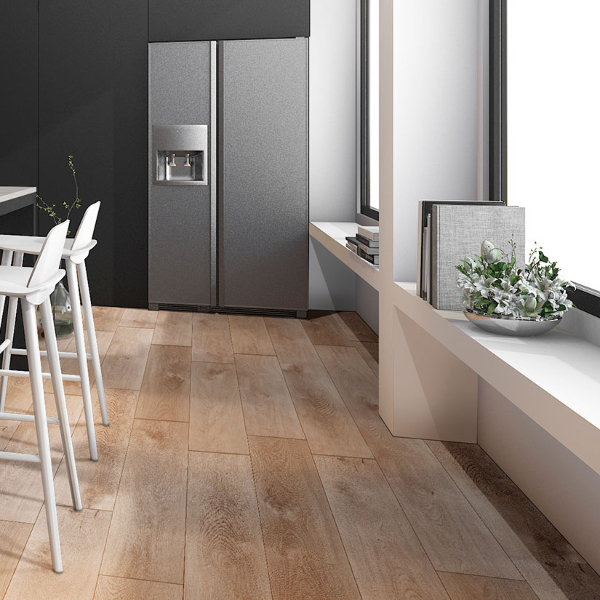 Calacatta Clara is as fun to look at as it is to say! Created with a milky white backdrop and stunning long linear veining, the elegance in this design wows any passerby. Who wouldn't want this quartz on your backsplash, kitchen island, or home countertop? Truly magnificent and what's even better? There's hardly any upkeep.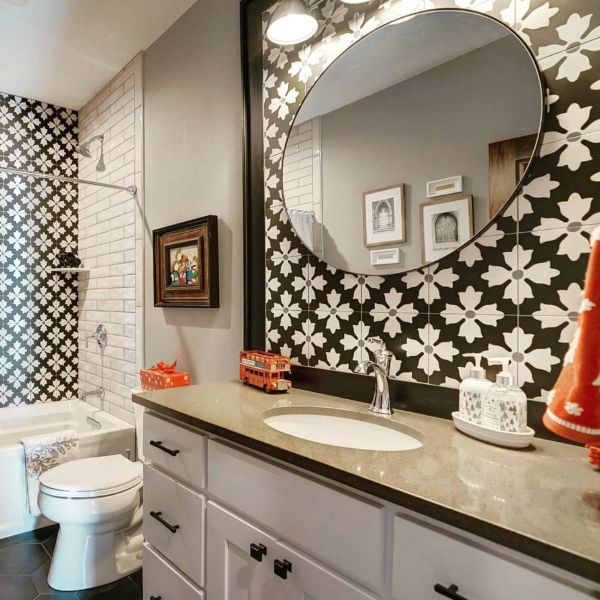 Lagos Azul is an intriguing pattern, filled with a solid brown background and darker accents. This brown quartz prefabricated countertop will easily fit into kitchens, baths, and bars—all the while creating compliments from guests. Exotic and dreamy, this design will keep you intrigued.
When it comes to prefabricated quartz countertops, you are saving money long-term. Not only are you doing so with installation and the initial purchase price, but you're also not having to buy special cleaning supplies as you would with granite or marble. Prefab countertops come in a variety of sizes and of course can be customized depending on your home's needs. Naturally, not all rooms or kitchens require the same dimensions. That's why prefabricated quartz is a great pick, as there are so many selections and exciting colors and patterns.
Cleaning your new prefab quartz countertop has never been easier. It's advised to use a mild soap or detergent and soft cloth. Should you encounter a stain, which is unlikely, a glass or surface cleaner can usually do the trick. Thankfully, you won't have to do the regular sealing required with marble and granite countertops, so you can focus on other things—like what you're serving for dinner and prepping coffee in the morning.
With so many selections from which to choose, the world is your oyster when it comes to prefabricated quartz countertops. Take some time and decide which pick is right for you and your home. With maintenance and cost at such an advantage, clearly the fun part is selecting the optimal color and design!
Read More About MSI Premium Quartz Countertops
Stylish And Durable Quartz Hotel Bathroom Countertops
Selection And Installation of Your New Quartz Countertop
Our Top 10 Dark and Dreamy Quartz Countertops
Get Elegant Long Vein Marble Looks with Quartz Countertops
Create A Welcoming Kitchen with Warm Quartz Countertop Colors
Why We Love Environmentally Sustainable Quartz Countertops