LVT Flooring - Pros, Cons, Install, & Cost
November 29, 2019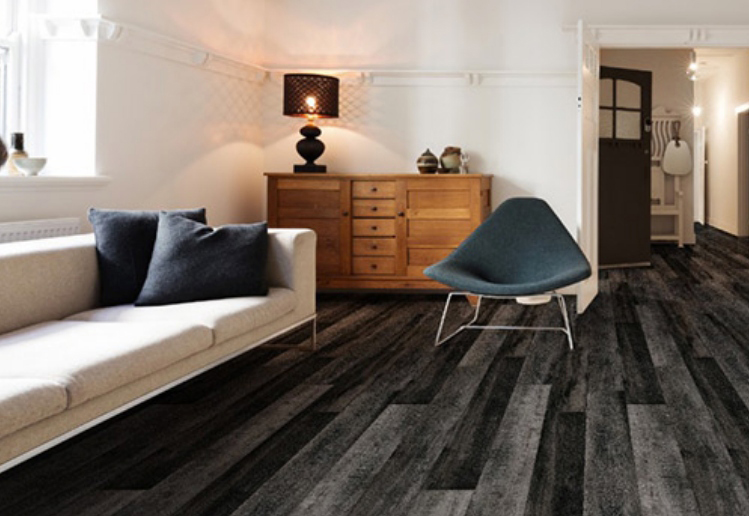 Vinyl flooring continues to increase in popularity despite the numerous flooring options available on the market. In fact, you might be surprised to know that approximately 18 percent of flooring sales are vinyl. Luxury vinyl tile (LVT) offers many features that make it stand out above the rest. While many homeowners love its realistic designs, water-resistant and waterproof properties, and low maintenance, it may not be the right choice for some homeowners. To help you make a fully informed buying decision, follow along as we explore some of the pros and cons of Luxury Vinyl Flooring.
Pros of LVT
Vinyl is a more affordable option that's perfect for families with kids and pets because of its durability enhanced by stylish designs. The hard flooring comes in a wide range of products that realistically mimic natural stone and wood and offers various colors and textures that allow for design flexibility. From rustic to modern, you can choose from aged-wood looks to neutral-tone woods that work with your individual design aesthetic.
LVT is extremely durable as it's made up of several layers that include a tile backing, vinyl core, print layer, the all-important protective wear layer, and a polyurethane coating. These layers provide easy maintenance unlike natural wood and stone. The protective wear layer not only keeps the printed design looking like new, but it also keeps it from getting damaged from scuffs and stains. It doesn't take much time either to keep up with maintaining your flooring as simple sweeping or mopping will do the trick, and you'll never have to spend time waxing or polishing it.
One of the best features of LVT is that it can be installed throughout the entire house. That's because the flooring is either water-resistant or waterproof, so wet spaces like kitchens, bathrooms, and laundry rooms won't be a problem with this kind of tile that looks like wood. But, with real hardwood, laminate, or even linoleum, the planks would swell or sheets would bubble from water damage and need to be replaced. If a luxury vinyl tile or plank does need to be repaired, it can be easily removed without having to rip out large areas of the floor.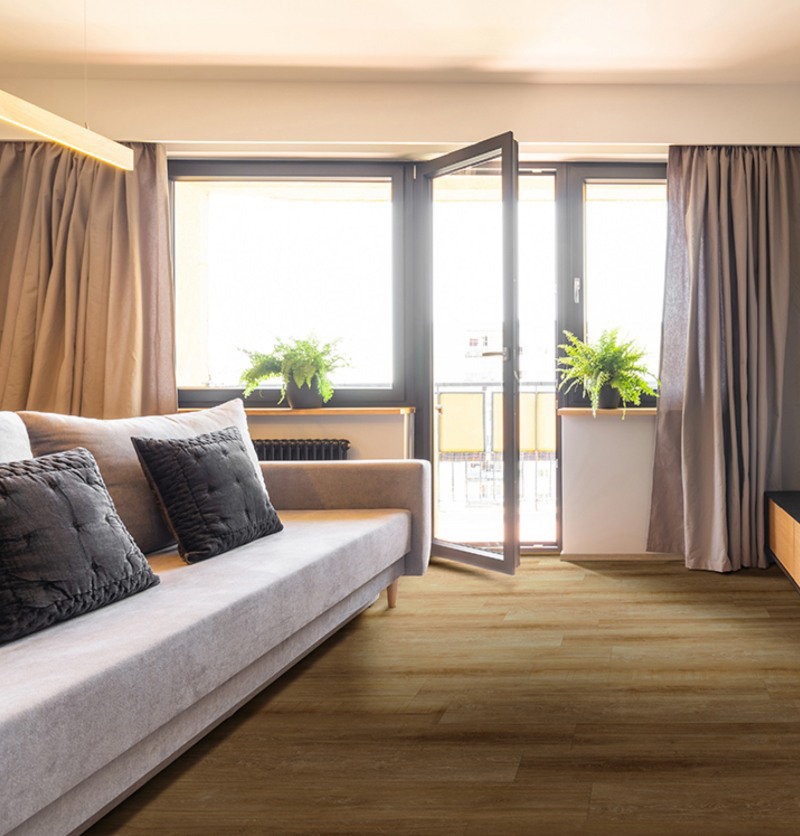 Cons of LVT
Like with any type of hard flooring, some comfort levels will be sacrificed. LVT won't be as comfortable as carpet, which can reduce muscle fatigue, but it will provide a little more give than tile. And, because of its softness, it's more susceptible to cuts or gauges than regular hard tile. It does a good job reducing noise, but carpet absorbs three times more noise than a hard floor surface.
Since LVT can be installed in wet areas, you still need to be careful if surfaces become slippery, as you should with any type of hard flooring. While vinyl is more slip-resistant than many other surfaces due to its textural options, falling on LVT won't feel as good as falling on soft carpet. Adding rugs with non-slip backings and thicker play mats for kids' areas will help.
In addition to lifestyle concerns, you also have to consider the financial investment. While it's an affordable flooring option, LVT does not add as much resale value to a property as other flooring options may. However, this may change over time as more homeowners desire hard flooring that won't swell every time their kid spills water or pet has an accident.
While wood and stone are natural materials, vinyl is not. Some products may cause indoor air issues due to pollutant gases called volatile organic compounds (VOCs), and these gases may lead to respiratory issues or other health problems. If LVT is still your best option, then you should look for products with third-party certifications for peace of mind. For instance, MSI offers a full line of LVT products that are Greenguard Indoor Air Quality Certified and FloorScore Certified. Also, remember that natural flooring typically requires synthetic materials too from polishes, waxes, or sealants in order to help prevent stains.
Installing LVT
Luxury vinyl tile is easy to install, especially when it comes to tackling a DIY project. Whether you are following the glue-down and loose-lay methods, know that both require a properly prepared subfloor, meaning you need to start with a clean, smooth, non-damaged wood or concrete subfloor. Another plus of LVT is that it can be installed directly on top of old tile. This saves time and money on labor costs when you can skip hours tearing out tile.
Since loose-lay LVT isn't being glued down, the installation will be quicker, easier, and cost less because it doesn't require as much subfloor preparation as glue-down LVT. However, since glue-down LVT does require more technique, it's best to let an expert installer handle this type of project.
Many types of luxury vinyl tiles and luxury vinyl planks also need to get acclimated before being installed. The flooring should be removed from the boxes and laid in the room for at least 24 hours before installation takes place. The temperature should also be consistent 24 hours before, during, and 48 hours after installation.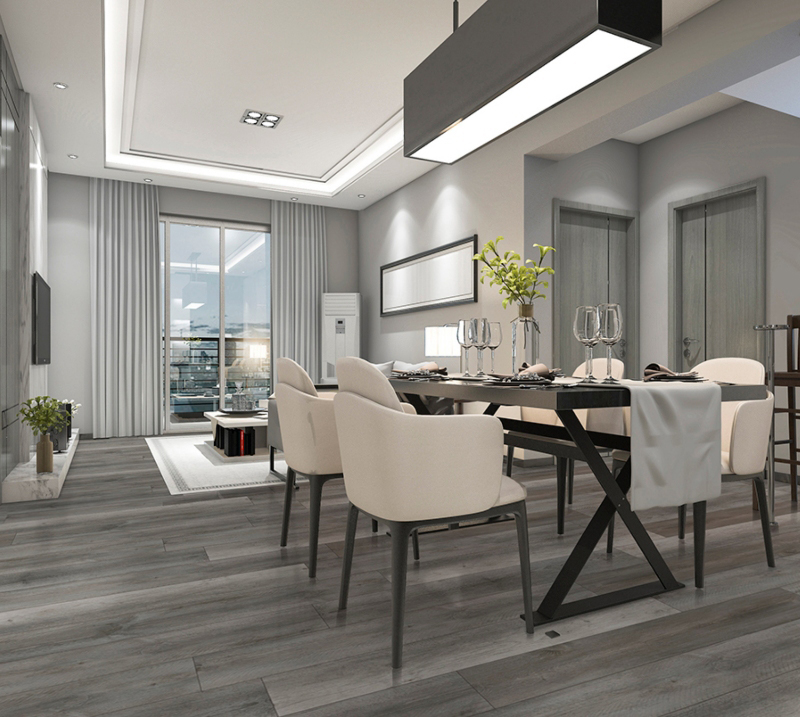 Cost of LVT
Real hardwood or stone flooring can be pricey. LVT is a more durable and affordable option for homeowners who still desire a wood, travertine, marble, or other natural stone look. It costs less than natural materials but could cost more with specialty LVT products. Material pricing per square foot varies, with costs ranging from $1.50 to $7 per square foot, while labor rates range from approximately $4 to $7 per square foot. It's also important to check what's involved in labor fees, as you may need transitions, retucking carpet, prepping, and more in addition to just laying the luxury vinyl.
LVT has come a long way, and the modern tile is taking over more market share because of its affordability, realistic designs and patterns, waterproof capabilities, and easy installation. It really is one of the best choices for today's homeowners, but you have to make sure the pros outweigh any cons.
Learn More About Luxury Vinyl Tile
Installing Luxury Vinyl Tile in the Bathroom
Luxury Vinyl Tile: The Glenridge Series
Choosing the Best Luxury Vinyl Flooring for Every Room
5 Reasons to Use Luxury Vinyl Tile Flooring