Mosaic Monday: Unique Wall Tile Accents
December 12, 2016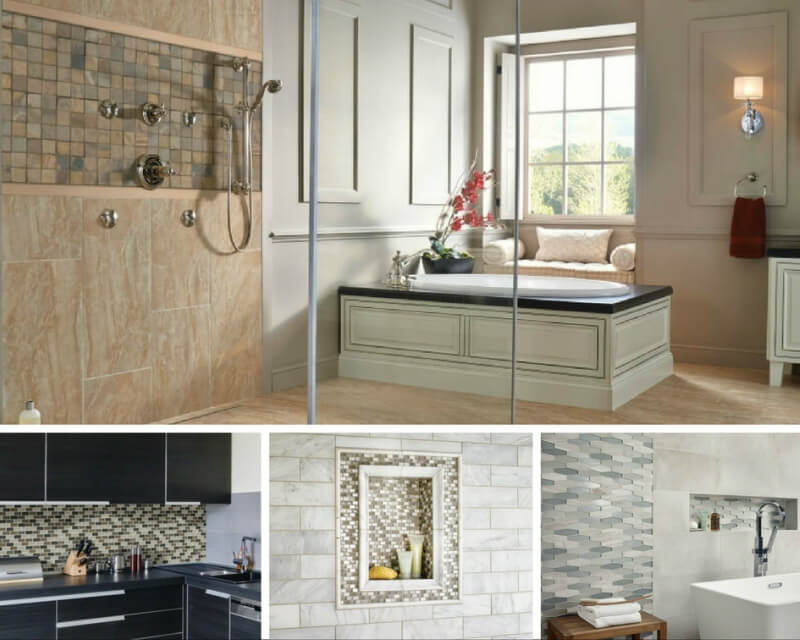 Craving a little adventure when it comes to your home décor? Consider installing a tiled wall. That's right – but not your average tiled wall. You may be thinking about those plain, glossy ceramic tiles, subway tiles, mosaic patterns that have become dated and boring.
Not so fast – MSI has a unique take on modern wall tile that will make you take a second look. Fire up those creative engines, because you're going to love what we've done with tile. The variety of wall tile showcased here should get you started with some great ideas, and you can take them for a test-drive with MSI's convenient bathroom visualizer.
Europa Elongated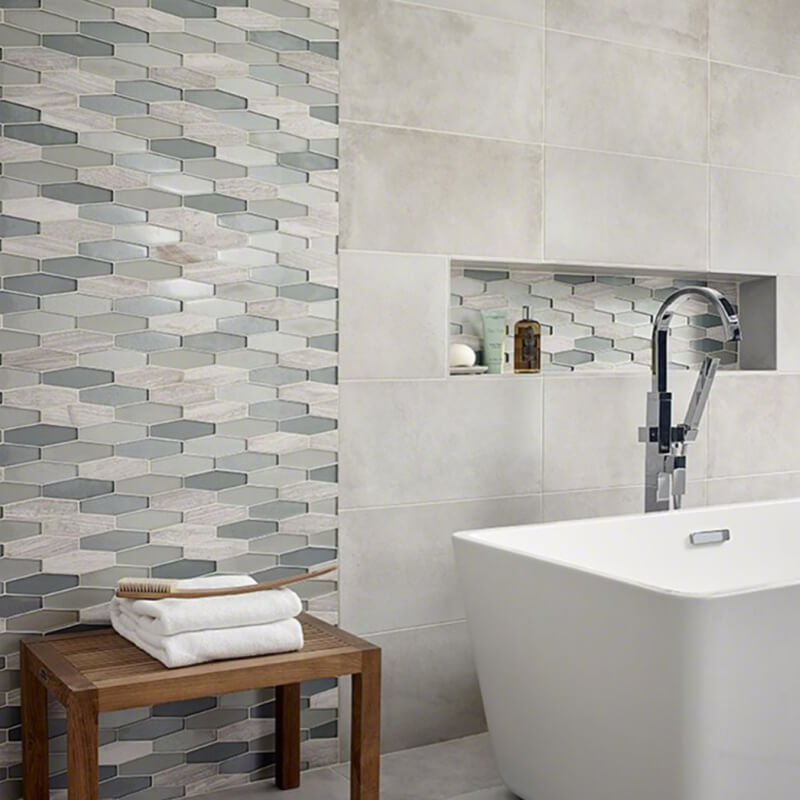 Featured: Europa Elongated Hexagon Mosaic Tile
You don't have to cover the entire wall with tile – or, at least, not the same tile. Mosaics with interesting shapes and mixed materials such as Europa Elongated Hexagon Mosaic Tile are at their best in smaller doses. Consider an accent wall, which can serve to divide parts of a room. Or, as also displayed in this photo, try an inset alcove backed with the mosaic, the perfect place for your shampoo, soap, and loofah. Europa Elongated is a mixture of glass and stone in shades of soft gray.
Arctic Storm Arabesque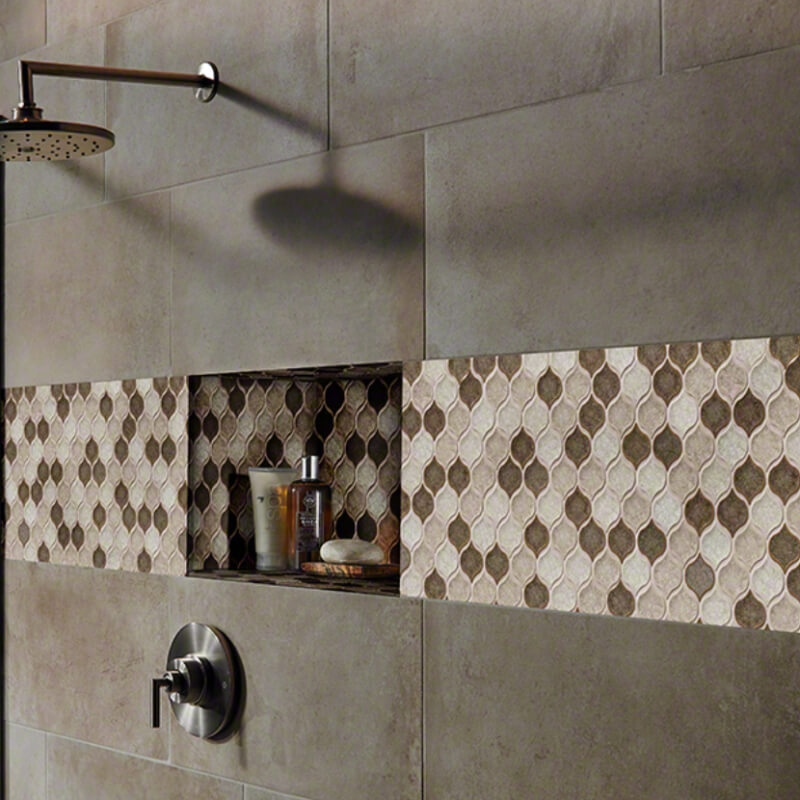 Featured: Arctic Storm Arabesque Tile
This luxurious shower showcases Arctic Storm Arabesque Tile, with an unusual shape that seems to mimic the motion of running water. It complements the large-format, main tile selection with a wide horizontal stripe carried through in the alcove serving as a handy shelf. It's a mosaic featuring marble, with varying textures, in shades of taupe and gray. Despite the jazzy pattern, the neutral shades are easy to coordinate.
Keshi Blend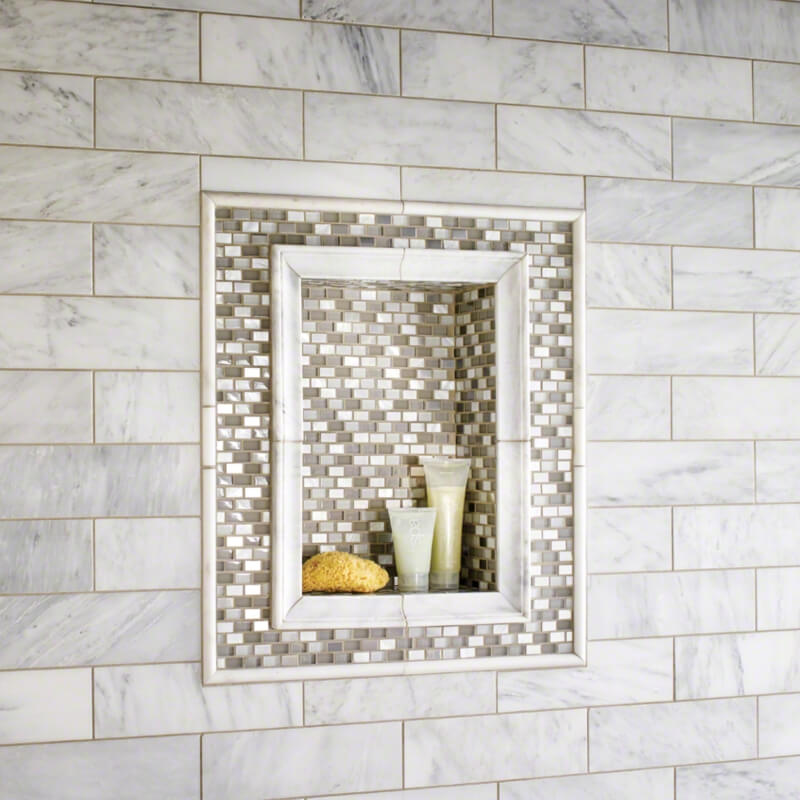 Featured: Keshi Blend Mosaic Tile
This photo shows a shower alcove – notice a trend? It's framed in mitered-corner marble and features Keshi Blend Mosaic Tile. This gray-hued metal and glass wall tile combination is quite reflective, with brick-shaped tiles measuring a petite 5/8" x 1". Such an intricate mosaic lends itself well to small applications such as this accent feature, or perhaps that long, thin strip known as your kitchen backsplash. With pre-meshed 12" x 12" sheets, it's quick to install.
Autumn 2x2 Tumbled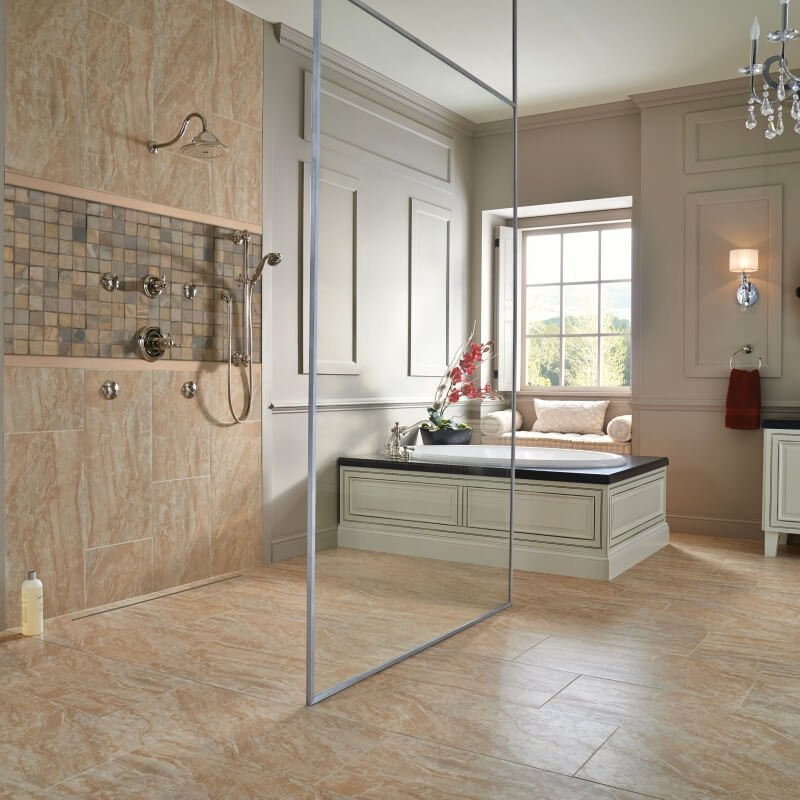 Featured: Autumn 2x2 Tumbled Slate Tiles
Slate tiles may have a rustic appearance, but can also be quite elegant when used as an accent in traditional décor. This sophisticated shower design uses Autumn 2x2 Tumbled Slate Tiles as an accent strip in combination with plain, large-format marble tile. This colorful mosaic features shades of brown, gray, and rust in 2-inch squares. This wall tile is easy-care and even durable enough to use as flooring, as well as a countertop or backsplash.
Sandy Beaches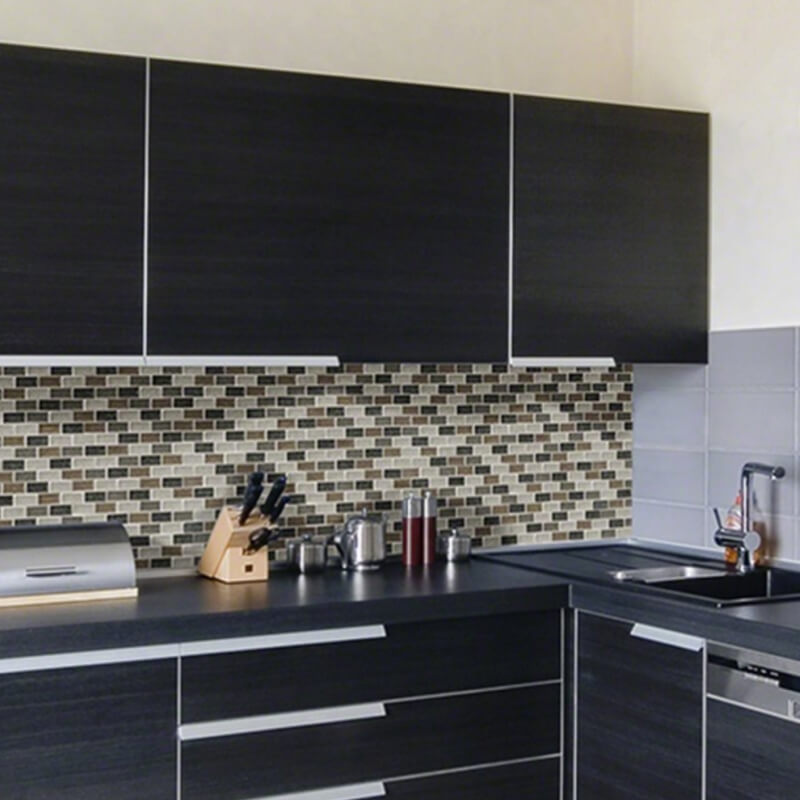 Featured: Sandy Beaches Glass Mosaic Tile
The crackle glass tiles in Sandy Beaches Glass Mosaic Tile creates a nice contrast to dark or matte-finish surroundings. It's a random brick pattern with shades of white, gray, tan, and brown. Imagine how easily this glass mosaic fits into a kitchen backsplash, where it effortlessly complements wood cabinetry – whether you prefer your kitchen cabinets in white, brown, or black. The sparkling gray is also a nice accompaniment to stainless-steel appliances.
With MSI's beautiful tile mosaics, installed as accents such as alcoves or backsplashes, strips or borders, you can dare to be bold!